The UK is built for boring weather; the kind of weather where it's not really nasty enough to warrant staying inside, but not really nice enough to make it worth going out, either. Basically, weather we can grumble about in queues before we get bored and go off and colonise somewhere. When we get any kind of extreme form of weather, everything breaks. Things sink if it rains a bit too much, fall over if it's a bit too windy, freeze in a cold snap and melt in a heatwave. If UK Tech Fest 2018 was to be summed up in just a single word, that word would be "hot." So, yes, some things did indeed melt. Some of them were quite important things. And most of them were the couple of thousand punters pinned out in the campsite under cheap gazebos eating Monster Munch and drinking supermarket beer the temperature of bathwater. Don't tell me that festival life isn't glamorous. The UK is so unprepared for these kinds of temperatures that a significant minority still didn't even consider taking their woolly hats off. Presumably, these people enjoyed the sensation of their eyeballs sweating into their skulls.
If the natural, outdoor temperatures were not high enough already, Tech Fest's two stages are situated in large metal sheds (adjoined by a central merch/bar area) that, for the rest of the year, play host to livestock markets and dog shows. Throwing a hefty PA system, a full lighting rig and a few hundred bodies under each of their large metal roofs turned out to be a recipe for onstage temperatures pushing into the forties. It is a wonder that we didn't see any musicians or crew pass out on stage, even if there were, unfortunately, a couple of heatstroke casualties among the punters across the weekend. Fundamentally, until the sunset every day during the headliner sets, Tech Fest 18 was a war of attrition against dehydration, sunburn and the automatic heat-related shutdown protocols of various pieces of electronics. Some of the (volunteer) crew took it upon themselves to periodically squirt the crowds in front of the stages with a remarkably powerful and far-reaching water pistol, which provided some welcome and mildly amusing respite.
Most startlingly, the combination of the hot air, very little wind and a large and dry open space provided ideal conditions for a dust devil to form. They're relatively rare occurrence in the UK, but the site was treated to one on Thursday afternoon. Quickly dubbed a "Tech-nado" by quick-witted wags, it was certainly a most peculiar thing to witness. At the time, I was sat in the on-site shisha/chill out/hippie food tent Smokey Tentacles, so looking out over the field and seeing a pop-up tent and an inflated airbed gently circling upwards was certainly a surprise, and one that made me wonder momentarily about the precise ingredients of the snack I was eating. But this year's form of extreme weather certainly caused a lot less inconvenience than the sudden but gigantic downpour that hit the site on Thursday evening last year. We are confidently predicting an earthquake for Tech Fest 2019.
As I mentioned in my primer article a couple of weeks ago, Tech Fest is very much a family affair, with pretty much everyone working behind the scenes doing it for the love and not for any kind of paycheck, but after five years running the festival at the same site, the production is sleeker, smoother and more professional than you might expect from an operation largely powered by goodwill. Repeatedly, bands doing their post-set press rounds spoke in glowing terms about how painless the experience of loading in, setting up and breaking down is compared to other festivals. Everyone involved can be proud of that. This generalised atmosphere of friendly co-operation extends out across the wider community of regular attendees, leading to barely any agitation whatsoever. I didn't even hear stories of words said or punches thrown in anger, let alone of items going missing from tents or pockets. Well played, everyone. This playful family spirit was also embodied in a micro-community of apparently compulsive expressive dancers who could, more often than not, be found twirling around each other contentedly in front of the stages, happily intermingling with the regular moshers and those just standing and watching the bands, without any visible friction between the various groups. It didn't even seem to matter particularly to these dancers what style of music was being played, they would find a way to move to it. Their presence also underlines how Tech Fest really is a place where people can be comfortable being who they are and doing what they want to do.
The weekend also fell in the middle of the World Cup. During the last World Cup in 2014, England had been eliminated before Tech Fest even started, but The Ocean ended up playing their set whilst Germany were playing in, and ultimately winning, the final. Robin Stapps was in a very good mood that night, I can tell you. This year, England were doing better in the tournament than they have in twenty years, which led to the air being repeatedly filled with football songs, and the phrase 'It's coming home' was never that far from anyone's lips. Even if, as it turns out, football was actually going next door. But we weren't to know that at the time. Martyr Defiled gave those that were interested in the experience of watching the match communally the opportunity to do so, by setting up a projector and screen by their merch table, and probably around 250 people took them up on it, with various other small groups dotted around the site huddled around phones and laptops – but it didn't really seem to impact on the numbers of people watching the bands and added an additional layer to proceedings for many.
I watched somewhere in the region of thirty bands over the course of the weekend, and I think attempting to write in detail about all of them – as nice as that might be – is a recipe for madness. Or a recipe for an article that would take six months to write and almost as long to read, anyway. So I'm just going to run through a few selected personal highlights of the weekend of the weekend instead.
New Favourites – Siamese / DVSR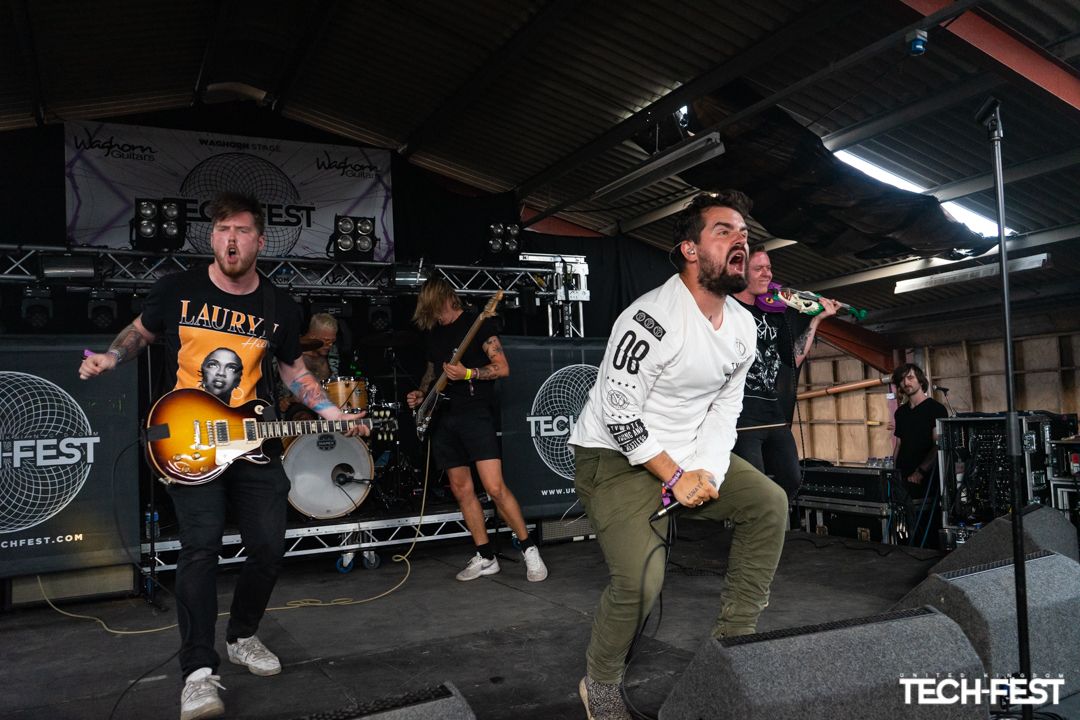 Siamese / Photo: Hannah C for UK Tech Metal Fest
Due to a combination of factors including the ubiquitous heat and the demands placed on my time by interviews for that will see the light of day on these pages in the near future, I didn't see quite as many minty fresh new bands as I have in years past. I also prefer to do minimal pre-festival research into any unfamiliar names on the bill, so that I go into any performance with an open mind and few preconceptions.
So it was a pleasant surprise to discover, as they took the stage on Thursday afternoon, that Danish quintet Siamese feature a violinist in their ranks, which is to my knowledge a Tech Fest first. Seven years in, we don't get many of those anymore. Christian's presence is more than instrumental tokenism too, and his parts feel fully integrated into the band's sound rather than plonked gracelessly on top. With almost pop-punk levels of energy and strong alt-metal songwriting, Siamese kick out some perky and accessible jams with big hooks and some pleasingly chunky guitars. They remind me a little of sadly defunct party-metallers Forever Never, a point which is underlined by the chorus chant of "Soul and Chemicals," seemingly borrowed from eighties classic "You're the Voice," a song that Forever Never used to cover in its entirety.
Siamese are now four albums deep in their career, and that experience leads to a tight, professional and engaging performance. Frontman Mirza has a strong set of pipes, and an equally strong line of between-song banter, cheekily poking fun at the festival demographic by inviting a cheer from 'all six ladies in the room'. Ultimately landing on the musical spectrum about halfway between Skindred and Linkin Park, their set is a perfectly timed and expertly executed slice of summery fun.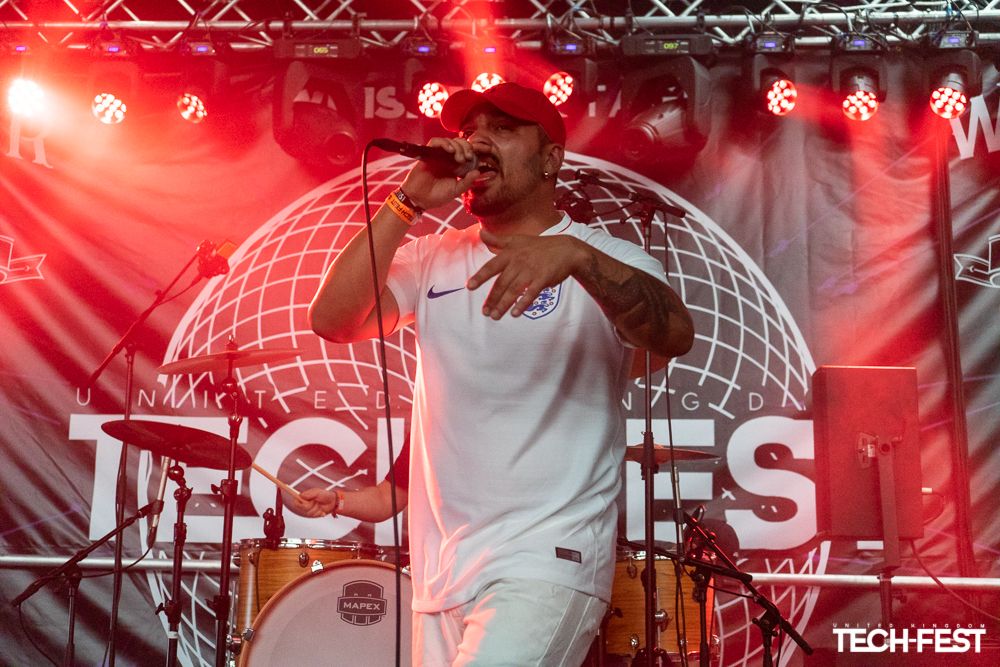 DVSR / Photo: Hannah C for UK Tech Metal Fest
DVSR came a bloody long way to play their Tech Fest slot, so it seems almost rude not to wander over and watch them. Playing their first ever show outside of their native Australia, they have flown all the way from Sydney for this single 30-minute set. This half-hour window also falls around the start of England's pivotal World Cup match, but although some punters gather in various spots to crowd around screens large and small to watch, I don't see a material difference in the size of the crowd watching DVSR to those watching the bands in the same timeslot on Friday or Sunday. I couldn't give the remotest, highest altitude, flying fuck about football personally, so I can give DVSR my full attention. I have been looking forward to seeing them, in particular, because still lurking inside me are the remnants of the wide-eyed fifteen-year-old on the verge of political awakening I was when Rage Against The Machine spat out their iconic debut. Therefore, any combination of rap and metal is always going to pique my interest.
It would be fair to say, however, that DVSR's set does not go completely smoothly. Taking the undeniably sensible decision to rent some gear for the show rather than hauling everything over with them results in a few teething troubles. Julian's bass strap refuses to stay attached to his instrument, and after some mid-song tinkering by the stage crew, the decision is quickly taken to simply wrap the bastard in duct tape. The old solutions are the best ones. Andrew, too, has problems with his guitar cutting out.
All is not lost, though. Matthew's good-humoured banter carries them through the technical hiccups, swiftly quipping that 'it ended' when the intro tape for "Endless" abruptly shuts down. When everything does work, DVSR are a tremendous amount of fun. Recent single "Slave to the Beat" is a real stand-out moment, with it's huge party groove. With this combination of djenty guitars and modern hip-hop, comparisons with Hacktivist are inevitable. Matthew's lyrical dexterity and a more imaginative rhythm section are very obvious wins for DVSR – but it would be fair to say that Hacktivist still have the edge in terms of the live spectacle. However, the progress evident when comparing last year's Therapy EP with their previous work suggests DVSR have it in them to write the definitive rap-djent album, and I strongly suspect that with more extended international touring – and, of course, not using unfamiliar gear that has only been unboxed that morning – the DVSR live show could quickly become an absolute riot.
Old Favourites – Sikth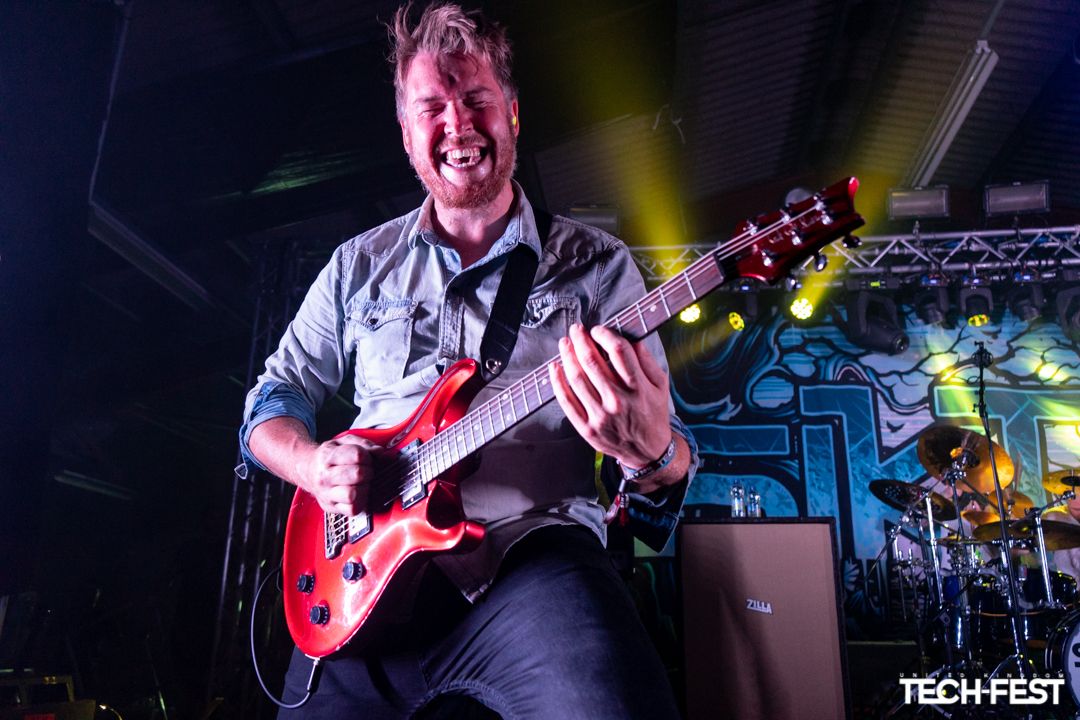 Sikth / Photo: Hannah C for UK Tech Metal Fest
It would not be completely overstating the case to say that had there been no Sikth, there would be no Tech Fest. The bands two albums served as both a source of inspiration and frustration to the collection of bands who really coalesced at the first Tech Fest in 2012. Sikth had split before many of the guitarists who had honed their chops attempting to emulate Pin and Dan Weller had reached gig-going ages, so there was virtually a whole new generation of fans who had never had the chance to see them live, resulting in a persistent campaign for them to reform. Sikth granted these wishes in 2014, and played their second show after reforming at Tech Fest that year, which felt like a real homecoming. These initially one-off reunion shows snowballed into tours and new recordings with the original line-up intact. In 2016, co-vocalist Justin Hill stepped down from the band (being presented onstage with a pipe and slippers at his final show) and was replaced by Aliases vocalist Joe Rosser. Joe injected some youthful exuberance into their live shows and proved himself to be a worthy replacement in the studio on last year's full-length, The Future in Whose Eyes.
Now it would appear that the line-up may be on the verge of another change. Or it might not. Guitarist Pin sat out of the recent Australian tour, but was also notably absent from their Camden Rocks set last month, and Sikth again take the stage as a five-piece for their Friday headliner slot. The fact they are playing with a man down is neither mentioned before-hand nor during the set itself. This feels a little peculiar. Of course, it could just be a temporary set of circumstances that are keeping Pin from the stage, and although the precise details may well be none of our business, it seems weird they do not acknowledge their absent comrade. However, whilst something about the arrangement doesn't feel quite right, the twist in the tale is that the band actually sound considerably cleaner and clearer than they have in the past, especially in the rather unforgiving environment of these sheds. From where I was stood, towards the back of the room, I couldn't hear Pin's parts being played through the backing track, but others positioned closer to the stage assure me they was there.
These conflicting opinions are further compounded by the set itself. The fact that Sikth have a whole clutch of bona fide tech-metal classics in their repertoire is undeniable. "Pussyfoot" would rank very highly on my all-time favourite song list, were I ever foolish enough to try and compile one. So yes, I'm always going to go a bit daffy when I hear it played live. But as the set progresses, I am struck with a rather disappointing sense of deja vu. It quickly becomes apparent that what we are getting is, fundamentally, the same Sikth set that the band have been wheeling out for around two years. A year after the release of The Future In Whose Eyes, no new songs have been added to the setlist. Of course, it's enjoyable to hear all the old favourites, the moshpit laps them up and the band even seem to be enjoying themselves more onstage, but four years on from those reunion shows it is starting to feel like the band are resting on their laurels a little. I had hoped that in the six months since the band played the entirety of Death of a Dead Day in London, they might have added in one or two new tracks, and that one of those tracks would have been "Riddles of Humanity." But sadly, that was not to be. Of course, there is a balance to be struck, but right now it feels like the Sikth live show is still just a little too weighted towards the past than the present, let alone the future. Their set closes with "Bland Street Bloom", which is a sure-fire crowd pleaser, but having now seen them play virtually this exact set on repeated occasions, a little bit more variety would go a long way.
Heavy Favourites – Heart of a Coward / Conjurer / Loathe / Employed to Serve
Of course, a metal festival wouldn't be a metal festival without a healthy collection of solid, meaty riffs, and we were quite frankly spoiled for choice, especially on the Sunday. The conditions in the sheds may have dissuaded the moshpits from getting too vigorous (potentially a health and safety blessing given the unforgiving nature of the rough-finished concrete floors), but there was at least a spirited display of sweaty nodding from those who braved the heat to watch the mid-afternoon bands.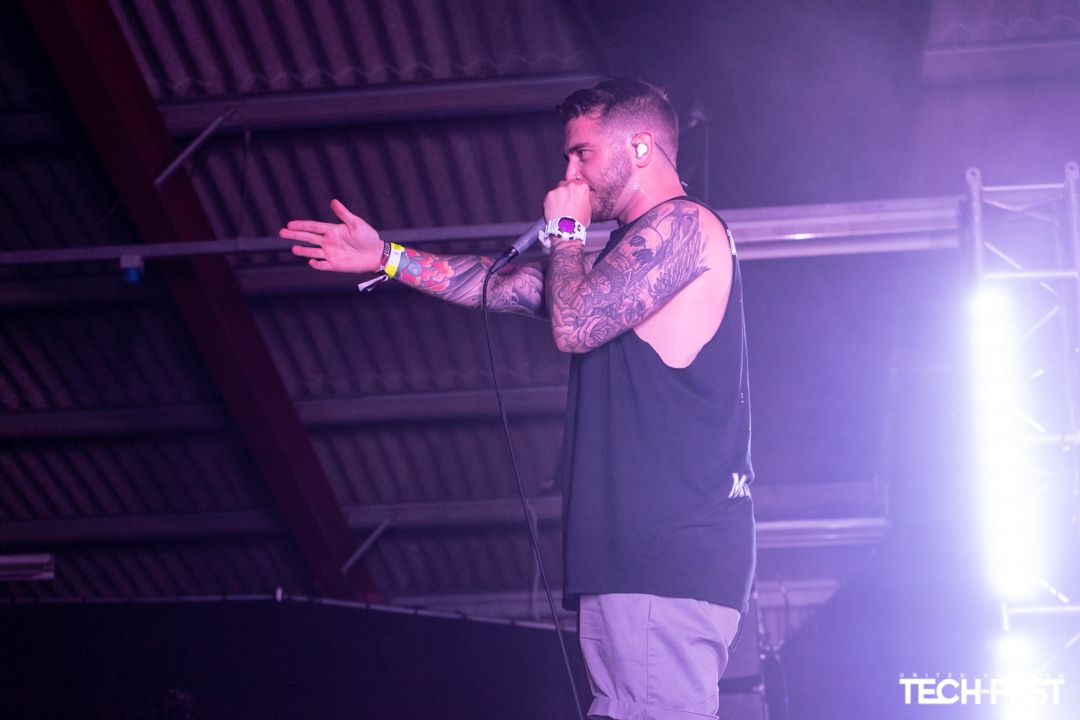 Heart of a Coward / Photo: Hannah C for UK Tech Metal Fest
Festival favourites Heart of a Coward closed out the single-stage, 'early bird' Thursday, returning for their fourth appearance on the bill. They deliver an assuredly thumping and weighty set which shows just how quickly new vocalist Kaan Tasan is settling into the role following his first run of shows just a month ago. Opening with "Hollow", the crowd turns the chorus into a proper sing-along. Kaan really makes "Distance" his own, and that in itself bodes well for the impending new material, and new song "Collapse" slots comfortably into the set. With the temperature finally falling below 'furnace', the pit is much livelier and even willing to be coaxed into starting a circle pit spinning before the song actually starts. "Deadweight" ends the set in an agreeably chunky fashion. Heart of a Coward have never really been overtly technical, but the deft rhythmic interplay between the guitars is trickier than it looks to deploy as effectively as they do. It's a nice subtle touch from what is probably the UK Tech scene's least subtle band.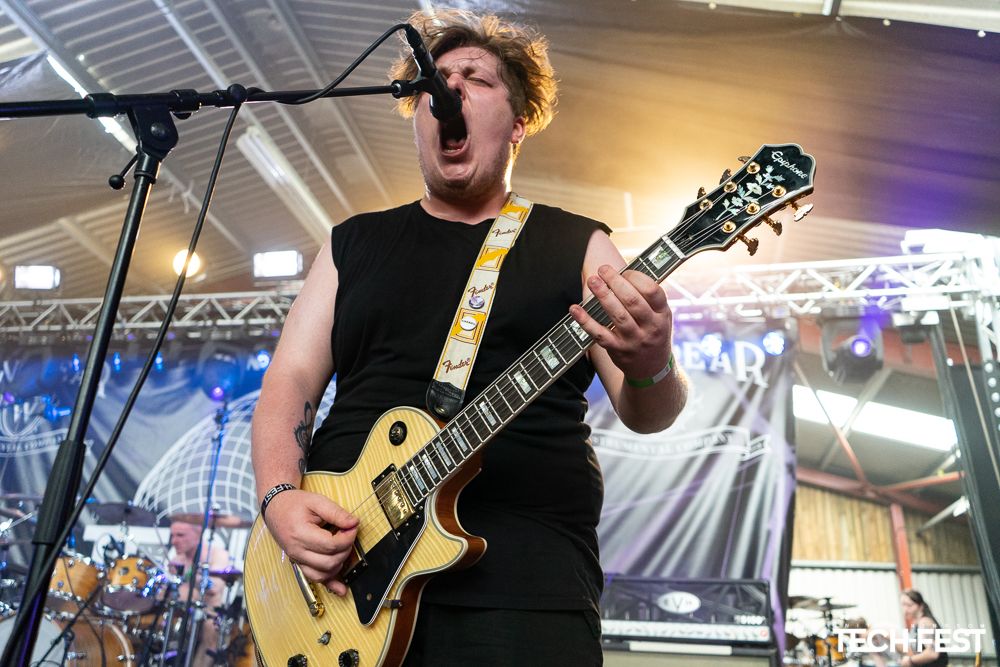 Conjurer / Photo: Hannah C for UK Tech Metal Fest
When I'm reviewing a weekend festival, I prefer the old fashion pen and notepad approach. No matter what else happens, paper doesn't have batteries that can go flat. But there was one set this weekend where I left my pad in my backpack for its entire duration, and that was Conjurer. I had suspected that these sheds would provide a favourable acoustic environment for their thick, beefy sound and, quite frankly, it is apocalyptic. I swear they lop at least a couple of extra bpm off the already brutal slowdown in their calling card "Scorn," and the sludgedown in the middle the middle of the high velocity "Retch" feels like being hit in the stomach with something substantial. Maybe a Volkswagen. Vocalist/Guitarists Brady and Tom have their mics set up on each side of the stage, giving bassist Connor rather more room than he's used to for his impressive displays of windmill headbanging. Most pleasingly, they end their set with the final track from this year's barnstorming debut album Mire, "Hadal," which is effectively an eight-minute bludgeoning, albeit one that leaves you with a big daft grin afterward. Conjurer confirm their place as one of the UK's brightest and fastest rising new hopes.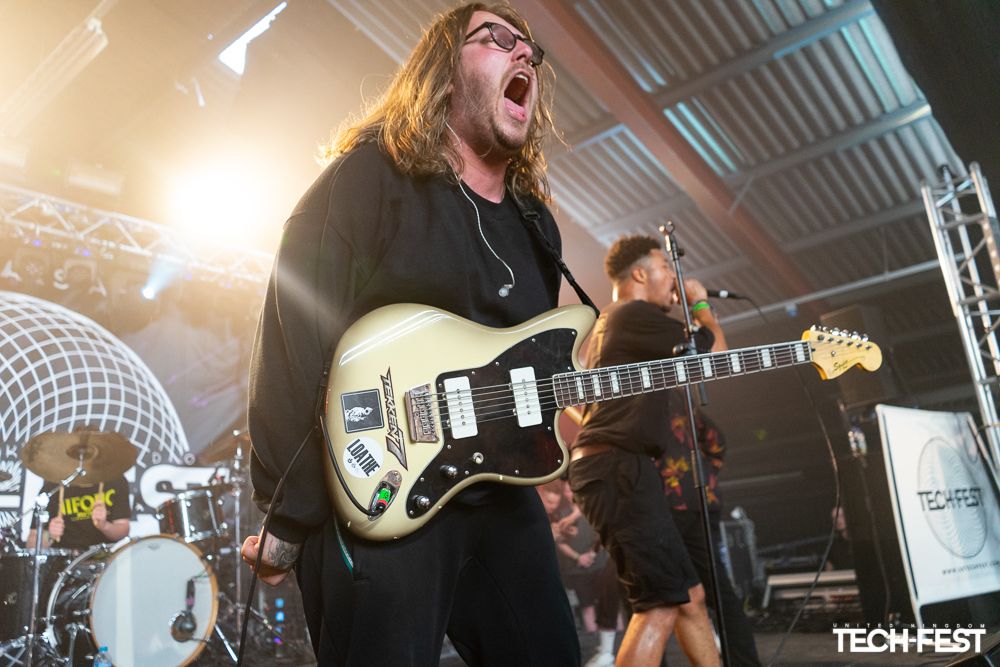 Loathe / Photo: Hannah C for UK Tech Metal Fest
There is a persistent school of thought among worrying types that the British underground is not generating the bands that could one day headline the major festivals, like Download. Those people have clearly not been paying attention to Loathe. Having played a short and rather bewildering set at Tech Fest 2016, the band have seemed to only stop touring for long enough to record last year's outstanding debut album The Cold Sun. Practice makes perfect, and the Liverpudlian quintet delivered an exceptionally well-practiced set.
Having watched them hold small venues in the palm of their collective hand at least half a dozen times in the last two years, it is especially pleasing to see just how successfully their show is transposed onto a much bigger stage. I make the conscious decision to stand at the very back of the space, and it's just as powerful all the way back here as is in the second row of a 150 cap room. Having paid their dues on the underground circuit, they are also rewarded with one of the biggest turnouts of the weekend outside of the headliners.
Loathe's most important innovations lie in their immediately recognisable guitar tones and the deft way they craft beatdown riffs into actual songs with real depth. It is clear to me that the band have invested a great deal of careful thought into every aspect of their proposition. They make no concession to the heat in their stage attire, flank the drumkit with TV screens projecting abstract images, produce many variations of merchandise carrying a consistent theme and even frontman Kadeem's between-song pronouncements feel more considered than the standard "make some noise/I can't hear you" combinations.
All of that, of course, would be for nothing if they didn't have the songs. But boy, do they have the songs. As tightly composed as they are performed, they make as much sense when you're upside down in the moshpit as when you're sat on the sofa at home. That doesn't happen very often. I think it's very likely that we will soon see a whole new wave of bands aping Loathe's sound, but rather unlikely they will do so quite as successfully. Listening to Loathe feels like listening to the future, and that's what progressive metal is all about.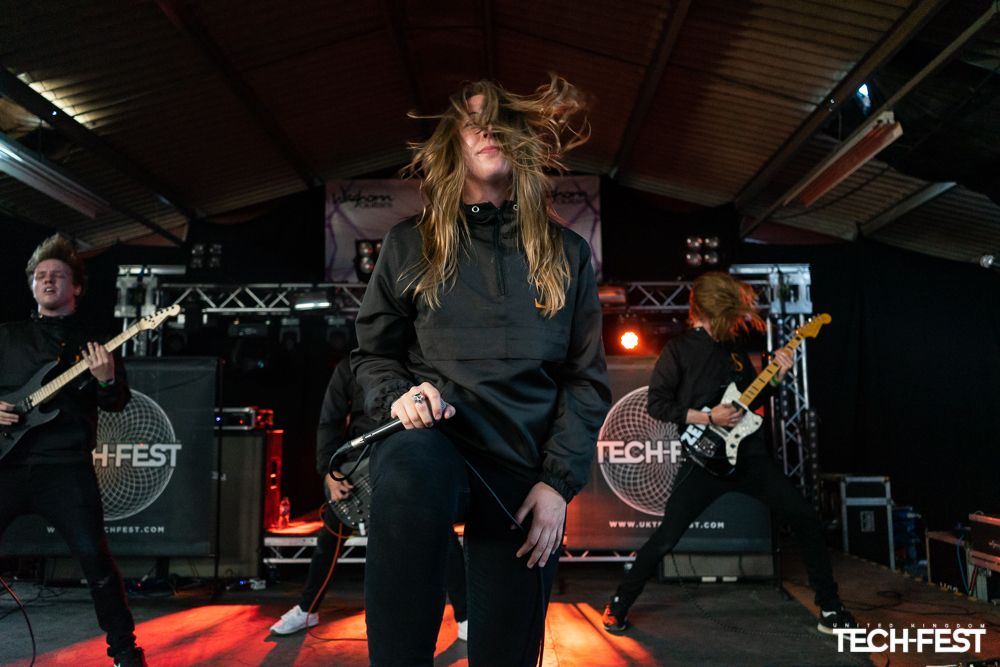 Employed to Serve / Photo: Hannah C for UK Tech Metal Fest
The Sunday second stage headline slot is not necessarily as desirable as some might think. Employed To Serve have become accustomed to their shows being particularly rowdy affairs, and seem visibly displeased at the lack of movement. But, with the long weekend drawing to a close and punters keeping what remains of their powder dry for the now-not-so-secret act (more about them in a bit), most people are simply too knackered to go as mental as the band have come to expect. Guitarist Sammy even pulls the old "rewind" trick more common with reggae bands after the opening bars of stand-out "I Spent My Days Wishing Them Away" are not met with a satisfactory response, starting the song again after a bit of a pep talk.
As enjoyable as Employed to Serve are to watch, and as thick and meaty as they sound, Tech Fest is clearly not their natural environment, although I suspect that their set may have generated a more vigorous reaction had it fallen earlier in the weekend. Fortunately, they have a London date booked for the end of the month, where they will be playing their second album The Warmth of a Dying Sun in full. I presume that I will have a lot more to say about that, providing I make it out alive.
Atmospheric Favourites – Vola / Valis Ablaze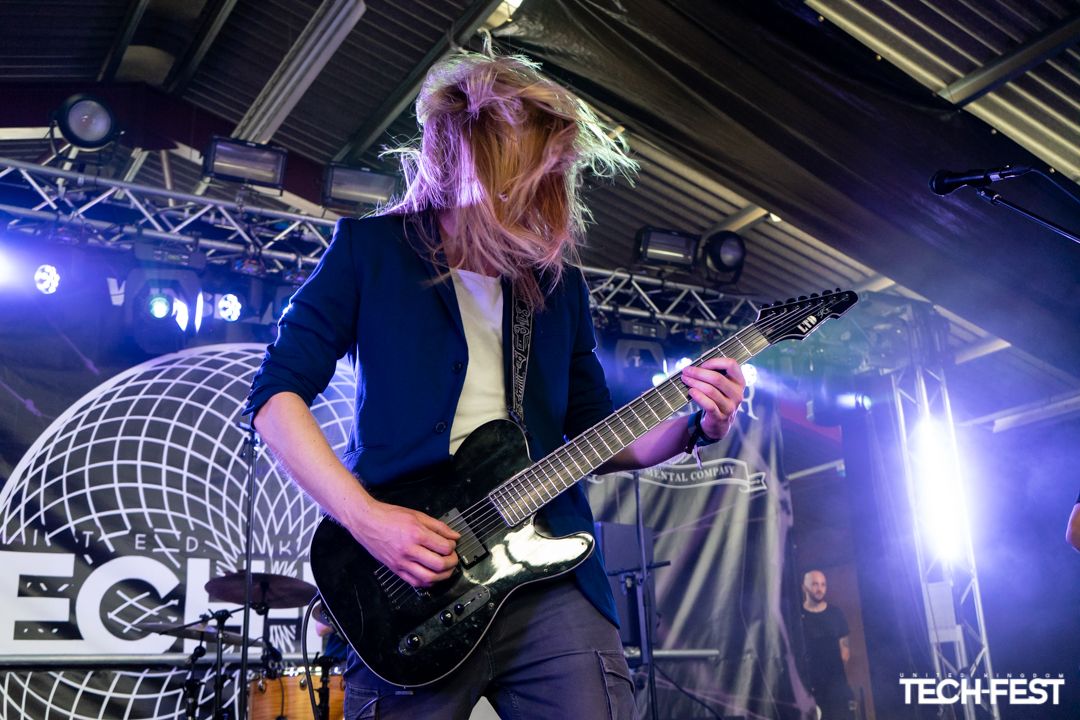 VOLA / Photo: Hannah C for UK Tech Metal Fest
As a great man once said, life is all dynamics. Counterbalancing the heaviness was an equally strong showing from the more melodic end of the prog-metal spectrum. And no band more successfully occupies the borderlands between the two extremes than Danish quartet Vola, and they drew a significant late-afternoon crowd with their effortless marriage of big, bendy, downtuned and djenty riffs to huge slabs of dreamy, anthemic melodic prog. In between the highlights of their 2016 debut Inmazes, they slip in a tantalising new song. Taken from the soon-to-be-released follow-up, it provides an early hint that there will be some progression in their sound, but the riffs, synths and breathy harmonies remain intact. In the past, their live sound has felt a little over-processed, but here it sounds a lot more natural. Inevitable set-closer and fan favourite "Stray The Skies" sounds beefier and brawnier than it ever has before. It will be a pleasure to see them again at Euroblast later in the year.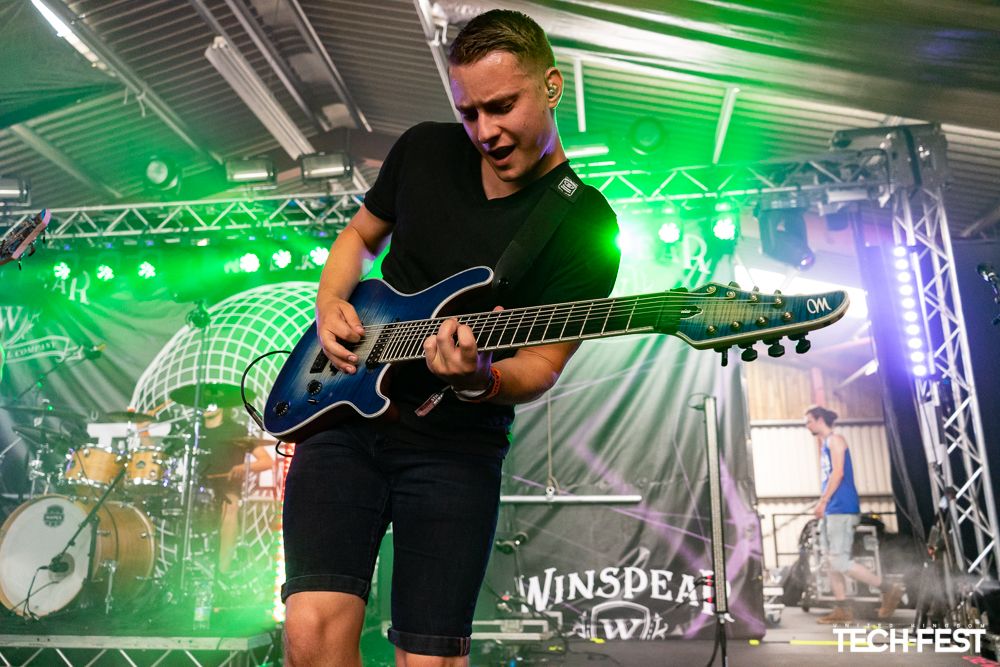 Valis Ablaze / Photo: Hannah C for UK Tech Metal Fest
In 2014, Valis Ablaze had the dubious honour of being the very first band to play on a Tech Fest stage here in Newark. Since that time, the band have been through a number of personnel changes, made a bold change in musical direction and released their excellent debut album, Boundless, through Long Branch Records. The now-settled line-up is paying dividends, with latest member bassist George also pushing out a particularly tasty tone from his Dingwall. By my count, incidentally, I think I saw more Dingwalls onstage across the whole weekend than I did Strandberg guitars, despite Mr. Strandberg himself being onsite for a workshop session. I don't know if that speaks more to the quality of Dingwalls or the increasing competition in the high-end guitar market.
Valis Ablaze's atmospheric and melodic prog-metal fills the sheds, and gives more weight to the heavier undertones that serve as a counterpoint to Phil's impressively soaring melodies. With long-time friend Drewsif Stalin unable to make the transatlantic trip to supply his guest vocal to "Frequency" (as he did last year, along with playing a set of his own, of course), his parts are covered by White Dove, a female vocalist with a particularly rich and soulful voice, adding a welcome layer of additional texture. The influence of TesseracT looms large with Valid, albeit most obviously Altered State-era TesseracT which the band themselves are moving away from, so maybe there is a gap in the market there anyway. I have little doubt, especially given the strength of the performance today, that Valis will soon step out from beneath that shadow with a sound that is more distinctively theirs in the not too distant future.
Instrumental Favourites – Tides From Nebula / Stomb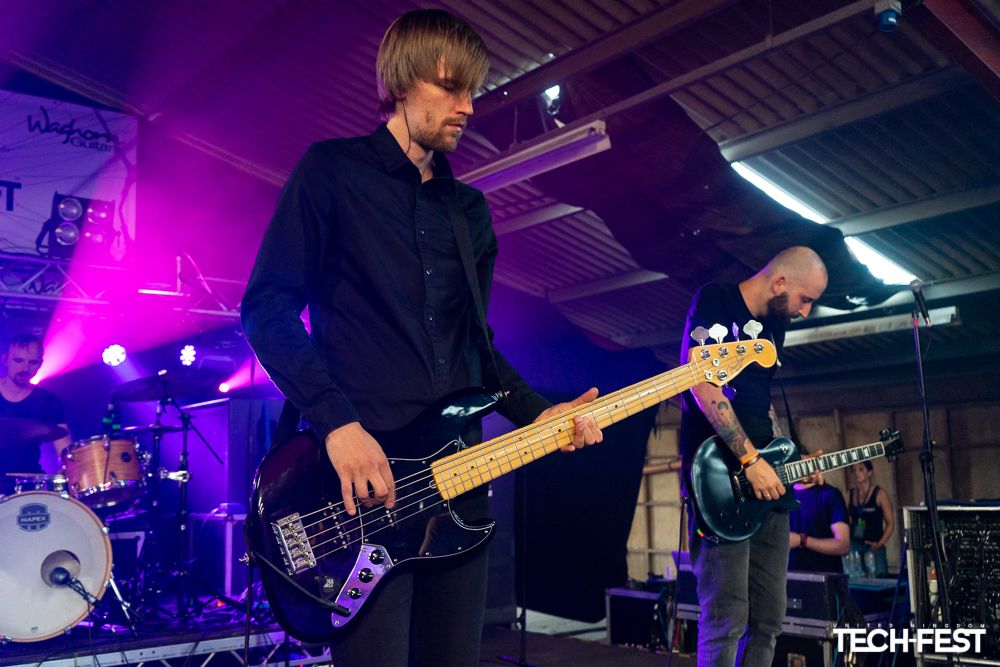 Tides From Nebula / Photo: Hannah C for UK Tech Metal Fest
Arc Tan Gent may be the most natural British festival choice for spacious post-rock, but Tech Fest head honcho Simon Garrod usually finds space on the bill for some vocal-free, atmospheric exploration. This year, Poland's Tides From Nebula headline the second stage on Saturday, and rather take punters by surprise, especially as they fit snugly in the running order between Martyr Defiled and Ingested. Coinciding with the daily temperature drop, the change in pace and expansive vibe is most welcome.
The set undulates through its dynamic peaks and troughs, and there is a surprising amount of onstage movement from the band during the peaks, which culminates in the guitarists vaulting the barrier and playing the end of the final song among the crowd. Sonically, they come across as a somewhat more maudlin, almost wistful, sleepmakeswaves. From just about anywhere in the room, the sound is crisp and clear. They resist the urge to indulge in over-long songs of unfocused wandering, with tightly composed songs that don't overstay their welcome. One minor oversight is the absence of any form of onstage microphone, leaving the band to endearingly bellow their unamplified gratitude for the crowd's warm response.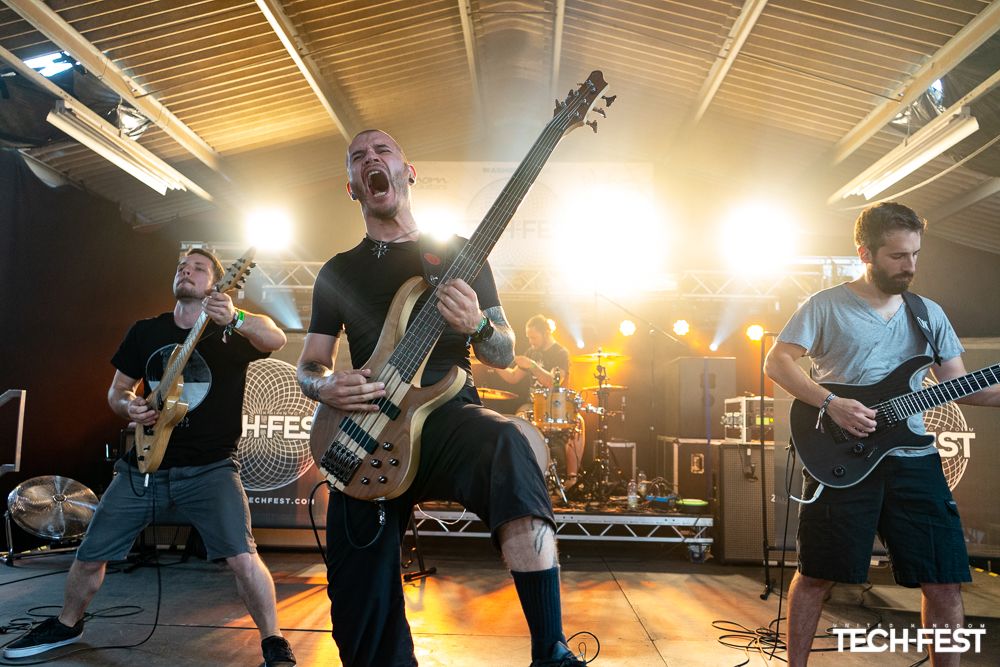 Stomb / Photo: Hannah C for UK Tech Metal Fest
French quartet Stomb pitch a somewhat heavier and chuggier instrumental proposition. Having already won over the Euroblast-attending faction of the crowd, their debut in Newark is both widely anticipated and warmly received, especially judging by the brisk trade at their merch stall immediately afterward. Their bundle deal of three CDs and a shirt for just £15 was probably the best value for money deal on offer all weekend.
Describing their music as Meshuggah meets Isis feels unforgivably lazy, but its hard to find a description quite as neat and tidy. Mixing floaty atmospherics with some particularly tasty mid-paced chuggy riffs, Stomb's muscular approach is compelling. It feels like the real key to Stomb's success in maintaining the attention of the crowd lies in the expressive and spidery basslines underpinning each song. Bassist Alexandre is clearly not content to just sit on the root notes, or tag along with one of the guitarists, cutting his own path through the song and adding considerable amounts of depth and texture along the way. I don't know if their sound would necessarily hold the attention for very much longer than their half-hour set, but it certainly felt like thirty minutes well spent.
Surprise Favourites – Sleep Token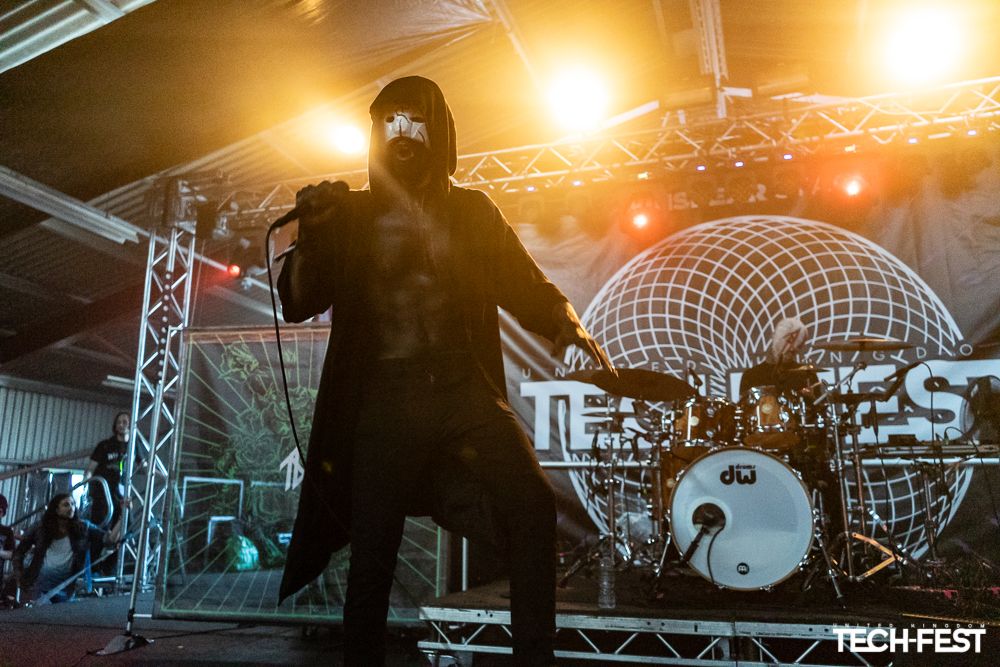 Sleep Token / Photo: Hannah C for UK Tech Metal Fest
The identity of the secret act, drafted in at the eleventh hour following the cancellation of Protest the Hero and Norma Jean, was a subject of much debate across the site for much of the weekend. The rumour mill was stoked by the appearance onsite of various members of various bands not on the bill itself, most notably TesseracT, but they were there to enjoy the some of the weekend, just like the rest of us. A hulking great clue appeared on the Sleep Token Facebook page at some point on Friday, which focussed peoples' attention, but still didn't completely kill the speculation. Nevertheless, it was probably not a huge surprise to anyone onsite when the strains of Sleep Token songs leaked out of the soundcheck on Sunday evening.
That this main support slot represents only the eighth time Sleep Token have performed onstage underscores the scale of the phenomenon and the speed with which it has grown. The band absolutely perform a show worthy of its position high on the bill, and the gigantic crowd that watches stand in almost complete, awe-struck silence, the type of which we have not seen since Agent Fresco's heart-rending acoustic set in 2015. This is the third show I've witnessed personally, and whilst I have been skeptical, even I have to admit that although the hype may have run ahead of them a little in the reaction to the first two EPs, they are very rapidly catching up with it.
The live band really bring the tracks to life, particularly the expressive and tasteful drumming. The bass player's compelling, other-worldly stage presence acts as a visual counterpoint to Vessel's tortured soul. With the keys also now adding some (feminine) backing vocals, the tracks are feeling more organic than ever. The band are solidifying into a well-honed unit, and this can only bode well for the future. Vessel's voice, too, is clearly not the product of studio trickery, and sounds every bit as raw and vulnerable as it does on record.
I still don't really buy into the whole "Worship" schtick, but as a veritable forest of hands reach skywards at a dynamic peak, its hard not to feel like you're at some kind of cultish ceremony. Perhaps referring to their live shows as "rituals" isn't that far off the mark after all.
Absolute Favourites – The Hirsch Effekt / Voyager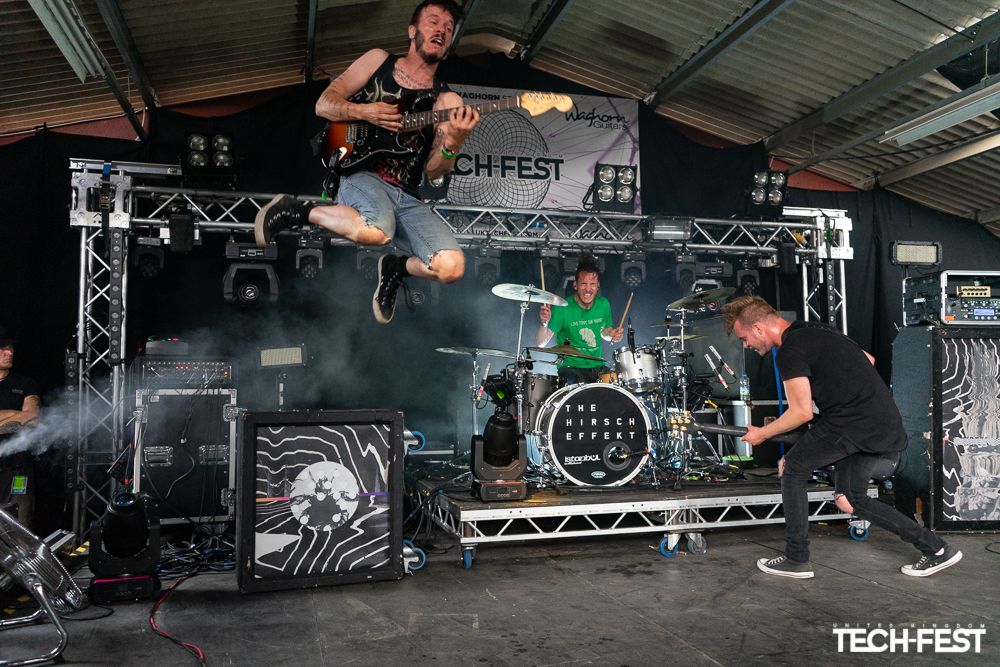 The Hirsch Effekt / Photo: Hannah C for UK Tech Metal Fest
And so we reach the final section. If you've stuck with me through the whole thing, well done. The good news is that I don't have much more to say. For now.
My two favourite sets of the whole weekend were Aussie prog-funsters Voyager and German mentalists The Hirsch Effekt. However, as luck would have it, the festival weekend was bookended by London shows for both bands, with Voyager playing a couple of days before and The Hirsch Effekt the day after. As I also went to both these shows, I'm going to avoid repeating myself and talk about them in my monthly live music column Disco Loadout in a couple of weeks. So keep an eye out for that.
But to briefly summarise and to whet your appetites for that next instalment, I will just say that Voyager delivered one of the most complete performances I've ever seen on a Tech Fest stage, and The Hirsch Effekt are the one band who really take the sting out of the demise of The Dillinger Escape Plan for me. And I will be expanding on those thoughts, and more, very soon.
In short, Tech Fest once again met and exceeded expectations. We saw brand new bands making great first impressions, and promising rising stars taking some big steps up, all whilst enjoying the summery weather and the company of a like-minded, easy-going and impossibly friendly community. I really can't think of a better way to spend a July weekend. See you in 2019?