For those who missed our last installment, we post biweekly updates covering what the staff at Heavy Blog have been spinning. Given the amount of time we spend on the site telling you about music that does not fall neatly into the confines of conventional "metal," it should come as no surprise that many of us on staff have pretty eclectic tastes that range far outside of metal and heavy things. We can't post about all of them at length here, but we can at least let you know what we're actually listening to.
As is typical of these updates, there are a few inclusions of new releases that have recently received the HBIH stamp of approval via positive reviews. Jaga Jazzist's Starfire (review here), Maruta's Remain Dystopian (review here) and Secrets of the Sky's Pathway (review here) all received positive marks from our staff, particularly the former. It is also fitting that there are a couple of Mastodon inclusions, as they were the subject of our recent 'For Fans Of" post which may be read here. Additionally, considering the multiple instances of Cattle Decapitation's excellent last album Monolith of Inhumanity, it is safe to assume that our staff is rather excited for their upcoming album The Anthropocene Extinction; lead single "Manufactured Extinct" may be streamed here. Finally, while not necessarily a "metal" release, Prurient's new noise masterpiece is included by a couple members of our staff, yours included. Stream the album here and be sure to check out the project's upcoming dates with Godflesh here.
For those that would like to participate as well (and please do) can drop a 3X3 in the comments, which can be made with tapmusic.net through your last.fm account, or create it manually with topsters.net. Also, consider these posts open threads to talk about pretty much anything music-related. We love hearing all of your thoughts on this stuff and love being able to nerd out along with all of you.
Head past the jump to see which records have been receiving regular rotation on our headphones, stereos and turntables:
David Aleksov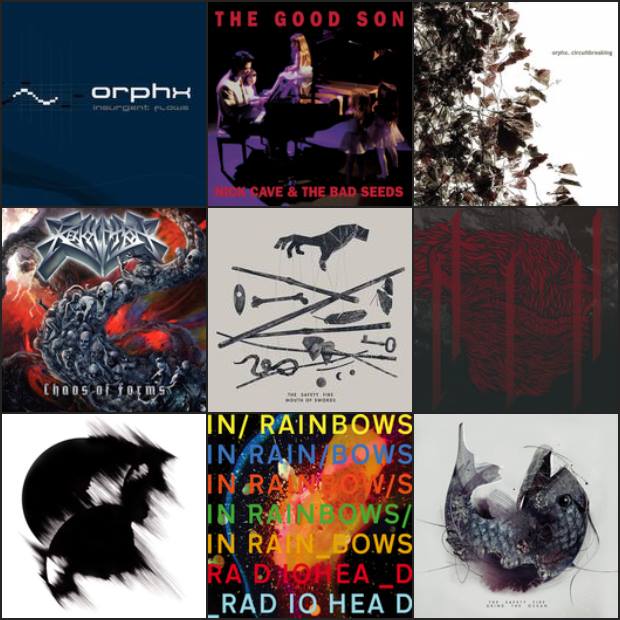 Orphx – Insurgent Flows
Nick Cave And The Bad Seeds – The Good Son
Orphx – Circuitbreaking
Revocation – Chaos Of Forms
The Safety Fire – Mouth Of Swords
Merkabah – Moloch
Lakker – Tundra
Radiohead – In Rainbows
The Safety Fire – Grind The Ocean
John Skibeat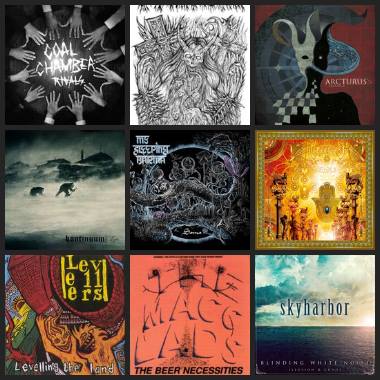 Coal Chamber – Rivals
The Whorehouse Massacre – VI
Arcturus – Arcturian
Kontinuum – Kyrr
My Sleeping Karma – Soma
Melechesh – Enki
The Leve11ers – Leve11ing The Land
The Macc Lads – Beer Necessities
Skyharbor – Blinding White Noise
Simon Handmaker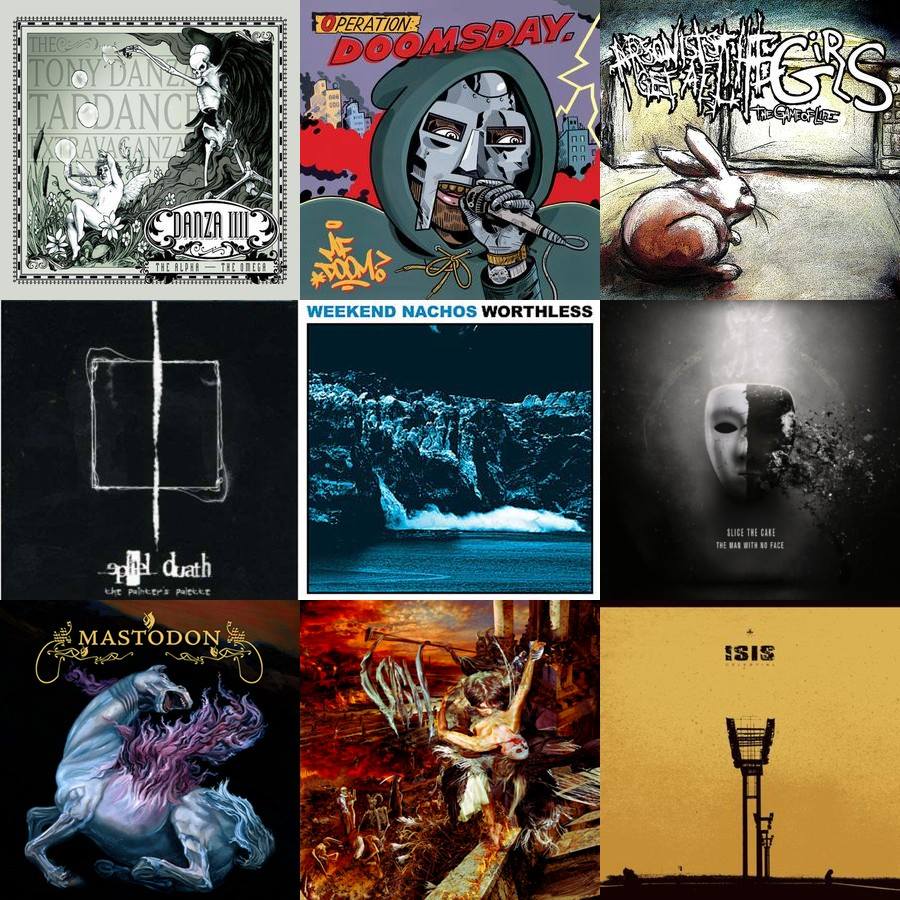 The Tony Danza Tapdance Extravaganza – Danza IIII: The Alpha And The Omega
MF DOOM – Operation Doomsday
Arsonists Get All The Girls – The Game Of Life
Ephel Duath – Painter's Palette
Weekend Nachos – Worthless
Slice The Cake – The Man With No Face
Mastodon – Remission
Sigh – Scenes From Hell
ISIS – Celestial
Eden Kupermintz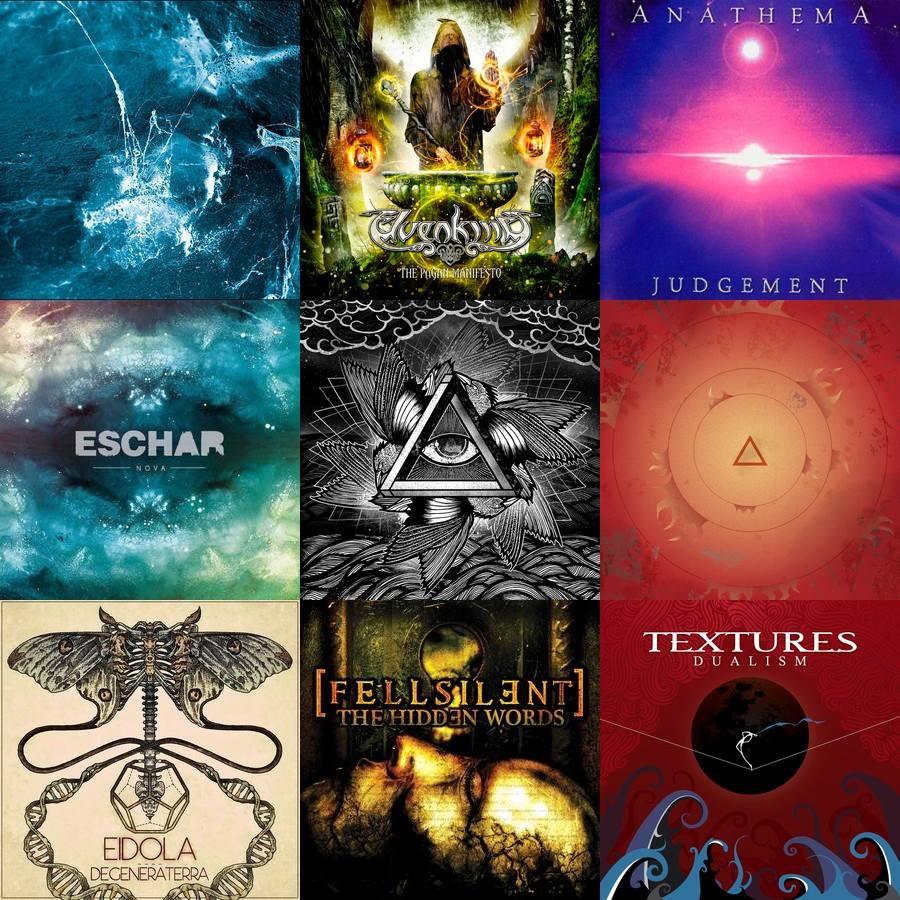 Árstíðir – Hvel
Elvenking – The Pagan Manifesto
Anathema – Judgement
Eschar – Nova
The Arusha Accord – Echo Verses
Kubbi – Ember
Eidola – Degeneraterra
Fellsilent – The Hidden Words
Textures – Dualism
Matt MacLennan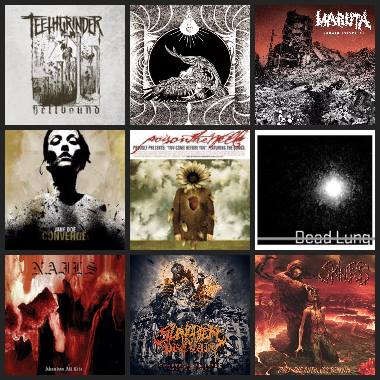 Teethgrinder – Hellbound
Colombian Necktie – Twilight Upon Us
Maruta – Remain Dystopian
Converge – Jane Doe
Poison The Well – You Come Before You
Murdock – Dead Lung
Nails – Abandon All Life
Slaughter To Prevail – Chapters Of Misery
Skinless – Only The Ruthless Remain
Kit Brown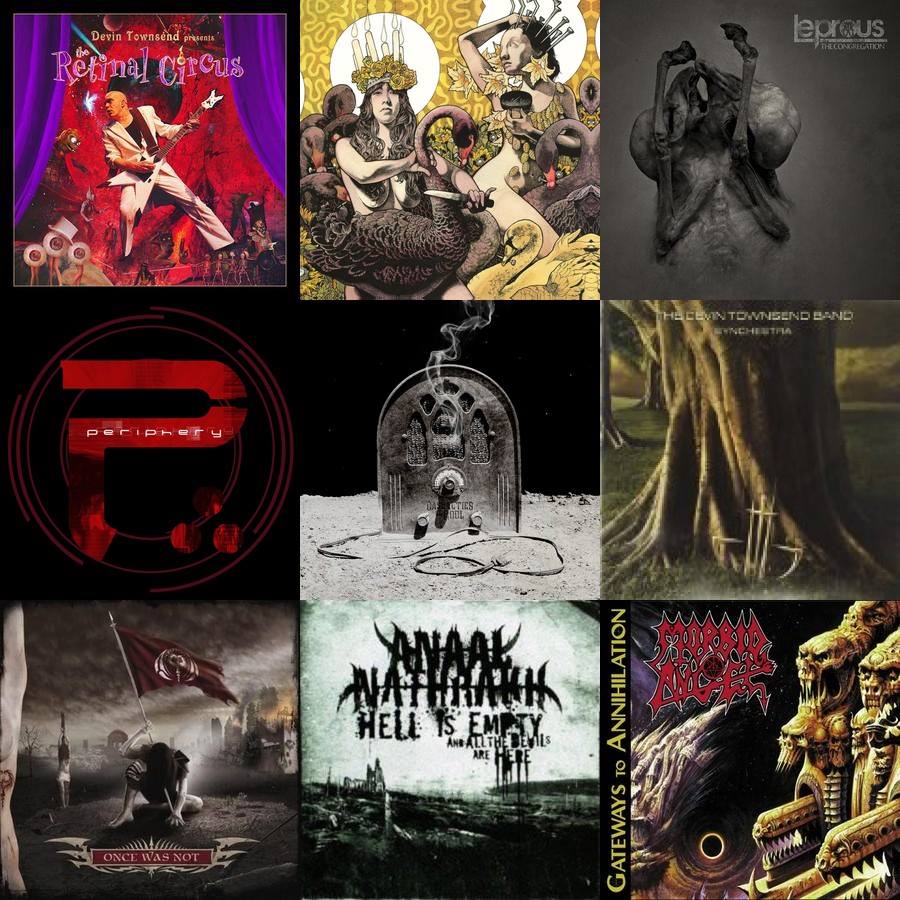 Devin Townsend – The Retinal Circus
Baroness – Yellow & Green
Leprous – The Congregation
Periphery – Periphery II: This Time It's Personal
Casualties of Cool – Casualties of Cool
The Devin Townsend Band – Synchestra
Cryptopsy – Once Was Not
Anaal Nathrakh – Hell Is Empty and All the Devils Are Here
Morbid Angel – Gateways to Annihilation
Scott Murphy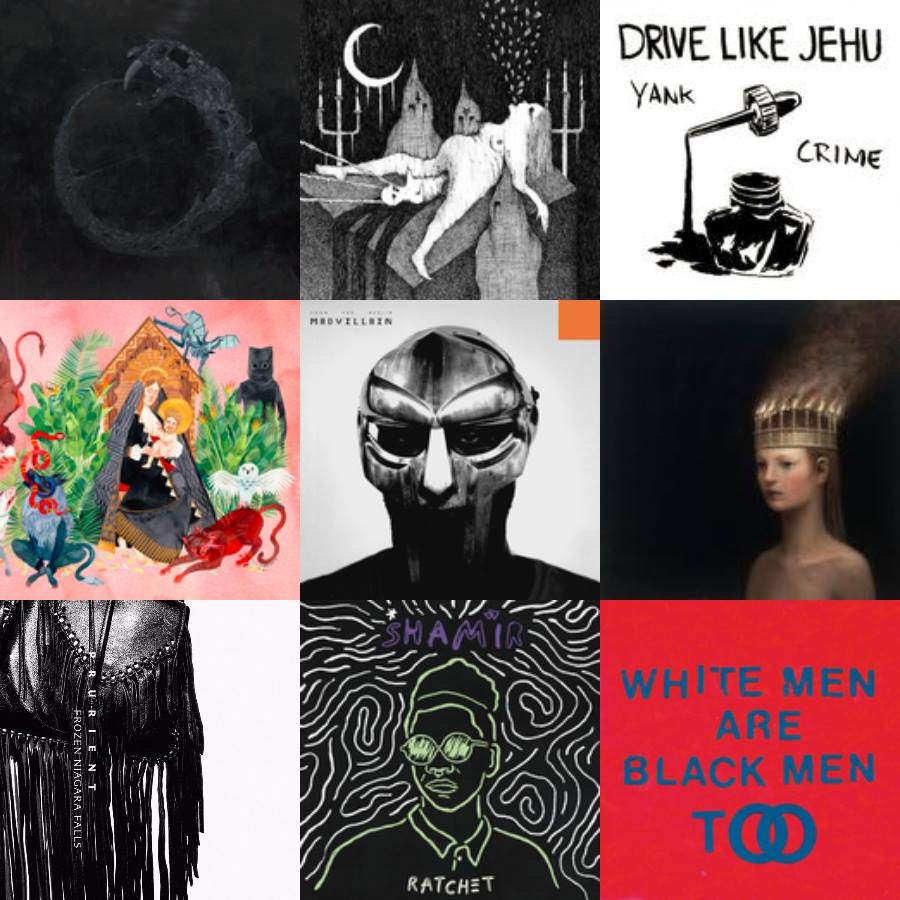 Coffinworm – IV.I.VIII
Dragged Into Sunlight – Hatred For Mankind
Drive Like Jehu – Yank Crime
Father John Misty – I Love You, Honeybear
Madvillain – Madvillainy
Mantar – Death By Burning
Prurient – Frozen Niagara Falls
Shamir – Ratchet
Young Fathers – White Men Are Black Men Too
Elizabeth Wood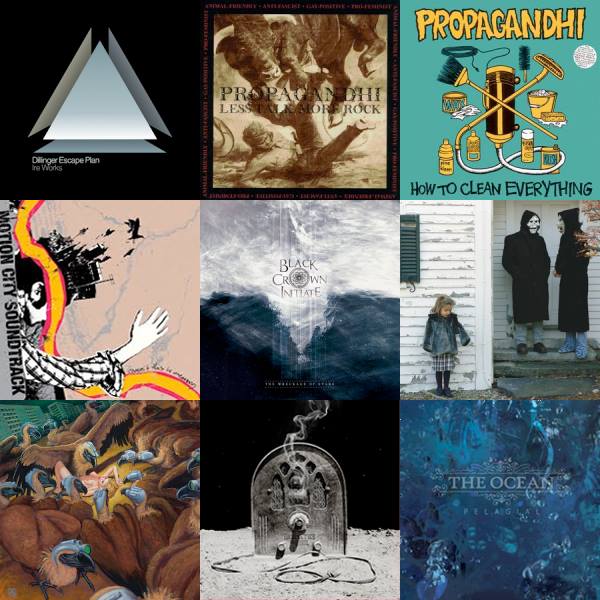 The Dillinger Escape Plan – Ire Works
Propagandhi – Less Talk, More Rock
Propagandhi – How to Clean Everything
Motion City Soundtrack – Commit This to Memory
Black Crown Initiate – The Wreckage of Stars
Brand New – The Devil and God are Raging Inside Me
Protest the Hero – Volition
Casualties of Cool – Casualties of Cool
The Ocean – Pelagial
William France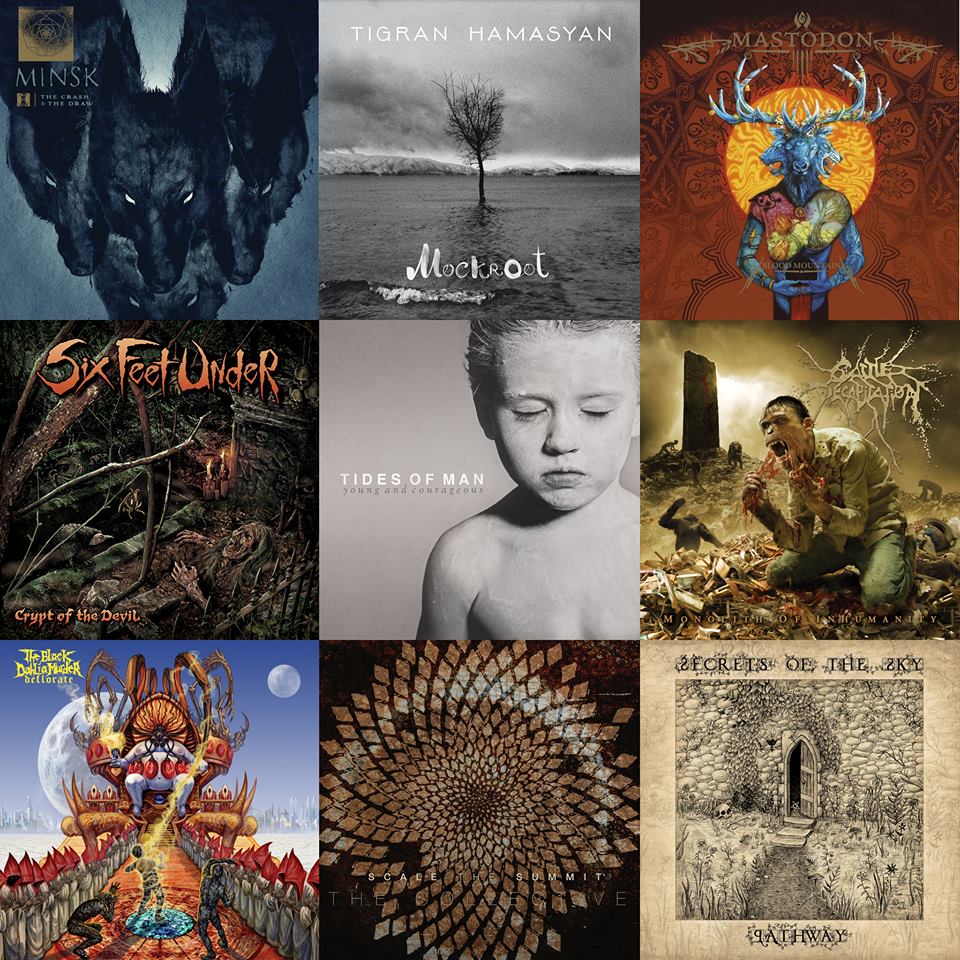 Minsk – The Crash and the Draw
Tigran Hamasyan – Mockroot
Mastodon – Blood Mountain
Six Feet Under – Crypt of the Devil
Tides of Man – Young and Courageous
Cattle Decapitation – Monolith of Inhumanity
The Black Dahlia Murder – Deflorate
Scale the Summit – The Collective
Secrets of the Sky – Pathway
Aaron Lambert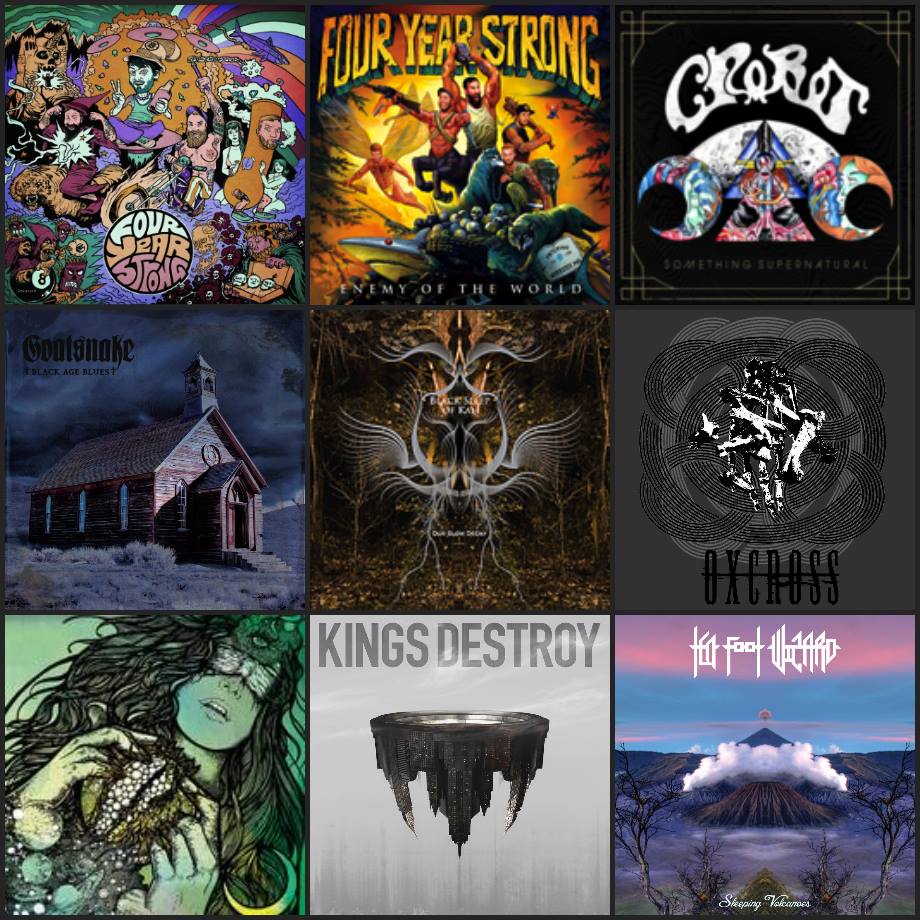 Four Year Strong – s/t
Four Year Strong – Enemy of the World
Crobot – Something Supernatural
Goatsnake – Black Age Blues
Black Sleep of Kali – Our Slow Decay
Oxcross – Tree and Stone
Dwellers – Pagan Fruit
Kings Destroy – s/t
Ten Foot Wizard – Sleeping Volcanoes
Ryan Castrati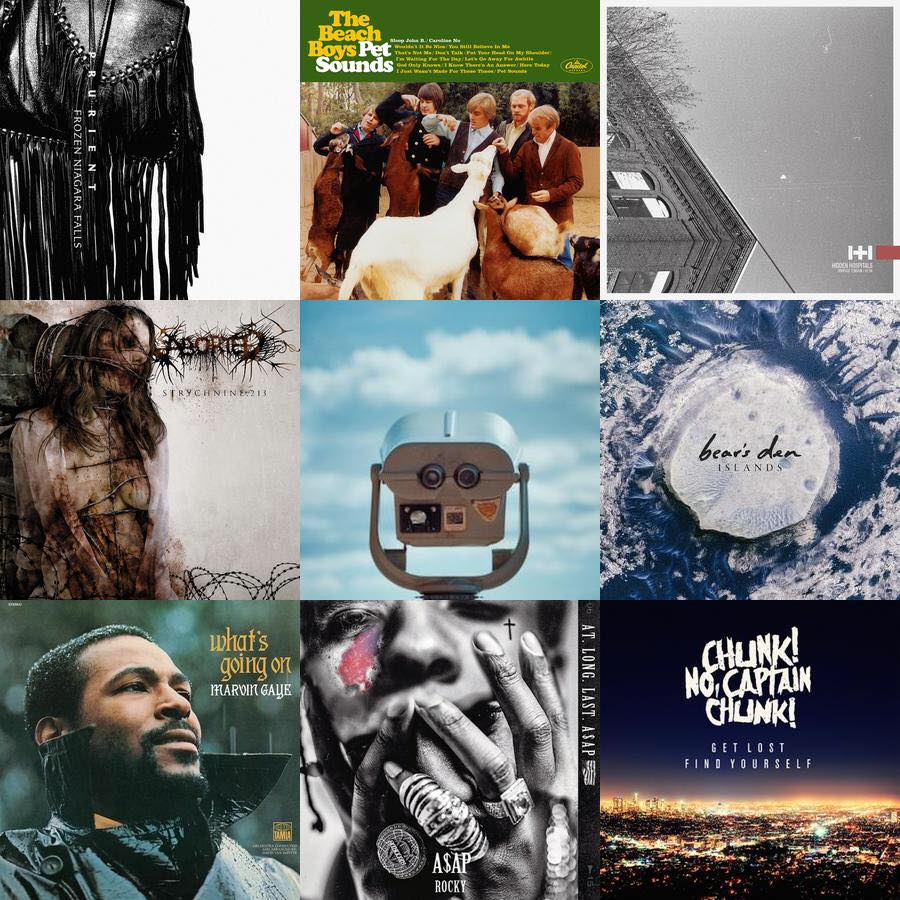 Prurient – Frozen Niagara Falls
Beach Boys – Pet Sounds
Hidden Hospitals – Surface Tension
Aborted – Strychnine.213
Little Tybee – For Distant Viewing
Bear's Den – Islands
Marvin Gaye – What's Going On
A$AP Rocky – AT.LONG.LAST.A$AP
Chunk! No, Captain Chunk! – Get Lost, Find Yourself
Nick Cusworth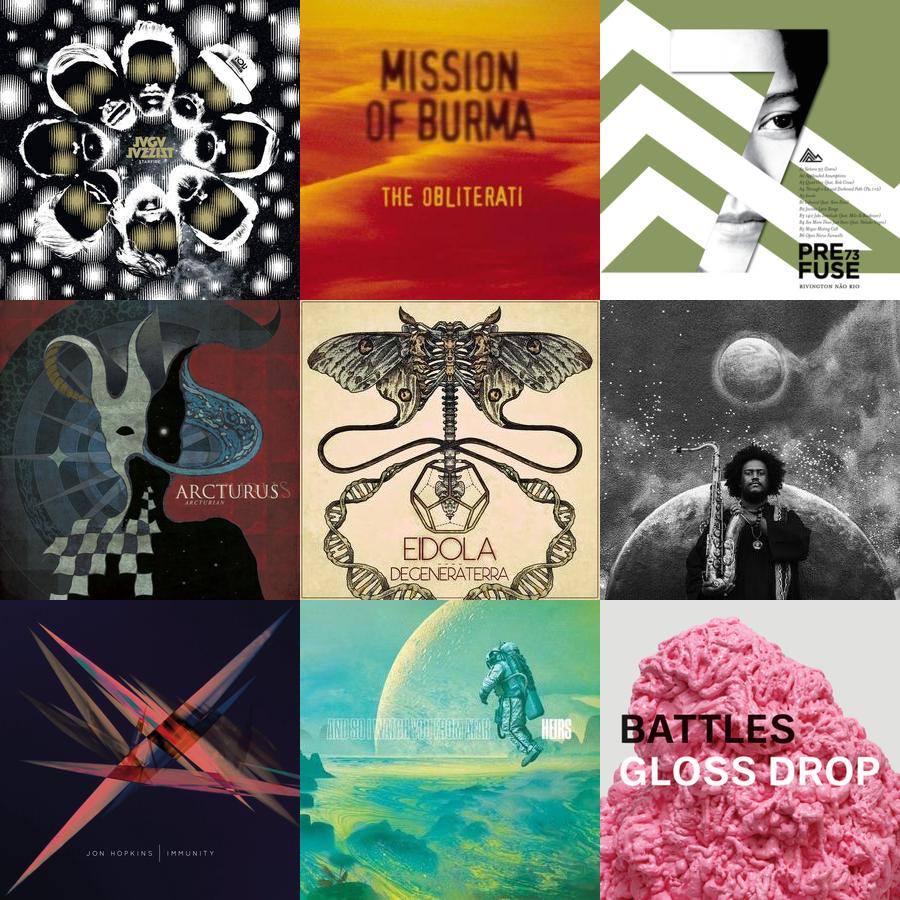 Jaga Jazzist – Starfire
Mission of Burma – The Obliterati
Prefuse 73 – Rivington Não Rio
Arcturus – Arcturian
Eidola – Degeneraterra
Kamasi Washington – The Epic
Jon Hopkins – Immunity
And So I Watch You From Afar – Heirs
Battles – Gloss Drop
Dan Wieten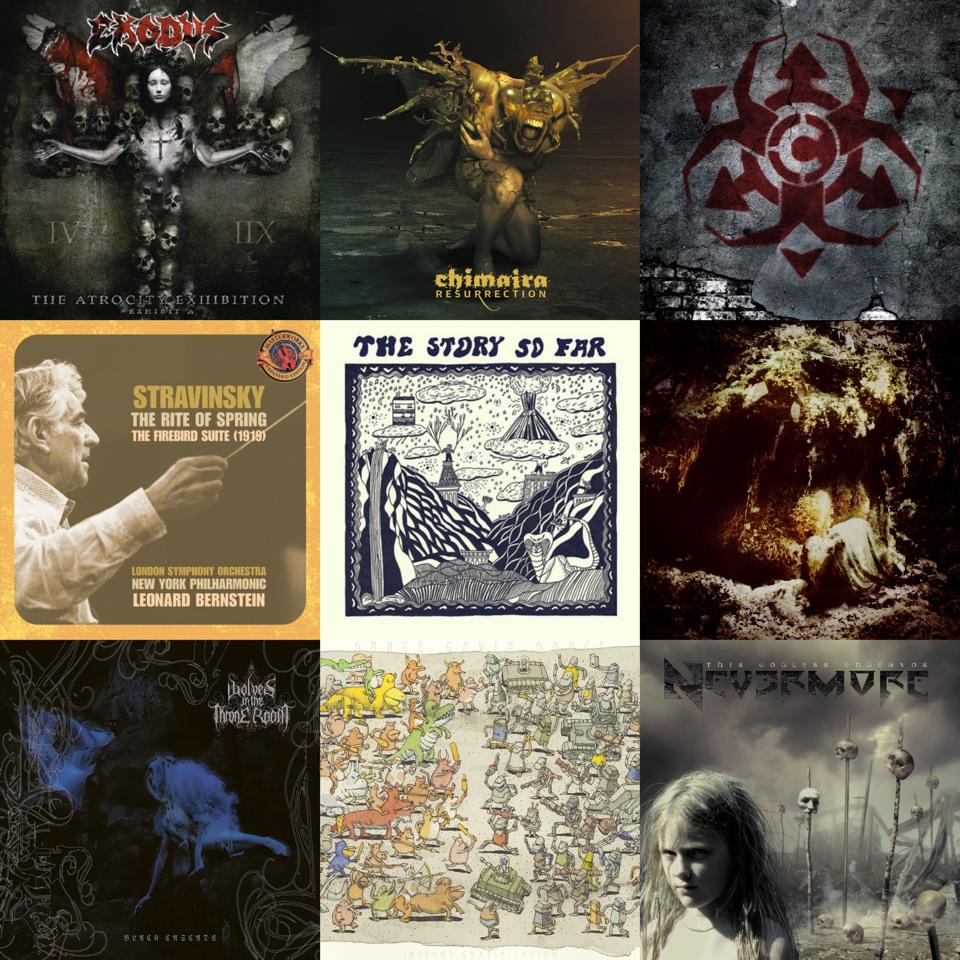 Exodus- The Atrocity Exhibition
Chimaira- Resurrection
Chimaira- The Infection
Stravinsky- The Rite of Spring
The Story So Far- s/t
Wolves in the Throne Room- Celestial Lineage
Wolves in the Throne Room- Black Cascade
Dance Gavin Dance- Instant Gratification
Nevermore- This Godless Endeavor
Ahmed Hasan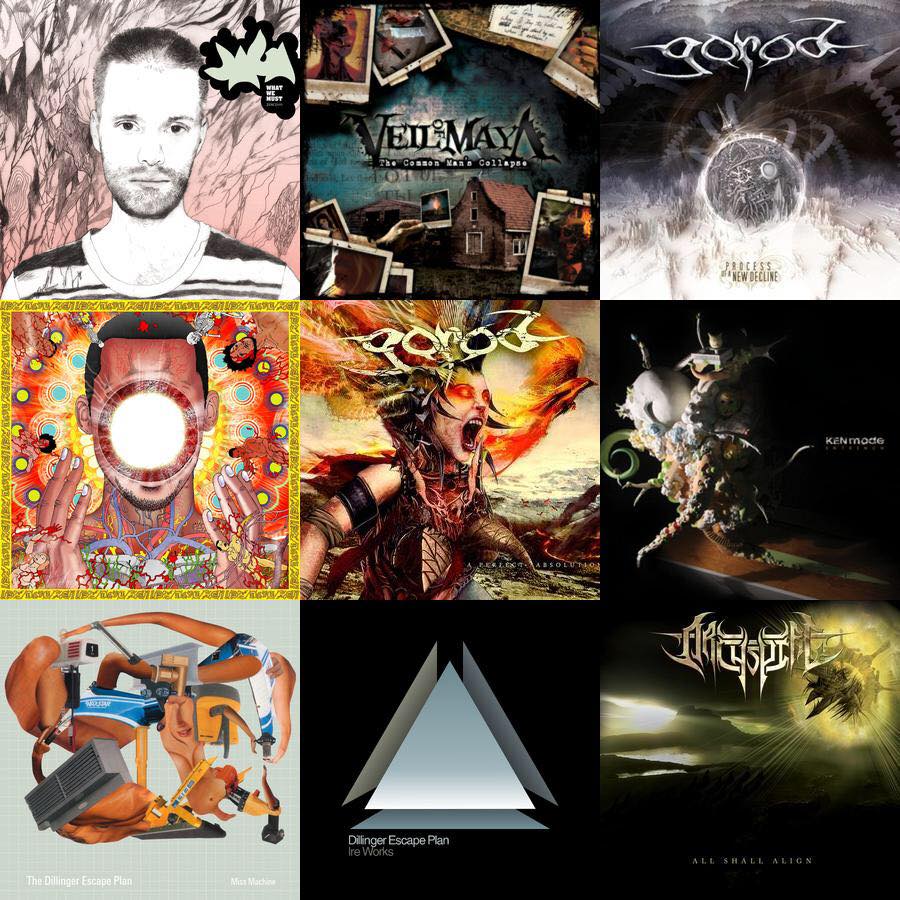 Jaga Jazzist – What We Must
Veil of Maya – The Common Man's Collapse
Gorod – Process of a New Decline
Flying Lotus – You're Dead!
Gorod – A Perfect Absolution
KEN Mode – Entrench
The Dillinger Escape Plan – Miss Machine
The Dillinger Escape Plan – Ire Works
Archspire – All Shall Align
Colin Kauffman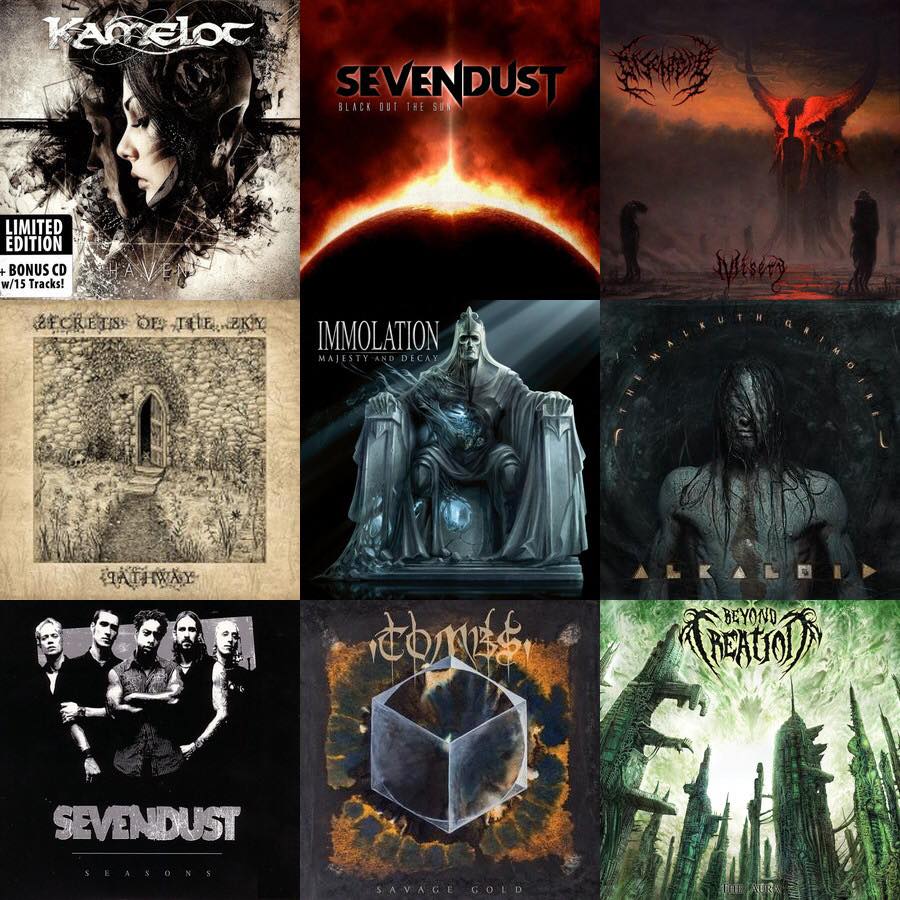 Kamelot-Haven
Sevendust-Black Out The Sun
Disentomb-Misery
Secrets Of The Sky-Pathway
Immolation-Majesty and Decay
Alkaloid-The Malkuth Grimoire
Sevendust-Seasons
Tombs-Savage Gold
Beyond Creation-The Aura
Spencer Snitil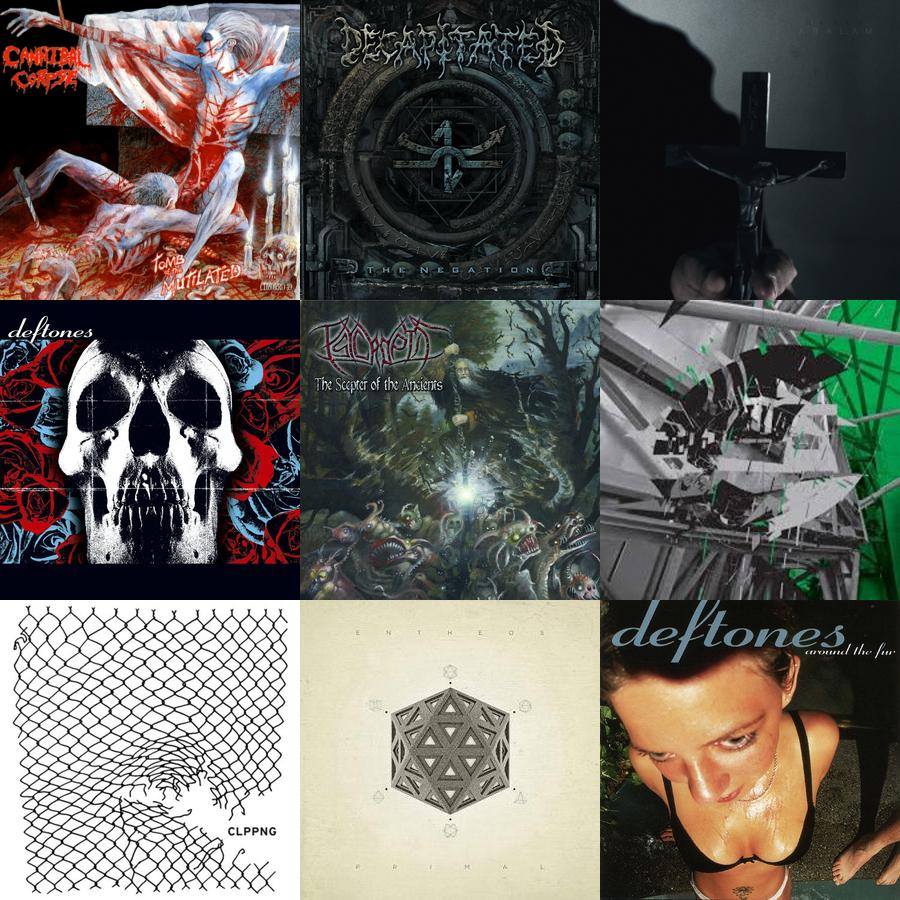 Cannibal Corpse – Tomb Of The Mutilated
Decapitated – The Negation
Hexis – Abalam
Deftones – Deftones
Psycroptic – The Scepter Of The Ancients
Rosetta – Quintessential Ephemera
clipping. – CLPPNG
Entheos – Primal EP
Deftones – Around The Fur
Kyle Gaddo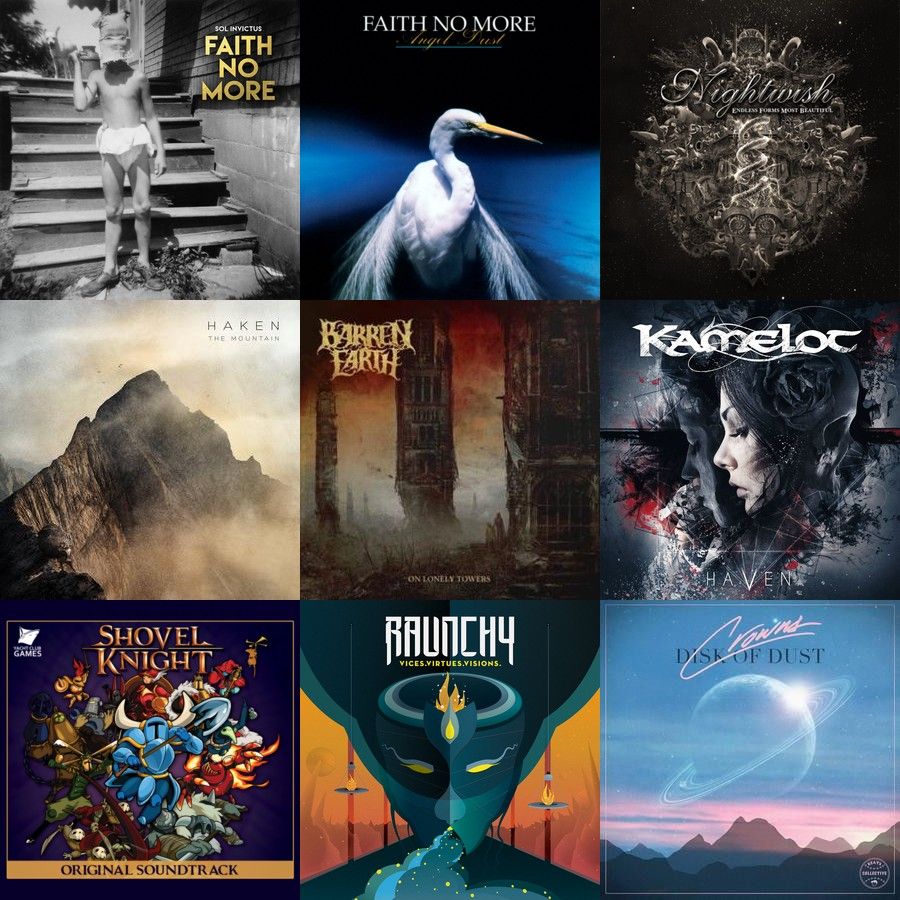 Faith No More – Sol Invictus
Faith No More – Angel Dust
Nightwish – Endless Forms Most Beautiful
Haken – The Mountain
Barren Earth – On Lonely Towers
Kamelot – Haven
Jake "Virt" Kaufman – Shovel Knight Original Soundtrack
Raunchy – Vices.Virtues.Visions
Crowns – Disk of Dust
-SM