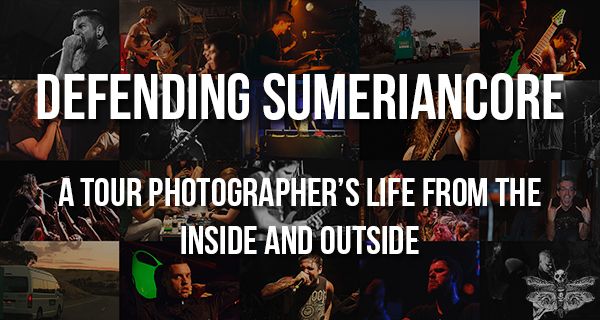 Welcome back readers! This is the sixth AND LAST part of William France's sojourn in the wildlands of Australia (right? The entire place is just wildlands, right?), on tour with After the Burial and Born of Osiris! That's right, the journey ends here! We hope you've enjoyed your time with William. This was a seriously fun thing to publish and we all hope we can do it again in the very near future!
If you haven't yet, check out the first, second, third, fourth and fifth parts! If you have, hold on to your socks because things are going to get a bit bumpy. Head on over the jump for your sixth taste of this rollercoaster. And remember, for the last time for now: DEFEND SUMERIANCORE.
I really enjoyed Melbourne. Growing up in the suburbs, it's a place that I've wanted to visit for many years. It's always felt like the be all and end all of city living, with no shortage of stuff to see and do. My main objective for Melbourne was to find the tastiest fast food that wasn't available back home that I could, which I later discovered in the form of a kebab the size of my forearm. Arriving at the venue, it dawned on me that this was the last night of the tour. Tomorrow I would be back at my house in Brisbane and back to the grating blandness of non-tour life. I started to contemplate whether I could afford to fly to Perth for the last two shows, but that would have been more trouble than it was worth, not to mention I had organised to move house a few days after I got home.
So we followed the IRE guys to the venue, and unloaded the trailer for the very last time. The Espy felt very fancy, the walls of the Gershwin room are covered in elaborate, hand painted designs, and their loading bay allowed us to practically take the equipment directly from the trailer to the stage. I will admit that I was definitely looking forward to not having a trailer full of gear to lug around. Exhausted, I walked out to the front deck area where I was able to have a beer with fellow Heavy Blog contributor Geoff Smith along with Lee and Anthony from ATB. Up until that point I hadn't met any of the other staff at HBIH, due to the fact that we're spread out all over the world. Geoff however, turned out to be a lovely guy and we chatted for quite some time about music and the blog.
As the sun set over the esplanade, we moved inside where I started to set up the merch desk and it wasn't long before IRE had moved onstage. With an exception to Inhuman Remnants, Ire were probably the heaviest death metal support on the entire tour and I thoroughly enjoyed their set. They reminded me of The Price of Existence-era ASP (All Shall Perish) and a small amount of Aversions Crown mashed together in a furious shit-storm of brutality.
Feed Her to the Sharks followed IRE, and while it may not be my preferred style of music, I have never been able to find a fault in their performance in the six or so times I've seen them. Back at the merch desk I had been flooded with crazed people wanting merch, fifteen to twenty people's arms thrusting handfuls of cash in my face trying to get my attention. I served one guy who bought an After the Burial singlet, later returning to the desk to inform me that he or someone else had ripped it, moshing in the pit, and that he was entitled to a replacement shirt. I was a little annoyed by his request, explaining to him that the merch cost the band money to create, and it wasn't my place to be giving away replacements without even as much as approaching the band first. I figured that was a no brainer. He did not take kindly to this, and got quite angry, demanding that I exchange his singlet before shoving me back from the other side of the table. I kind of snapped at this point, I think I threatened to drag him outside and beat him senseless, at which point he tucked tail and walked away. His perseverance was honestly surprising.
It was also around this point that I had an influx of people come to me requesting that I cloak their bulky items of clothing or handbags, to which I grudgingly accepted. One guy cloaked a Planetary Duality hoodie and never collected it, and I have unashamedly been wearing it ever since. It's actually come in handy a whole bunch of times. If you were at the Melbourne show and you gave your Faceless hoodie to the merch guy but forgot to collect it afterwards, get in touch with me and I'll send it back to you!
It was clear at this point that After the Burial are a band that get better as a tour goes on, almost as if they used all the time building up to the Espy show charging their musical spirit bomb, to finally unleash it right at the end of the week. They were so unbelievably tight. I even heard a few people quietly mutter that they could be tighter and heavier than Meshuggah, but that's not for me to say. Their guitar tones, especially on the songs with the low C, felt like they were uprooting the foundations of the venue. Each instrument is locked in so perfectly with each other that every note hits you in the chest like a sledge hammer. Getting to see these guys perform each night was truly a blessing. Born of Osiris had been unlucky at a few of the previous shows, suffering from persistent technical difficulties that had at points stopped their show for upwards of twenty minutes. I was so relieved when the Melbourne show went off without any problems. BoO, much like ATB, were fantastic. Watching Cameron drum from back/side stage was incredibly interesting; he makes it look so effortless in a smooth and relaxed way, while also retaining a robotic element. The on-stage relationship between the members of Born of Osiris is very entertaining to watch, with Ronnie constantly bantering to Joe and Lee between songs, complete with armpit farts and silly keyboard sound bites.
=
After each band finished, anywhere from ten to forty percent of the crowd would move to the merch table, so we were able to sell through a lot of the merchandise that we had prepared for that show. A friend who I'd known through Tumblr but never met in person happened to walk up to the desk, completely oblivious to who I was. I got a beer with her and her boyfriend after the show and introduced them to Anthony from ATB. We all chatted for a while before saying our goodbyes and moving back to the van. Strangely enough, Geoff was nowhere to be found. I had made plans with him earlier to meet up after the show but I couldn't remember seeing him since the start of BoO's set. I figured he must have had to leave earlier than expected and made my way back to the van, where everyone was packing up.  My time in Melbourne was nearly at a close.
We drove back to a friend of a friend's house and within the first fifteen minutes nearly all of Born of Osiris had gone to bed. I wished I could have done the same, but my flight was booked for six in the morning, and it was already four, so we decided to stay up. That turned out to be the single worst decision I made on the entire tour. After leaving my Schoenberg Automaton CD that I'd picked up in Sydney in the rental van, I only just made it to the terminal. I need to say this; Tiger Airlines have the most inconveniently placed terminal at the Sydney Airport. Out of every airport I've been to, that morning was the most painfully frustrating experience of all of them. I ran the entire way from the EuropCar drop off point to arrive in a sweaty mess, wearing two day old clothes that were still damp from being in the pit at the Espy.
I was stressed. Irrationally stressed. I hadn't slept, I hadn't eaten, and when I walked up to the lady at the desk, I found out I had accidentally booked the flight for the previous day. This was the hair that broke the camel's back. I slumped over to the nearest internet kiosk after trying to be as polite as I could to the lady at the desk. I sifted through my options. My phone was dead, I didn't have a charger, I wasn't sure how much cash I had left and I had no way of contacting anyone else in the group. Eventually I decided just to suck it up and buy another ticket for the soonest flight back to Brisbane. Unfortunately that wasn't going to be until lunch time, a whole six hours away. I wasn't sure what I was angrier about, the ticket I booked yesterday or the six hours of perpetual boredom, sitting in disgusting clothes looking like I had just crawled out of a storm drain.
I walked around the airport searching for things I could sleep on and electrical sockets. I ended up finding both in the one place, and carefully positioned my bags around me before attempting to sleep the time away. I remember waking up a few times and feeling extremely confused. At one point I saw a family walk past and give me a kind of repulsed look, but I probably would have done the same had I access to a mirror.
It was over as quickly as it came about. This tour was without a doubt the most enjoyable, interesting, eye-opening experience I have had so far in my twenty one years on this earth. I experienced more things in that eight day period than I have in the entire five years I've played in a band. Everything I learned will benefit me in some way down the track, whether that be my superior knowledge of merch sales via the extraordinary Dan Carle, or my new-found ability to manoeuvre a van and trailer around the claustrophobic streets of Sydney. I was absolutely right in thinking that if I turned this tour down, I would regret it. This whole experience was breathtaking, and I was able to meet so many interesting people while doing it. I genuinely hope I am able to do this again one day, either as a photographer or with my own band. Touring is something completely separate to normal life. You run on a different schedule and time has a different meaning. It's not the most glamorous or healthy at times, but the sheer amount of things there are to experience severely outweigh any negatives. I need to thank Cozzy and Cam from Vanguard Touring for allowing me to come along on the tour, and Colin Cadell, for without his help getting press to the Tempo show, none of this would have happened.
-William France