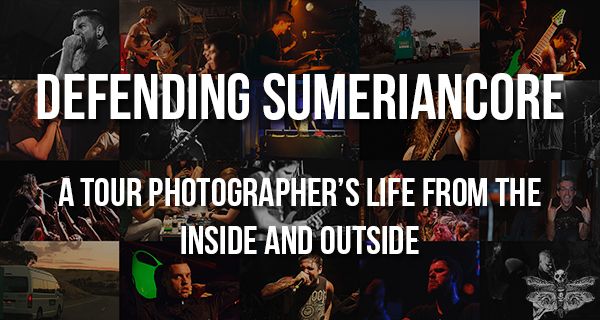 Welcome back readers! This is the fourth part of William France's sojourn in the wildlands of Australia (right? The entire place is just wildlands, right?), on tour with After the Burial and Born of Osiris! If you haven't yet, check out the first, second and third part! If you have, hold on to your socks but things are going to get a bit bumpy. Head on over the jump for your fourth taste of this rollercoaster. And remember: DEFEND SUMERIANCORE.
The next morning I woke to a sea of bodies and sleeping materials, as if everyone had periodically walked into a room, spotted what looked to be a comfortable area and just collapsed. We were all given espressos and decided that it was best to allow everyone to recover and catch up on sleep before we headed to Adelaide. Most of the crew ended up staying at the house, either in a coma-like sleep, or occupied with other things. A few of us however caught wind of a magical place, called Fyshwick. We were told that this was the place one would go if one were in search of things generally frowned upon in every day society. Fyshwick was described to me as the black market of Canberra. When we arrived however, what we found was a glorified industrial area and a smoke store with an abnormally large range of smoking paraphernalia and sex toys. Not exactly the isles of fireworks and deadly weapons I had expected.
We left Canberra and headed to Adelaide that evening. Out of the entire trip, driving from Canberra to Adelaide and then Adelaide to Melbourne were easily the most exhausting. I remember the thought running through my head that at any one point, I could lose focus and careen off the road into a tree or something equally as dangerous. I for one did not want to add to the already high number of van flips in touring history. Thankfully, we did not encounter any hiccups of the crashing-and-dying kind for the duration of the tour. For those not familiar with Australia, kangaroos become somewhat of a problem when you are in a car travelling over 100km/h (or at any speed, really). They are essentially oddly shaped cows, in that if an adult kangaroo jumps in front of your vehicle, you are going to have one hell of an accident. They are liable to be stunned by the headlights, and tend to just freeze up and stare at you. We were forced to stop just before dawn, as that is the time where kangaroos are most likely to be active near the road due to the warmth of the bitumen. I spotted countless numbers of kangaroos, all precariously sitting by the roadside, before we decided it was worth pulling over and waiting. This, of course, called for an extremely early 4:20 and allowed me to take some wonderful photos of the sun rising.
Arriving in Adelaide knowing we weren't on a tight schedule to get to the next venue (especially after the Sydney/Canberra shows) was a huge relief. We had two days off, and what a Godsend they were. We had originally organised to stay at the house of a friend of someone on the tour, but I don't actually remember seeing or meeting the guy that lived in the aforementioned house. Both bands, with the addition of the tour managers and drivers, had gathered in this guy's lounge room, but the entire time he was holed up in his bedroom. I'm not sure if he was just incredibly shy, but if two international bands were staying at my house I would have been out there shaking each one of their hands with an inappropriately large smile plastered across my face.
The majority of us decided to visit some of Adelaide's wonderful beaches. I feel like I have some sort of credibility talking about this subject. Growing up in a coastal town, appropriately dubbed The Sunshine Coast, I frequently visited many of the beaches in the area, but Adelaide's are on another level entirely. After scouting for the nicest place to swim, and picking up some necessities (beer), we found ourselves bobbing around in the water, drinks in hand, for most of the day. This is the one time I wish I had my camera, but didn't. Cameras and sand don't generally mix, and it was because of this reason that I decided to leave it at the house. Not only were we surrounded by amazing beaches, but we met some fairly interesting beach goers who were more interested in the guys' accents than the fact we were openly drinking on a public beach. This was the most enjoyable time I had on the tour, getting to hang out with everyone as normal people in a relaxed environment, rather than the fast-paced musicians you would see back stage at a show.
Aside from a rather unfortunate acid trip, Adelaide treated us well. Fowlers Live was one of the nicest venues I have ever had the pleasure to photograph at. The lighting was literally perfect, and this was one of the only dates where I thoroughly enjoyed the entire show, including the supporting acts. Two memorable bands I was impressed by were Infiltrator and Far West Battlefront. The turnout was one of the biggest I remember seeing, with an exception to Melbourne, and when After the Burial took the stage, the entire venue seemed to breathe with the movement of the crowd. Being on a tour like this and getting the opportunity to see a band like After the Burial play night after night gave me insight into just how tight they are as a band. As the tour progressed, so did their live performance. By the time we hit Fowlers, ATB were an unstoppable horse of groove and aggression.
I had been taking a lot of photos by this point, but I had completely forgotten to charge my camera. I figured the battery grip would last me the entire tour but I was completely wrong. During the last support band's set I noticed my camera was down to one bar of battery. This usually means I have about twenty minutes left, depending on how quickly I notice it. I ran straight downstairs to where my equipment was, not being able to comprehend the guilt I'd feel missing ATB or BoO's set in such a well-lit venue because of my own incompetence. Fortunately, my spare battery had enough power that I was able to swap it out and place the other two flat batteries on charge. I was running back and forth from the green room, rotating batteries from the charger to my camera for the rest of the night, but I managed to shoot all of the bands. It was stressful, but I didn't mind.
---
You know, you try to keep a stereotype free mind, but then that story about the kangaroos creeps up and you just go back to imagining Australia exactly like you always have. Nothing to it but roll with it, I suppose. We'll be uploading the fifth part soon and we're getting near the end! William starts to wax philosophical soon, so stay tuned for late night musings, Heavy Blog staff hangs and much more!
-HB