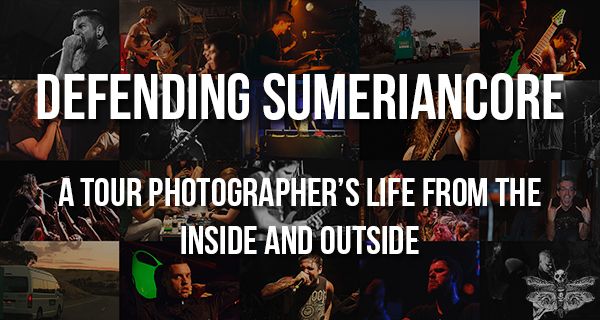 Ladies and gentlemen, dear readers of all sorts! What you have before you is a singular text, written by the mighty William France, regular Heavy Blog contributor, photographer and all around great guy. He was very lucky to get the chance to be a driver for the Born of Osiris/After the Burial tour a few months ago. This editor must apologize for taking so long in getting this text to you but at last, it's here, the very first part of William's tour journal! This is chock full of glimpses into the downright weird life of touring, replete with substance abuse, music and adventure. Without further ado, I take you to William's words, right after the jump. Make sure to bring spare clothes and stay tuned as these parts continue to be posted throughout the following week!
Defending Sumeriancore: How My Troubles Ceased and Fortune Smiled Upon Me – Part I
"Well, we could do with another driver. What are your plans for the next week?"
Over the course of the recent Born of Osiris/After the Burial tour, I was repeatedly asked the question "How the hell did you get to be a part of this tour?" and I would just repeat that sentence. The mere fact that I was at the first show of the tour was ridiculously lucky, and happened completely by chance. My good friend Colin was also photographing the show and through his connections with Vanguard Touring, managed to secure me a photo pass. To my surprise, I received a text from Col' the afternoon preceding the gig.. Generally speaking, you usually have to apply for a media pass weeks before the tour/show otherwise there is little to no chance of even getting a response. The Brisbane show ended up being a lot of fun, and I got to shoot alongside two photographer friends. A welcome change from the venomous glares I get from the majority of local photographers.
After awkwardly handing my business card to After the Burial's bassist, I walked over to the merch desk and greeted some friends, with absolutely no idea that I would spend the next seven days selling that same exact merchandise. As the night eventually came to a close, I ended up helping out one of the Vanguard staff with a ride back to the house Born of Osiris were staying at, where I nervously met Cameron Losch (drummer for BoO). We were all sitting around a table discussing touring life and how the bands were adjusting to Australia, when we got onto the topic of how they were short a driver.
"… What are your plans for the next week?"
There was no part of me that expected to be asked that question. In fact, this came as such a shock and was so spontaneous that I fainted. I was so overwhelmed, I literally had to lie down and allow the blood to return to my face. The only thing that I had done that was even remotely similar was photograph a three day EDM festival. And now I was being asked to tour with two international bands I had been listening to since high-school. It was an incredible thing to be offered, but I was consumed with nervousness and worry, afraid that I wouldn't be quite up to par in terms of pulling my weight and not becoming that extra burden that was never planned for. It was at that point that Lee McKinney (guitar for BoO) was carried through the door on the shoulders of the tour manager. He was noticeably drunk but greeted everyone with a joyous smile. I realised at that point, if I didn't agree to this tour, I would most certainly regret it for the rest of my life.
After sorting out the details with Vanguard Touring I made the journey home to break the news to my girlfriend. Succeeding a long and sleepless night of heated discussion, the day leading up to the second Brisbane show, AA (all ages) this time, was spent tying up any loose ends I had in preparation for the tour. I paid my rent, packed my bags and headed to the venue. Upstairs at 199 is one of the few all-ages venues in Brisbane. You walk up a set of stairs (hence the name) into an odd shaped room which could have once been an office, the stairwell taking up a third of the room. There is a small room and a toilet which make up the rest of the floor, but as a venue it certainly isn't my favourite place to be with a camera. The room is dark, the aesthetic qualities offer nothing of value to a photographer, and yet there is a huge sense of intimacy that I don't think can be attained at any of the other venues in Brisbane.
Something about being within an arm's length of the band, regardless of where you stand in the venue, is incredibly appealing. This rang true with both After the Burial and Born of Osiris, who fought past faults with the backline equipment to deliver an energetic show to the twenty to thirty kids that made up the audience. I do regret not taking photos that night, because even though the turnout wasn't as great as the 18+ show the night before, the crowd were so enthusiastic that the wooden floor was bowing under the weight of their bodies. I still hadn't had the chance to meet everyone at that point, but I didn't want to get in the way; I offered to help where I could, but for the most part stood where I wouldn't be a nuisance. A special mention needs to be made for Dan Carle's (drummer for After the Burial) trailer packing ability. Until you see him load instruments, amps, merch, stands and everything else two bands need for an Australian tour, you cannot truly appreciate the God-like Tetris power he possesses.
---
Tune in tomorrow as we continue to unveil this epic tale of a weird, foreign, lost place called Australia. Next time: indecency in a gas station! How the hell do you shower on tour? And last but not least, merch, merch, merch!
Until then, stay frosty!
-HB