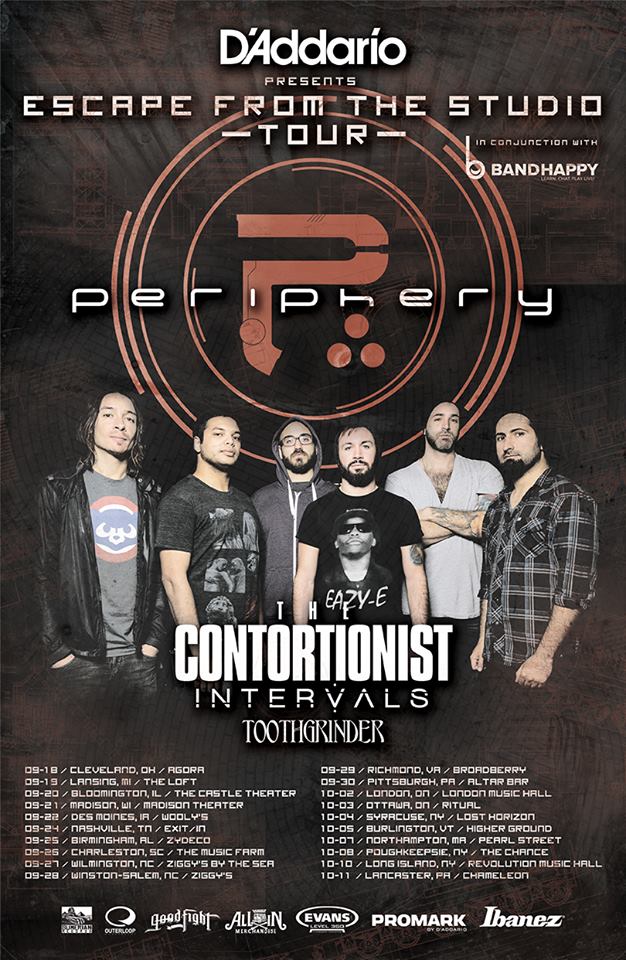 D'Addario and Planet Waves are joining forces with BANDHAPPY to put on the "Escape from the Studio" tour featuring Periphery, The Contortionist, Intervals, and TOOTHGRINDER. Tickets go on sale Friday, July 18.
Periphery are in the midst of recording their third full length, Juggernaut (Unfortunately not Periphery III: This Time We're Serious -KG), and judging by the name of the tour this will be a breather for them to reconnect with fans and make some new ones along the way. The tour kicks off in Cleveland, Ohio at The Agora Ballroom and will trek across the US with two stops in Canada along the way. No word as of yet if there will be VIP packages, but if Periphery's past tours are any indicator they will surely be available.
This marks the second time Periphery has taken The Contortionist out with them, the first time being the Frak the Gods Tour in Fall 2011 with Textures (their first American tour) and The Human Abstract. Stay tuned to Heavy Blog for more updates regarding this tour!
In the meantime… Tour dates!
Thu/Sep-18 – Cleveland, OH – Agora Ballroom
Fri/Sep-19 – Lansing, MI – The Loft
Sat/Sep-20 – Bloomington, IL – The Castle Theater
Sun/Sep-21 – Madison, WI – Majestic Theater
Mon/Sep-22 – Des Moines, IA – Wooly's
Wed/Sep-24 – Nashville, TN – Exit/In
Thu/Sep-25 – Birmingham, AL – Zydeco
Fri/Sep-26 – Charleston, SC – The Music Farm
Sat/Sep-27 – Wilmington, NC – Ziggy's by the Sea
Sun/Sep-28 – Winston-Salem, NC – Ziggy's
Mon/Sep-29 – Richmond, VA – The Broadberry
Tue/Sep-30 – Pittsburgh, PA – Altar Bar
Thu/Oct-02 – London, ON – London Music Hall
Fri/Oct-03 – Ottawa, ON – Ritual
Sat/Oct-04 – Syracuse, NY – Lost Horizon
Sun/Oct-05 – Burlington, VT – Higher Ground
Tue/Oct-07 – Northampton, MA – Pearl Street
Wed/Oct-08 – Poughkeepsie, NY – The Chance
Fri/Oct-10 – Long Island, NY – Revolution Music Hall
Sat/Oct-11 – Lancaster, PA – Chameleon
-DW