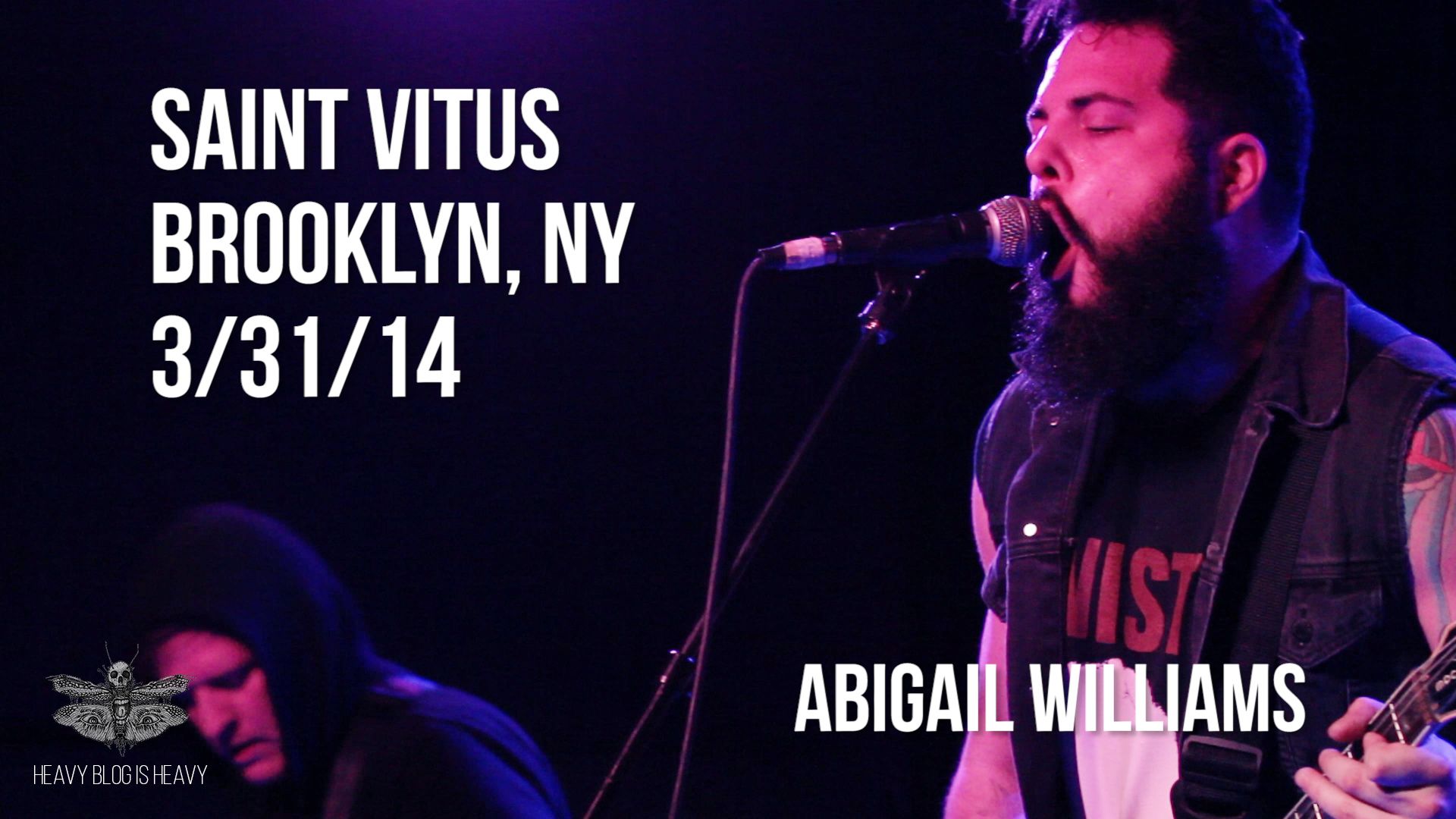 Continuing our new series of live concert videos, videographer Nicolas Cusworth went to Brooklyn's hub for all things heavy (as well as delicious pork buns), Saint Vitus, and captured a band we like very much, Abigail Williams. The band played several cuts off of the wonderful Becoming and In the Absence of Light, as well as two brand new songs, which the group has been kind enough to allow us to share. For the time being they both remain title-less, but we hope that their trotting out new material bodes well for more information on a new album soon. Regardless, both of the new songs definitely seem to pick up where Becoming left off and are most certainly worth a listen.
Opening that night was Long Island progressive death locals Cryptodira, who played a couple of tracks off of their debut album Recursions and their new EP An Unmarked Grave. Recent video subject So Hideous was also on hand to play a set, but we do not have video from the evening to post of them at this time.
Check the videos out below, and if you're digging them, subscribe to our Youtube channel! As we approach the heat of summer, we hope to have a lot more videos like this to come.
[youtube src="http://www.youtube.com/playlist?list=PLieIGYxtHviUyX4q3iGb2jbZ2QAx0p-w6&w=560"]
Catch Abigail Williams performing at the following dates:
5/15 Cudahy, WI – The Metal Grill
5/16 Cherry Valley, IL – Take 20
5/17 Ferndale, MI – The Loving Touch
5/18 Toronto, ON – Hard Luck**
5/19 Montreal, QB – Cafe Chaos**
5/20 Buffalo, NY – Broadway Joes
5/21 York, PA – The Depot
5/22 Pittsburgh, PA – 31st Pub*
5/23 Newport, KY – Thompson House
5/24 Saint Louis, MO – The Mad Magician
5/27 Kansas City, MO – Riot Room
5/29 Denver, CO – Seventh Circle
5/30 Colorado Springs, CO – Sunshine Studios
5/31 Salt Lake City, UT – The Shred Shed
6/1 Las Vegas, NV – Cheyennes Saloon
6/2 Los Angeles, CA – 5 Star
6/3 San Francisco, CA – Elbo Room
6/4 Chico, CA – LaSalles
6/6 Vancouver, BC – Funky Winkerbeans**
6/7 Calgary, AB – Calgary Metal Fest – Dickens Pub**
6/8 Great Falls, MT – Machinery Row
6/9 Bozeman, MT – The Filling Station
6/10 Fargo, ND – New One
6/11 Chippewa Falls, WI – Every Buddy's Bar
6/12 Omaha, NB – The Hideout
6/13 Des Moines, IA – Vaudeville Mews
6/14 Peoria, IL – The Brass Rail
*Abigail Williams and Lecherous Nocturne only
**Abigail Williams and Panzerfaust only
– NC