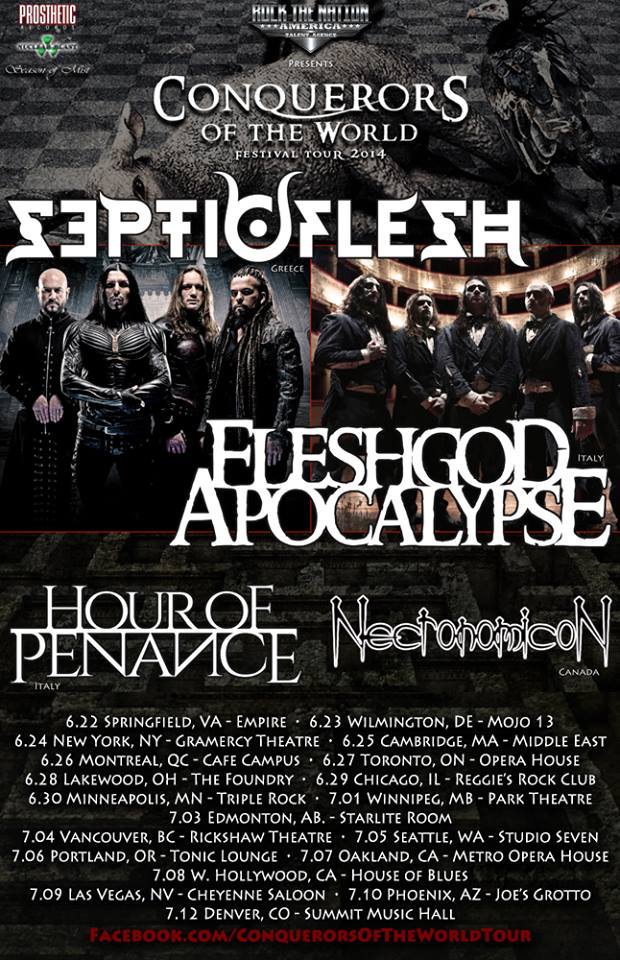 Septicflesh and Fleshgod Apocalypse, two of the world's leaders in epic brutality, are teaming up for a North American co-headlining tour, and they're bringing along their cohorts in Hour of Penance and Necronomicon. The trek was teased a few weeks back, but now we've got the full itinerary available. Check out dates after the jump.

6/22 Springfield, VA Empire
6/23 Wilmington, DE Mojo 13
6/24 New York, NY Gramercy Theatre
6/25 Cambridge, MA Middle East
6/26 Montreal, QC Café Campus
6/27 Toronto, ON Opera House
6/28 Lakewood, OH The Foundry
6/29 Chicago, IL Reggie's
6/30 Minneapolis, MN Triple Rock
7/1 Winnipeg, MB Park Theatre
7/3 Edmonton, AB Starlite Room
7/4 Vancouver, BC Rickshaw Theatre
7/5 Seattle, WA Studio Seven
7/6 Portland, OR Tonic Lounge
7/7 Oakland, CA Metro Opera House
7/8 West Hollywood, CA House of Blues
7/9 Las Vegas, NV Cheyenne Saloon
7/10 Phoenix, AZ Joe's Grotto
7/12 Denver, CO Summit Music Hall
The dates aren't that extensive, so make it out to one of the stops above if you're within a reasonable driving distance. Catching these symphonic death metal titans in one place must make for a stellar show.
– JR