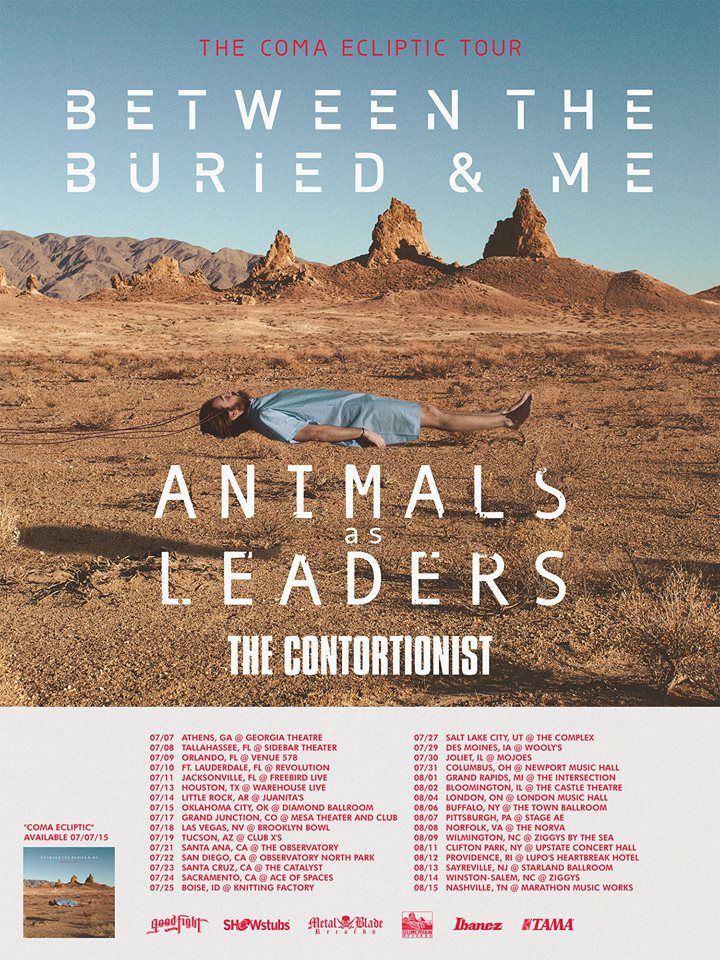 Calling it now—tour of 2015. Between the Buried and Me are wrapping up work on their upcoming album, Coma Ecliptic. Mixed by the legendary Jens Bogren, the 11-track monster will be available via Metal Blade Records on July 7th, 2015.
In support of the soon-to-be-released record, Between the Buried and Me will be going on an extended tour of North America with prog giants Animals as Leaders and The Contortionist during the summer. This follows an already announced smaller run with Chicago's The Atlas Moth.
Tour dates and Coma Ecliptic information below!
07/07 Athens, GA Georgia Theatre
07/08 Tallahassee, FL Sidebar Theater
07/09 Orlando, FL Venue 578
07/10 Ft. Lauderdale, FL Revolution
07/11 Jacksonville, FL Freebird Live
07/13 Houston, TX Warehouse Live
07/14 Little Rock, AR Juanita's
07/15 Oklahoma City, OK Diamond Ballroom
07/17 Grand Junction, CO Mesa Theater and Club
07/18 Las Vegas, NV Brooklyn Bowl
07/19 Tucson, AZ Club X's
07/21 Santa Ana, CA The Observatory
07/22 San Diego, CA Observatory North Park
07/23 Santa Cruz, CA The Catalyst
07/24 Sacramento, CA Ace of Spaces
07/25 Boise, ID Knitting Factory Concert House
07/27 Salt Lake City, UT The Complex
07/29 Des Moines, IA Wooly's
07/30 Joliet, IL Mojoes
07/31 Columbus, OH Newport Music Hall
08/01 Grand Rapids, MI The Intersection
08/02 Bloomington, IL The Castle Theatre
08/04 London, ON London Music Hall
08/06 Buffalo, NY The Town Ballroom
08/07 Pittsburgh, PA Stage AE
08/08 Norfolk, VA The NorVa
08/09 Wilmington, NC Ziggys by the Sea
08/11 Clifton Park, NY Upstate Concert Hall
08/12 Providence, RI Lupo's Heartbreak Hotel
08/13 Sayreville, NJ Starland Ballroom
08/14 Winston-Salem, NC Ziggys
08/15 Nashville, TN Marathon Music Works
Hat tip to MetalSucks for having those all typed out.
Regarding the new album:
"Once again, the band has returned with an ambitious concept album. This time, the story follows the wanderings of an unidentified man, stuck in a coma, as he journeys through his past lives. Each song is its own episode in a modern day, sort of The Twilight Zone-esque fashion. The unidentified man enters each world and is offered a choice: stay, or move on to the next in search of something better, something more "perfect." Vocalist / keyboardist Tommy Rogers spoke with Revolver Magazine for their upcoming issue, which will be on newsstands everywhere March 31st. Pick up the magazine for an exclusive first look at the album's recording process and concept. New music and pre-orders bundles will be launched on April 3rd, 2015."
If you can catch this tour, DO NOT MISS IT. Again, this will likely be the best tour of 2015, especially for progressive fans.
-KG