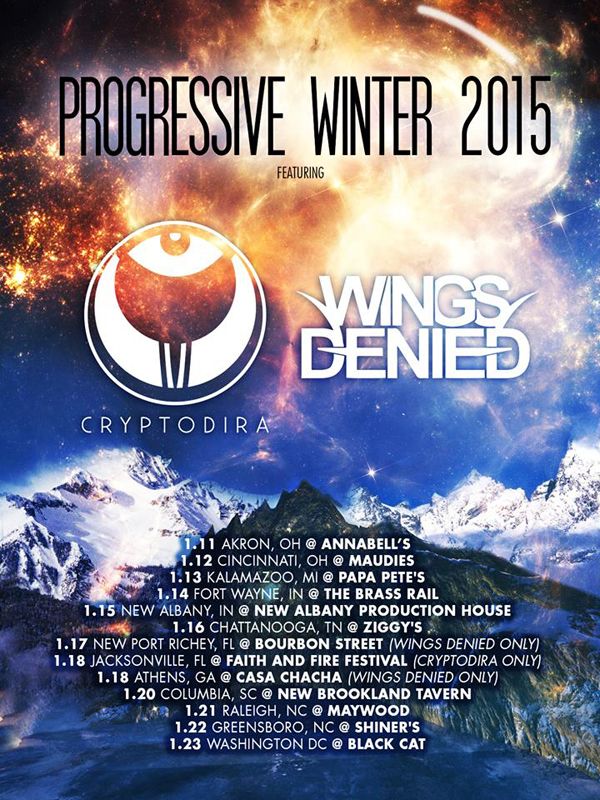 What better way to spend a cold winter day than in a hot, sweaty venue with two up and coming prog bands? Details on the "Progressive Winter 2015" tour after the jump.
Washington D.C. based Wings Denied and Long Island, New York's Cryptodira will be spending their January warming the hearts of people on the East Coast and in the Midwest with their own brand of progressive metal.
"Wings Denied is incredibly excited to hit the road again after a short hiatus especially with our friends Cryptodira," W-D's drummer and professional acrobat Alec Kossoff says. "We can't wait to play shows, meet new people, and hang out with our friends on tour. We may or may not be debuting some new material on this tour as well, which is exhilarating for us."
Here are the dates for "Progressive Winter 2015":
1.11 Akron, OH @ Annabell's
1.12 Cincinnati, OH @ Maudies
1.13 Kalamazoo, MI @ Papa Pete's
1.14 Fort Wayne, IN @ The Brass Rail
1.15 New Albany, IN @ New Albany Production House
1.16 Chattanooga, TN @ Ziggy's
1.17 Jacksonville, FL @ Faith and Fire Festival CRYPTODIRA ONLY
1.17 New Port Richey, FL @ Bourbon Street WINGS DENIED ONLY
1.18 Athens, GA @ Casa ChaCha WINGS DENIED ONLY
1.20 Columbia, SC @ New Brookland Tavern
1.21 Raleigh, NC @ The Maywood
1.22 Greensboro, NC @ Shiner's
1.23 Washington, DC @ Black Cat
Before you go, you'll want to sample both bands so here you go. You can also watch live video we caught of Cryptodira from earlier this year.
Wings Denied

Cryptodira

— BS