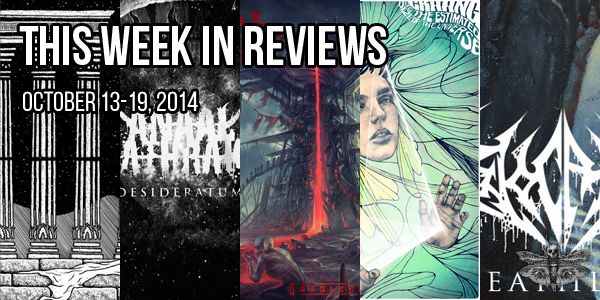 In This Week in Reviews, one of the lowest scores in recent memory but also som real winners. We'll run it all down after the jump.
Colin Kauffman kicks us off for the week in a good way with a 4.5/5 look at the new record from Lotus Thief.
Colin says this is far more than your typical Post-black metal record.
"Elements of the genre certainly do exist on Rervm, their debut album, but serve as more of a creative launch point than a genre template or set of stylistic rules. This presents an album that's as sprawling and varied as the story it tells, and one that seamlessly blends genres into a greater whole.
Colin also admires the balance in the production on Rervm.
"The album's production strikes a balance between lo-fi warmth and modern depth, giving birth to lush soundscapes where guitars, drums and keys ebb and flow under the angelic vocals. Repetition is a key element to the album, but never to the point where anything becomes tiresome. Sections are repeated just enough for them to to feel familiar, and then the song moves on, very much akin to how Gojira will milk a riff for all it's worth before switching things up for the listener. "
Scott Murphy offers three of five horns for British Black Metalers Anaal Nathrakh.
Scott says the band's eighth release is neither worth anticipating or being disappointed over.
"After all, throwing on an Anaal Nathrakh song is not a surprise-filled experience: first the song builds with some heavy chugs and/or start-stop tremolos, then Irrumator presses the blast beat button, and finally, vocalist V.I.T.R.I.O.L. jumps in with various indiscriminate shrieks and barks or campy operatic vocals (when the band decides to throw in a melodic passage). And at any moment, these elements are subject to digital effects and computer bleeps and bloops. This is not a terrible experience though; the predictability of their music also comes with a solid guarantee of mindless head-banging and adrenaline spiking."
These industrial influences ultimately don't redeem Desideratum for Scott.
"What ultimately plagues Anaal Nathrakh is both formula and sterility. None of the tracks on Desideratum are outright awful, but nor are they particularly memorable or invigorating. The band would certainly benefit from a reboot in both their composition style and the way in which they present it."
Matt MacLennan finds the new record from California Death Metalers Abysmal Dawn, well, abysmal. Just 2/5 for Obsolescence.
"By no means a riff by numbers effort, Obsolescence just does not have the requisite charm or surprise to make it anything other than a pedestrian effort, left to stand and watch the more advanced of their peers sprout wings and take flight."
If there's anything to redeem this record, Matt says it's the production.
"This is a tired, waning effort that is not recommended for multiple listens, it will just irk the listener that there is promise that never delivers. The album does sound great though. The vocals are clear, not overpowering and the general production of the instruments is sharp without being polished and never too distorted to make out the riff. If only there was just a bit more going on."
Craang – To The Estimated Size Of The Universe
John Skibeat loves the sound of this band's name on his way to a 4.5/5 review.
" To all intents and purposes, Craang sounds like their moniker suggests they should. The sudden resonant "craaannng" of strings reverberating through a mass of distortion. Actual metal on metal action. Oddly enough, as a heavy band capable of dredging up some powerful emotions, Craang are reminiscent of another onomatopoeic band, Kongh. Despite their blacker outlook and doomier "kooooonnngh" those Swedes definitely share a love for a good wall-of-sound and pounding repetition with this impressive Greek trio."
John finds this is a record with enough diversity to keep surprising and delighting the listener.
"Forever shifting, the picture morphs before your eyes, as much as the album's stunning artwork suggests it might. Perhaps it's the warm production, maybe it's the fact that as a three-piece the sound is spartan rather than busy, or perhaps it's the little effervescent qualities that shine through, but all I know is that "Magnolia" plays like an absolute dream."
We wrap up This Week in Reviews with Aaron Lambert's 4/5 look at the new record from Boston's Revocation.
"One thing that's immediately evident the minute you press play is how huge this album sounds compared to Revocation's past albums. Though they didn't sound terrible by any means, the guitar and drum tones always seemed rather flat when compared to other modern metal productions. This is not the case anymore; Revocation enlisted the knob-twisting wizardry of Zeuss to work his magic on Deathless, and it has benefited the band greatly. The production on Deathless is fuller and richer than it has ever been."
Aaron is also generous in his praise of Revocation's songwriting on Deathless.
" It's amazing that in spite of their self-titled album being released a little over a year ago, they still found the time and harnessed the creative energy to write another, even better album in such a short period of time. Seriously, these guys are machines. Deathless is ripe with all the Revocationisms we've all come to know and love, but they are much more refined and tighter than ever before. Furthermore, it's probably no coincidence that the album is called Deathless, because this is the most death metal Revocation have ever been. "
Stick with us for more great reviews in the week to come.
-BS