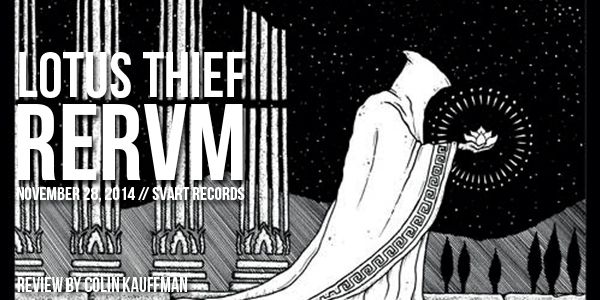 With Post-black metal experiencing a kind of popular renaissance, the amount of bands either jumping on the genre bandwagon or being thrust into mainstream recognition is at an all time high, and to some the genre is reaching it's saturation point. Writing Lotus Thief off as just another post-black metal band, however, would be a grave mistake. Elements of the genre certainly do exist on Rervm, their debut album, but serve as more of a creative launch point than a genre template or set of stylistic rules. This presents an album that's as sprawling and varied as the story it tells, and one that seamlessly blends genres into a greater whole. The one constant are the ethereal, beautiful female vocals layered atop the varied instrumentation.
As previously stated, post-black metal is just a starting point for Lotus Thief. The first three tracks contain everything from doom metal style slow crawls to classic Deep Purple style riffing. That the band weave all of this together so effortlessly on their debut album is proof of the band's skill as musicians and bodes very well for future releases. Part of this genre hopping instrumental virtuosity is certainly due in part by Otrebor, the man behind the always incredible Botanist. The compositions here are as lush and expansive as his previous work, and further cement him as one of progressive metal's unsung visionaries.
However, Otrebor is joined by Bezaelith, who not only contributed the female vocals to the album but also wrote and composed the vast majority of the music. Otrebor focused mainly on drums, where his genius can indeed be heard, but Bezaelith is due credit for her brilliant work on creating the evocative and bottomless soundscape which permeates the entire release.
The album's production strikes a balance between lo-fi warmth and modern depth, giving birth to lush soundscapes where guitars, drums and keys ebb and flow under the angelic vocals. Repetition is a key element to the album, but never to the point where anything becomes tiresome. Sections are repeated just enough for them to to feel familiar, and then the song moves on, very much akin to how Gojira will milk a riff for all it's worth before switching things up for the listener. This is a very easy album to get lost in, and it seems to fly by all too quickly. Thankfully, there's a good amount of subtle depth in the instrumentation, and combined with the vocal hooks you'll be coming back for more in no time.
Lotus Thief have crafted a fantastic debut that comes out of left field and leaves you wanting more, and that most other bands should envy. Time will tell if this project will bear as much fruit as Otrebor's other work, but if it does, we'll all be the better for it.
Lotus Thief's Rervm gets…

4.5/5
-CK