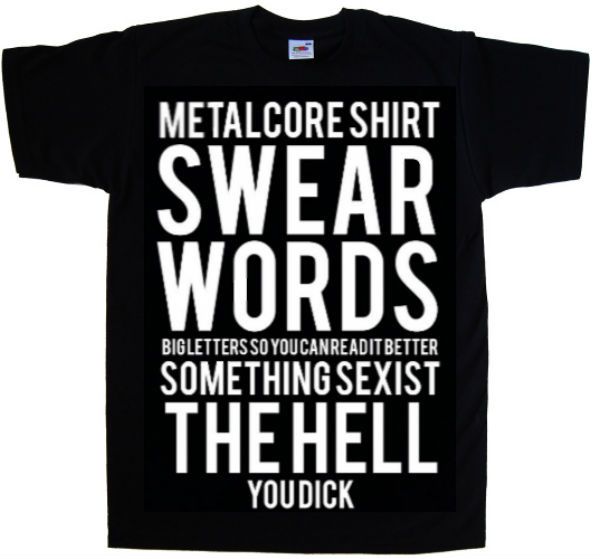 THE HELL are the greatest act of satire in all of extreme music, and we at Heavy Blog love them dearly. The anonymous act write and perform some of the most ignorant and hateful music around while skewering the entirety of metal and hardcore on their often always hilarious Facebook page. The latest and greatest outlandish act of hatred from THE HELL comes in the form of frontman Nails' open letter to metalcore, recently published by Metal Hammer. Check it out below.
DEAR METALCORE,
JUST FUCK OFF.
I AM WRITING YOU THIS AS AN OPEN LETTER, NOT BECAUSE I AM TOO MUCH OF A PUSSY TO SAY IT TO YOUR FACE, BUT BECAUSE I COULDN'T FIND YOUR FUCKING ADDRESS IN THE YELLOW PAGES.
PLEASE STOP. NO ONE FUCKING CARES ANY MORE. IT'S DIFFICULT TO WORK OUT WHAT YOU REALLY WANT FROM ANYONE. I SAW A FEW METALCORE BANDS OVER THE SUMMER AND I'VE NEVER BEEN SO FUCKING FURIOUS IN MY ENTIRE LIFE. THESE GUYS GET UP ON STAGE, SHOUTING "WHICH OF YOU MOTHERFUCKERS IS READY FOR A GOOD FUCKING TIME", AND THEN PROCEED TO SCREAM EVERY DETAIL OF EVERY ROMANTIC FAILURE THEY'VE EVER HAD. NO ONE WANTS TO HEAR IT MATE. THE ONLY PEOPLE WHO DO WANT TO HEAR IT ARE PEOPLE WHO ARE INTERESTED IN SHIT LIKE CRYING AND FLOWERS.
A TIP FROM THE TOP THOUGH, IT WOULD BE EASIER TO STOMACH YOUR OVERLY-SENTIMENTAL, GROTESQUE CIRCUS OF HEARTBREAK IF YOU WEREN'T SELLING T-SHIRTS TO PRE-TEENS THAT LOOK LIKE SOME KIND OF SWEARY, MISOGYNIST VERSION OF ADVENTURE TIME.
YOU'RE CONFUSED, METALCORE. IT'S ALMOST UPSETTING. TAKE 'ALONE' BY FALLING IN REVERSE. IT'S CLASSIC METALCORE. VERSES ABOUT HOW YOU'RE SHAGGING MY HYPOTHETICAL WIFE, THEN A (BEAUTIFULLY SUNG) CHORUS ABOUT HOW YOU'RE FED UP OF BEING ALONE AND YOU MIGHT NOT MAKE IT HOME AND NO ONE'S ON THE PHONE AND DIAL TONE AND PAYDAY LOAN. JUST FUCK OFF.
SO METALCORE, TO AVOID FUTURE HEARTBREAK AND TO SPARE US ANY MORE METALCORE ALBUMS – STOP BEING SUCH A CUNT.
YOURS SINCERELY (AND WE ARE ALWAYS SINCERE),
NAILS
THE HELL
While everything this band does is largely tongue in cheek, that doesn't make this letter any less true. What's even more delicious is the insane amount of ire the band have managed to draw from metalcore fans since the post went live. Poke around THE HELL's Facebook page and have a laugh at all the people in the comments who take themselves so seriously that they can't see that they're missing out on the funnest experience in hardcore.
Do yourself a favor and get fucked to Groovehammer, out now on Prosthetic Records.
Oh yeah, and pick up the best metalcore t-shirt ever printed while you're at it.
– JR