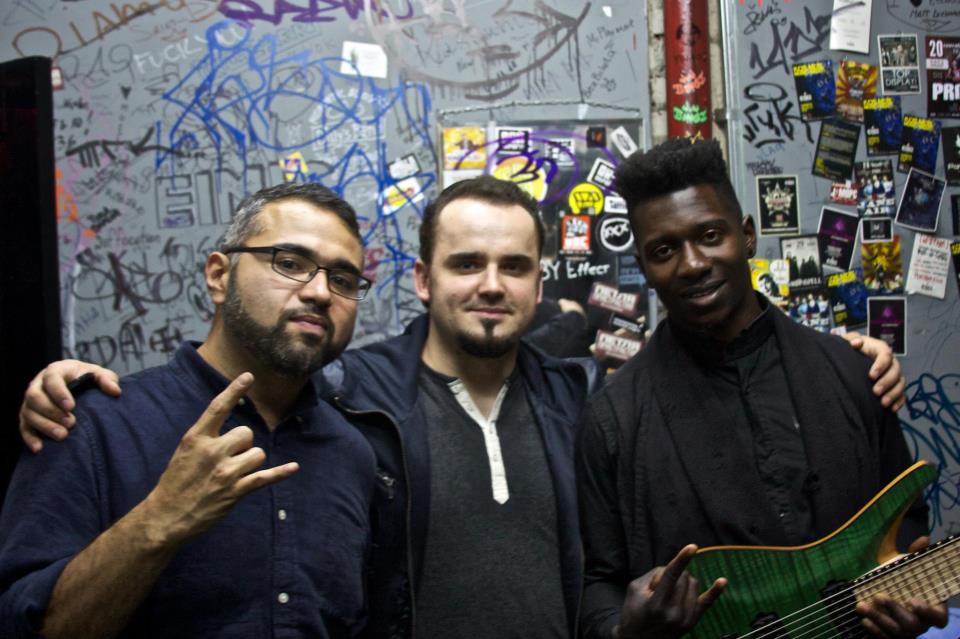 Last week, the LA Times published a beautiful story wherein Cynic's Paul Masvidal and Sean Reinert openly discuss their sexuality, both publicly coming out as homosexuals for the first time. The online metal community took the news with overwhelming support for Masvidal and Reinert, breaking many stereotypes along the way.
Of course, even in 2014, bigotry still exists in the world, and there will be those few and far between who will say ugly things about Paul and Sean based solely on their sexuality. Last night, May 12th, guitar luthier Vik Kuletski — above center, owner of boutique custom guitar company ViK Guitars — made a poorly veiled jab at Masvidal on Facebook, and the community response points to the likelihood that Vik's career as an up and coming luthier is more or less done, sealed by the ire of a number of high profile musicians and now former clients.
The original thread and some replies have since been deleted, but what follows are various screencaps compiled by Heavy Blog staff members.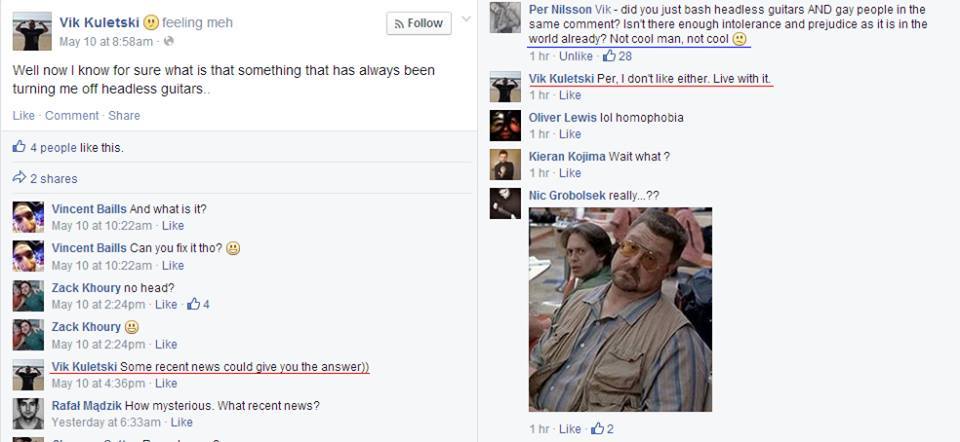 Here is the original post, wherein Vik implies that he never liked headless guitars because Paul Masvidal, a man who has his own custom line of them with Strandberg guitars, is gay. Scar Symmetry guitarist Per Nilsson was quick to reply, showing support for Paul and shaming Vik for his homophobia. Vik replies, "I don't like either. Live with it."
It didn't take long for other well known musicians to reply, including Periphery's Adam "Nolly" Getgood, Intervals' Aaron Marshall, Kieth Merrow, and a second public response from Per Nelsson: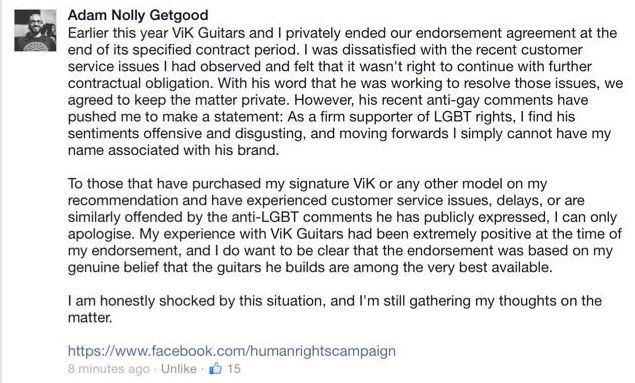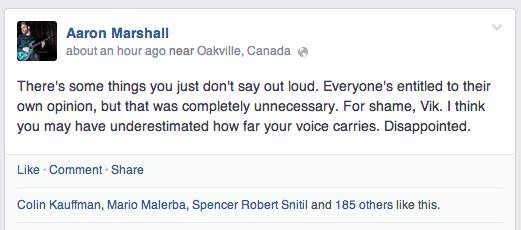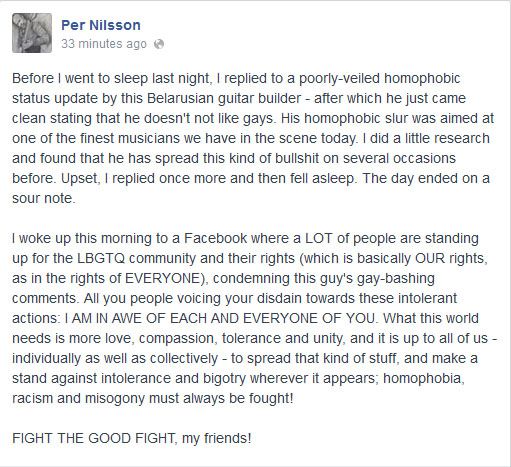 UPDATE: Since this article was first published, Misha Mansoor of Periphery has shared his thoughts:
Two years ago I placed an order with Vik Kuletski of Vik Guitars. Today that order has been cancelled. I cannot in good conscience actively promote or support him or his company with his outspoken and unwavering views against LGBT and their rights. The guitar in question had been arranged at a discounted price in exchange for promotion on my end, but after his comments I refuse to promote or be associated with his brand. I felt the only recourse was to ask for my money back. He assures me it will be back in my Paypal in full this Friday. I can only hope he sticks to his word.
To elaborate:
I had known about his issues with delivering guitars in a timely fashion to customers, and his apparent lack of skill at customer service in general. I have also experienced this myself over the last two years. I had been happy to wait at the time because I knew the guitar would be of good quality and had been making an effort to resolve his issues. I had hoped to be able to promote a new and improved Vik Guitars.
I paid for the balance of the guitar in full in January with the promise that the guitar would be ready by NAMM. It wasn't. When I asked for an update as to when my guitar would be sent out earlier today, Vik made it clear that he would not send me the guitar if I did not agree with and support his viewpoints. I told him that my morals and ethics are worth more than a guitar.
I believe in freedom of ideas and freedom of speech, but I also believe that you are free to face the consequences of what you choose to say. As a business owner, he was representing more than just himself, and I was not okay with his bigoted views extending to me. I have to say that it is refreshing to see that the grand majority of my peers feel the same way about this matter in general. I don't believe anyone should be discriminated against for their sexual orientations as consenting adults.
Luckily for us, there are lots of great luthiers and guitar companies that not only build great instruments, deliver them on time, and stick to their word, but also don't feel that bigotry should be part of their mission statement. I recommend you support those companies moving forward. I also hope that you support your brothers and sisters in the LGBT community who need your help to be treated as the equals they deserve to be.
Evidently, having past and potential clients being disgusted with his statement wasn't enough for Vik to call it a day, as he continued to dig the hole deeper before attempting to backpedal out of it: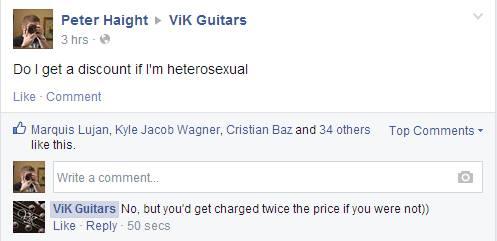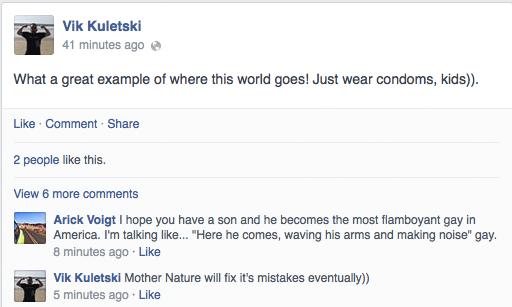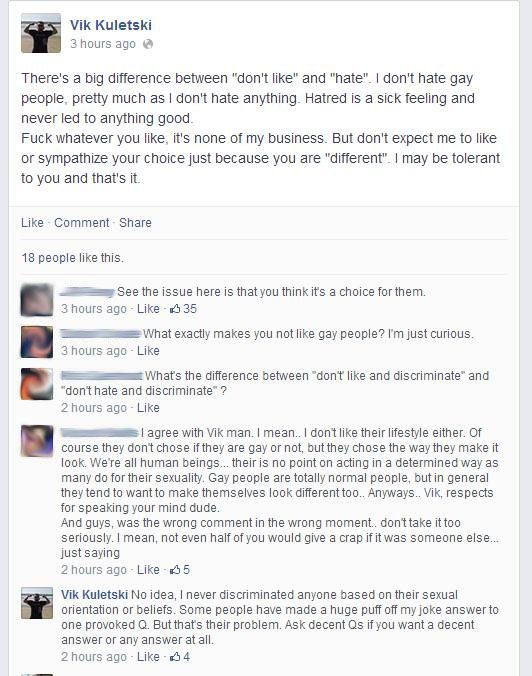 The icing on the cake? It turns out Paul Masvidal was made aware of Vik and his public disapproval for Paul's taste in guitars and significant others, and Strandberg higher-up Paul De Maio shared the following status: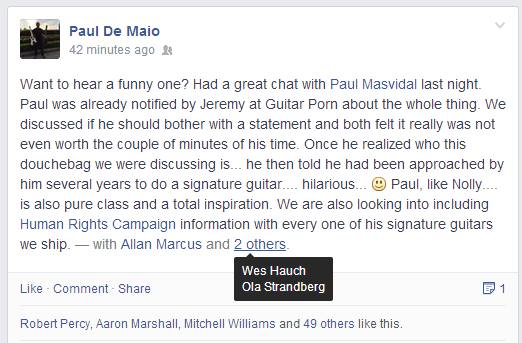 Bottom line: don't buy ViK Guitars, and urge others to look elsewhere — perhaps Strandberg if you have the cash — for custom builds. Sure, you have a right to your opinion, but be aware that homophobia is no longer socially acceptable, and you must be prepared for the backlash.
We'll leave you with XKCD, which is always relevant: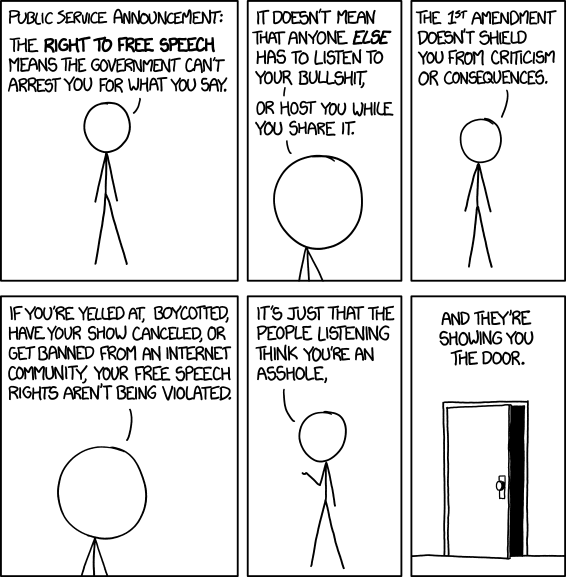 – JR