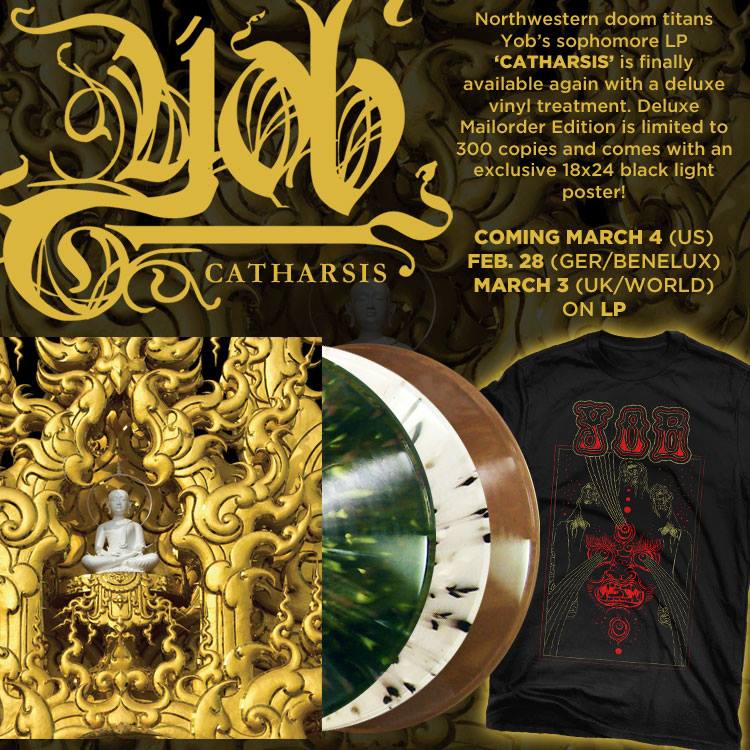 Relapse Records has come to be one of my all-time favorite record labels, but I always did wish that they would repress much of their back catalog to vinyl. Lately, they've made quite the effort to do just that: Mastodon's Leviathan was quietly added to the Relapse webstore in a beautiful sunburst LP (since sold out!) while a big deal was rightfully made about Call of The Mastodon (blue/gold merge has since sold out!). Zombi's (entire?) discography got a re-release, and we know that Pig Destroyer's Prowler In The Yard is in the works. Now, Yob's 2003 doom metal classic Catharsis (originally released on Abstract Sounds) is the latest record getting that same treatment in a limited vinyl re-release.
Via the press release:
Relapse Records is proud to announce the re-release of YOB's psyche-doom metal classic Catharsis on vinyl. After being out of print on vinyl for over six years, Catharsis has been given the deluxe re-issue treatment and will be released the way it was meant to be presented. Re-mastered from the original tapes by Tad Doyle, the reissue features stunning new artwork by Aaron Edge and brand new liner notes from Guitarist / Vocalist Mike Scheidt.
Catharsis will see it's official vinyl re-release on March 4th in North America, March 3rd in the UK/World and February 28th in Germany/Benelux/Finland. The vinyl includes a digital download of the full album and is being pressed on four limited color variations including gold, gold with black splatter (available exclusively at Roadburn), clear with black, bone white & gold splatter, and a special swamp green with purple & yellow splatter version that includes a blacklight poster available exclusively at Relapse.com.
Pre-orders are currently available via this location (from $17 – $22). Check out the trailer, highlighting the gorgeous colored vinyl below:
Might I humbly suggest you make The Dillinger Escape Plan's Relapse discography the next to get the vinyl repress treatment? My collection is sorely missing Miss Machine, and I'm not about to pay upwards of $100 for a second hand copy. Surely, this would be a profitable venture! Help a brother out, Relapse. Shut up and take my money.
– JR