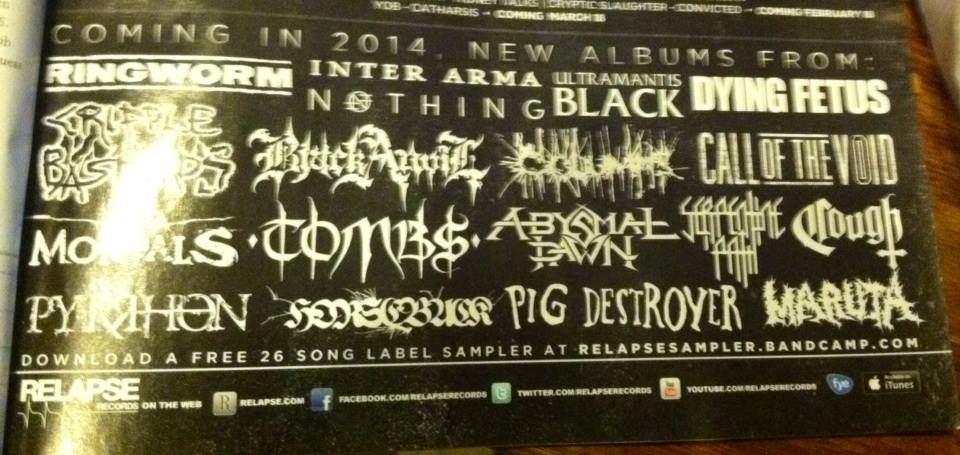 Two years seems to be the standard between albums for most bands, but not for Pig Destroyer. The band rarely tours and gets together for new music pretty much whenever they feel like it. They all hold down day jobs, but guitarist Scott Hull is a busy enough man by himself, with the past year being filled with mixing/mastering jobs, Pig Destroyer shows, and working on FOUR new Agoraphobic Nosebleed records. We had to wait five years between the last two records, so until recently I wasn't about to hold my breath for a new Pig Destroyer record for a while.
However, an ad for Relapse Records (which is fast growing as my favorite label) spotted in the latest issue of Decibel Magazine (above) lists Pig Destroyer among the bands slated for an album release this year! Exciting, but I wasn't too quick to get my hopes up, because Relapse ads in Decibel have been fruitless before; 2013 was supposed to see a remixed and remastered Prowler in the Yard vinyl release that didn't happen.
Since the discovery of this ad though, I've heard that the record is indeed real and it has already been recorded, presumably with the group's new bassist John Jarvis, who was announced as a member back in October. If the album is indeed finished, the dudes worked fast! Fingers crossed that we get the new album sooner than later, but even if it doesn't happen, 2014 won't be a complete bust; the ad also mentions new records from Dying Fetus, Columns, Call of the Void, Maruta, Nothing, Inter Arma, Cough, Tombs, Pyrrhon, and more. It's gonna be a great year!
Update: Since posting this news, Relapse has told Metalsucks that the album has NOT been recorded yet.
– JR