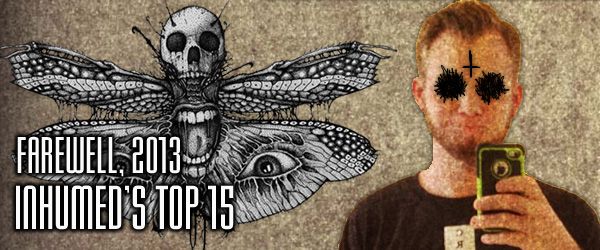 I'm going to skip the intro because I know most of you just want to read the list.
20. Gorguts – Colored Sands

Gorguts have come back, and with a vengeance. Colored Sands picks up where they left off, with incredibly dissonant and catchy riffs with just the right amount of groove. Normally when a band takes so much time away from making music, it ends up being less than satisfactory, but in rare occasions, the band will knock it out of the park. This album takes the classic Gorguts that we've all come to love and mixes it with some new flair, partly due to newly acquired drummer John Longstreth and partly because…well, it's Luc Lemay, for crying out loud, and he's one of the most inventive and fun metal guitarists out there. Gorguts have shown that they're still the kings of the avant-garde and technical, and this album is culmination of a 20+ year career that shows no signs of slowing down anytime soon.
19. Carcass – Surgical Steel

Carcass are another band that had taken an extensive leave of absence and returned with a fantastic record. Surgical Steel has been on rotation since it came out this year, and quite frankly, it's better than Heartwork. It packs so much catchiness, so many different riffs within it that it's impossible to stop jamming once you start. This album is absolutely insane. They also have a few longer songs, which was something the band had never really done before, but is something that works really well for them. I gushed over it, calling it "a complete album" lacking the usual melodic death metal filler tracks, and I meant it. This album is a great return for the band, and hearing this live on their tour across America next year is going to be rad. [Review]
18. The Safety Fire – Mouth Of Swords

I'd never really jammed The Safety Fire that much. I loved their single from their first record, but never had the time to jam them. Luckily this year I was able to give them a spin, and I'm glad I did, because Mouth Of Swords became one of my favorite records this year. It's fun, energetic, and I even got to see some of these songs performed live on tour, and they were flawless live. They're also incredibly nice dudes who are highly passionate about making music, and love to perform, no matter how big or small the venue. 2014 should be a pretty good year for the band, as they not only talked about possibly releasing new music next year, but will definitely be doing extensive touring to show off their talent to the metal masses.
17. Russian Circles – Memorial

Russian Circles have never had a bad record. In fact, they get better with every one. On their newest offering, the band wrapped together elements from their first four albums to create a post-rock masterpiece. From start to finish this record will have you captivated, reminiscing with every single song. Memorial delivers just the right amount of the band's signature heavy post-metal sound without detracting from the softer, most laid back and calming pieces. The albums does so in a way that keeps your attention throughout, and never loses focus. Also Chelsea Wolfe, who had a guest spot on the title track, helped make the record's end that much more beautiful. If you love instrumental music, you'd be a fool to pass this one up.
16. Pelican – Forever Becoming

Pelican have essentially taken over the post-metal / post-rock world in recent years. Their first studio LP in four years, Forever Becoming, is proof. The band were coming off of the heels of an amazing record, and surpassed all expectations by making their opus. Quite frankly, this has to be one of the most captivating albums I've ever heard from this scene. From start to finish, the album belies anybody that said the band were losing their special touch, and further pushes them to the forefront of the genre. This album has been on my writing playlist for months now, and if there's anything to take away from this record after it comes to a close, it's that you really learn a lot about yourself when the mood is just right, and Pelican are perfect for that.
15. Cloudkicker – Subsume

Cloudkicker, aka Ben Sharp, consistently puts out beautiful music, so it's no surprise that Subsume is one my year end list. What is surprising, however, is how he was effective in combining styles from his last three records to make a beautiful amalgamation of sound. There's the heavy, progressive metal from Beacons, the softer side of things we heard on Let Yourself Be Huge, and the garage-rock alternative rock laden on Fade. I think that, while it's not his best work overall, it's his most balanced, and most fulfilling. After this record was over, I had nothing left to desire. He covered everything, exhausted all of my emotions, and left me feeling full, and whole, at the end. Subsume is the perfect route for Ben to take, and hopefully he can reach even greater heights in the future, because he's well on his way.
14. The Dillinger Escape Plan – One Of Us Is The Killer

The Dillinger Escape Plan always craft some of the most innovative, experimental and intense music, and One Of Us Is The Killer is no exception. The band have returned with a fantastic record, one that offers up more than can be understood at face value. Multiple listen uncover new and exciting things, and the diversity on this record helps make transitions between the intense songs and the more calm and docile seem organic. Do not be deterred by these softer, more experimental songs, however, because the band can still melt faces with incredibly fast paced and off-time songs that beg for a mosh pit and stage diving, which you may ultimately find yourself doing no matter where you are.
13. Maximum The Hormone – Yoshu Fukushu

I hadn't listened to Maximum The Hormone since probably 2009, but I'm glad I picked this up. It's the most eclectic album I've ever heard. Seriously. Imagine if Sikth, System Of A Down, and Nickelback (yes, Nickelback) had a baby, and you'd get this album. Yoshu Fukushu is every bit as heavy as it is catchy, by far the most fun album to come out this year. It has it all: pop-rock ballads, alternative metal heaviness, d-beat songs, hardcore vocals, even some rap in it. For a band that doesn't sing a lick of English, they captivated me more than nearly every other band this year, and made their newest album one of my most-listened to this year.
12. The Ocean – Pelagial

The Ocean have been a favorite of mine since I first heard Heliocentric, and since then I've seen them live twice and been blown away both times. Pelagial is a beautiful record, and for two reasons. Firstly, the band have created one beautiful concept record, with the lyrics and music joining together as one to form a story about human desire and their origins. Secondly, they released this album as two different versions, with the one containing vocals every bit as good as the one without them, which I thought would be damn near impossible to do. The band have put out what, I believe, is now their opus, and I'm really looking forward to hopefully seeing the entire album played live one day, but until then, I can always just jam the record. Plus, if their vocalist is sick, they can play it as an instrumental set live!
11. Wormed – Exodromos

Brutal Death Metal was never really my thing until this year. Then I heard Exodromos and Wormed turned me into a huge fan of it. This album isn't just breakdowns and BREEBREE vocals; it's chock full of tasty riffs and pummeling drums that keeps the listener entertained. What really sets this release apart from all others in the genre is its catchiness. I've never heard a record this heavy where the riffs are just incredibly catchy. Memorable, sure, but never catchy. I blast this record all the time to the dismay of my neighbors in my apartment building and I really don't care if they hate it. It's simply a spectacular record, and hopefully this time it won't take another decade for the band to release a new album, because I really want to hear more tasty riffs and brutal slamming death metal as soon as possible.
10. Nails – Abandon All Life

Speaking of heavy, mother of everything unholy if you don't think that Nails' new record Abandon All Life is one of the heaviest, most angry and pissed off records that you've ever heard then you're not only wrong, but you're deaf. Clocking in at under 18 minutes, this is the most intense 18 minutes you'll ever hear. Period. Nothing, and no band, exemplifies anger better than Nails. The first time I heard this record I just wanted to go and break everything in sight and circle pit by myself until I passed out. It's brutal, it's heavy, and it's super fun and catchy. It's everything I've ever wanted to hear and more, and the best part is that the short run time means that on my daily commute to campus I can knock out the entire album and be ready to take on the day ahead. You need this record in your life. Everybody does.
9. TesseracT – Altered State

TesseractT really struck gold with One, so I was extremely eager to see what they did on the next record. Then they lost Dan Tompkins, and I thought that would be it for the band. He just had such a beautiful voice, and I never really thought that Elliot Coleman was a fitting replacement since he was more centered in the post-hardcore scene. Then they picked up Ashe O'Hara and released 'Nocturne' and I had a feeling the album would be fantastic. I was sorely mistaken. This album far surpassed any expectations I had of the band. From start to finish it's a beautifully crafted piece of music, while not running as one full piece despite the band's insistence that it's on long song. But I digress. This album succeeds in that they have completely abandoned the screams heard on their debut for a more melodic, almost progressive rock sound. Oh yeah, it's also got some of the best grooves that I've heard in a while, funky bass included. It really works well for them, and I can't wait to hear what direction they go on their next record.
8. Protest The Hero – Volition

Popular opinion of the writers on this site is that Scurrilous was garbage. I disagree, and actually like it as much as Kezia. However, nothing ever came close to the masterpiece that Fortress was, and I never really thought that they could top it. Protest The Hero then decided to unleash Volition upon us all, and while it doesn't beat their opus, it's just as good. This album is fantastic. Start to finish it's a beautiful expression of how truly talented the band are. The addition of session drummer Chris Adler made it that much better, because not only is he one of the best drummers alive, but he's incredibly creative and gifted when it comes to fills. This album is chock full of amazing riffs, finger-defying leads, and the return of Rody Walker's harsh vocals, which I really missed on their last record, which was all clean vocals. This album also features guest vocals from the great Jadea Kelly once again as well as fan-contributed musical ideas that they paid for through the band's massively successful Indiegogo campaign. This album is proof that modern metal has yet to die, and that good musicians who play more than just breakdowns are out there ready to unleash the riff upon us all.
7. Ulcerate- Vermis

Post-Death Metal is dominated by Ulcerate. Vermis is just an example of why. First of all, it's one of the most dense records I've ever heard; I mean I couldn't listen to it once and fully grasp every single thing that was happening, because it all just hit me like a giant wall of dissonant guitars and crushing drums. After multiple listens, however, I started to finally understand all that was happening. It may not be the catchiest record of the year, but it's definitely the most interesting. The band have carved even deeper into their niche with Vermis. Everything about it shouts chaos and signals apocalypse, from the incredibly well-written lyrics to the dissonant guitars, which, by the way, have the best guitar tone I've heard all year. It should also be worth mentioning that Jamie Saint Merat is the most creative metal drummer out there, and if you don't think so, go watch his video with Sickdrummer [http://www.youtube.com/watch?v=axw0Z44zdv4] and then come back and tell me otherwise. Regardless of taste, every self-respecting metal enthusiast should spin this at least once, because I guarantee you've never heard anything like this.
6. letlive. – The Blackest Beautiful

letlive. are the only band to win me over without ever hearing them before. I saw them in 2011 and went and bought all of their music the very next day. Since then, every time they come to town, I have to go see them. Their newest album had me kind of stymied at first due to the lackluster production on the single, but afterwards I didn't even care, because it was just phenomenal. The Blackest Beautiful is a testament to their live show more than anything else, capturing the band's live intensity on record, and is the right step for the band. They had the perfect mix of those hardcore songs and the more upbeat, melodic songs that makes the record, as well as their live shows, so much fun. It's hook city on this record; I know I've been humming the chorus for 'Pheromone Cvlt' since I first heard it, and 'Banshee (Ghost Fame)' has been stuck in my head since I first heard the single. It's nice to see a band full of such talented and down-to-earth people getting the exposure the deserve, and with their latest offering the band have made a statement that they have something to say, and I think everyone should listen.
5. Deafheaven – Sunbather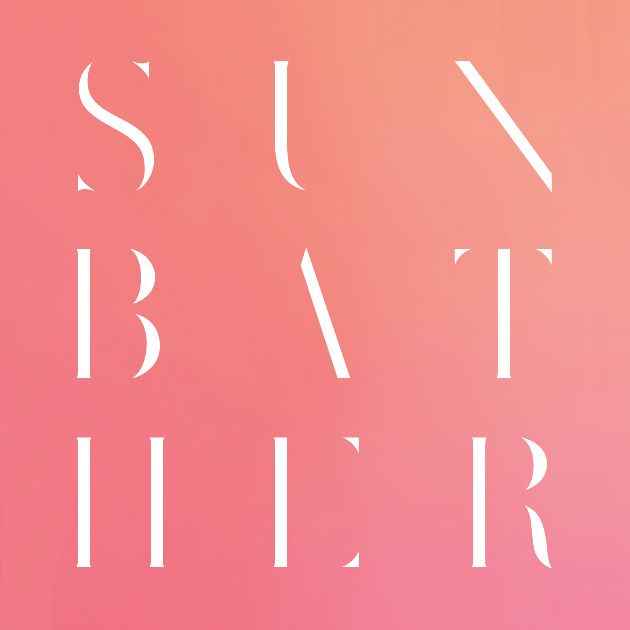 I'll admit, I had jammed Deafheaven's Roads To Judah multiple times, and always thought that the best, and only standout, song was 'Violet'. So when I heard 'Dream House' debut this year, I was captivated, because it just blew the former away. Then I heard the entire album and fell in love. I gave it a near perfect score, calling them "one of the best USBM bands out there", and I meant it. In case you haven't heard this record, imagine Woods Of Ypres except happy-sounding, and mix it with some Mayhem, and then throw in some Agalloch instrumentals. This band is incredibly young and incredibly talented, and are just as incredible as people. The band managed to create a bleak and depressing record that contains melodies and passages that sound carefree and happy, which is something I've never heard done before. It's incredibly unique, and there's not another USBM band out there who even comes close to this good. I'm going to catch them next year with Between The Buried And Me and I cannot wait, because if the experience was that great in my bedroom, I can't even begin to fathom how insane it's going to be live. [Review]
4. Karnivool – Asymmetry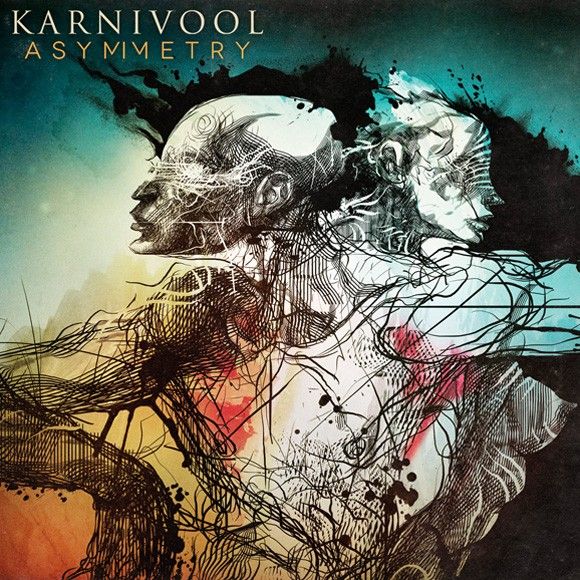 Sound Awake is my favorite album of all time, so I knew that it was going to be extremely difficult to top. Karnivool spent four years writing and recording Asymmetry, and it's brilliant, though different. While not a concept record, it flows together as one individual piece of music, as opposed to their previous album, which was a collections of individually great song that didn't necessarily flow together as one cohesive piece. Asymmetry succeeds in that it effectively shows off a more progressive, softer side of the band. While still retaining those heavy songs that the band are so good at creating, its real success lies in the softer songs, the slower ballads, or the songs that focus more on emotion and atmosphere than heaviness. This was my most anticipated album of the year, and while it's not #1, it's definitely an album I've been spinning nonstop since I first heard it a few months back, and will continue to show to friends for years to come.
3. Intronaut – Habitual Levitations (Instilling Words With Tones)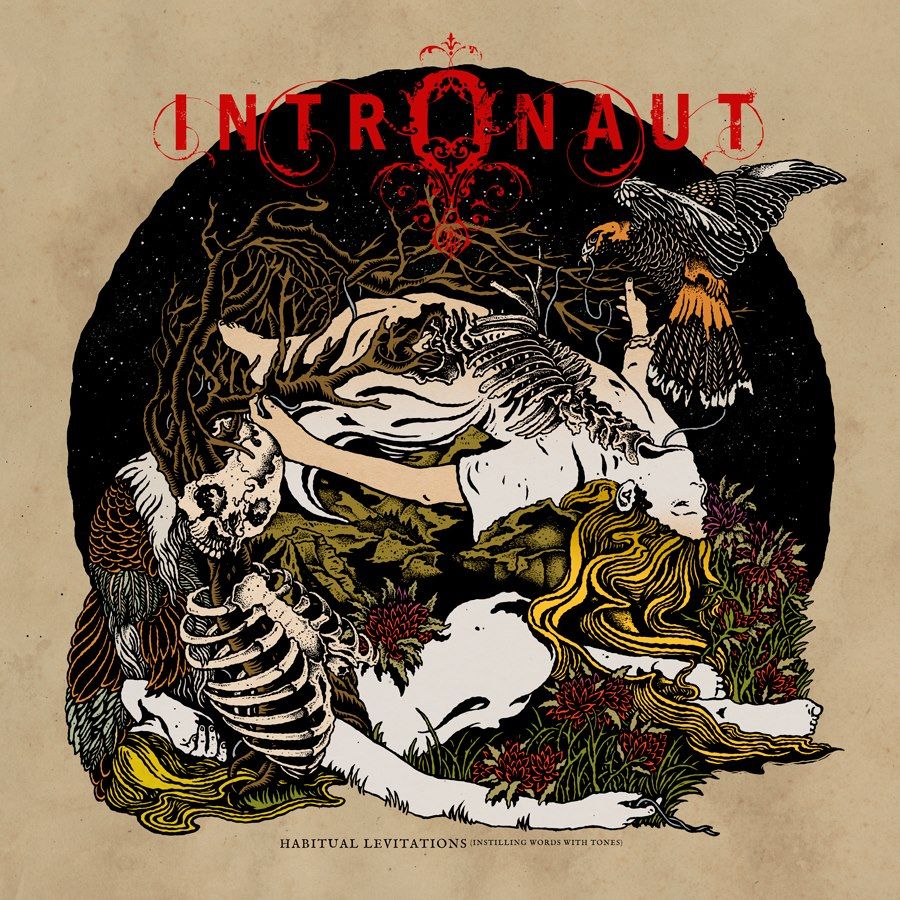 I got to see Intronaut play to maybe 20 people earlier this year, and they played 5 songs off of their new album, and despite never hearing any of them before, and being close to a month before the actual album came out, I knew I was in for something special when the album dropped. I was right. The band's latest offering is in the top three for a reason: it's a damn good record that edges on perfection. I praised the band for leaving behind the heavy sludge and vocals in exchange for softer, more melodic progressive rock and post-rock, an experiment which ultimately paid off for them. This album, start to finish, is just pure aural pleasure, the soaring vocal harmonies and the stunning instrumentation providing me with many repeated spins of this record. The band were flawless live, and when I heard the record, and how accurate their live performance was, I knew this record would end up in my top 5. The band have plenty more years ahead of them, and as long as they keep growing and loving their music, they'll continue making it for us, and that is exciting. [Review]
2. Dead Letter Circus – The Catalyst Fire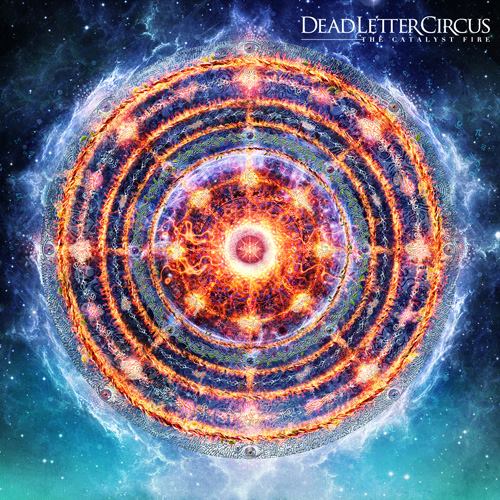 Dead Letter Circus are a great band. We all know that. However, I had no idea that they would go so above and beyond to create an album this perfect. The Catalyst Fire is everything the band have been building up to. It's heavy, it's melodic, you can sing along to it; it's the band maximizing and reaching their potential. The first time I heard this record, I just remember being in awe at how beautiful it was. From start to finish, this is one of the most complete albums released all year. Not only that, but these guys can play. Really well. I've never seen them live, but I feel like I have, because they convey their live intensity so well through their studio record. This record is the definition of awesome, and I really challenge you to find faults within these eleven songs, because I guarantee that you'll never find a single one. If you love to hear great music, and are in search of a band that is absolutely stellar, look no further.
1. Persefone – Spiritual Migration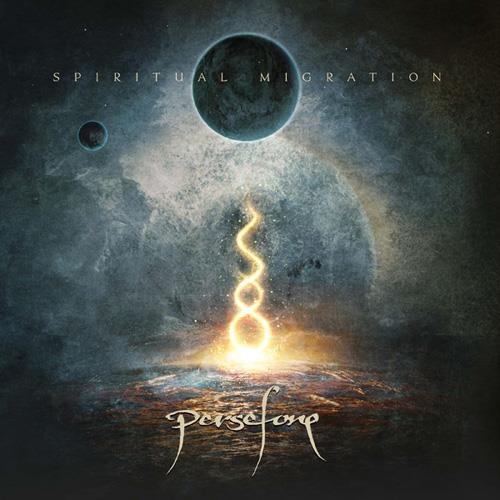 So, here we are. I stumbled on this album by chance when Alkahest posted a link in our staff Facebook group to the single from this Andorran band's newest record. He'd talked about them before, saying that their last album Shin-Ken was really good, but I never gave it a listen because I didn't have the time. After hearing 'Mind As Universe' from their newest album Spiritual Migration, I managed to get a copy of it and jam it. What I found was a perfect record. This record is over an hour long and just brimming with excellence. A criminally underrated and underground band, this band put out one of the most creative and expansive records I've ever heard. It's got great groove, it has amazing solos, it has beautiful keyboards, it has crushing vocals on both the clean and harsh ends. I really don't think that the band could make this record any better. The fact that this band is not on a label like Century Media, Metal Blade, Basick, or even Relapse is absolutely criminal. This band should be on EVERYONE'S radar, because this is one of the most talented and promising bands to emerge from the progressive metal scene in over a decade.
There you have it. Some special mentions below for other standout releases of 2013.
EP Of The Year: Rotten Sound – Species At War
Song Of The Year: Norma Jean – If You Got It At Five, You Got It At Fifty
Honorable Mentions:
Cult Of Luna – Vertikal & Vertikal II
The Black Dahlia Murder – Everblack
Bring Me The Horizon – Sempiternal
Norma Jean – Wrongdoers
Shining – One One One
Touché Amoré – Is Survived By
Stone Sour – House Of Gold & Bones, Part 2
Sevendust – Black Out The Sun
Secrets Of The Sky – To Sail Black Waters
Nine Inch Nails – Hesitation Marks
-SS