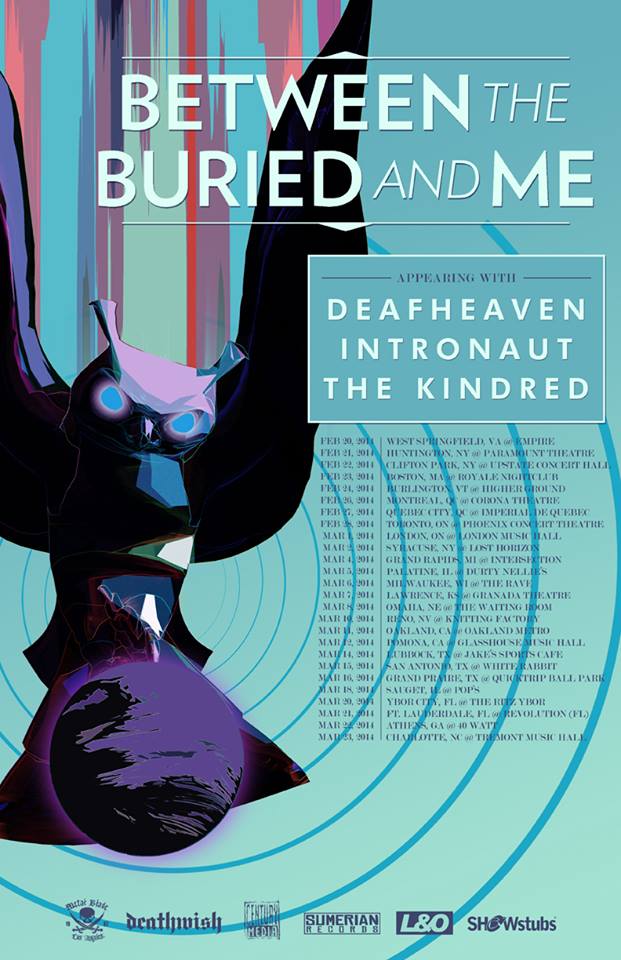 10/10 tour, would attend.
Between the Buried and Me have just announced their upcoming US Spring headlining tour featuring support from Deafheaven, Intronaut, and Canadian upstarts The Kindred. Every band on the bill is worth seeing — BTBAM's booking agency never fails to deliver a stellar show — but the fact that BTBAM and Deafheaven will be seen back-to-back is so outrageously awesome that I'm still not over it.
The dates are as follows:
02/20 West Springfield, VA Empire
02/21 Huntington, NY Paramount Theater
02/22 Clifton Park, NY Upstate Concert Hall
02/23 Boston, MA Royale Nightclub
02/24 Burlington, VT Higher Ground
02/26 Montreal, QC Corona Theater
02/27 Quebec City, QC Imperial De Quebec
02/28 Toronto, ON Phoenix Concert Theatre
03/01 London, ON London Music Hall
03/02 Syracuse, NY Lost Horizon
03/04 Grand Rapids, MI Intersection
03/05 Palatine, IL Durty Nellie's
03/06 Milwaukee, WI The Rave
03/07 Lawrence, KS Granada Theatre
03/08 Omaha, NE The Waiting Room
03/10 Reno, NV The Knitting Factory
03/11 Oakland, CA Oakland Metro
03/12 Pomona, CA Glasshouse
03/14 Lubbock, TX Jake's Sports Café
03/15 San Antonio, TX White Rabbit
03/16 Grand Prairie, TX South By So What?! Festival
03/18 Sauget, IL Pop's
03/20 Ybor City, FL The Ritz Ybor
03/21 Ft. Lauderdale, FL Revolution
03/22 Athens, GA 40 Watt
03/23 Charlotte, NC Tremont Music Hall
Not the best run of dates around, but I've got my eye on the date in Charlotte. Some pretty steep early VIP bundles are now on sale, but general admission tickets should be available around December 17th.
– JR