Welcome back once again to another edition of Heavy Buys, the column where we play show-and-tell with recent purchases, with a focus on vinyl and physical media. The vinyl pressing industry is under heavy strain, with inflated wait times and costs, but it's not all bad news: Vinyl Me Please, a subscription service and label whose releases we've covered before, have announced plans to open their own pressing plant. That's wonderful news, and hopefully will reduce the great strain on the other pressing plants out there and encourage other services and labels to do the same, just as Jack White has pleaded in the last year. I hope it leads to a serious change: just when I get sick of complaining about $30 LPs and $50 2xLPs, Silent Pendulum wanted $80 after shipping and taxes for Black Sheep Wall's I'm Going To Kill Myself, which definitely left a bad taste in my mouth. Surely, this hobby can't keep getting worse with these types of prices.
In late March after the previous Heavy Buys was already compiled and written, I received three separate pre-orders from War From A Harlots Mouth guitarist Simon Hawemann's Total Dissonance Worship label, all of which were hotly anticipated by me and unfortunately for the consumer (and fortunately for the label), all selling out. I'm stoked to report my findings with an incidental deep dive into a good chunk of the TDW product line below, in addition to other odds and ends including two blackened hardcore records with reflective chrome jackets as well as a Ukrainian black metal band that you can actually feel good about supporting during these trying times (it's not Drudkh, obviously).
C O N S U M E

Blindfolded and Led to the Woods – Nightmare Withdrawals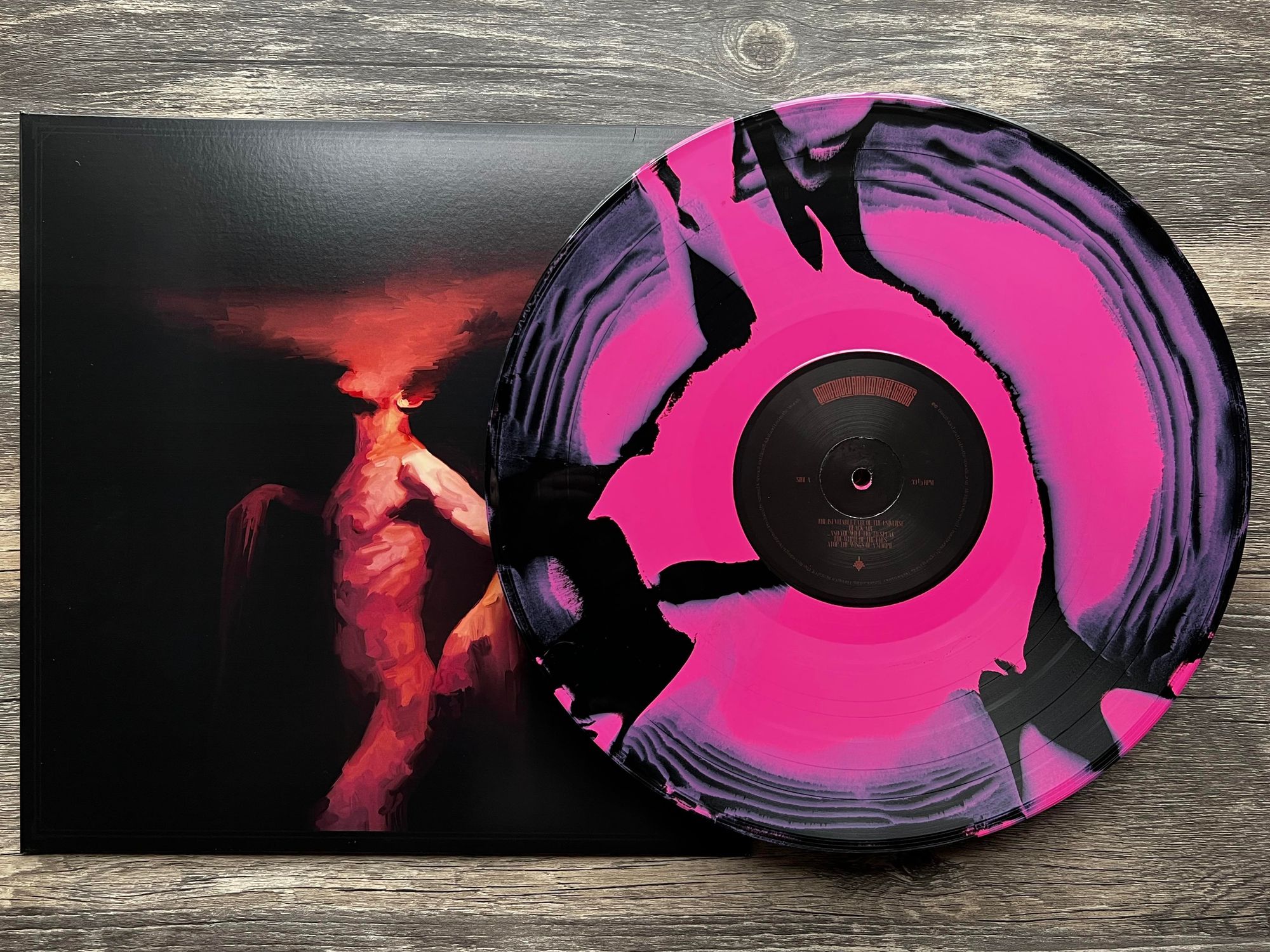 Transparent Scarlet w/ thick black splatter / "Black Air" Edition /100
Total Dissonance Worship
This is the first of three records from Total Dissonance Worship, by virtue of the alphabet. New Zealand's Blindfolded and Led to the Woods was among one of my (and collectively, Heavy Blog's) favorite records from last year. These guys share a lot of sonic space with countrymates Ulcerate, following in their atmospheric / post-death / disso-death wake. There's something else at play here on Nightmare Withdrawals as well that just touches on grind and deathcore, bringing to mind the later works of War From A Harlots Mouth or The Red Chord with start-stop breakdowns and angular riffing. A fantastic record that I was quick to purchase once TDW got a hold of the second pressing.
As expected following the label's treatment of the previously touched-upon Transmetropolitan pressing, this (and the others from this label, as you'll see) is a relatively bare bones and minimalist pressing. We're looking at non-gatefold outer sleeve and a record on this one. No insert with additional artwork, lyrics, or liner notes. No bells, nor whistles. And after being hands and needles on with the product, I respect it. $24 was also a fair price point, even a year ago when this was first placed up for sale, and it got to my door for under $30 shipped.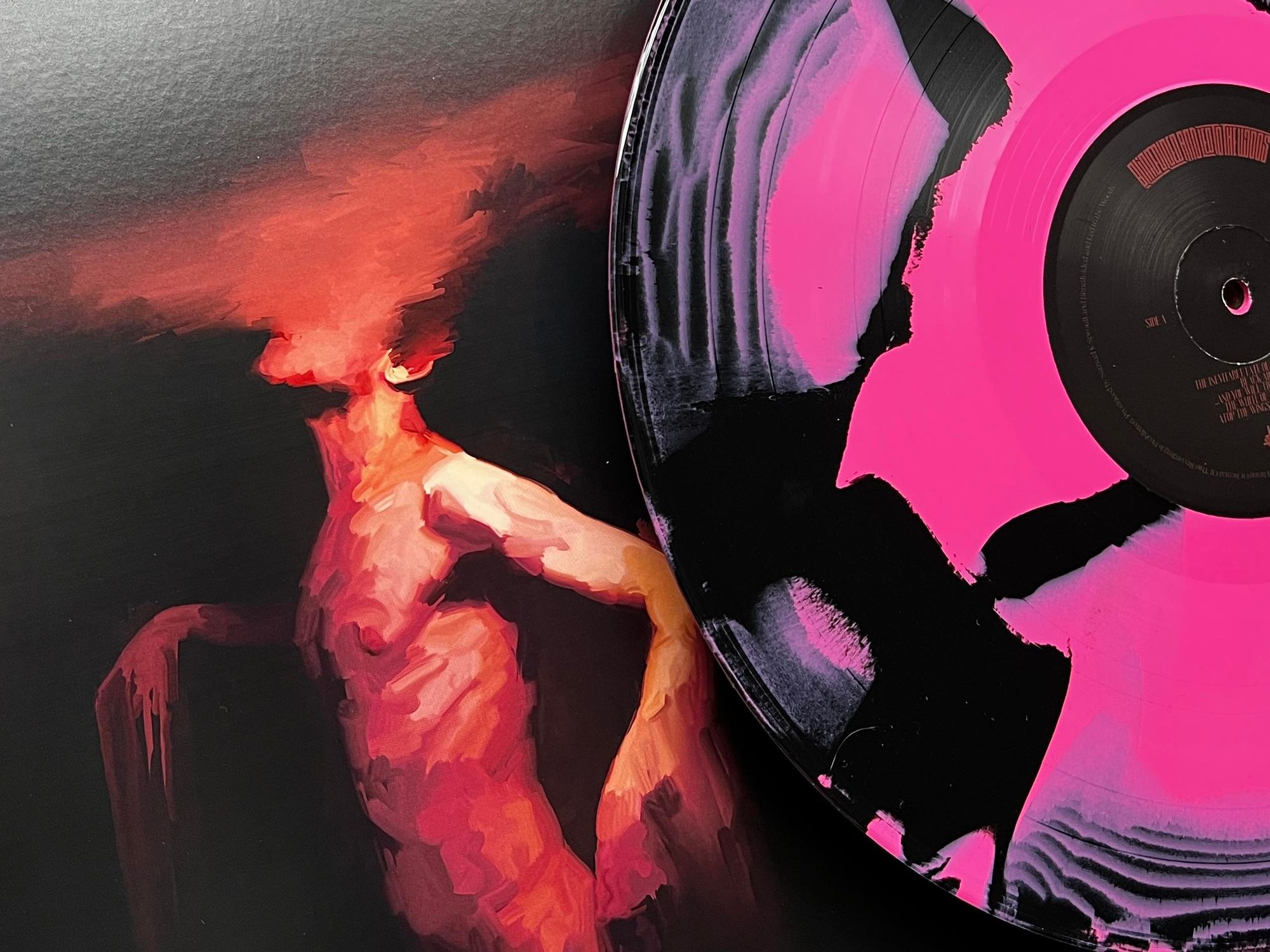 The vinyl variant on this one is gorgeous and pretty unique as well, billed as scarlet red with a "thick black splatter." Looks more like a merge than a splatter, but let's not get too into the weeds about it, because it just rules. It's pinker than the mockups had implied, but I'm not mad about that at all. The record can be fairly dynamic, with a stream of thick extreme metal being broken up by sparse transition riffs where a lot of surface noise and popping would normally become plainly apparent on the format, but this record played so cleanly, even in the between-track silence.
The only thing I can complain about here is that it took almost an entire pregnancy to get from pre-order to delivery, but that's hardly the label's fault (there was a four month delay from original estimates), and anyone reading these words is surely aware of the insane and growing delays the vinyl industry has seen in the last two years. I also understand that the label has switched manufacturers since this release went to press due to some repeated unfortunate setbacks with the Ion Dissonance repress, but I hope the quality of this pressing remains going forward with the change. Now, these have unfortunately sold out, and although there hasn't been a hard "NO" on represses that I'm aware of, this niche release may well be long gone. But use this and the other reviews here of this label's releases as an indicator of what to expect as you watch the label going forward.
Sold Out at Bandcamp (Sorry!) | Discogs
---
Defacement – Deviant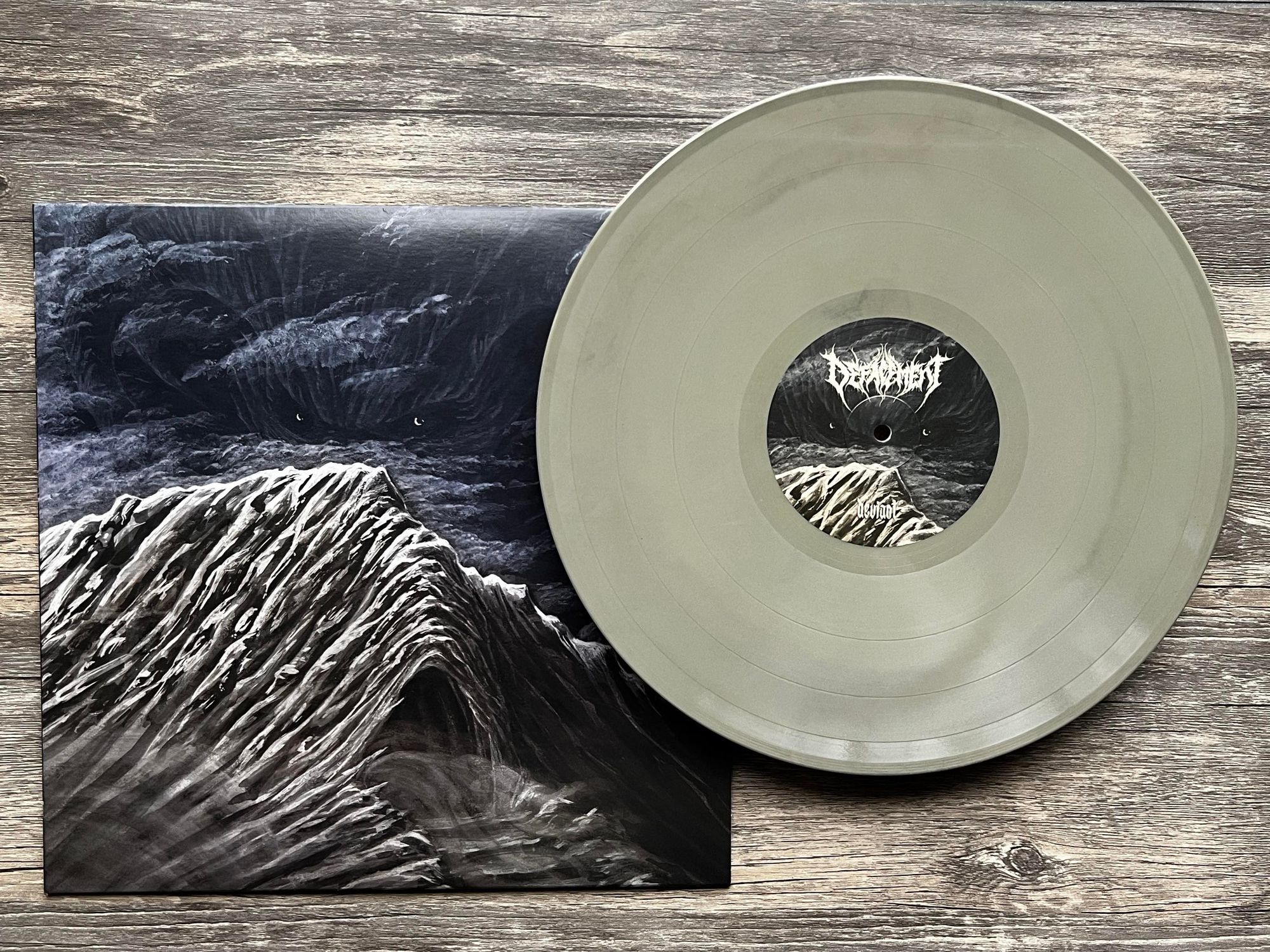 Shades of Grey /209
Total Dissonance Worship
Our middle act in the Total Dissonance Worship roundup. Yet another down-under death metal act (this time from Australia!), but Defacement goes so incredibly hard, they're in a league of their own. I've seen them described as blackened death metal, but we're as close to the brutal avant garde of Defeated Sanity as we are to, say, Behemoth. I've been obsessed with this band in the last year, so I'm incredibly excited that this record was pressed by TDW. This label is just consistently serving up hits.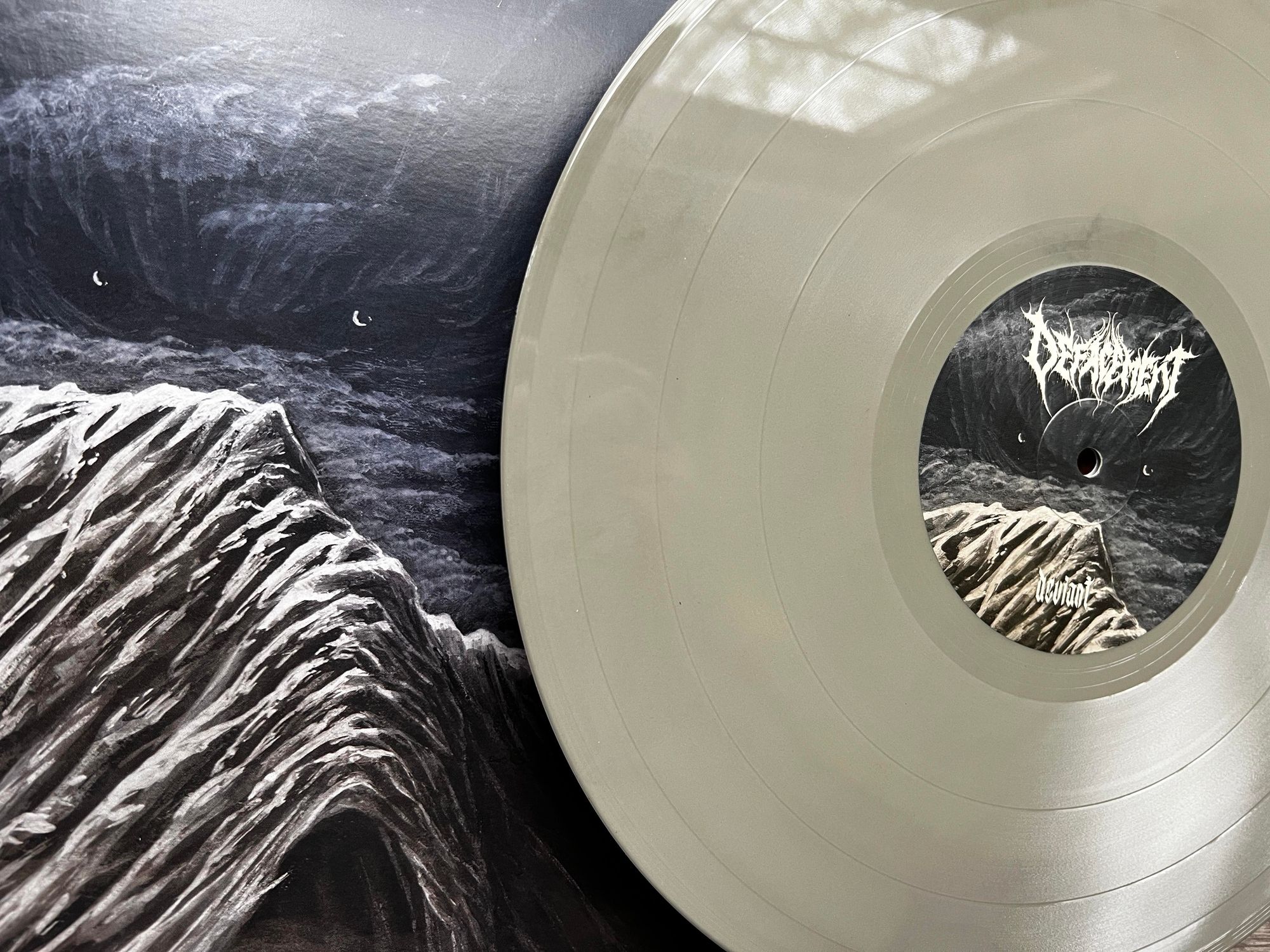 Again, this is a product that is simply focused on putting out a cool record on the format in high quality, with a neat variant at the very least. The vibe of the cover is reflected in the record itself, which is always a bonus. Sleeve and record, that's it. $23 before shipping. Value!
As much as I sing the praises for this band, it's certainly not for everyone. Even having heard this album before dropping the needle didn't prepare me for how jarring the production is. The record is absolutely cavernous, even by death metal standards; playing this record feels like the band is being broadcast live via microphones placed outside the venue. The vibe is certainly intentional, and if you're into that sort of thing, pick this one up. It's actually still available!
Available for Purchase at Bandcamp | Discogs
---
Glassing – Twin Dream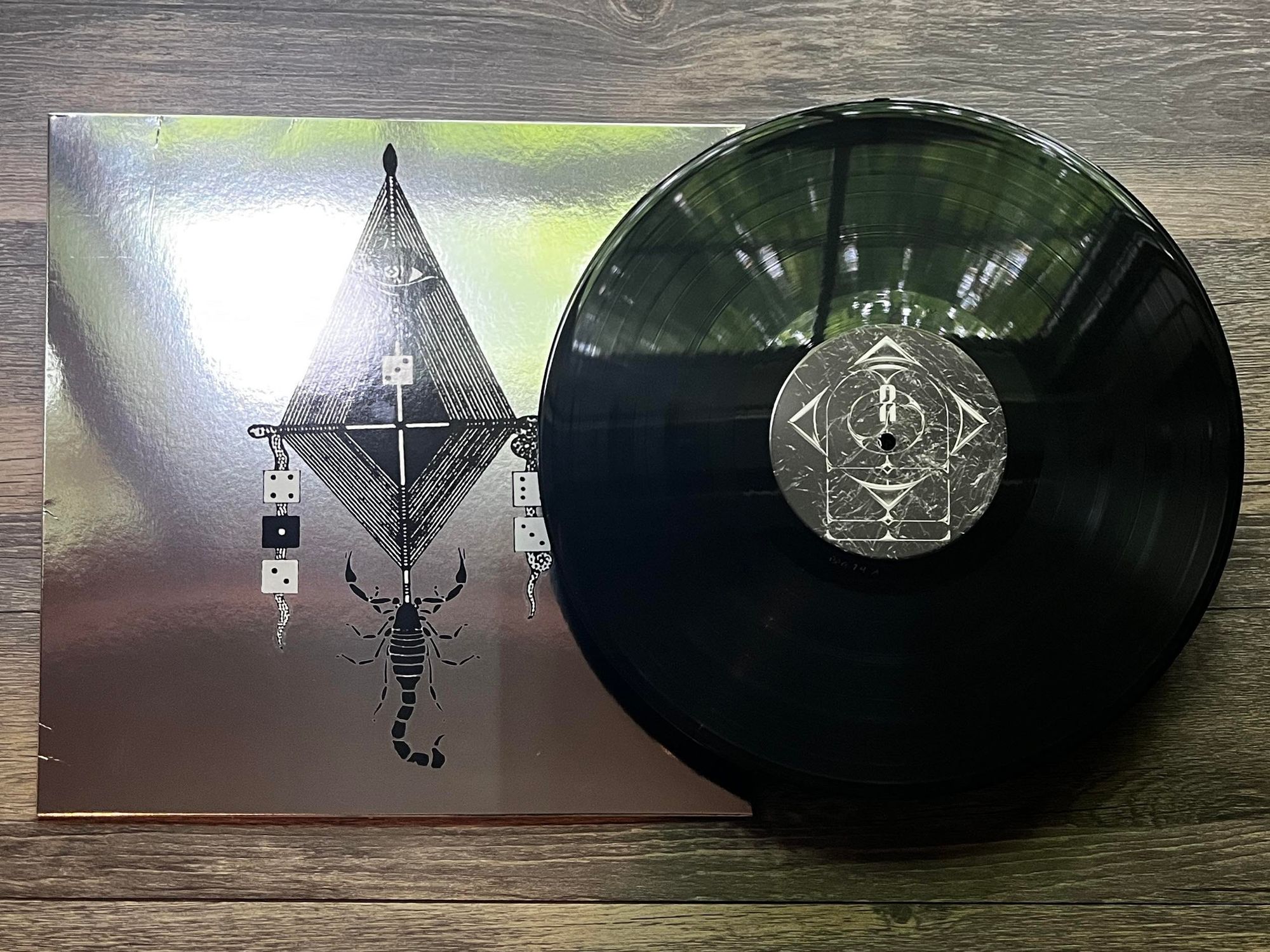 Pitch Black /200
Brutal Panda Records
The first of two blackened hardcore bands from Austin, Texas who released their third albums last year with reflective covers: Our favorite anything-core band Glassing released their third LP Twin Dream late last year, and it's incredible as always. We've got another product of great delay here, with the vinyl LP arriving almost four months after the album's release date. Can't be helped; many folks here and elsewhere have complained about the massive delays the industry is facing, and better late than never.
The stark tattoo-esque cover art is made all the more interesting by this chrome reflective jacket. Outside of this gimmick, it's your pretty standard fare vinyl release. Sleeve, record, insert. I missed out on the limited color editions and was left with black by the time I got around to ordering.
Unfortunately, the play quality on this matches that of last month's Entombed record. This record is eat up with surface noise, even after a cleaning. I'm evidently not the only one with this issue, either: a couple of folks on Discogs are reporting their records coming in scratched up and with seam splits on the sleeves. As you can see, my sleeve is also a little banged up, but I don't much care about that. No scratches over here, but the noise is certainly a hinderance. Fortunately, as the pace picks up on the record and the band gets loud, it becomes less noticeable, but the quiet intro to "Godless Night" at the front of Side B is almost unbearable. You can't win them all, I guess. At least the cover is sick.
Clearly, this isn't Glassing's fault and I'm happy to support them whenever the opportunity arises. Hopefully if there's ever a re-press, the label and the manufacturing plant will take a closer look at quality. In the mean time, if you've missed this incredible blend of sludge, hardcore, black metal, and post-metal, give this album a spin.
Sold Out at Brutal Panda (Sorry!) | Discogs
---
Portrayal of Guilt – Christfucker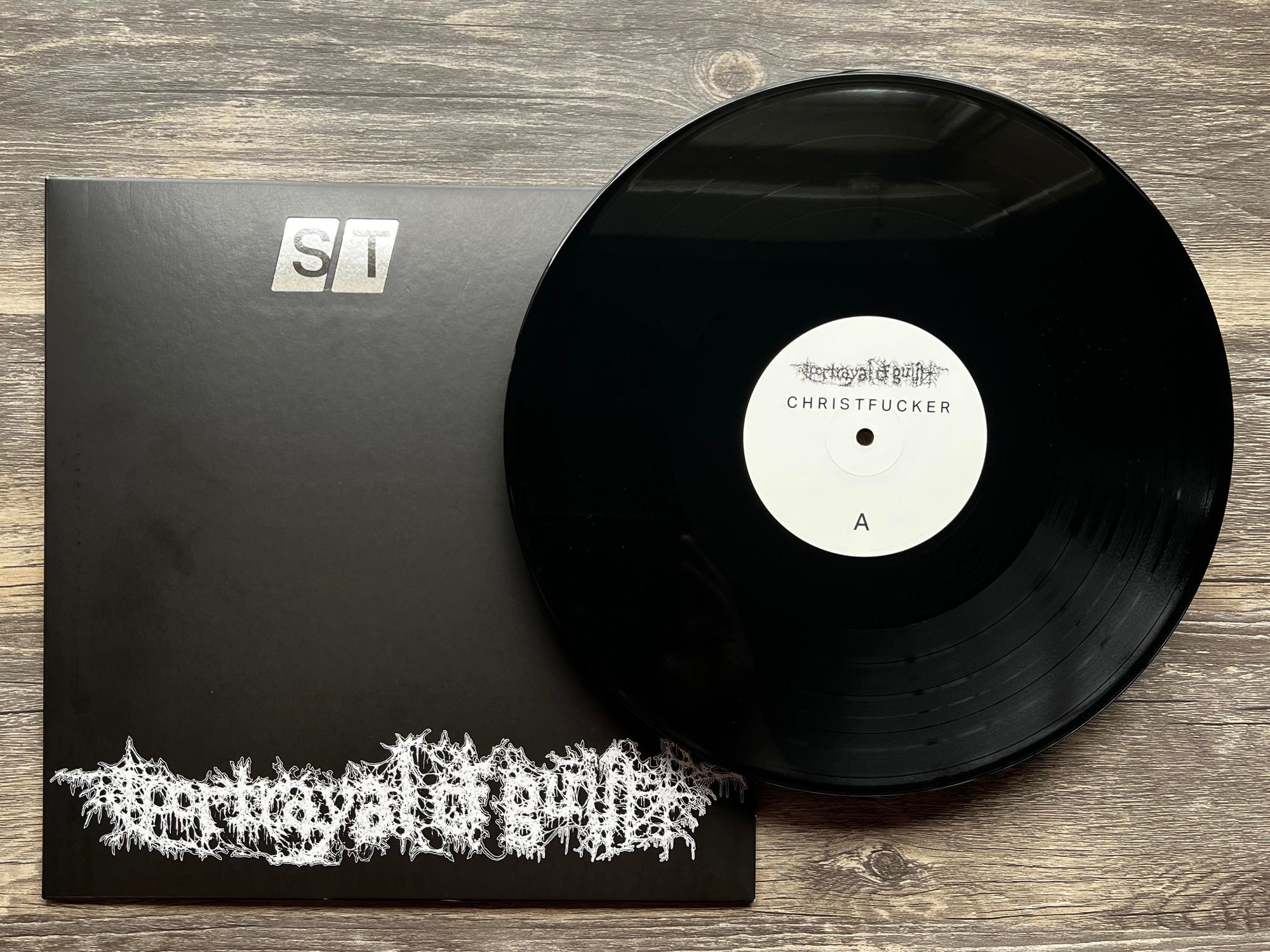 180g standard black
Run for Cover Records
The second of two blackened hardcore bands from Austin, Texas who released their third albums last year with reflective covers: Portrayal of Guilt's new opus CHRISTFUCKER was among one of my favorites of last year. It's absolutely filthy and is like the aural equivalent of the kind of thing that can give a body tetanus. Between bouts of visceral blackened hardcore, we're presented with bursts of almost cinematic industrial horror and noise.
Let's be honest: this album is edgy as hell, but I'm a fan of this band and own the greater part of their discography, so I needed to grab this one. At the risk of looking like an edgelord, I ordered this one from my local record store, face to face with a real live person ("I'm looking for the latest album from this band Portrayal of Guilt. You'll know it when you see it."). Knowing the record came with a black slipcover made it an easier sell for the record store, I'm sure.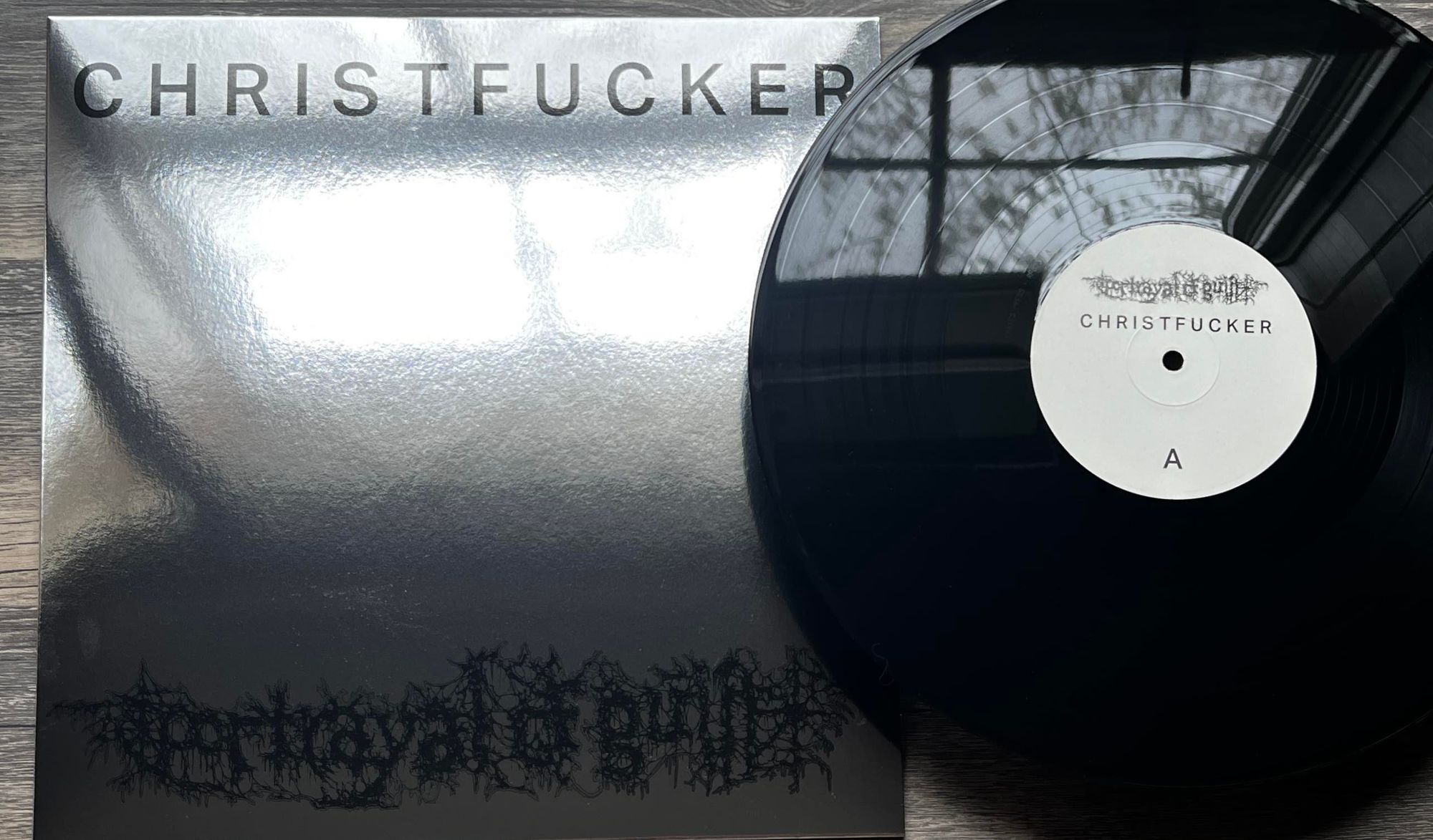 Beneath the black slipcover (which only displays the letters ST under the cut-outs, perhaps indicating that this record is a sort of backdoor self-titled effort) is another chrome reflective jacket as on the Glassing record. What a coincidence!(?) The package also includes a huge 24″ poster of the album art. Yes, a poster of C H R I S T F U C K E R on black paper with the band's logo. It's edgy as hell and I love that the band and label actually followed through with marketing and selling this album and it ended up in a store in rural Kentucky.
But about the music: this record sounds great. No real problems with noise on this one, even given the dynamics at play when the band goes from oppressively heavy to moments of tension-building pulsating beats. Black vinyl isn't much fun to look at but it almost always sounds superior to their colored counterparts (the aforementioned Glassing record and last month's Entombed records are relative anomolies). If you're into blackened hardcore even a little but, this album might be a weirdly slept-on classic. As I'm typing this, there are four copies of this left on Bandcamp at $24. Where many labels are selling $30 LPs lately, this is a steal, and the album is actually pretty ambitious despite the aggressive title. Give it a look!
Available for Purchase via Bandcamp | Discogs

---
War From A Harlots Mouth – MMX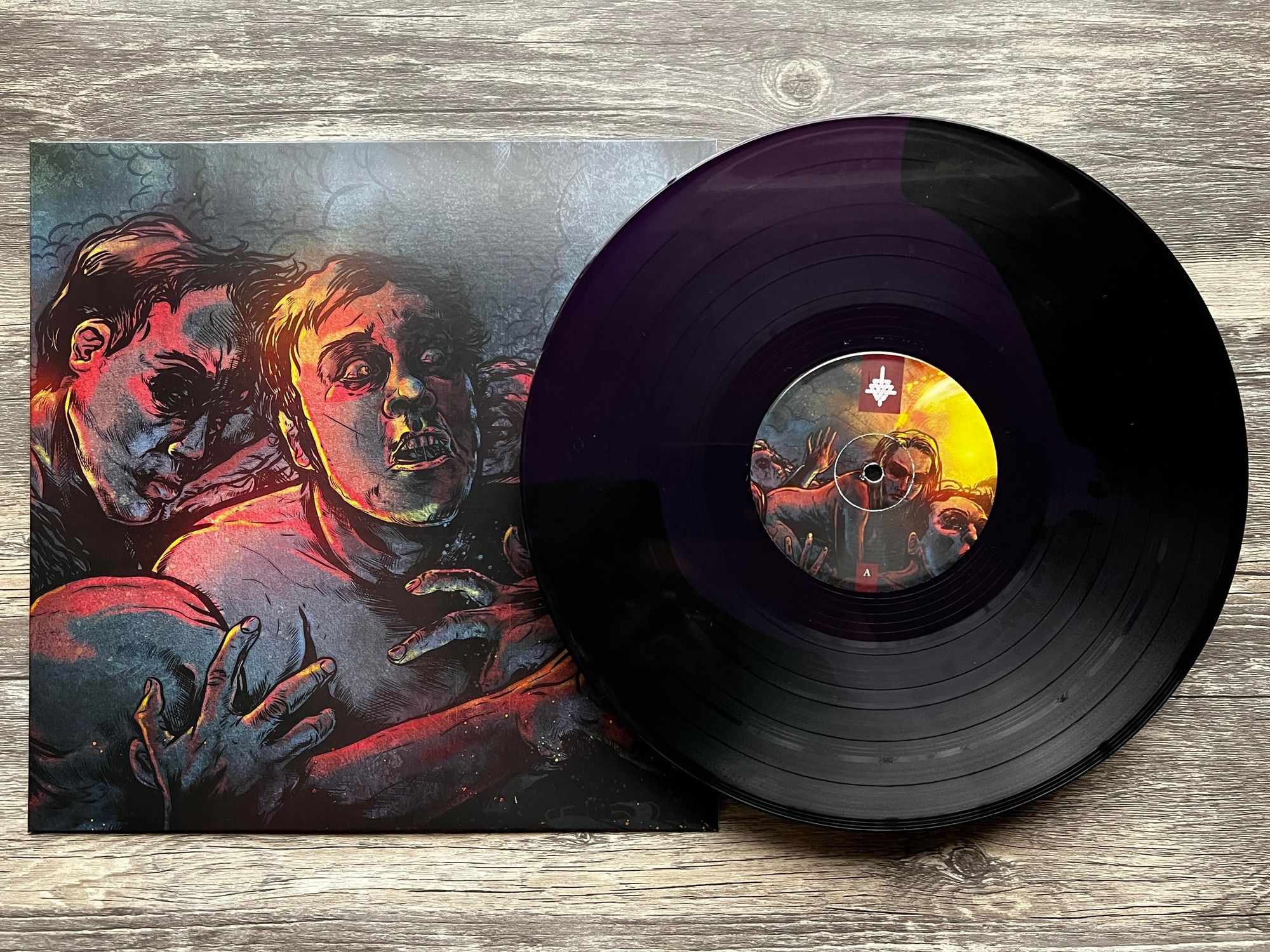 Transparent Purple with Black Bleed / "Cancer Man" Edition /100
Total Dissonance Worship
Behold, the third of three records I received last month from Total Dissonance Worship, and again, by virtue of the alphabet, it's label head Simon Hawemann's former(?) band War From A Harlots Mouth's aptly titled 2010 LP MMX. The band really goes in on the progressive elements of this record, offering several bouts of jazz-fusion inspired instrumentals as a respite to the chunky and tech-minded deathcore. This makes the record a dynamic one, and I'm obsessed with it more now than I was back when it was originally released in 2010.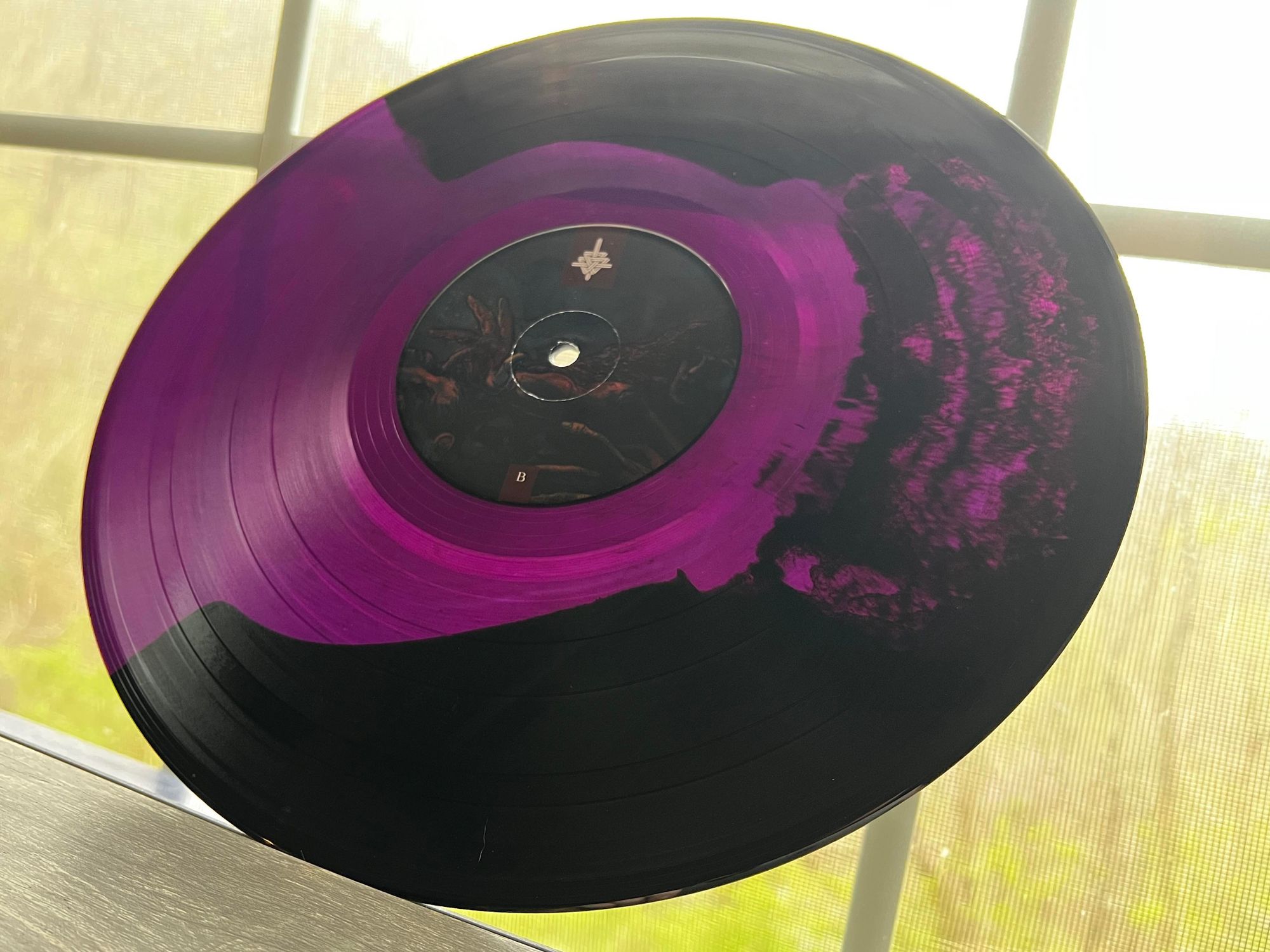 This record was originally sold on pre-order back in 2021 as a transparent pink with black bleed, but manufacturing setbacks and the limited availability of that color made for a drastic change. This record may look black in the wrong light, but that dark black is paired with a translucent purple color that actually sort of matches the aesthetic of the cover better. What was promised was not what was delivered, and I'm not upset about it.
Long story short: this label is 3/3 for this stretch of their discography. Consistent, good quality, and interesting presses with simplicity in mind. This record sounds phenomenal, and going from chunky deathcore to sparse jazz fusion and back is a vibe that absolutely thrives on this format, and the remaster certainly helps. The label has already put out remastered copies of Transmetropolitan and MMX. If I were a betting man, I'd put money on In Shoals and/or Voyeur coming down the pipeline at some point. Keep an eye out, you won't want to miss them if you're at all interested in the band. This may be sold out, but the label are doing a rebalance sale of both of this band's re-releases so far.
Sold Out at Bandcamp (Sorry!) | Discogs
---
White Ward – Futility Report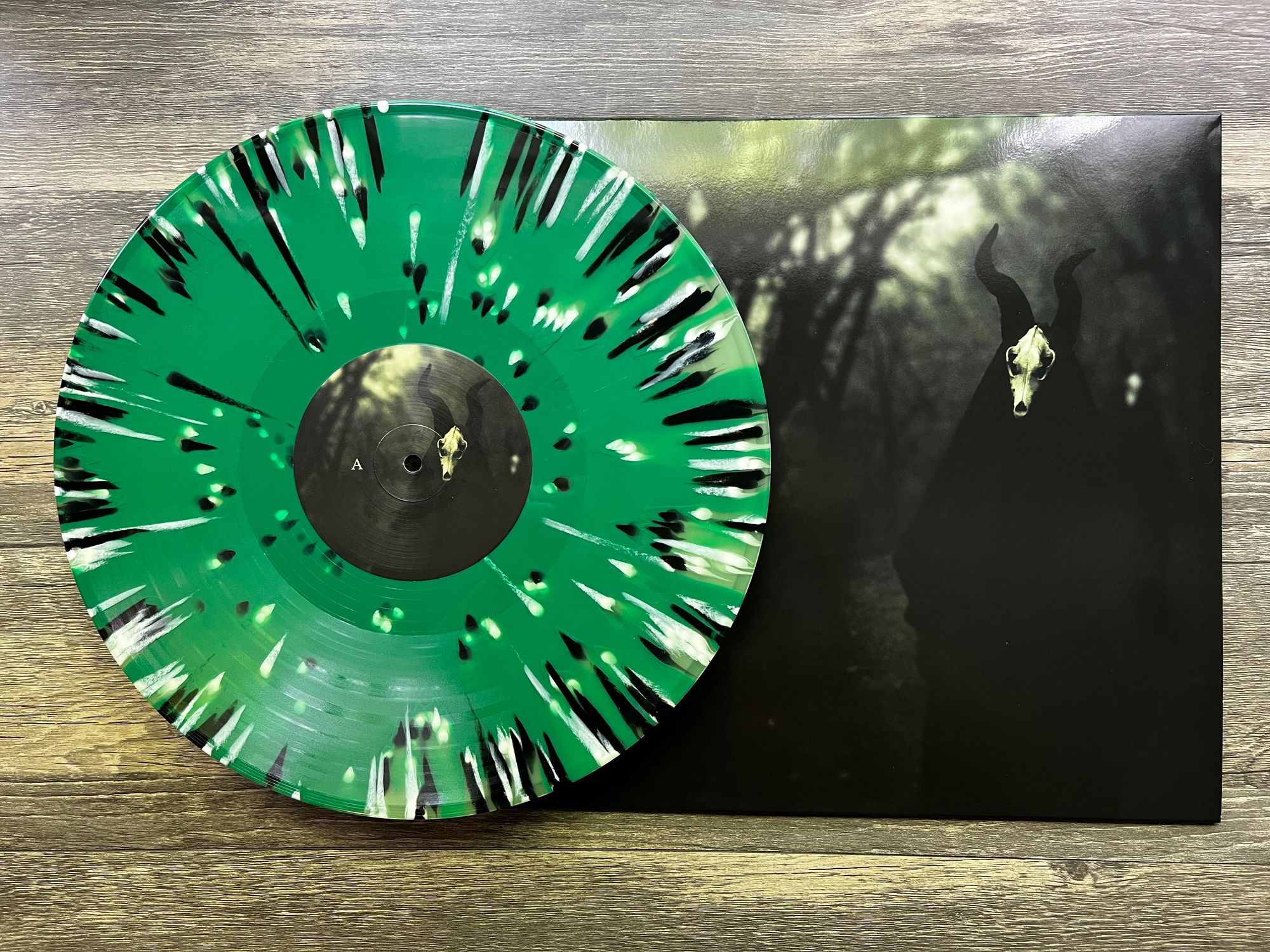 Coke Bottle Green/Evergreen Merge Heavy Vinyl w/ Black and White Splatter
Debemur Morti
Does the name White Ward ring a bell for you? It should; their last album Love Exchange Failure was our 2019 Album of the Year, and the last album we ranked as number one on such a collective staff list. These Ukrainians blend atmospheric black metal with elements of jazz noir, and it's absolutely fantastic. Being our top record of the year, I was quick to pick up Love Exchange Failure in early 2020 when I was able to get to it, but I've slept on the rest of the band's discography until recently.
The ongoing crisis in Ukraine put an indefinite hold on the band's new album plans, and I felt it appropriate to support them during this time by picking up a copy of their 2017 record Futility Report. Let's go ahead and rip the bandage off: black metal from Eastern Europe is eat up with white nationalism, and we here try to draw a line in the sand against supporting bands that promote those messages. The most prominent Ukrainian extreme metal band to my mind is Drudkh, and they dedicated an entire album to a prominent white nationalist author. The scene is such a minefield of shit people that White Ward themselves have had to bat away accusations of racism, with former members being allegedly involved in some problematic projects. White Ward disavowed any connection to right wing extremism in a Facebook post that also featured a photo of a sign saying "NO RACISM / SEXISM /HOMOPHOBIA / GODS / MASTERS." It's good enough for me, and the band has since earned my enthusiastic support.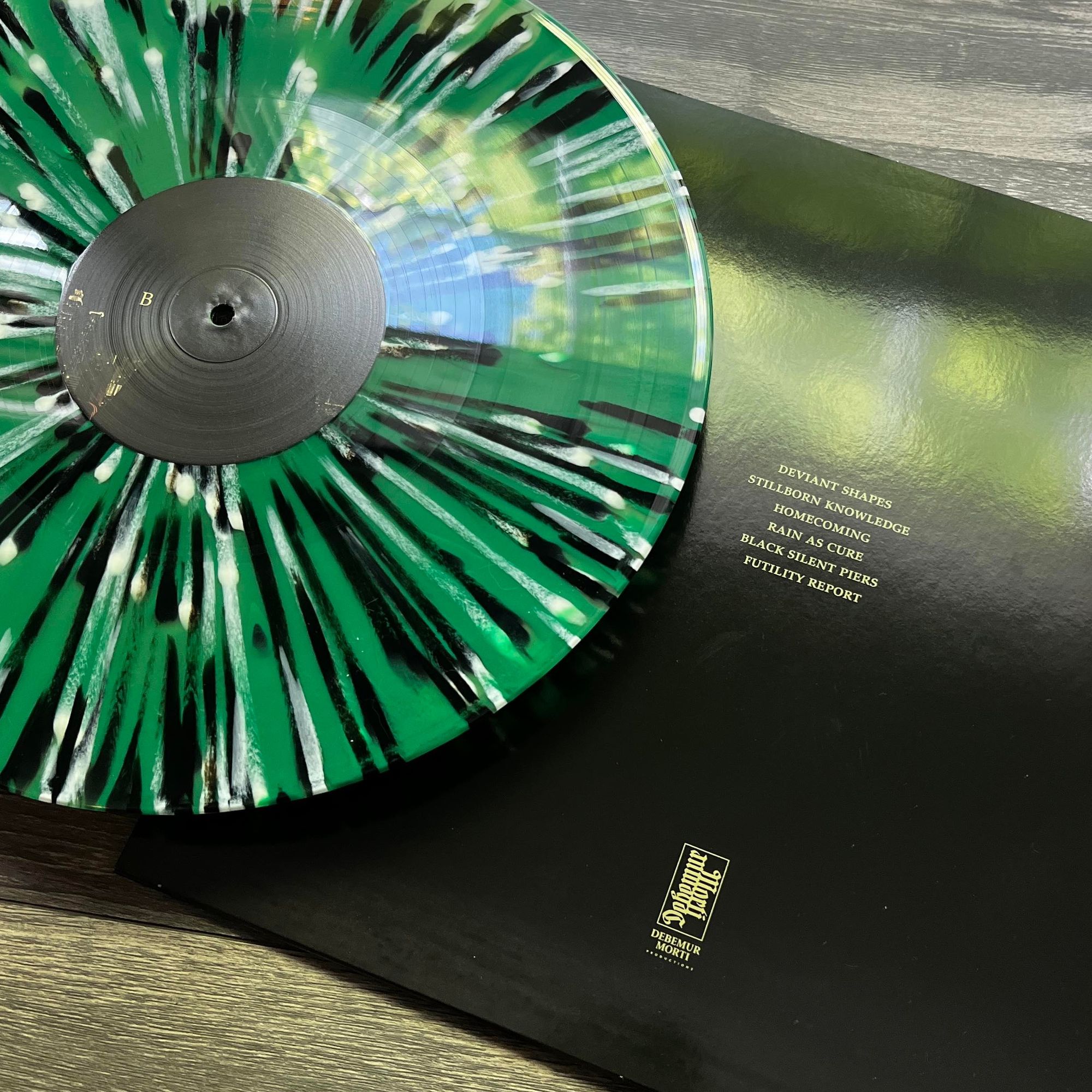 I picked this up from the Debemur Morti North American store. The mockup indicated a mystery, but the description of coke bottle green and evergreen merge with black and white splatter sounded cool enough in my mind, and with the potential to match the artwork, but the final result isn't exactly ideal. This might be one of the ugliest record variants I've come across to my memory. The green reminds me of John Deere tractors and cheap plastic, and I never cared too much for glossy jackets; they show fingerprints too easily. But the color is just color and it's all just superficial! No big deal!
The music stands for itself — it's actually an incredible record — and my goal was to support a band I like who's world is in conflict. Sonically, the dynamic of this band soars on vinyl. The quiet jazz and post-rock parts don't appear to be any more noisy than the metallic sections. As always, your mileage may vary on the surface noise and imperfections that can come into play, but this is a cool sounding record worth owning that, to me, has a below average amount of weird artifacts getting in the way of enjoying the album, even if the color of the vinyl record itself is a bit gaudy.
Looking onward, go give the pre-orders for the new album a look. Every variant is gorgeous and the new single is incredible. Excited to hear how the supposed Gothic Americana influences come into play beyond the horns.
Available to Purchase at Debemur Morti | Discogs
-JR