Re:Format
Last month, I went on and on about the resurrection of Heavy Buys, the surging popularity of vinyl in the wake of the pandemic, and my ongoing relationship with music. Getting those words out, however unfocused they were, did allow me to reflect on how I engage with music and the time I put into the hobby, and I made a conscious effort during March to spend more time on music. I redownloaded Last.fm to track my plays and keep myself accountable for my goal. I have begun filling my passive hours at home with spinning wax (which I manually scrobble), and my excessive drivetime for work with Spotify (who I know are problematic in their paltry artist payments, but I'm mostly streaming records I've already bought so I've tricked myself into believing is an ethical move.)
We talked a bit about how the vinyl industry has been doing just swell under COVID beyond the work hazards and delays experienced in production. It's increasingly common for pre-orders to go live and not receive those purchases for the better part of a year (as is the case for those War From A Harlot's Mouth represses, one of which you'll see below.) Many Americans got the long awaited Biden stimulus in March, so it's safe to say that it's not slowing down anytime soon. I'm in an incredibly privileged position compared to many others out there in America, with stable employment, housing, and (as far as I know) health, so the stimulus was just extra money in my pocket on top of some already expendable income each month. There's a bit of guilt rolled into all this, but a non-insignificant chunk of my stimulus payment went into this record-collecting hobby. Some of those purchases are still waiting in the wings with pre-orders and shipping delays, and some of those you'll read about here. I know I'm not the only one who threw their stimulus money into the music industry, and if there's ever a time to catch up on some long-missing grails (ugh), now's the opportunity. A friend of mine spent his stimmy on that outrageous The Mars Volta boxset. I'm a little jealous, but the $500 price tag was a non-starter for this casual fan. Hopefully the rapid success of the release will inspire the band to repress each album individually for the rest of us to piecemeal together a select discography.
As for myself, I completed some discographies of my own (see: Periphery, below) and various  loose ends from my Discogs wantlist. Bands in need of extra cash from the lull in touring have been signing records to incentivize purchases in their store (see: Imperial Triumphant, below, but also Mastodon, from whom I've purchased a signed copy of Remission I'm still waiting on)  Not only that, but it's been an incredibly dense month for Best Of 2021 contenders that demanded attention, (see: Genghis Tron, below).
So yeah, an already expensive hobby has been particularly demanding in March. Below, get a rundown of some of the vinyl purchases made by Heavy Blog staff over the last month.
-Jimmy Rowe
Contents:

Dust Moth – Rising // Sailing
Genghis Tron – Dream Weapon
Humanity's Last Breath – Valde
Imperial Triumphant – Shrine to the Trident Throne
Periphery – Periphery IV: HAIL STAN
Poney – Pagan Nouveau
The Sound That Ends Creation – Memes, Dreams, and Flying Machines
War From A Harlot's Mouth – Transmetropolitan



Dust Moth – Rising // Sailing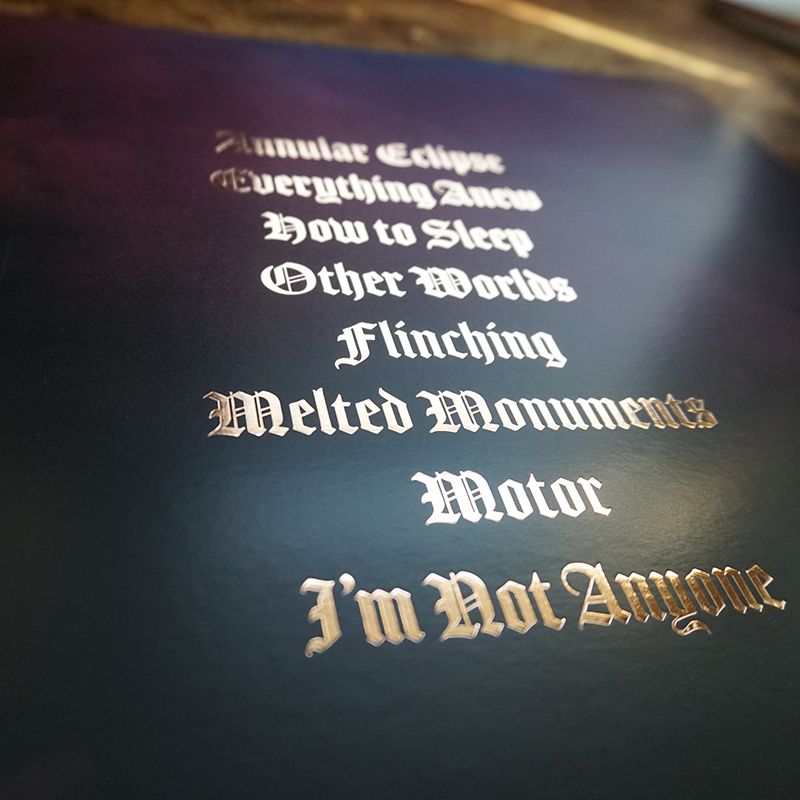 Transparent Purple with Transparent Dark Yellow [Limited to 150]
A Thousand Arms
I was fortunate to spend a lot of time with Dust Moth's latest ahead of its release, so preordering this was a no-brainer for me, Rising // Sailing is among my favorites of the year and I always like to get ahold of a physical copy whenever something lands on my end-of-year radar. Even with this advantage, I was still too late to the party to nab the deluxe edition (/50 featuring a custom screen-printed alternate cover), but I'm thoroughly jazzed about the standard edition of this release.
Read more: Album premiere
First things first, the wax is gorgeous. I've been cooling down on my need for "ooh purdy colors," but both variants of vinyl for this album are pretty wild, so I was left with no choice. I opted for the purple/yellow over the blue/yellow because, well, I'm a sucker for purple and I don't have too much in my collection (red, on the other hand…). Anyway, upon arrival I was impressed by how close the product images on A Thousand Arms' website got to the real deal. Seriously, kudos to whoever has the privilege of snapping photos of these 180G beauties, you are killing it. Not only do they provide a variety of angles, but more importantly, they're also true to color. The transparent purples and yellows match nicely with the hues found throughout the artwork.
On the topic of layout, this is about as good as it gets for a single-pocket package. The gold foil-stamped band name on the front and spine as well as the song titles on the back is classy, with a shimmer that really cuts through the foggy, cloudy layout. One pleasant surprise was the inclusion of a nice glossy, cardstock innersleeve. Not featured or detailed in any images or descriptions, this was a great little touch that continues the smoky, swirly design language featured on the cover. The gloss is a nice contrast to the satin finish of the jacket, and alludes to the record's knack for consistent surprises and fluidity. It would've been nice to see a lyric sheet included, but I think the absence of one adds to the exploratory nature of the album.
Designed by band members Irene Barber and Ryan Frederiksen, the package feels really clean, complete, and professional, right down to the reserved and consistent use of typefaces. I also dig how the labels are different colors, it just helps make A/B that much easier to discern (the words "Dust" and "Moth" are also helpful in this department), and that's never a bad thing. Also, big ups on indicating speed on the label, too, *nothing* is more annoying than pressing play to find out you're at the wrong speed 20 seconds into the first track.
My last point here is a petty gripe, heck, even a circumstantial one. It's surprising that, especially when considering the attention to detail and A+ effort on every other aspect of this package, it did arrive record-in-sleeve. I figured complaints about this have been far and wide enough in the vinyl community that this faux pas would be all-but extinct in 2021, but it happened. For those who've yet to get bit by this, the cardstock innersleeve was torn on arrival. I've had albums arrive in-sleeve that have not been torn, but more often than not, that's the exception to the rule. It's not something to make a stink about (honestly, if you're harassing labels and bands about some torn fucking paper you're a major dork deserving of public embarrassment); I was hesitant to detail it here because it's no big deal in the grand scheme of things, but I mention it because everything else here was handled with such care. What is important is that it looks and sounds great – so grab one while they last.
Also, bonus points for including a nice heavy poly sleeve.
[Editor's Note: We love A Thousand Arms and are privileged to have partnered with them for our official merch store. However, this review was unsolicited and the product was independently purchased by the author.]
Purchase: A Thousand Arms | Discogs
-Jordan Jerabek
Genghis Tron – Dream Weapon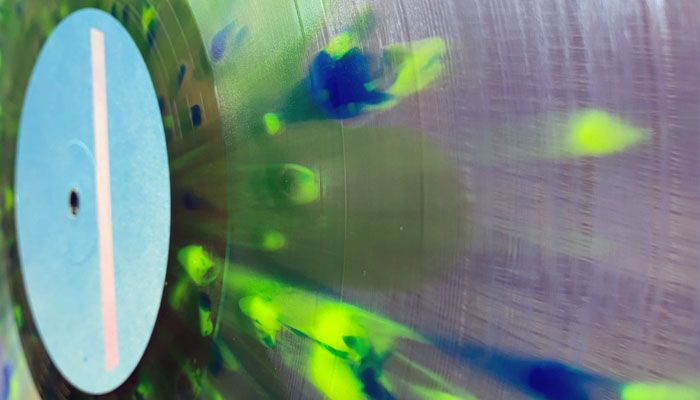 Cloudy Green with Splatter [Limited to 247 copies]
Relapse Records
After thirteen long years since their groundbreaking Board Up The House, experimental electronic metal act Genghis Tron are back, and with them, they bring thirteen years worth of development. Long gone are the days of cybergrind, programmed blastbeats, and throat-shredding howls. In their place, and ambiguous but ambitious blend of space rock, industrial, psychedelic rock, and post-rock. Certainly not the Genghis Tron we all signed up for, but it's an incredible record nonetheless.
Read More: Review
I was waiting on this vinyl drop as the band had lead breadcrumbs of hints as to when pre-orders would begin. I follow the band and Relapse Records (who are far and away called home to more records than any other in my collection) on just about every platform from Instagram to Bandcamp and the mailing lists. I was prepared even without knowledge of a solid time for the drop, and I still wasn't quite quick enough for the most limited run (not counting the fabled "friends and family" clear pressing) — a striped milky clear and royal blue stripe with splatter variant, limited to 134 copies. By the time I got there, they were gone.
They went on sale at ~11:00 AM on January 26th. Relapse sent out their own email at 11:05 AM announcing pre-orders. I saw this email come across my phone and I was at the Relapse store. By then, it was too late. I had checked out at 11:08 AM and made away with the second most limited available first edition variant available on Relapse.com at the time: cloudy green with splatter. No shocker: vinyl can move fast these days, particularly when it's the comeback album fans of niche experimental metal have been begging for for nearly a decade.
Relapse are fairly consistent with their quality and the name comes a certain sense of confidence. However, with this release, I'm not super pleased. No matter how many cleanings I try, my copy sustains a fair bit of noise and popping, particularly during the album's quieter moments, which is an annoying problem to have for such a dynamic record. At some point as well, this record sustained a scratch that applies a steady popping sound through a section between "Ritual Circle" and "Single Black Point." I honestly have no idea if it came that way or if it happened after it arrived, and I don't feel comfortable putting blame on anyone. Oh well. I might grab the neon green indie exclusive through my local record store if it's still available. Still, I can't say having a likely irreplaceable variant with noticeable flaws feels great.
Aside from these imperfections on my specific copy (which again, may be isolated considering the label's track record and my inability to come up with an example of something similar through the rest of my many Relapse records) the rest of the release is high quality. The variant is gorgeous and the matte gatefold feels lovely. No insert with lyrics though, which is sorely missing from what's supposed to be a concept album. Overall, my experience with this one has been a mixed bag, but who's to say that yours won't be better? At any rate, Dream Weapon is an album I'm stoked to own, and I'll not waste an opportunity to support Genghis Tron.

Purchase: Sold Out at Relapse (check for other variants!) | Discogs
-JR
Humanity's Last Breath – Välde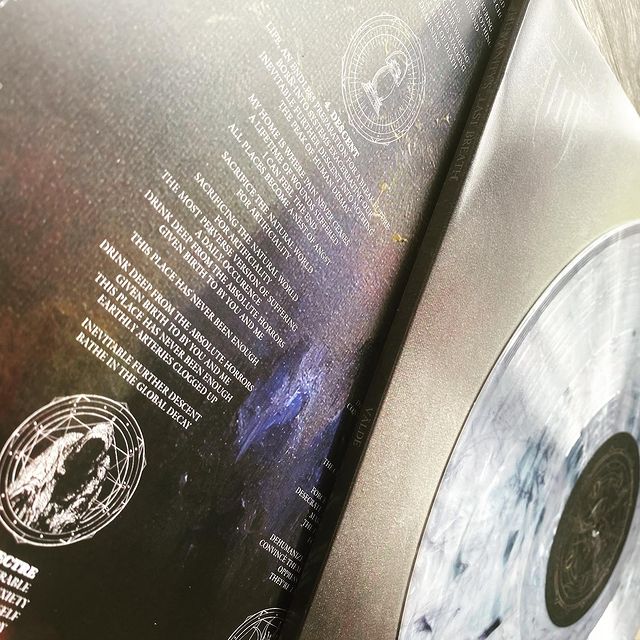 Silver Burst [Limited to 500]
Unique Leader
I've already spent some time and webspace talking about the new Humanity's Last Breath record Valde; it was my selection for the Editors' Picks column last month, and I gushed about how ridiculously heavy the record is. If somehow you aren't aware, this Swedish act features members of Vildhjarta and has a stylistically similar take on the intersection of deathcore and djent, but where Vildhjarta may seem lean and feral, Humanity's Last Breath is lumbering and otherworldly. There are shades of sludgewave and blackened death metal thrown into the mix to keep things interesting. Valde is the group's most cohesive album to date, and it's an absolute monster.
Read More: Review | Editor's Picks
I completely glossed over pre-orders on this one. I've been a casual fan of Humanity's Last Breath for a moment, but never purchased any of their records (gotta fix that soon). There were two variants available for preorder for Valde: a black with white burst and a silver with black burst, both limited to 500 worldwide. After I finally heard the record and its weight sank in, I turned to the Unique Leader US webstore to find it sold out (they've since re-stocked .  For a hot minute, I thought I'd missed the boat entirely. Checking in at Amazon, they had an unidentified Valde 2xLP for pre-order originally scheduled for April available for a ridiculous steal at ~$24. Assuming it would be a standard black wide release, I gave it a go. To my surprise, the record shipped early and wound up being the silver burst variant.
To no surprise: it looks and sounds incredible. High quality 2xLP in a gatefold emblazoned with gorgeous artwork from the inimitable Mariusz Lewandowski. Valde is an early frontrunner as one of the best -core records of the year, so get it while you can.

Purchase: Amazon | Humanity's Last Breath (EU) | Discogs
-JR
Imperial Triumphant – Shrine To The Trident Throne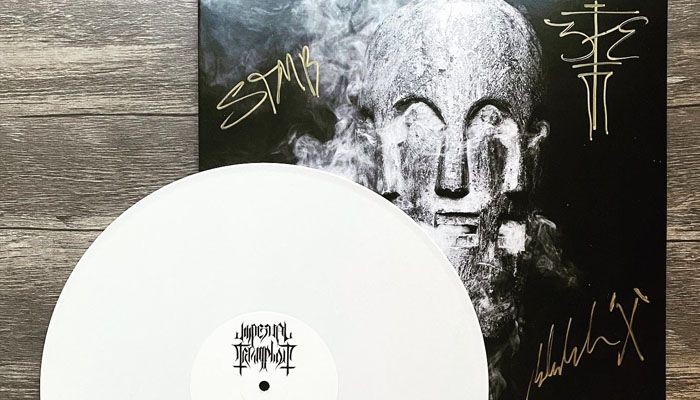 White [Signed]
Code666
The COVID-19 pandemic has been tough on the music industry, particularly small to mid-sized acts who rely on touring to see any kind of money throughout the year. Some bands are making do with what they have, and have started to incentivize fans willing to purchase physical goods. New York avant garde blackened death metal act Imperial Triumphant, who should have been having an incredible year trotting the globe in support of their new album Alphaville, had been stuck on the sidelines. With wings clipped, they offered fans signed merch on their Bandcamp page, and I partook.
While you can purchase signed copies of Alphaville, I had long since bought the vinyl on pre-order. Evidence suggests that at one point, you could have bought Vile Luxury signed as well, but I have that one too. One promising new addition to the collection came in the form of a compilation record of early EPs (Abominamentvm + Goliath) titled Shrine to the Trident Throne, available on white vinyl and signed by the band. It seemed like a no-brainer; I absolutely love this band and what they're doing in the spaces occupied by the likes of Deathspell Omega and Portal, and while the material on this collection doesn't quite approach the jazz and big band-infused grandiosity of Vile Luxury, it's wonky and demented extreme metal at its best.
Beyond the music, there's obviously such a neat novelty to owning signed records, and the band's approach to signatures is such a cool extension of their entire aesthetic, particularly guitarist and vocalist Zachary Ilya Ezrin's in the upper right (I presume that's his; the ZIE initials are incorporated into the symbol so elegantly). The physical product itself is fine and minimalistic; one white record in a jacket with no insert. The record plays well and the white is a nice compliment to the artwork. No complaints here, and I'm just stoked for another addition to my Imperial Triumphant collection, with signatures to boot. Now I just need to pick up Abyssal Gods and Inceste and the discography will be complete.
Purchase: Imperial Triumphant on Bandcamp | Discogs
-JR
Periphery – Periphery IV: HAIL STAN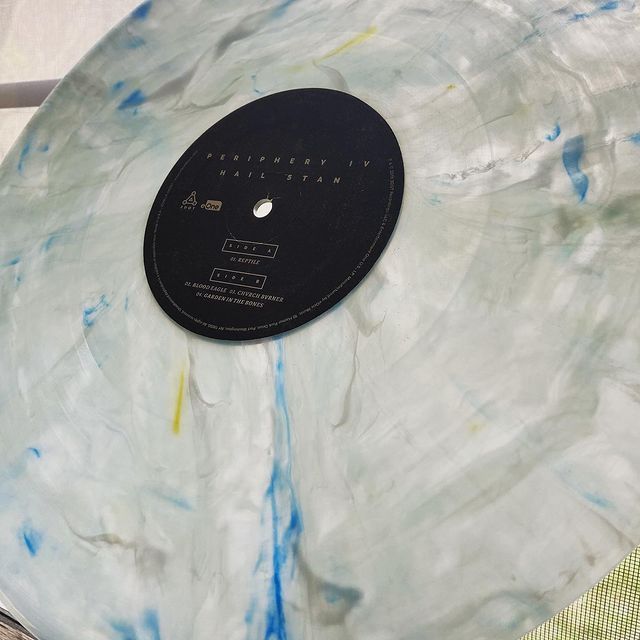 Clear with Blue and White Swirl
eOne Records / 3Dot Recordings
Anyone who's been here long enough knows I'm a huge fan of Periphery, and have been since their debut in 2009. Since then I've owned just about every major vinyl release (no Clear here, unfortunately), and I typically pride myself in completing discographies where possible on bands with such a consistently high quality of output, as is Periphery. So why did it take me two years to pick up Periphery IV: Hail Stan, which may be their best record to date? Honestly, I have no idea why, but the recent repress was a great excuse to correct the mistake.
Read More: Review

I'll keep this one short and sweet: this vinyl release is simply great. The sound quality is tight, the variant is pretty cool looking and loosely fits the aesthetic of the artwork. Heavyweight 180 gram vinyl, and a matte gatefold that feels pretty substantial. The corner was dinged up during shipping, but that's a non-issue (and as my good friend Jordan said above, you're a huge dork if you whine to the label over this superficial damage and nobody likes you). Checking Discogs, it looks like people are scalping this one already for $50 or more, and I can't figure out why. As of writing this post, the band are selling it on their store for $25. So go that route.

Purchase: Periphery's official store | Discogs
-JR
Poney – Pagan Nouveau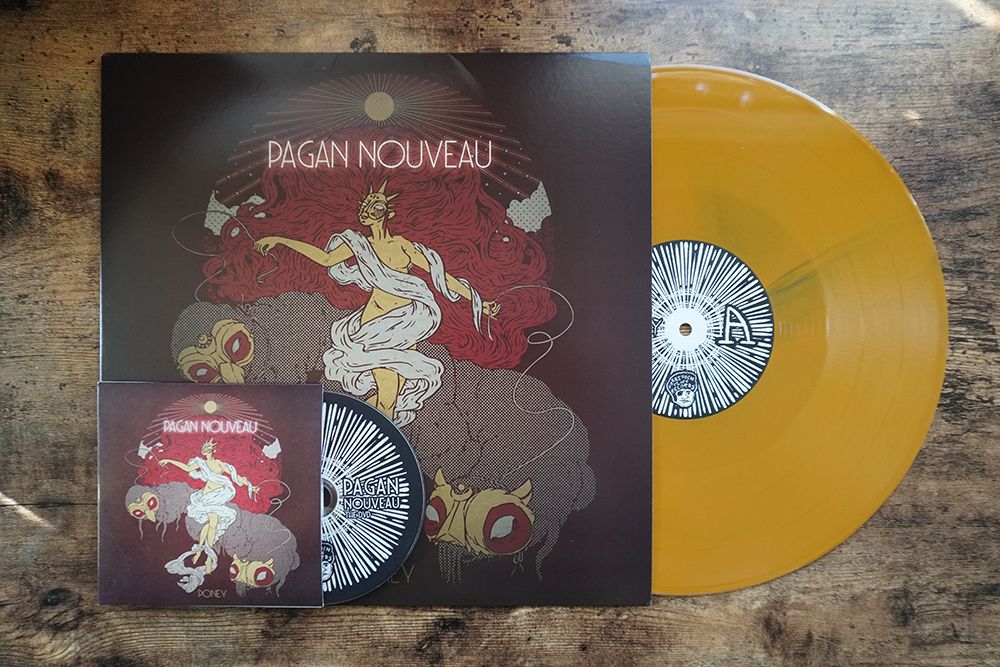 Random Colored Vinyl with DVD [Limited to 100 with DVD, 250 total]
Forbidden Place Records
It's pretty cool to see something you thought might never see the light of day hit the turntable. When I covered Pagan Nouveau for a premiere back in 2018, it was noted at the time that vinyl was in the works, but after a year without updates I had just assumed the stars never aligned and it wasn't meant to be. Now, nearly three years after its debut, the first press of Poney's latest is here. Good things come to those who wait or some shit like that.
I'm always torn about random colorways as 1) I'm sick of unintentionally getting red and 2) I like the aesthetic appeal of coordinating wax and artwork and somehow usually I end up with some really messy combos (yeah, I'll cry harder). So, I was lucky to get a nice and fairly un-tainted gold, fitting for the scheme of the vinyl edition's updated artwork – a cassette version via Kitschy Spirit is heavy on the purple and blue with a different layout. The new cover is a big step up and much easier to decipher as a three color combo, looks really nice in a larger format. Also included in this edition is a double-sided lyric sheet that has some appropriately trippy, poppy, and fun artwork, jibing with the rest of the layout. In short, good paper stuff.
In other bonuses, this version also comes with a DVD of the visual edition of the album (eat your heart out Beyoncé?). While this was always available on YouTube, the quality is nice and having an "official" hard copy is great should YouTube ever disappear, you lose an internet connection, or if you want to toss this one on for the kiddos in your Honda Odyssey. It would've been nice to have some alternate art or even a different colorway for the DVD sleeve, but it's hard to bang 'em for not going that extra mile for, well, an extra.
In the end, what's best is kicking back and having a good reason to revisit this disc because frankly, there's just nobody quite like Poney, and these burly riffs and full bore hooks sound even better with a little added warmth and hiss. If you've ever wanted something along the lines of Torche, Baroness, or Lo-Pan but with a different strain of magnificent pop-ified stoner prog riffage, this is where you need to start.

Purchase: Forbidden Place Records on Bandcamp
-JJ
The Sound That Ends Creation – Memes, Dreams, and Flying Machines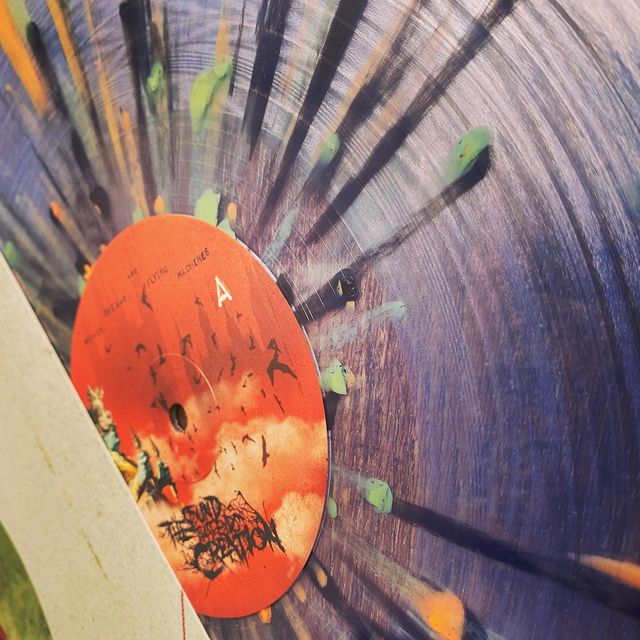 Clear with Black, Orange, and Green Splatter [Limited to 250]
Dark Trail Records
Texas mathcore act The Sound That Ends Creation has crept in these pages for a couple of years now, and at this point we view TSTEC main (and only) man Chris Dearing a good friend (and active member of our Heavy Group Is Heavy group (is heavy) on Facebook, come say hi). And truth be told, I've been a bad friend. Despite coming out last year I only just now got around to purchasing his latest record Memes, Dreams, and Flying Machines (his first with Mathcore Index-associated label Dark Trail), and I'm here to rectify that by telling you that it's not too late to get in on this release.

Read More: Rotten To The Core: November 2020
Let's beat the dead horse some more because I've gushed over this project so often and want to make damn sure to sell this thing: this is slapstick mathcore with avant garde influences, feeling like early Dillinger thrown into a woodchipper with pianos and horns. Those with Mr. Bungle and The Number Twelve Looks Like You on their shelves will find much to love here. The vinyl is gorgeous too, and at $20 on Bandcamp (plus shipping), it's a very nice price, especially when we're approaching inflated vinyl prices and it being not uncommon to pay $30 or more for a single LP. It's affordable, but not cheap by any means. A solid release for a niche art metal project from Texas. Give it a spin.
-JR
War From A Harlot's Mouth – Transmetropolitan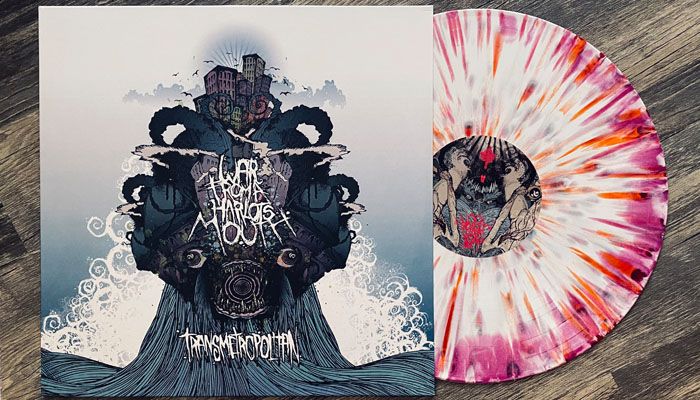 Pink / White merge with Purple Splatter [Limited to 100 copies]
Total Dissonance Worship
Last year, War From A Harlot's Mouth released a remastered edition of their groundbreaking debut album Transmetropolitan and began taking pre-orders for the vinyl reissue. If you aren't familiar with WFAHM and their place in the scene, let me paint a picture: It's September 2007, and MySpace is still the reigning champion of social media. You've been spinning that new The Red Chord album Prey For Eyes nonstop for the last two months. Little-known German act War From A Harlot's Mouth released their debut album Transmetropolitan released the exact same day as Between the Buried and Me's Colors. The Dillinger Escape Plan's Ire Works would come out two months later. This is the vibe we're talking about; Transmetropolitan is very much of the time (there's a track with a breakdown that samples machine-gun fire, and it's brilliant), and the vinyl release capitalizes on that sweet nostalgia.
Guitarist and producer Simon Hawemann handled the remaster and rerelease through his own label Total Dissonance Worship, and anyone who follows him on Instagram knows he's passionate about vinyl, so I was excited about the release and confident in his ability to deliver, being in charge of both the sound and the physical product.
So was everyone else privy to the drop: there were eight variants across two waves of pre-orders. All of them were super limited, and naturally, as of this writing, they're all gone. After all, orders were placed nearly a year ago; I got in on the second wave after the first sold out immediately, and placed my order May 8th, 2020. If you want to own the record now, Discogs is your best bet, but this specific variant is listed for twice the original purchase price as of this writing, and I imagine others are faring similar resell prices, if not worse.
Last month, I made a point to discuss how you should never trust mockup images. The variant bears minimal similarity to the image presented during pre-order, but I'm not mad at it; it's a guessing game on how the vinyl will actually melt together. It's still a cool looking pressing, and one of the more interesting splatter variants I've gotten in quite a while. The jacket is a simple matte card sleeve, and is high quality. It includes a poster with lyrics on the back. The record is kept in a plain white paper sleeve with no poly lining, but if you're buying limited vinyl drops like this and not upgrading on your own with mofi sleeves, you're fucking up.
I'm honestly ecstatic over owning this piece, and can't wait until production on the repress of their 2010 album MMX pressing comes in (which, by the way, also sold out when pre-orders went live last month). I can only assume Simon is working his way through the discography when he can beyond these two albums. Follow him on Instagram for word on that, if it ever happens, and if you missed MMX, definitely keep an eye on a potential rebalance sale of cancelled orders and overruns in the production.

Purchase: Sold Out on Bandcamp (sorry!) | Discogs
-JR