Welcome to Heavy Buys, a monthly column where Heavy Blog contributors review their recent music and music-related purchases. This space was designed to be a catch-all for relevant physical merchandise, but naturally fell into checking out and showing off new vinyl releases.
As you may or may not know, I've been doing some blogging over at our Patreon, documenting my journey to listen to a new album every day for the entire year. This challenge has mostly been occupied by scores of classic death metal albums, as it's a realm that I always wanted to dive deeper into but lacked motivation. While I'm finding a bunch of new albums that I enjoy, I've also doubled back to some classic death metal records that I already know and love. I've felt particularly inspired by this quest and re-education, and the tax return burning a hole in my wallet compelled me to take the opportunity to add some of these all-time classics to the collection. You'll see many of those scattered throughout this month's Heavy Buys. You'll certainly know them when you see them, but I'll probably tell you anyway.
As always, C O N S U M E.
-Jimmy Rowe

Atheist – Unquestionable Presence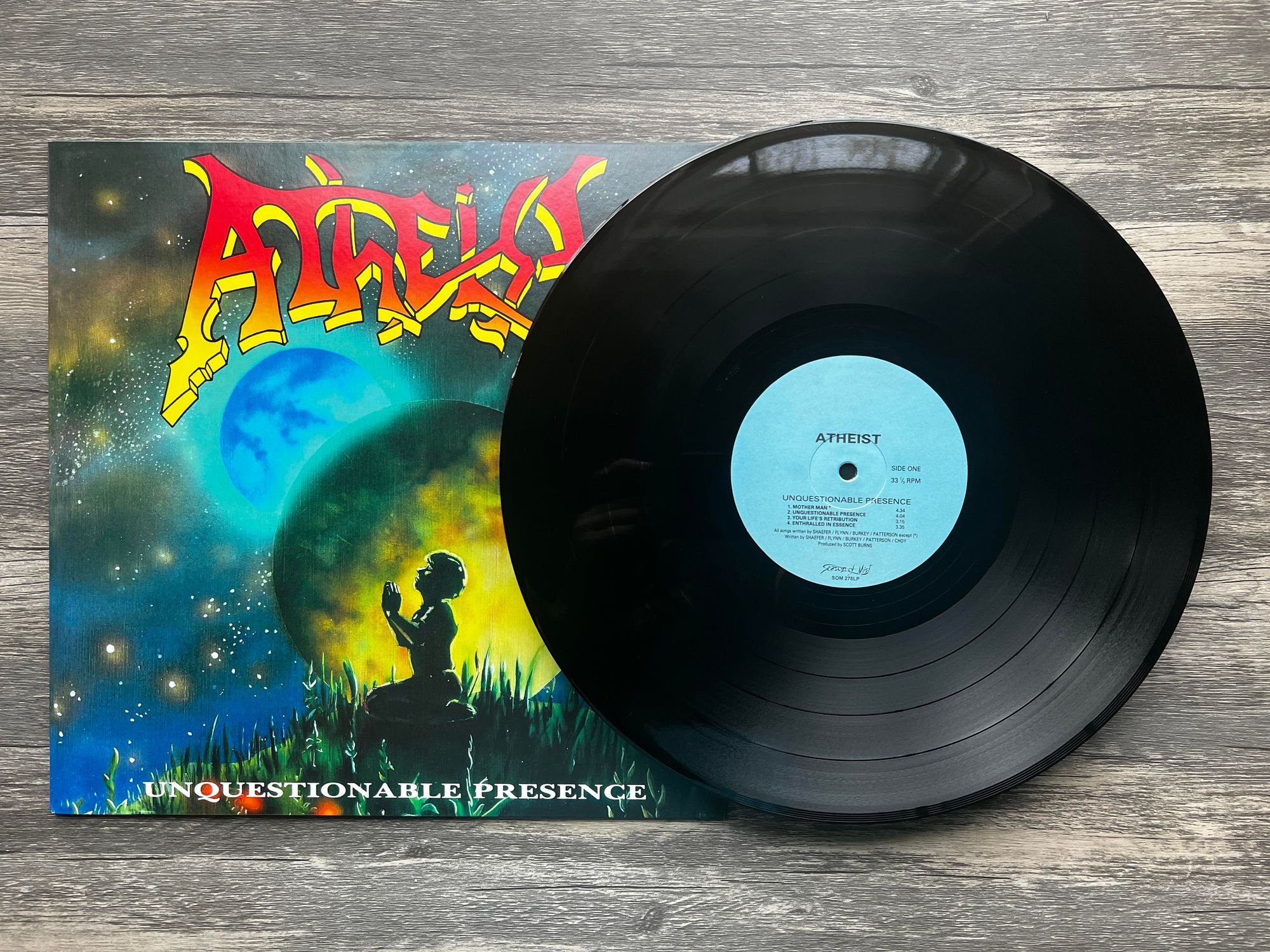 2021 Reissue; Standard Black /850
Season of Mist
I keep a list of 90's death metal record I adore above all, and Unquestionable Presence is firmly within the top 10. This record is a breezy death metal masterpiece with frequent flirtations with jazz fusion influence that precipitated entire movements in prog and tech death to follow. Listening to this album today is still an exhilarating experience that holds up. It's so hard to believe this record came out in 1991, so early in the death metal game to be this progressive and groundbreaking. Unfortunately, listening to this record today is somewhat difficult because the band evidently doesn't believe in streaming, which causes a barrier of entry for young, new audiences. There's avenues to get around this barrier obviously, but I'm in a privileged position to blow funds on the physical product, and fortunately, this pressing at time of writing is a mere $20, depending on where you can find it.
This pressing is a standard and bare bones as they come, which is absolutely welcomed for a classic such as this one. You're getting a single jacket sleeve with a printed black and white inner sleeve featuring lyrics and band photos. The disc itself is standard black and sounds phenomenal. The bass really pops and the 90's organic production really fills the room. The record also plays flawlessly and offers a crisp and intensely satisfying experience with this masterpiece. I can't say enough positive things about this record and how this record sounds. Sometimes you just don't need any ultra-limited unique colorways, just a black record in a sleeve to allow the music to speak for itself. Unquestionable Presence is essential; pick this one up where and while you can. It's not like you can really stream it anywhere outside of bootleg YouTube uploads anyway.
Sold Out at Meteor Gem (Sorry!) |  Discogs

---
At The Gates – Slaughter of the Soul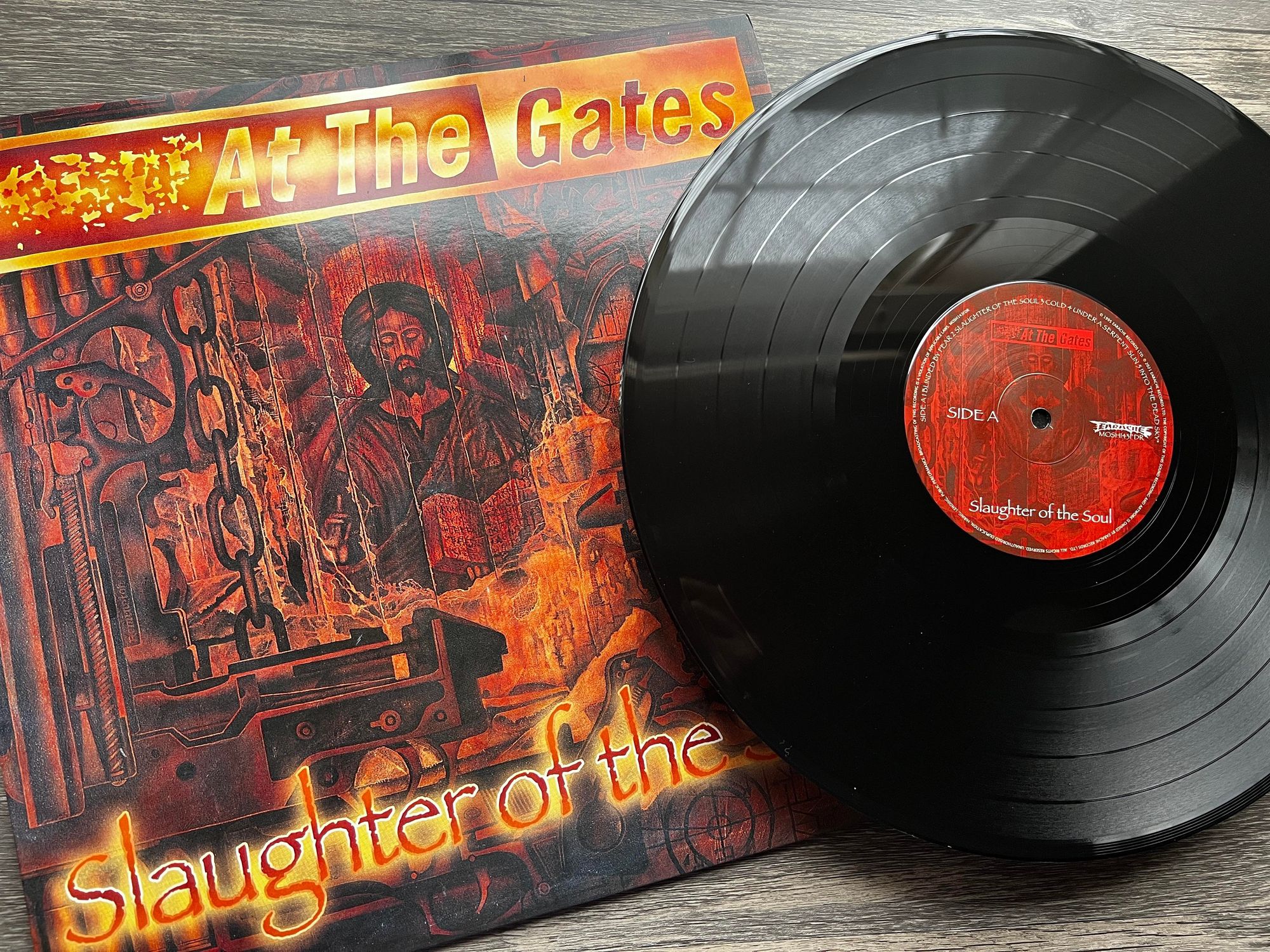 2021 Full Dynamic Range Edition; Standard Black
Earache Records
The classic death continues. I'm sure my coming-of-age to extreme music isn't at all unique. As a millennial, I grew up during the nu-metal and post-grunge era of mainstream rock, and those acts guided me into metalcore by the time I was in high school. Where there's metalcore, melodic death metal tends to follow. In Flames was the first band to enter my listening habits that you could refer to as death metal, and At The Gates weren't far behind. Their 1995 debut album Slaughter of the Soul is an absolute classic, and one of the most important extreme metal albums of all time. I don't think I'm stoking any controversy by saying that without this record, the world of metal to follow would look wildly different. And it holds up, which isn't something you can say about every melodic death metal classic out there.
When I decided to hunt this album down, I came across a 2021 repress from Earache that appeared to have a generous pressing and was readily available for purchase. However, shipping for this album directly from Earache's web store is somehow $15 at its cheapest. It turns out, despite being founded in the USA and the webstore listing prices in USD by default, Earache are apparently centered out of the UK. I reached out to my local independent record store, and they were able to get this record to me at MSRP through their distributor, no extra shipping cost. Wherever possible, make relationships with the folks at your local record store. I'll say it now and I'll say it again below, if you've been meaning to pick up this classic, only purchase from Earache if you're desperate or in the UK, I guess! Discogs also has some Stateside sellers for good prices, if you can't get it locally. Hurray, we have options for once in this column!
This pressing doesn't have any bells or whistles to speak of. Black vinyl, standard gram. Single jacket with an insert. Vinyl housed in a paper sleeve that you should throw away and replace anyway. A classic record that speaks for itself. It plays clean, and sounds great on the format, as one would expect from a death metal record of this era. Truthfully, I didn't bother to do a side-by-side comparison of this "Full Dynamic Range" edition of the album compared to the standard digital edition you can find on Bandcamp. It's not like this album was particularly dynamic to begin with, but it's not clipped to shit or overly loud. No complaints here; a no-frills mandatory metal classic. Pick it up if you haven't already.
Now I've just got to lobby Nuclear Blast to re-press The Jester Race so I can keep the vibes going.
Available for Purchase at Earache Records, but ask your local record store | Discogs

---
Cult of Luna – The Long Road North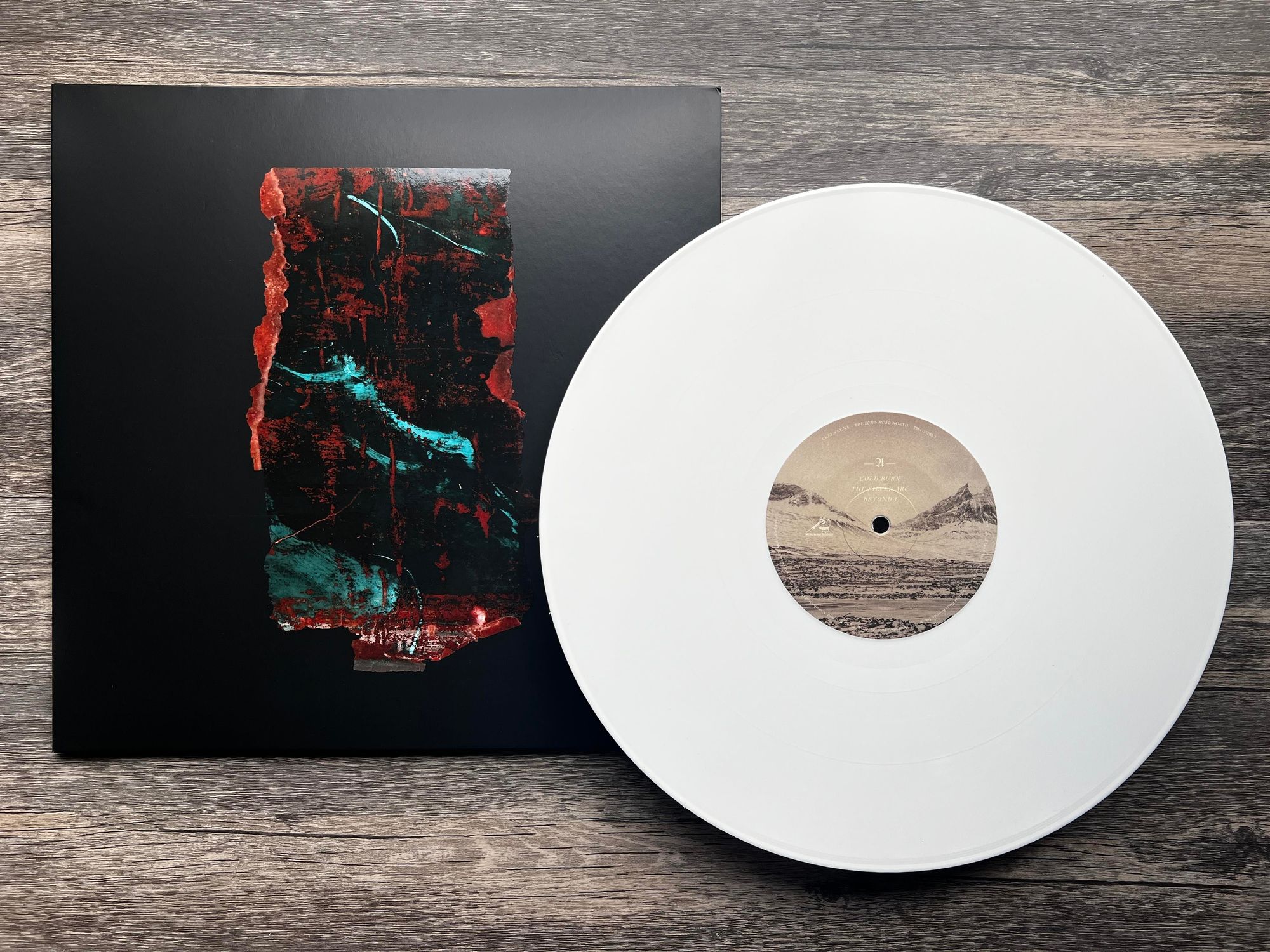 Opaque White; US Retail Exclusive /1500
Metal Blade Records
Swedish post-metal titans Cult of Luna's latest opus The Long Road North dropped back in February, and not only is it one of the earliest best records of the year, it's easily among the best records in the band's discography, on par with their Julie Christmas collaborative record Mariner. It's a massive record that sees Cult of Luna at their best, crafting monumental and cinematic atmospheric sludge that serves as a reminder that they are progenitors of a genre and still one of the best to do it.
Read more: Cult of Luna – The Long Road North
This album being on the growing shortlist of Album of the Year contenders was a no brainer, but purchasing this record did give pause. This 2xLP set approaches $50 or more depending on shipping, which is a big ask for one album. I'm sure there were reasonable considerations for the pricing of this record, given that in the broader scheme of things, we're dealing with a very niche post-metal act from Sweden. Presumably, these were pressed in Europe and shipped to America, and with the growing costs of, well, everything, you're going to rack up some overhead. I complain monthly about $30 LPs, and $50 2xLPs hurt as well.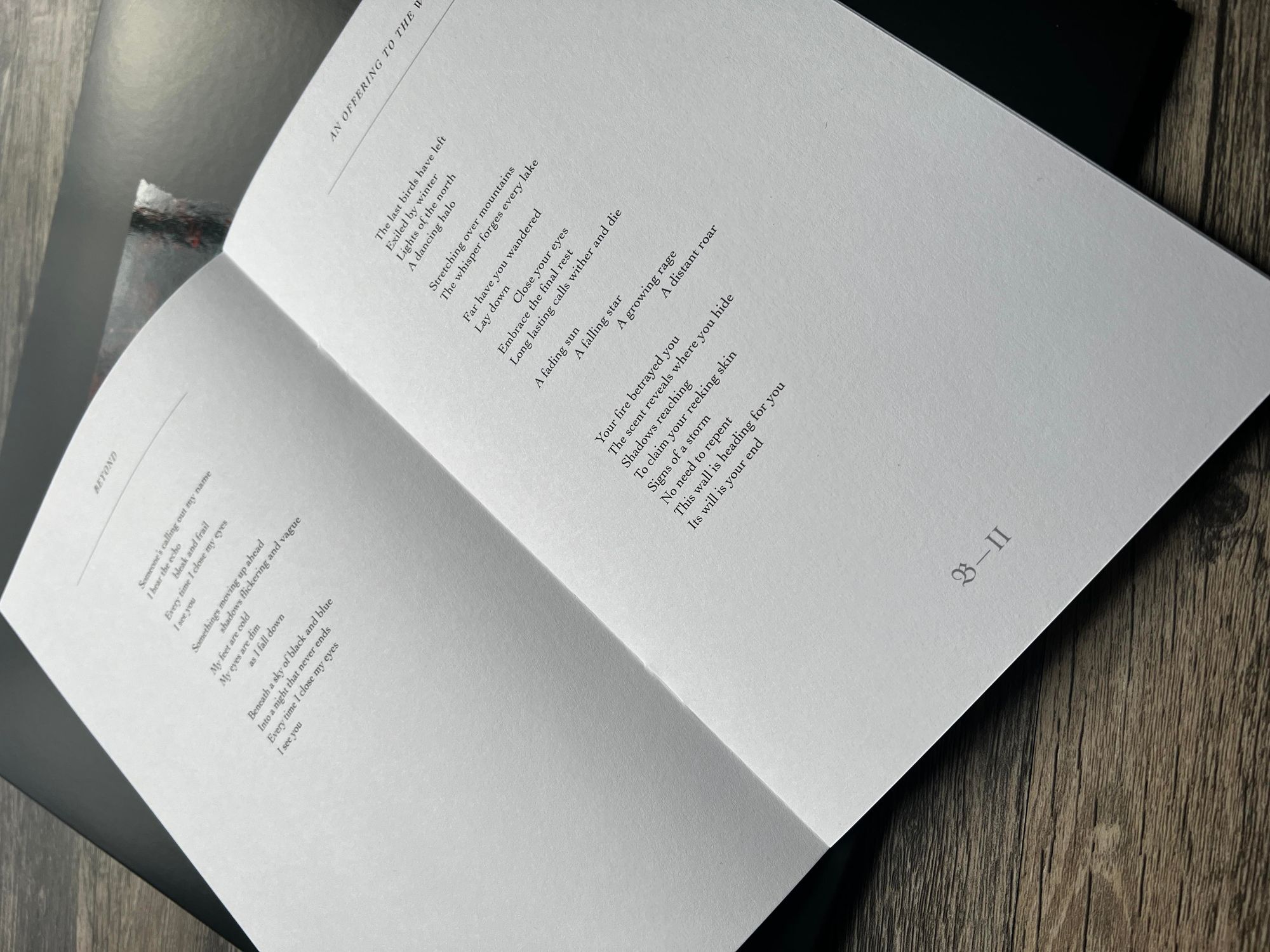 And yet I bought it and cherish it. I've had this nagging feeling that I need more post-metal in my collection and enjoy an excuse to engage with this style of music in this format, where the massive sounds often shine. This particular pressing, available exclusively through retail in North America, is nice and features some bells and whistles that soften the blow, like a 16 page book with photos and lyrics. It was as simple as asking the store if they could order it for me, and they were happy to oblige. Make friends with your local record store folks and support small businesses where you can! They gave me a small deal on this and I didn't have to pay shipping, so all told I came out saving $5 or $6.
The packaging is pretty substantial as well, with a thick gatefold that includes a panoramic landscape on the inside, and the cover's gloss over foreground against the matte black really pops in person. The media itself is an opaque white in a standard weight vinyl. The white looks great against the dark artwork and is almost purely white, but there's some artifacts from the process that leaves streaks and specs on my side A. That's not a problem of course, but I do wonder how cool a black splatter or merge would look. The record plays relatively cleanly as well, which is a must for dynamic and atmospheric music. The record sounds phenomenal, ignoring some popping that seems few and far between.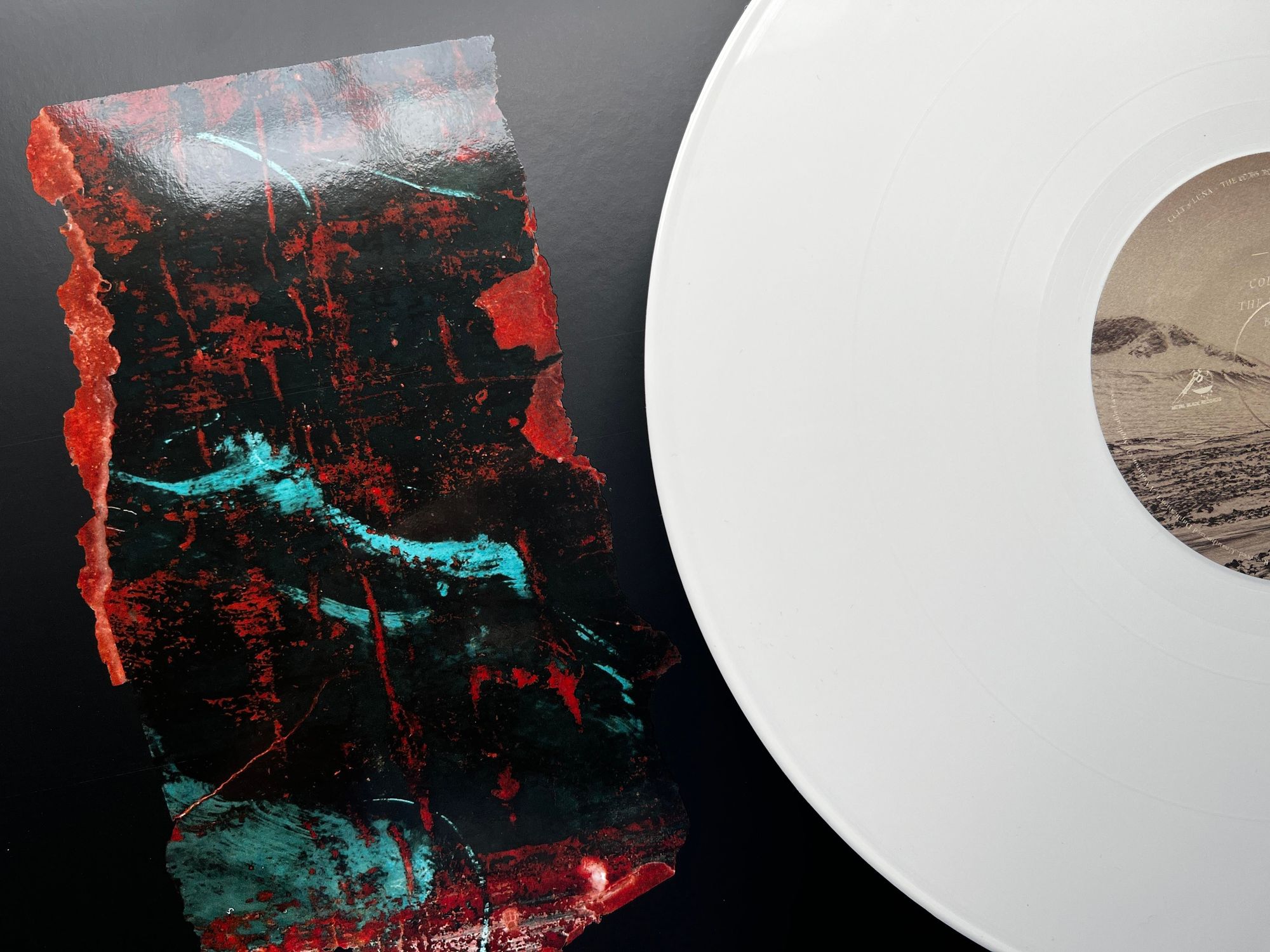 Ultimately, this is a neat pressing that does beg to question the value of its cost, much like the Vildhjarta record from last year. I know that the band aren't exactly enriching themselves off of this or anything and the entire industry is in disarray. I just like to vent. Fans of the band and the genre would do well to pick this up if the opportunity arises. It's certainly a powerful record worth owning, especially in this format.
Check your local record store | Other variants available at Indie-Merch | Discogs

---
Dream Unending – Tide Turns Eternal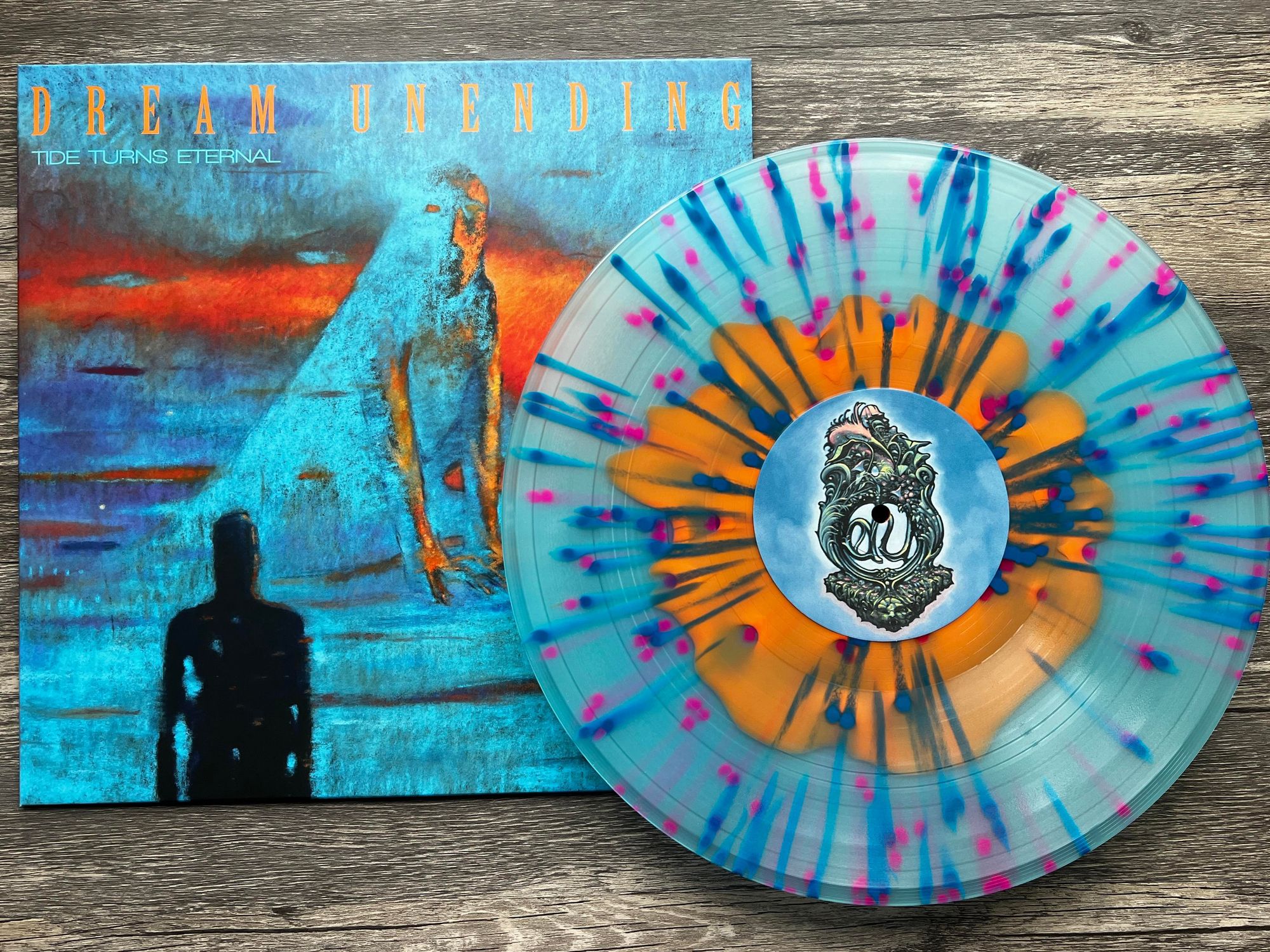 Halloween Orange Inside Electric Blue w/ Aqua Blue & Neon Magenta Splatter (B4 Variant; Bandcamp Exclusive)
20 Buck Spin
In case you missed it last year, Dream Unending is the new death doom project featuring Tomb Mold's Derrick Vella and Innumerable Forms' Justin DeTore. Their debut record Tide Turns Eternal, released back in the Fall by 20 Buck Spin, was among my favorites last year, which is sayin a lot because historically, I haven't enjoyed death doom too much. I tend to like my death metal fast and riffy, not slow and plodding. Dream Unending however offer a more progressive and melodic take on the genre, with the band citing in press materials influence from landmark records from Paradise Lost, Anathema, and My Dying Bride as well as nods to Pink Floyd, Joe Satriani, and The Cure. Tide Turns Eternal successfully captures this mix of progressive, heavy, emotive, and melodic influences, and is a truly whimsical and psychedelic record that fans of prog, doom, and death metal will enjoy.
Pre-orders naturally launched immediately upon the album's announcement back in October, but they couldn't be fulfilled until recently thanks to the manufacturing bottleneck. 20 Buck Spin are a phenomenal label and were transparent the entire time, letting us know right away that vinyl would not be available on release date. I wouldn't get around to ordering until around Christmas anyway, but it was nice to see a label go above and beyond, even going as far as maintaining a specific portion of their site for factory and shipping updates on outstanding pre-orders.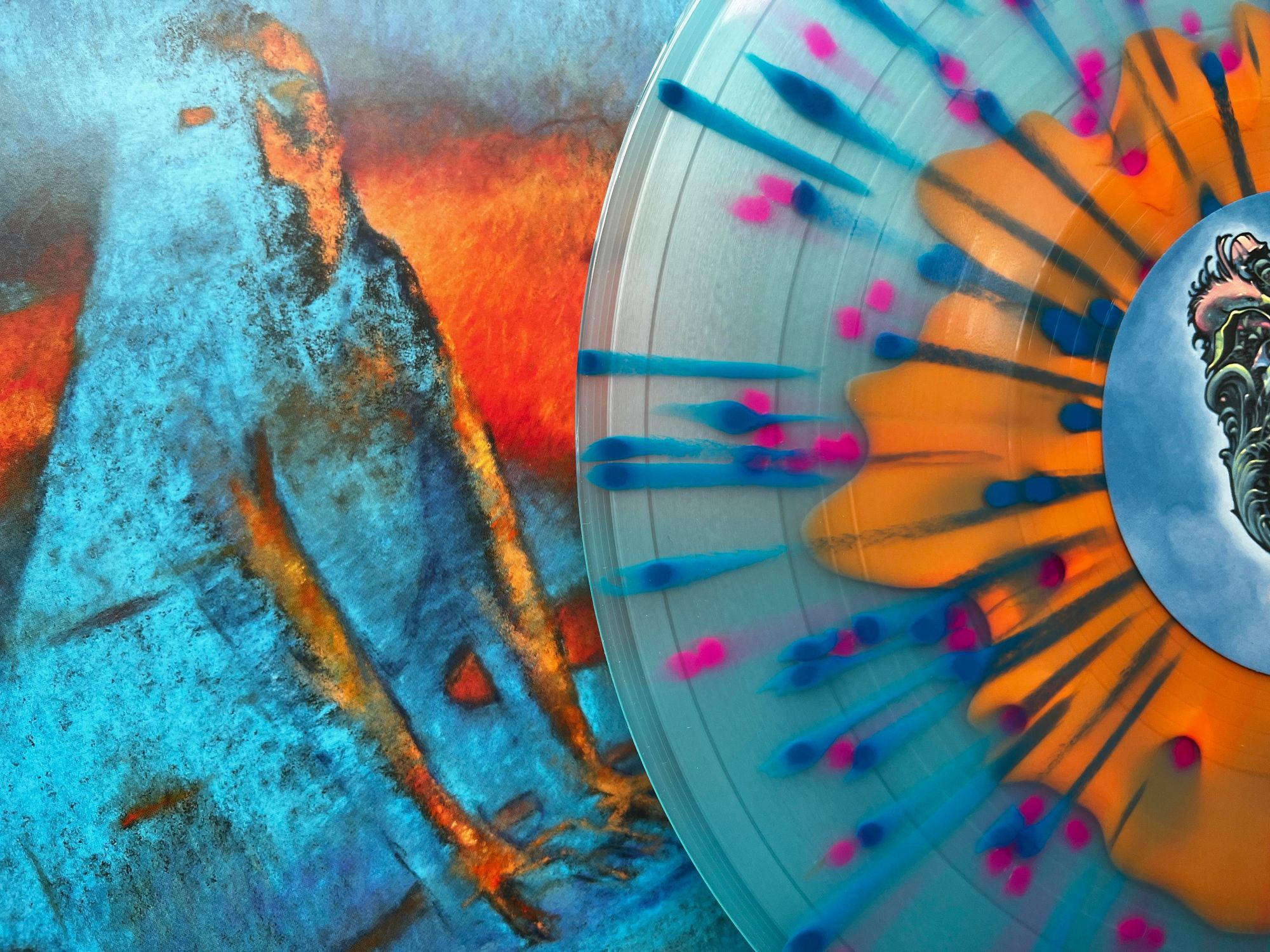 Typically, for 20 Buck Spin releases, I would encourage folks to order from the label's website directly as their Bandcamp stock is slightly marked up to seemingly compensate for Bandcamp's cut (fair!), but with this release, the label pressed this stunning variant as a Bandcamp exclusive, so I took the bait as I had a Bandcamp gift card burning a hold in my pocket. Somehow, this turned out much better than the mockup promised (a rarity!) and it's intensely satisfying in its coordination with the cover. Let's admit it: the artwork for Tide Turns Eternal is not particularly great, but it is certainly evocative and I'm a sucker for orange and blue.
20 Buck Spin tends to keep their packaging pretty simple, and this is no different; single sleeve for the jacket, simple paper sleeve for the vinyl, and an insert with lyrics, band photos, and liner notes. They've done something cool though that didn't make sense to capture a photo of, but the inside of the jacket is printed as well in a striking orange; a simple pop of color that doesn't go unnoticed in the listening process.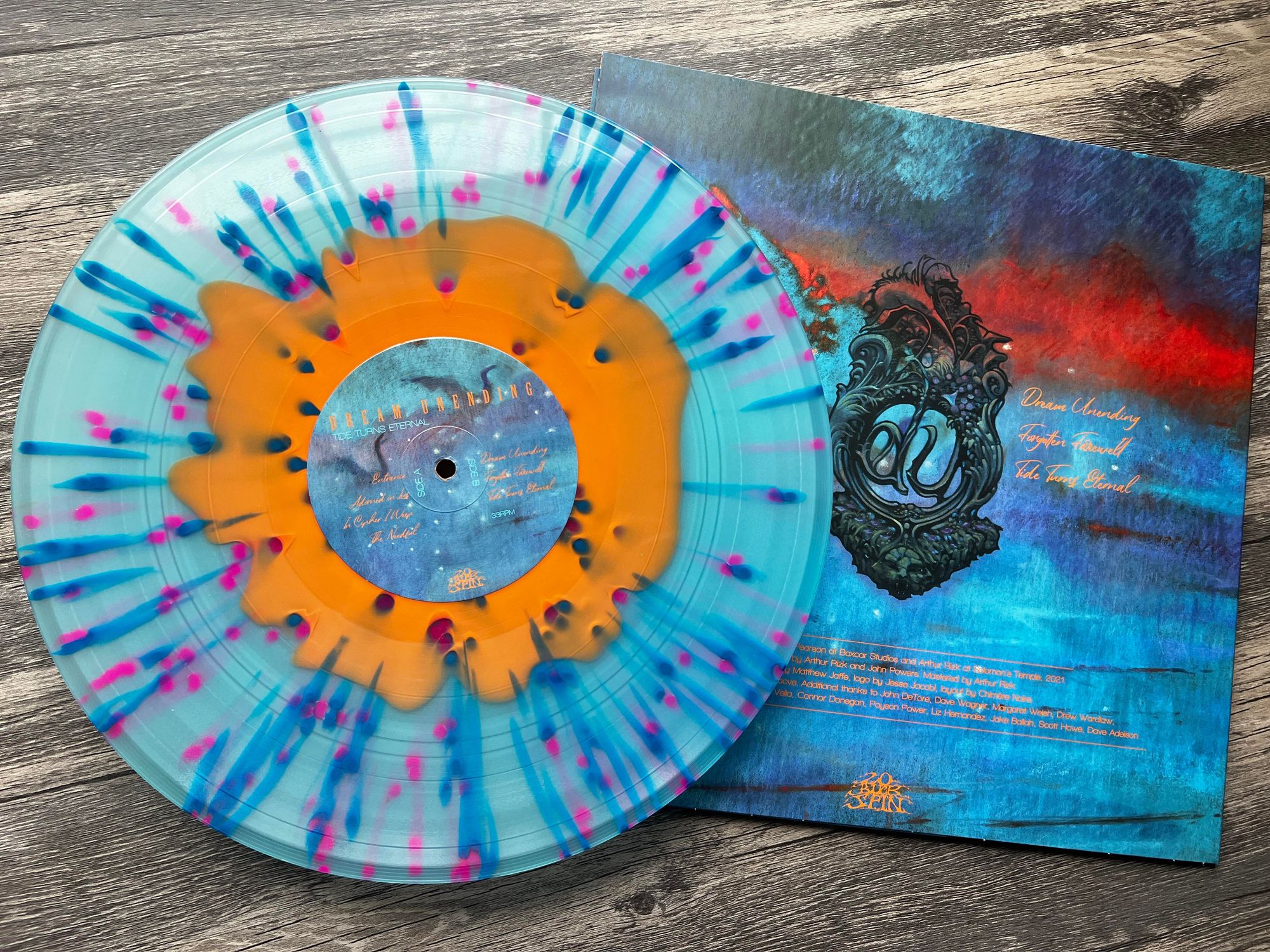 Playback is about what you'd expect. The trudging and grimy death doom can be a bit boomy at times, specifically on "Adorned With Lies," and the shimmering and twinkly ethereal bits give space for pops and cracks to seep through. Still, this is quite a remarkable record and I'm happy to own it, particularly with a pressing this gorgeous. Hopefully this duo has more up their sleeves in the coming years for this project.
As you could imagine, this Bandcamp Exclusive variant is currently sold out, going for nearly twice as much as retail on Discogs. Black is still available in limited quantities at Bandcamp, but 20 Buck Spin has a few options available on their store worth looking at. Give it a look at the links below.
Sold Out at Bandcamp (Sorry! Other variants may be available) | Other Variants available at 20 Buck Spin | Discogs
-JR
---
Entombed – Left Hand Path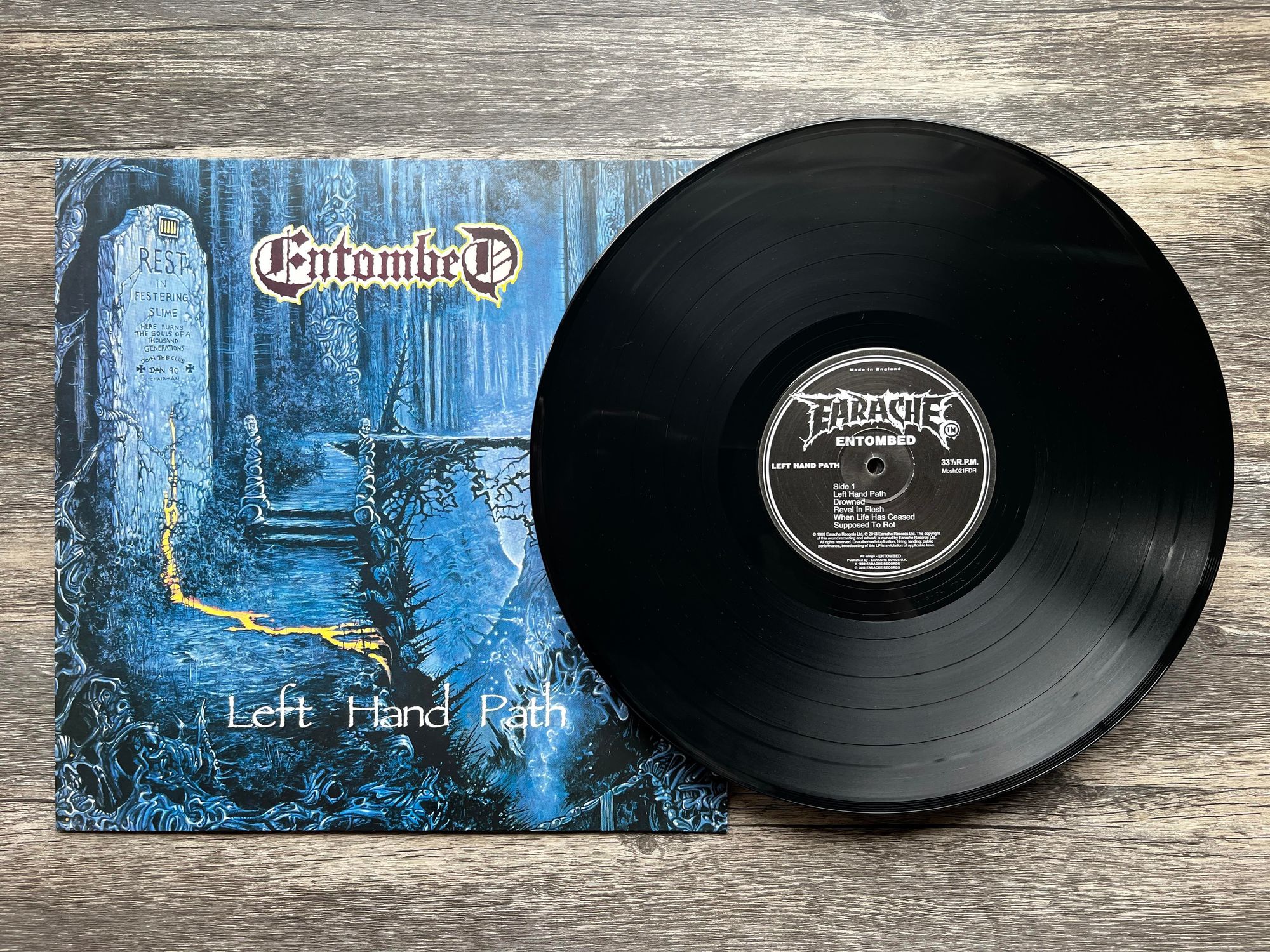 2022 Full Dynamic Range Edition; Standard Black
Earache Records
Another classic purchase from this month: Swedish death metal progenitors Entombed dropped this masterpiece back in 1990 and forever changed the face of the genre. These groovy and riffy buzzsaw guitars became synonymous with death metal from the region and would later spawn a blink-and-you'll-miss-it Entombedcore craze (think Nails and Trap Them) of the early to mid 2010's.
As I've mentioned above and elsewhere, I'm having a bit of a moment right now with classic death metal, and picked up a bunch of records I loved. Following the satisfactory experience I had with Earache's new Full Dynamic Range edition of Slaughter of the Soul in standard black, I grabbed Left Hand Path from the faves at Meteor Gem.
Unfortunately, this may just be one of the worst new pressings of an album I've had in quite some time. This record is eat up with an abundance of noise that either manifests as a crackling hidden within the guitars when the band are operating at full-throttle (which are honestly a bit overblown at times; so much for "dynamic range") or in an obnoxious wall of noise during the record's more dynamic moments, most notably on the title track's synth interlude. The noise is a bit more present towards the outer edges of the record and get less obvious as the needle moves toward the center, and persists even after a wet cleaning. I don't know if I just got a bunk copy or if the whole run is this lackluster, but I'd chance an earlier pressing if you can swing it. It's unlikely I'll bother to return this, but I am quite disappointed.
Available for purchase at Earache Records | Discogs
---
Fit For An Autopsy – Oh What The Future Holds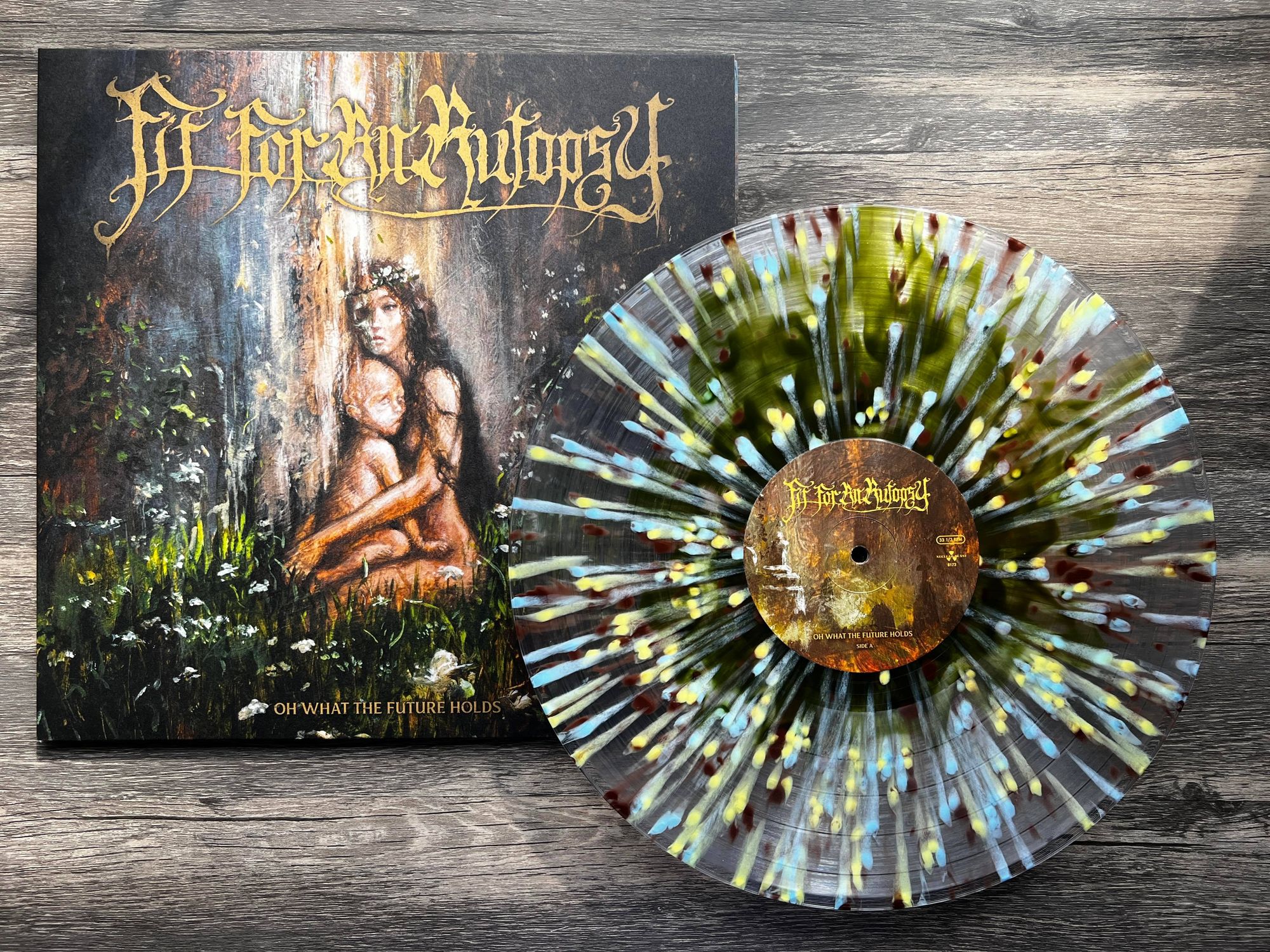 Green in Clear w/ Yellow, Blue, and Brown Splatter /1250
Nuclear Blast
New Jersey deathcore act Fit For An Autopsy released what was one of my first favorite albums of the year with Oh What The Future Holds back in January (on what we'll now call National Deathcore Day), and beyond that, they've been one of my favorite deathcore bands since 2013's Hellbound (which I would love to have on vinyl; please repress this, guys!). Our very own Calder gave the record a look, and called the record a "revelation" that may perhaps be the "birth of the new prevailing sound in modern extreme metal." I fully agree.
I was eager to own this one, and after perusing my options online, I decided to check with my local indie record store to see what they could get their hands on. To my luck, they were able to obtain this copy on clear with splatter, which was sold out online at the band's store. Did I get lucky? It feels like it!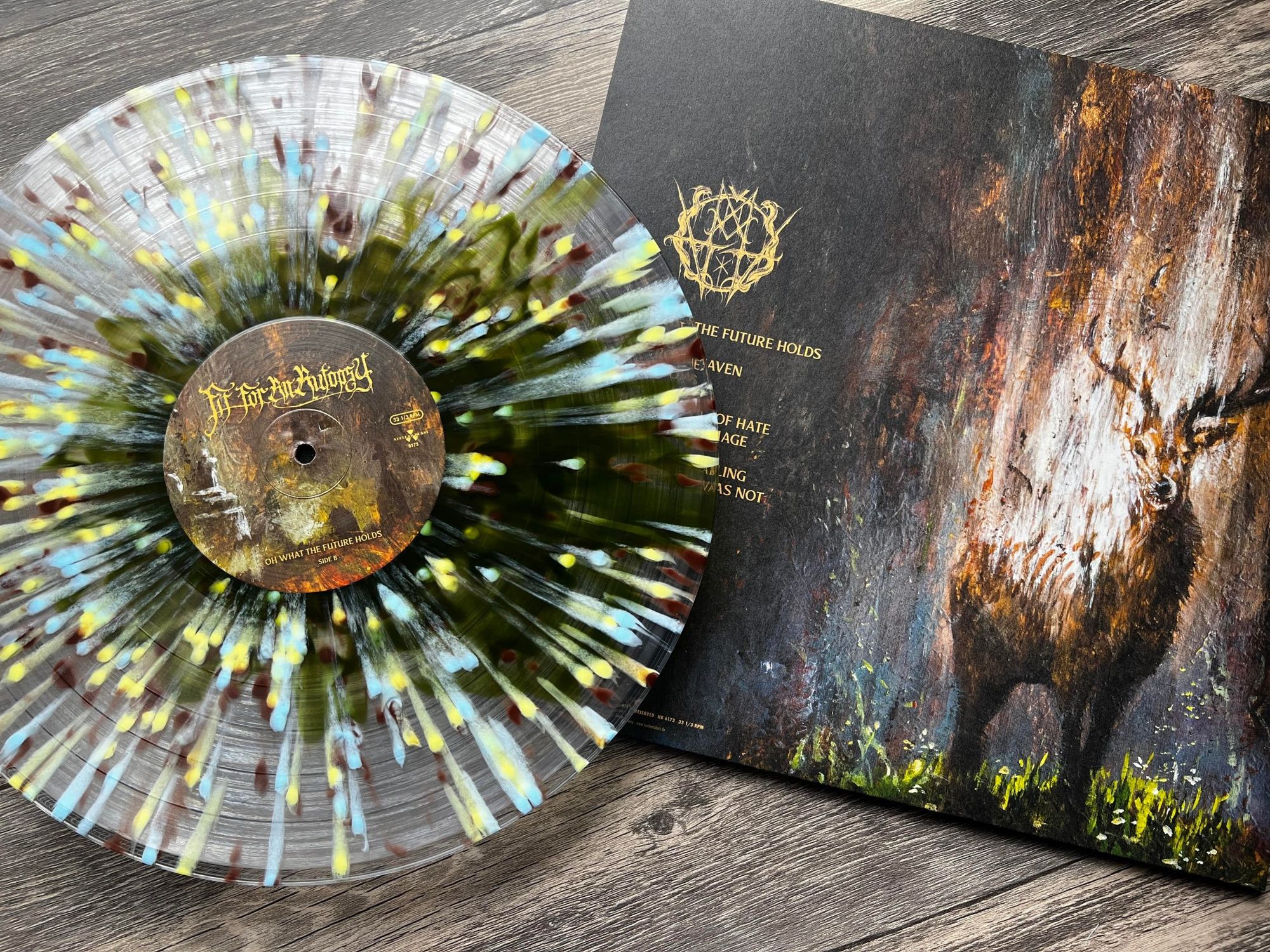 The physical product and presentation of this pressing feels substantial. I always love it when a record manufacturer creates a gatefold sleeve for a single LP, as it gives an opportunity for extras and more artwork, which is a particular treat for this release; Adam Burke's work on Oh What The Future Holds is likely some of the best we'll see all year, and it's even better in person, particularly with the expanded landscapes on the inside gatefold which depict a darkened, burning cityscape, with the return of nature ominously encroaching. The particular finish and texture of the sleeve feels nice and of high quality, as well. There's a full-color folded insert that includes lyrics and liner notes with additional art assets that, all together, provide more clues towards the band's apparent attitudes regarding climate change and the album's cynical title and lyrical themes.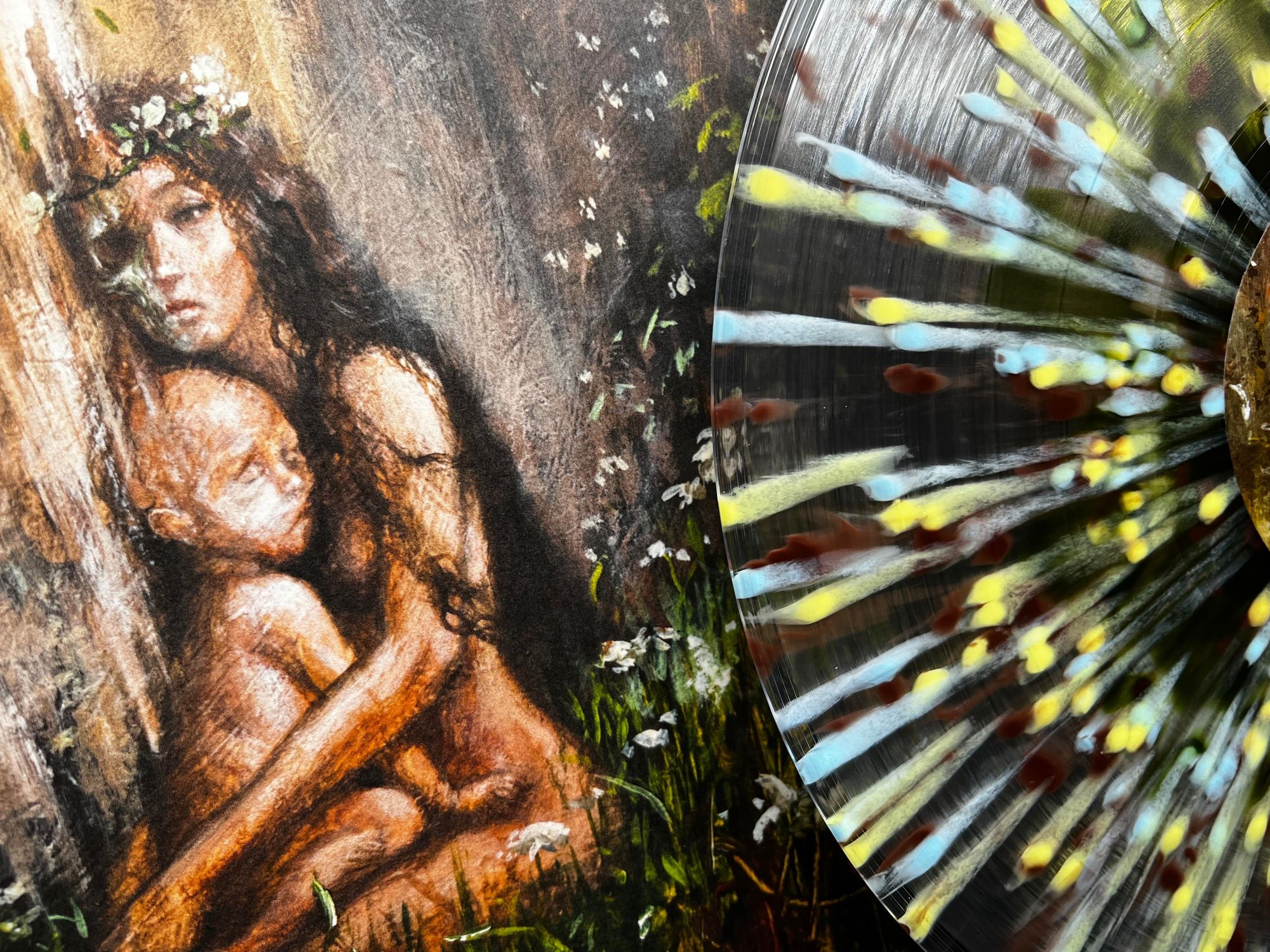 The vinyl itself is gorgeous and looks fantastic against the cover art. It's also quite thick and heavy, fitting for a substantial slab of deathcore. However, it does disappointingly have quite a few pops, even after a deep cleaning. This feels like a common issue with pressings with a clear base, and perhaps the splatter doesn't help with these weird artifacts. When the record goes, it fucking goes, but Oh What The Future Holds is a reasonably dynamic record, and the snapping that can happen between tracks and during those few atmospheric moments can break the immersion. As usual, when you're going for something that isn't standard heavyweight black, you tend to sacrifice quality and your mileage may vary. Pick this up (if you can find it) if you're a fan of the band and the greater deathcore genre, and aren't too stubborn when it comes to audio quality.
Sold Out Online (Sorry! Other variants available) | Discogs
-JR

---
Fit For An Autopsy – The Sea of Tragic Beasts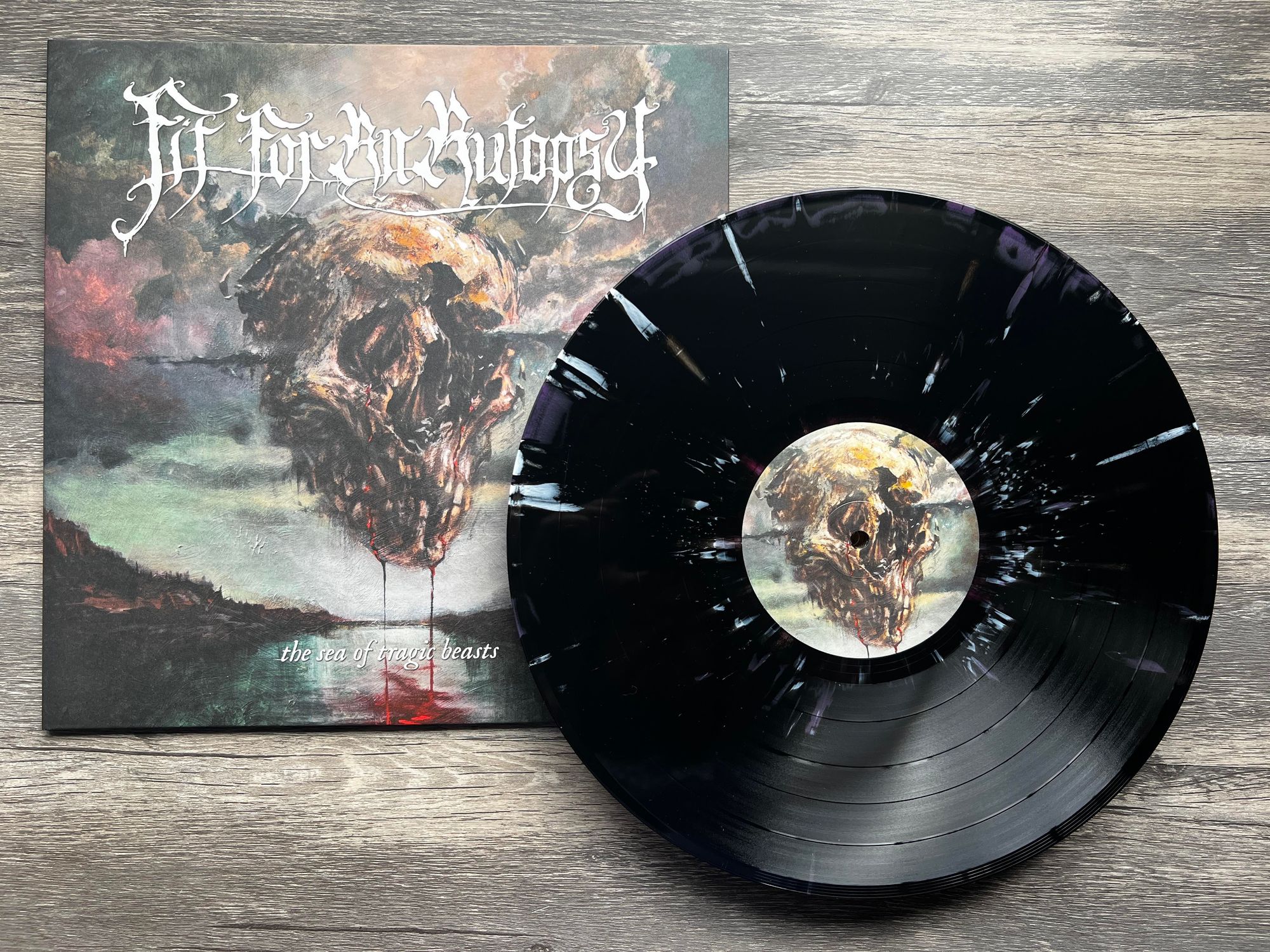 Black with Purple and White Splatter /200 (Generation Records Exclusive)
Nuclear Blast
Caught up in the hype of Fit For An Autopsy's new release, I realized I'd never gotten around to picking up their last record, The Sea Of Tragic Beasts (2019). I've had it in my want list on Discogs for a hot minute, and when scrolling through, I saw that these were going for about $10 from Generation Records, an indie record store out of New York. Apparently, the store were given their own exclusive variant, which is neat. This variant was a part of a second run of pressings which dropped in 2020, and I guess the store had a few copies collecting dust and off-loaded them for cheap; they sold about nine at that price point this January and February before they sold out. What a lucky find! As I'm writing this post, one seller has it for $25. I didn't get this news to you fast enough, and that's on me.
At such a cheap price, I didn't have particularly high expectations and sort of just wanted to flesh out the collection, but I can't say I have any major complaints about this record. I suppose you could copy the praise above to this one; Adam Burke once again provides a stunning painting, and the detail pops on the larger print on the gatefold. The noise is still present, but not quite as bad on this pressing, which is a bonus. I'm also a huge fan of splatters on black vinyl, so this is particularly great looking pressing for my tastes.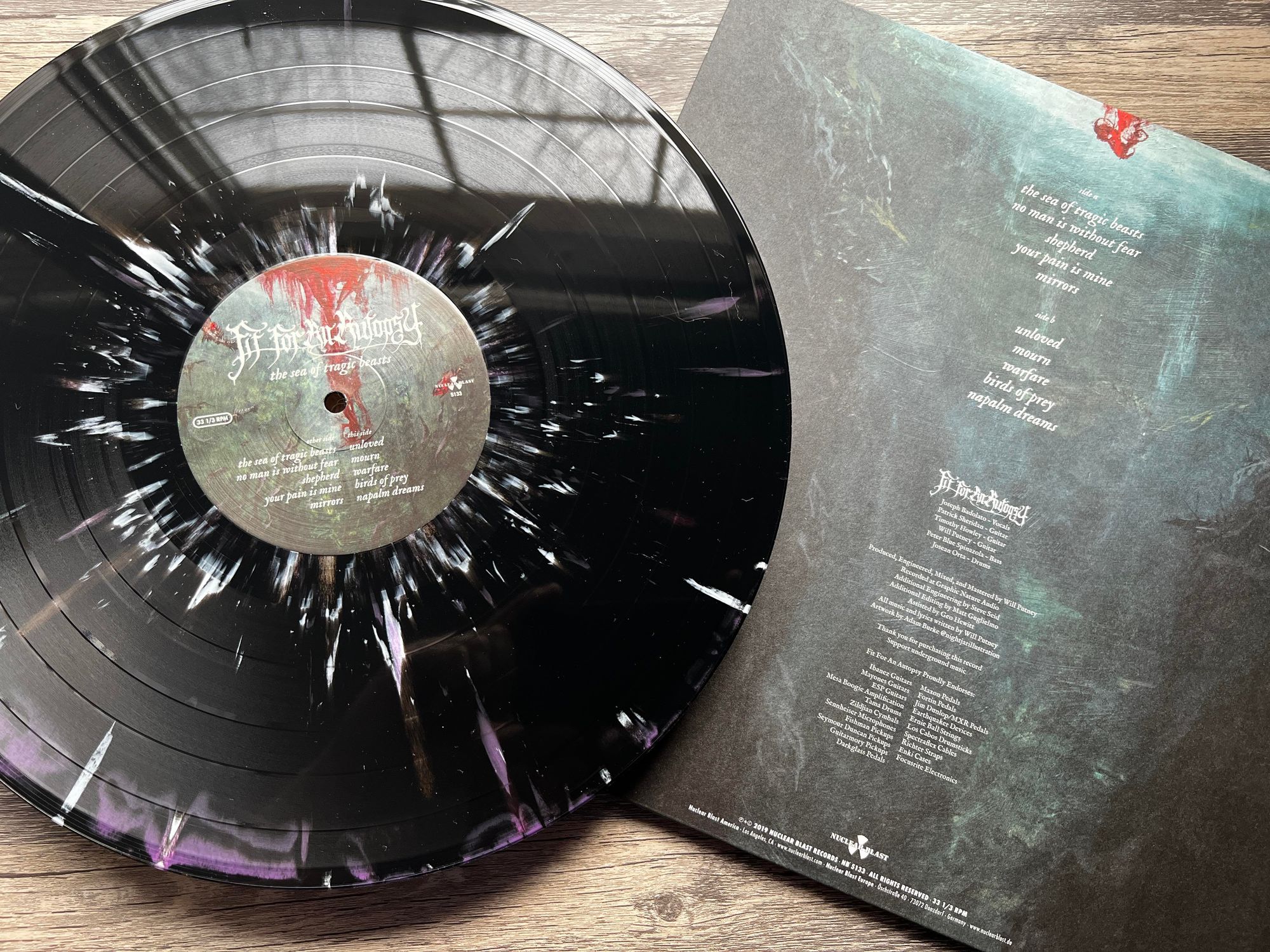 For all the hype the new record got, circling back to this record was fun. I almost like this album more, and that's not a knock on Oh What The Future Holds; FFAA discography is consistently great, and this record is a blast. The band started to really explore their Gojira influences on The Great Collapse (2017) but this record really ramps it up, and it works incredibly well with their style of deathcore. In fact, at the risk of stoking controversy, these guys do Gojira better than Gojira over the past decade. These guys are more progressive than they're perhaps given credit for, while also being incredibly catchy on this album. If you can find this one, queue it up. They're sold out as new, but Discogs has this and other variants at an affordable price point.
Sold Out Online (Sorry!) | Discogs
-JR
---
Gorguts – The Erosion of Sanity
& Suffocation – Pierced From Within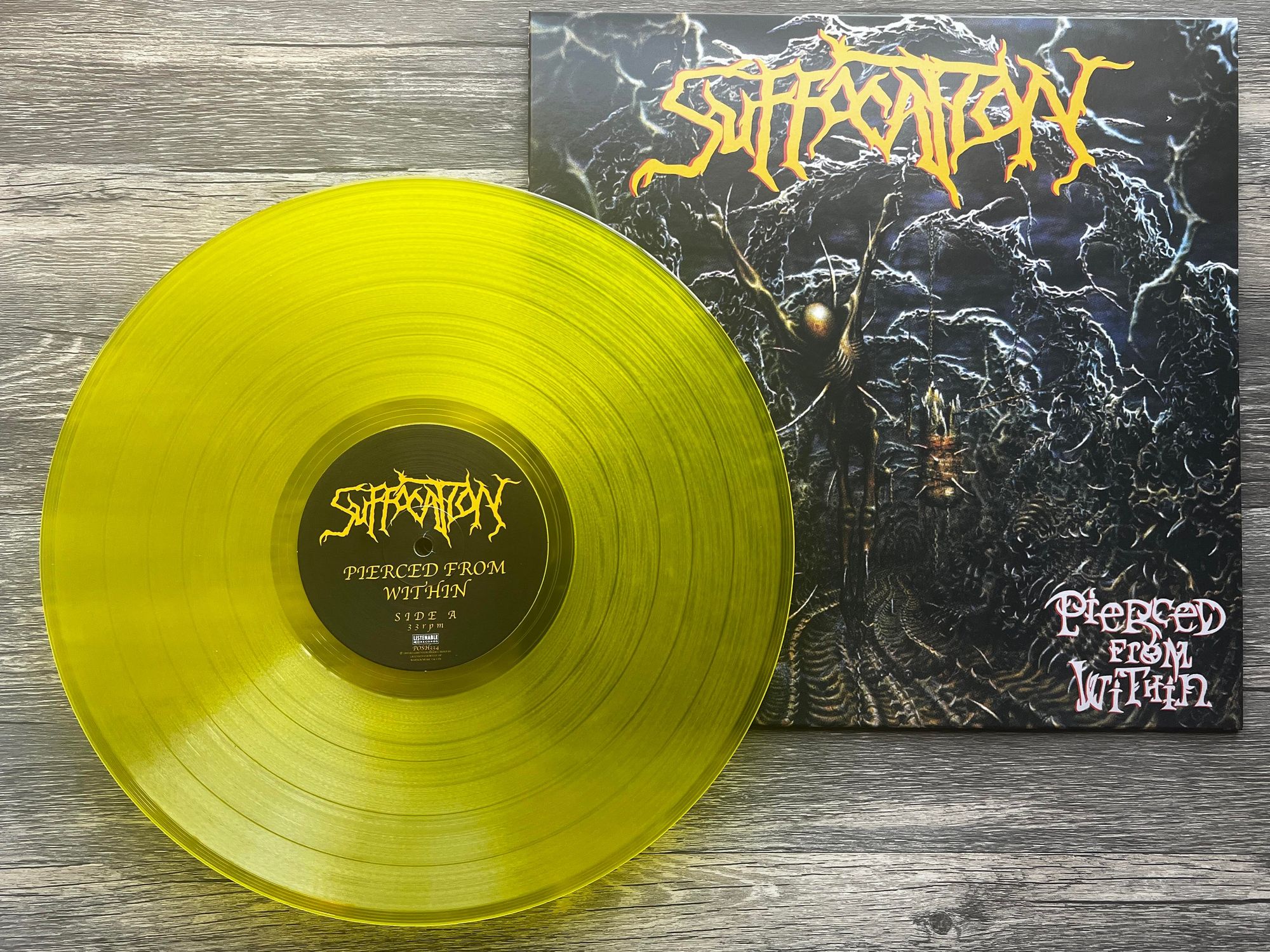 Limited Edition 2021 Repress; Transparent Yellow /500 each
Listenable Records
These labels out here have apparently been having a moment re-pressing classics from under their catalogues in recent years just as I happen to begin earnestly and intently engaging with the material, and for that, I am blessed. With a few exceptions, I've typically been able to find the "big" albums I connected with from the 90's. Some of these labels evidently did so under a specific themed series within the last year or two, including the evidently hit-or-miss Earache FDR series and these Listenable Records transparent yellow classics collection from last year. I was able to pick up these seminal records from Gorguts (1993) and Suffocation (1995) through Meteor Gem (have you figured out yet that I adore them?) and they even have the same hype sticker on the protective outer sleeve, so that's neat!
Unfortunately, Listenable Records are centered out of Europe and these pressings didn't make it stateside without ordering from Europe at outrageous shipping rates. Fortunately, Meteor Gem had affordable copies of records within this series, so I picked them up while I could. They've since sold out of the Gorguts record (boo!), but Suffocation seems to be readily available at $29 at the time of this writing.
Both of these records are groundbreaking classics that foreshadowed developments in death metal that would lead to brutal death metal and technical death metal as distinct movements. For that reason, I consider these albums to be essential, and among some of the best records I've heard from the 90's out of the genre. These Listenable represses are pretty bare bones, but they get the job done at rising to the occasion at hitting the mark between affordable and quality. I just wish they were easier to get a hold of in North America. Hopefully you get lucky.
Gorguts: Sold Out at Meteor Gem (Sorry!) | Hammerheart Records (EU) | Discogs
Suffocation: Available at Meteor Gem | Discogs

---
Stormkeep – Tales of Othertime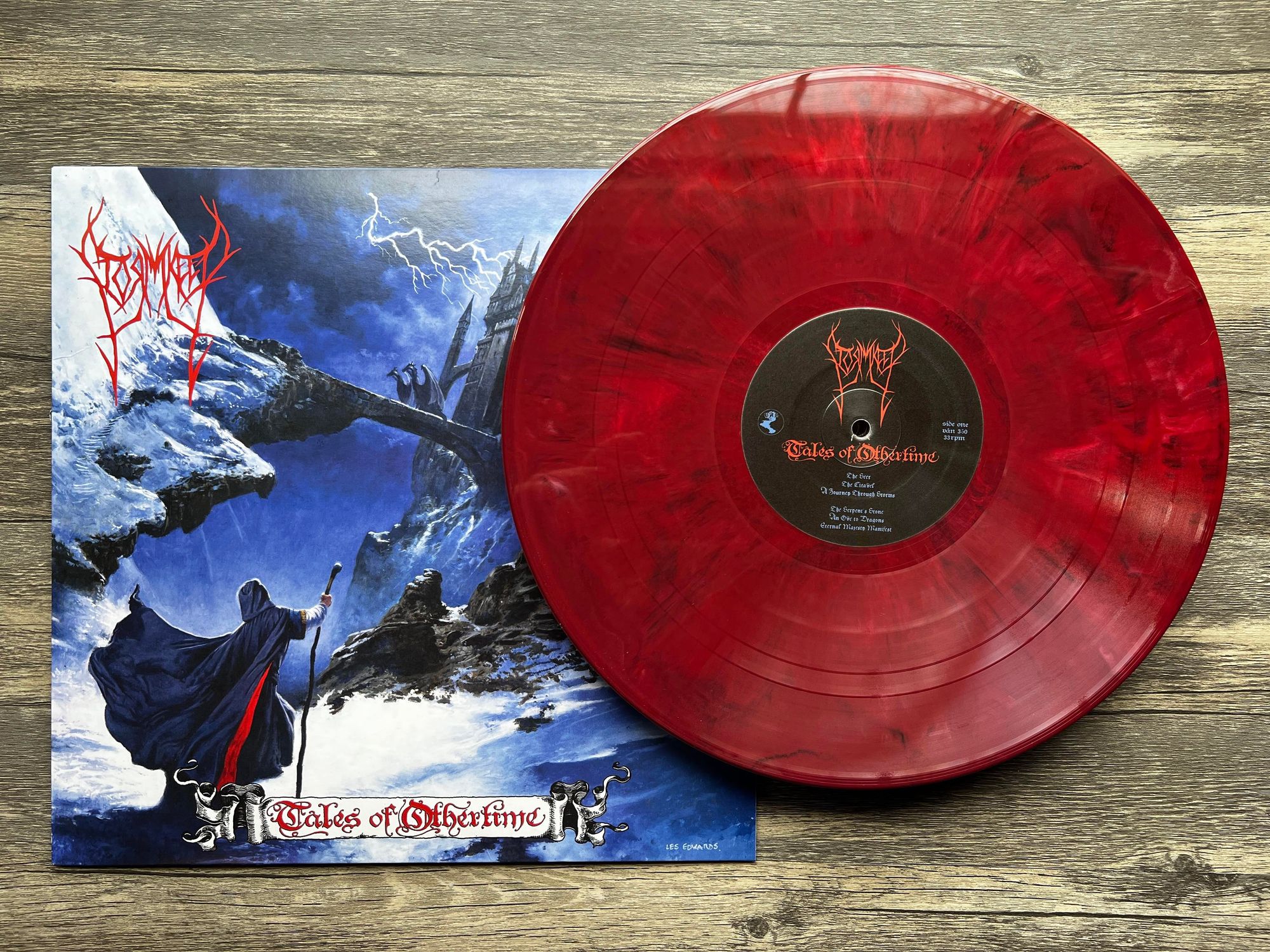 Blood Red
Van Records
Tales of Othertime is without a doubt the single most hyped-about black metal record from the past year, and it's not without reason. These Denver natives have a quite a pedigree between them, featuring members of Wayfarer and Blood Incantation, and are every bit as excessively nerdy (respectfully!) and conceptual as either band (cowboys and ancient aliens, respectively) on their debut full length LP. Stormkeep's particular stylings of black metal are intensely melodic and steeped in fantasy and magic, and it is absolutely felt in the final product in sonic, lyrical, and physical representations.
While I cannot speak to the first pressings with the additional slipcase, this second pressing in blood red is just phenomenal. The lore of this record is greatly elaborated upon in the physical product, with a separate print of the front cover (with promotional materials for the label on the back), a map of the conceptual kingdom of Elda (!!), and a booklet featuring lyrics and photos. It's so wonderfully extra and immersive that you can't help but love it. These additions make the physical product of this record a must-have for those who obsessed over Tales of Othertime late last year.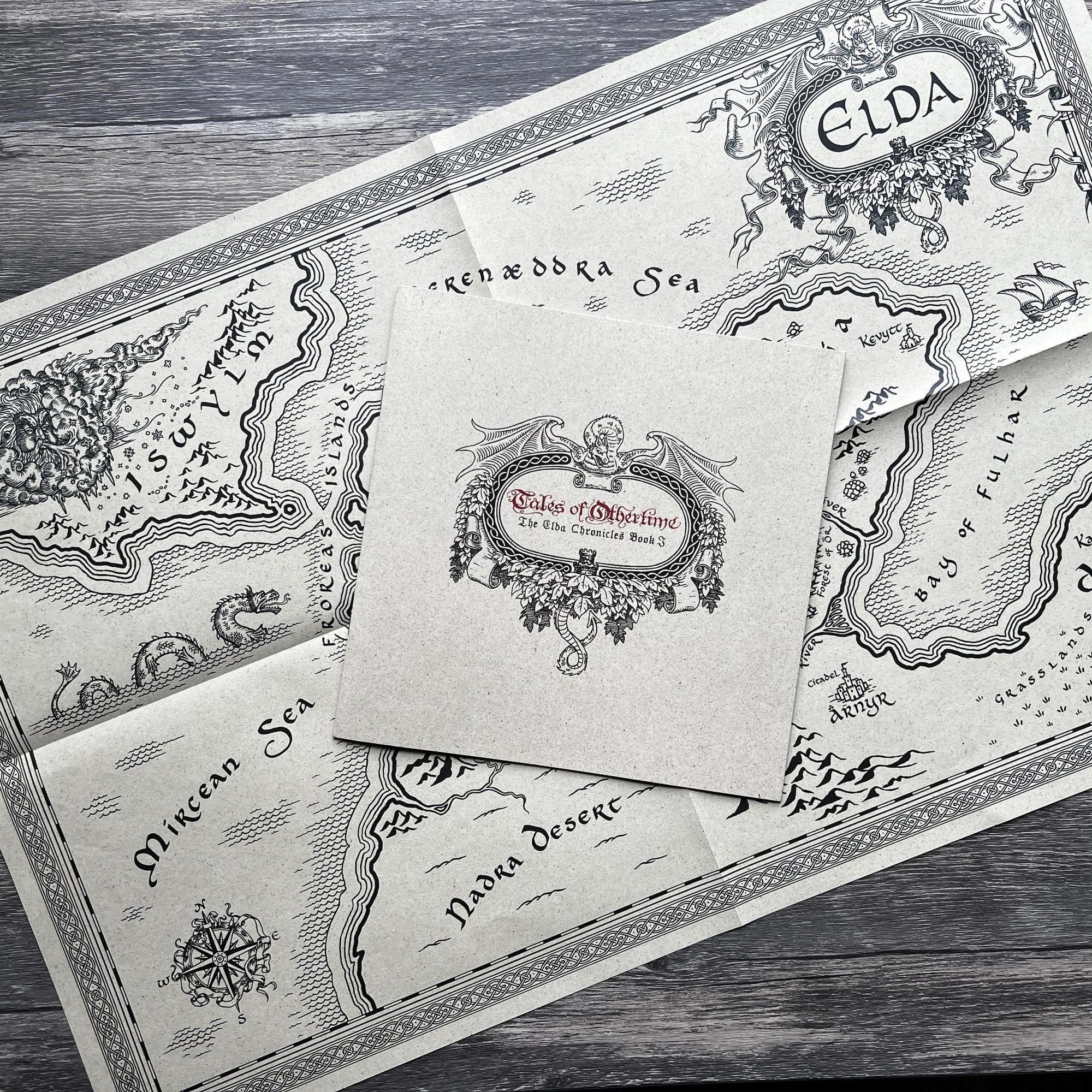 These records are hard to come by at the moment. As soon as distros list any variant of Tales of Othertime, they're snatched up. I signed up for notifications for when Meteor Gem got their copies, and I still missed out. I got lucky and happened to be on Facebook right as 20 Buck Spin listed and promoted their copies, and I got mine in before they vanished the same day. Nothing moves faster than vinyl from bands with this much hype and cult following, exacerbated by the industry-wide production woes we moan so much about. I can only imagine Van Records (based out of Germany) will make must-have available in the future, but their last update back in November stated that other than the drop that happened in January, "we were not able to order a bigger edition from the vinyl factory as the capacities are very limited these days." Maybe just keep in touch with the label over the next year if you don't want to pay a minimum of $50 on Discogs? But then again, if you follow the column you'll know I've paid more for less.
Sold Out Online (Sorry!) | Discogs
-JR
---
Worm – Foreverglade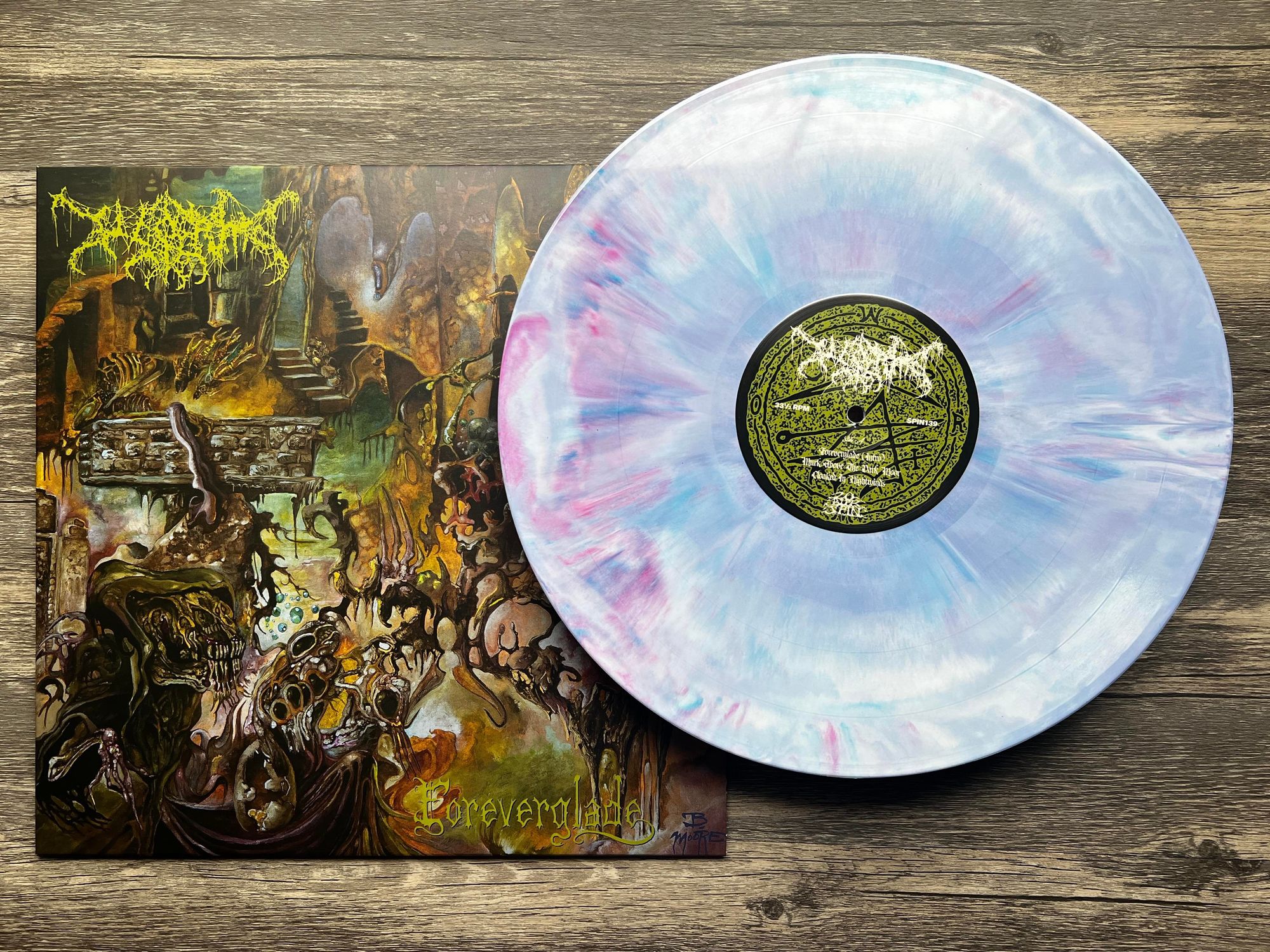 Aqua Blue / Magenta / White Tri-Color Galaxy (B5 Variant)
20 Buck Spin
Due to their similar sonic and aesthetic real estate, label, and release windows, I tend to pair Florida death doom three-piece Worm with the aforementioned Dream Unending. The two records are absolutely fantastic representations of death doom and are certainly among my favorite records of 2021. If you enjoyed one record, you'll very likely enjoy both as they do similar things, but Foreverglade is filthier than Tide Turns Eternal, and equally as riveting with its doomy riffs laying a foundation for occasional twinkling guitar leads and synthesizers. It's often an epic record, and honestly, the title itself is reason enough to have this as a part of the collection.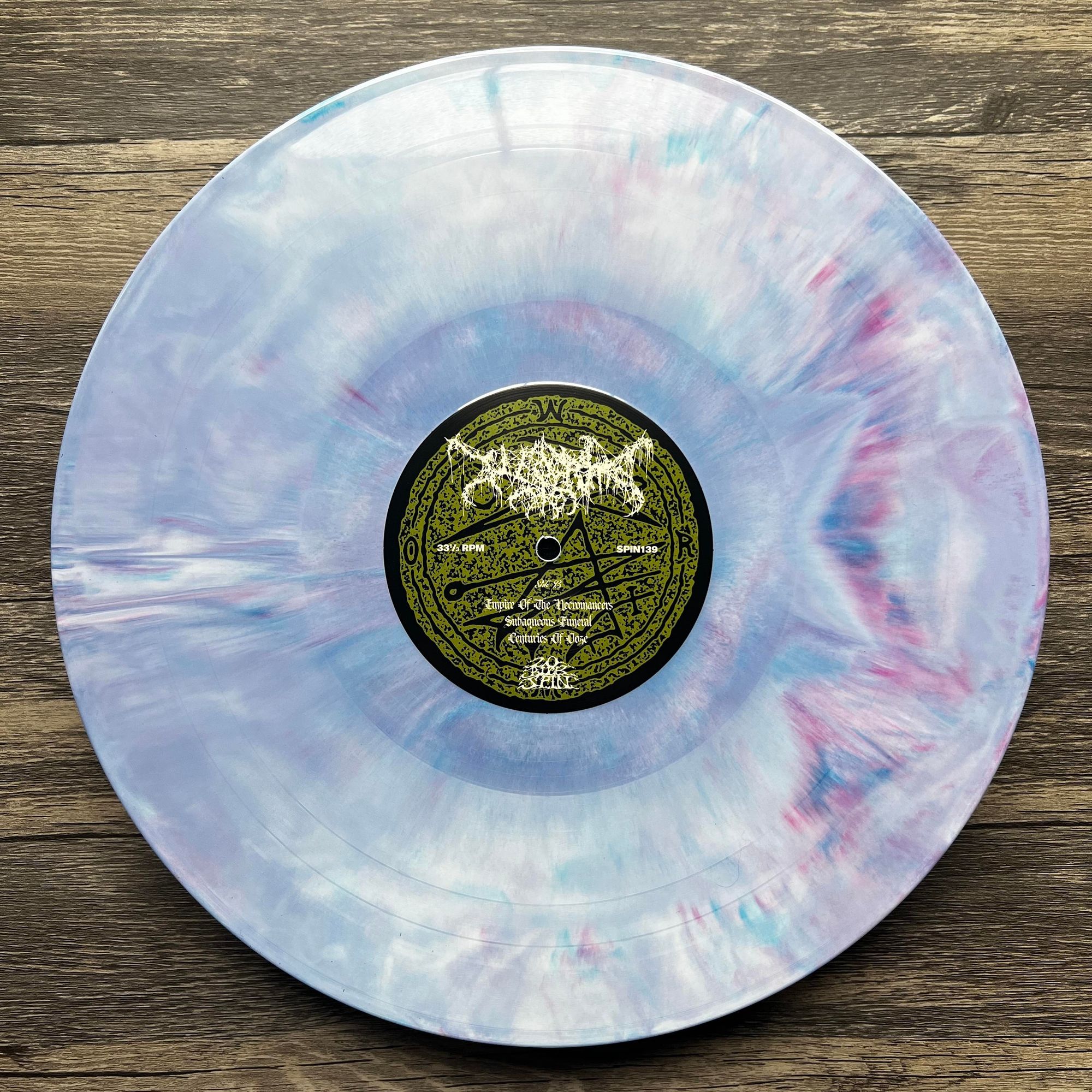 20 Buck Spin are pretty consistent with their work, making them one of my favorite labels to support. The things I love about the Dream Unending record apply here as well, but there's more to love about Foreverglade's physical product. Brad Moore's artwork is cool as hell, and has plenty of detail to get lost in. The back cover features an admittedly goofy photo of the band in corpse paint, but it's good fun. The packaging is simple, but effective, and again featuring a complementary pop of color with a printed jacket interior. The printed inner sleeve has additional art and liner notes; no lyrics. The big get though is an absolutely massive 24×36 black and white poster featuring detail from Moore's cover art.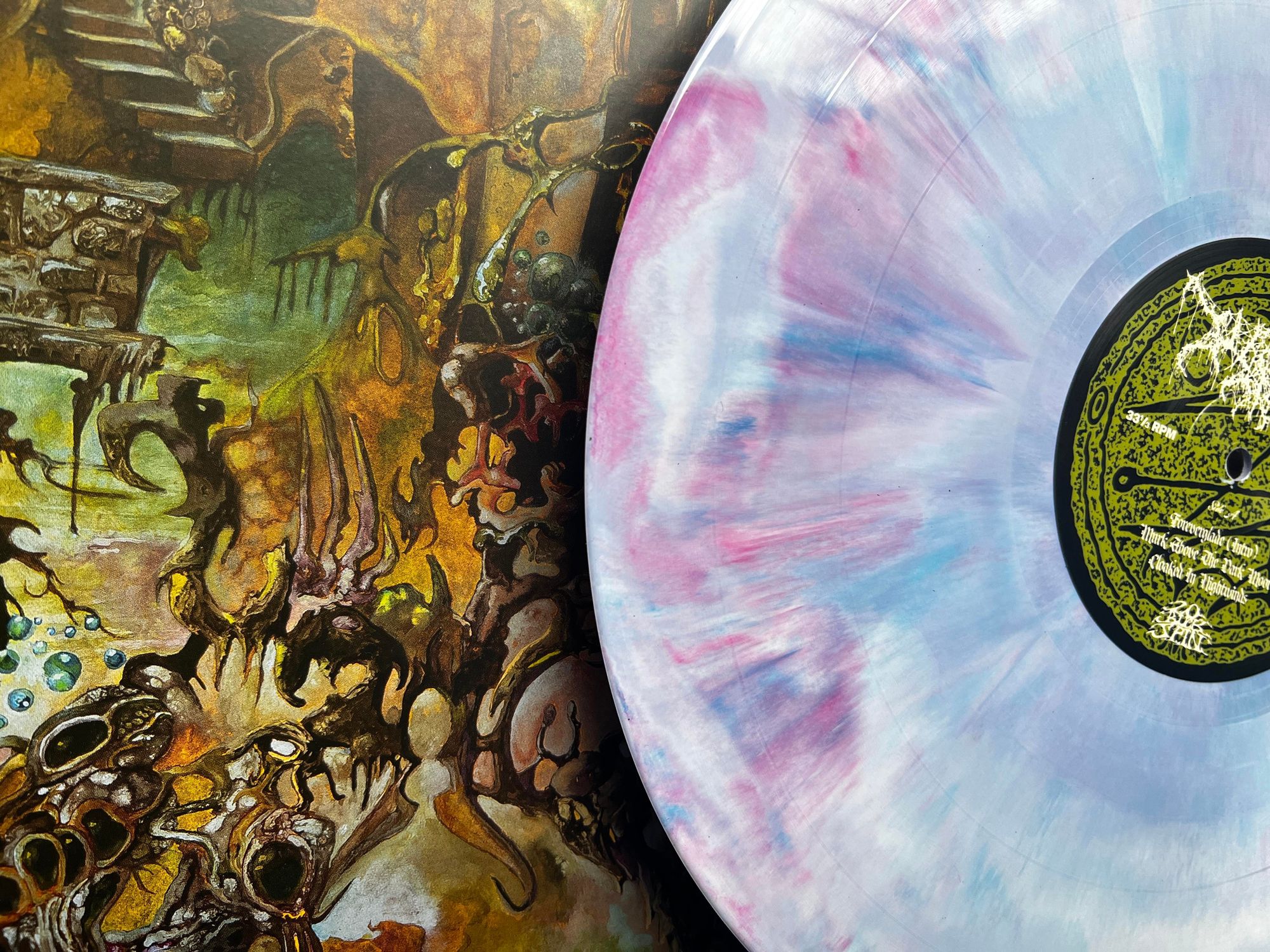 This color variant is one of those occasions where it's absolutely aesthetically disconnected from the cover art, but I don't mind because it's such a cool looking pressing. I don't believe I own another record that looks like this. I waste no opportunity to gush about how much death metal thrives on vinyl, and Foreverglade soars. This copy largely plays relatively cleanly as well. As of writing this piece, the label has a few left of this specific variant on Bandcamp, so give that a look if you're interested in getting one of your own.
Available at Bandcamp | Sold Out at 20 Buck Spin (other variants may be available) | Discogs
-JR