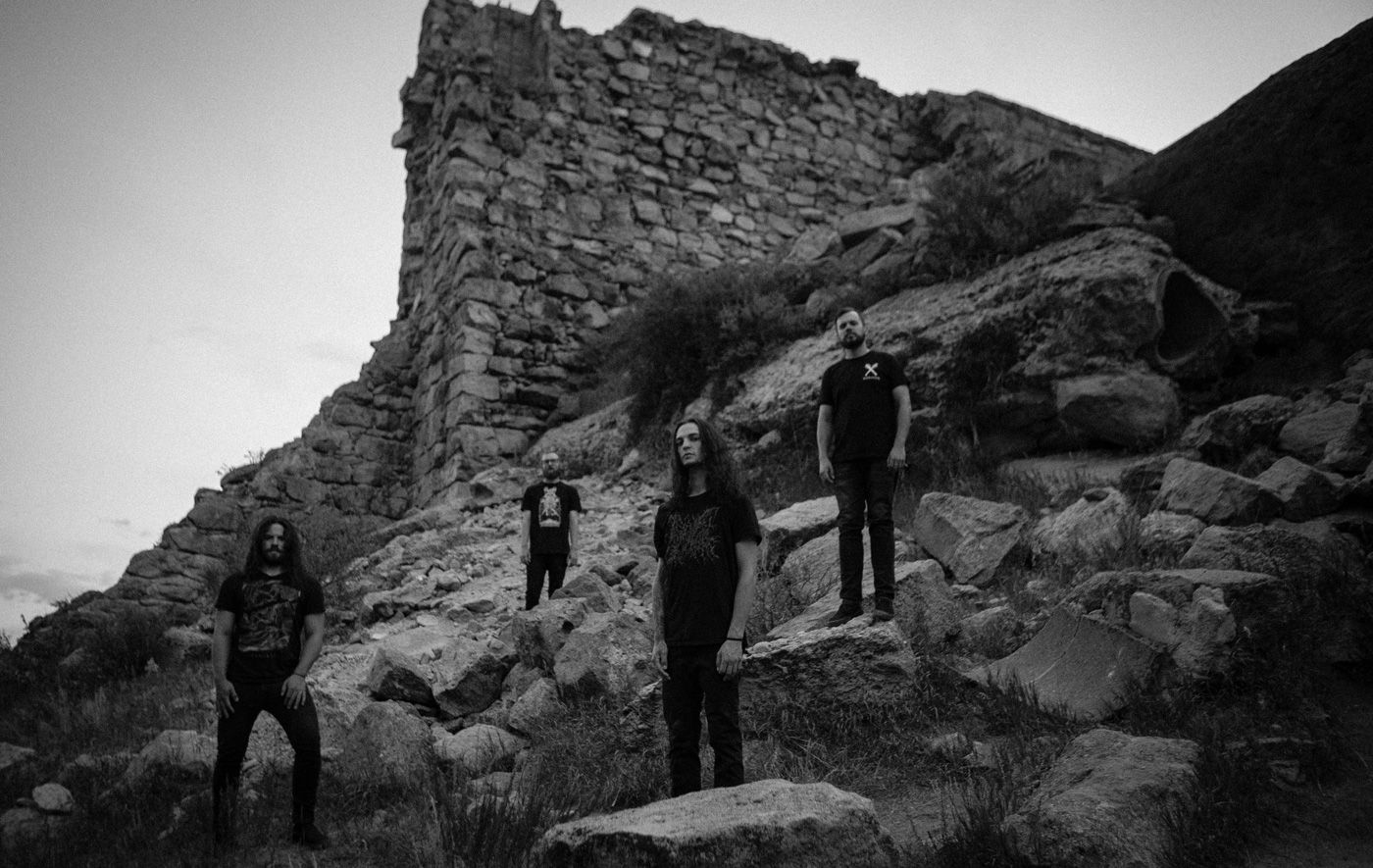 Denver has been a hotbed of talent for extreme forward-thinking music in recent years, putting the city on a global over-representation on annual Best-Of lists everywhere: Primitive Man, Dreadnaught, Of Feather And Bone, Wayfarer, and Blood Incantation, just to name a few big names from recent years. The latest act you can add to your list to watch out of Denver is blackened and atmospheric death metal act Noctambulist, whose sophomore album The Barren Form promises to elevate their status as one of the most promising up-and-coming death metal bands in North America.
The Barren Form (out July 2nd via Willowtip Records) is at times dense, atmospheric, ferocious, and contemplative. There are a lot of moving parts heard across the record as the band pulls from a broad spectrum of metallic inspiration, so we reached out to the band to get a breakdown of the influences that coalesce to create their specific take on death metal. Get a rundown of The Anatomy Of Noctambulist below.

S.M. (vocals)
Cult Leader – Lightless Walk
I come from playing in hardcore and grind bands. When I joined Noctambulist, the music inspired bleak thematic material. I knew that Lightless Walk's impact on me would mold much of what I do in Noctambulist. This record is mercilessly depressing and pessimistic. I used it as a reference to navigate chaotic riffs and song structures while being negative. Regarding vocal technique and performance, I took more cues from Kyle Ball of Wake, Frank Mullen of Suffocation, and CJ McMahon of Thy Art is Murder. Yet, Anthony Lucero's writing and execution on this record was more integral in my overall intent.
Lucero's lyrical content is pure decimation of the heart and soul. I have multitudes of personal experience with depression, anxiety and negativity to pull from. Yet, Anthony really knows how to take it to a pitch-black, abysmal realm. Reading through his lyrics is demoralizing, and he knows how to tastefully convey that mood in his performance. Every syllable is deliberate and where it needs to be. I do my best to let the instruments speak when they need to, and that is another thing I admire about Anthony's performance. His vocals are exactly where they belong. Nothing about his placement or execution is pretentious. The fact that Lucero isn't a showboat makes the lyrics a lot more genuine and impactful. He just simply steps up and degrades listeners/existence with ease. I have fervently loved this album since it came out, and hopefully people will be in a terrible place after reading along with our record as well.

A.T. (guitars)
Disgorge – Parallels of Infinite Torture
I won't say this is the album that got me into death metal, but it is definitely the death metal album that has influenced my guitar playing the most.  Nothing fancy, no solos, no sweeps, just sheer brutality. Honestly, this album is death metal brilliance and everything death metal should be.  It's chaotic, the transitions are perfect, and the production is what I crave.  Dark guitar tones, unintelligible riffs accompanied by blasting drums, and its unrelenting.  No stupid slams, no clean vocals, no "prog," no "OSDM". This was the peak of death metal in its pure form.   My goal for Noctambulist has always been to combine Disgorge with dissonant black metal and post metal.
Svartidaudi – Revelations of the Red Sword
Wow, what an epic album!  I'm obsessed with the Icelandic black metal scene, so it took me days to narrow my selection down to one band. Everything coming out of Iceland these days is some of the best metal I've ever heard. But, if I had to pick my most influential band from that scene, it would have to be Svartidaudi.  Flesh Cathedral was already amazing, but they outdid that album with this one.  I love that it's one long entrancing song that just draws you in and doesn't let go until its closing passages.  I'm a sucker for bands that use variations on a theme, and they do that so tastefully on this album. If you take the cold dissonant, yet somehow melodic black metal, smoosh it together with Disgorge, you get what I hope is Noctambulist.

M.N. (drums)
When it comes to extreme music, I tend to listen to a wide range of sub genres. With the idea behind Noctambulist and my part, I wanted to create something that's out of the ordinary and disturbing. I strive to make the listener feel unsettled sonically. There have only been two records that have really inspired this design.
Plebeian Grandstand – Lowgazers
On my first listen to the album, I almost couldn't handle it. I've never heard such pain and grief blended into a depressing onslaught of music. Every listen gets more overwhelming than the last, making it hypnotic. It's an experience I have to be in a certain mood in order to handle and I admire that. It's a state that I don't want to feel everyday but when it shows up, it's there waiting.
Ulcerate – Vermis
Everything that this group creates is fantastic, but Vermis holds something different. This record is dark and oppressive. Being more on the death metal side, that aggression is much more present in this piece. Jamie St. Merat is a heavy influence for me as a drummer. The way he plays compliments the other members wonderfully. He fills the space in between it all perfectly while maintaining speed and accuracy. In a thought, he's leading you through the chaos of sound while playing very precisely. The way Jamie plays has really shaped into how I want to express myself through drums.
With these records, it gave me the inspiration to create all these feelings into one thing. It's special to me when groups really capture the emotions I feel. I wanted to do the same thing, but in this band's own unique way; I want the listener to have an experience they never knew they could feel.

R.H. (bass)
ISIS – Wavering Radiant
I remember listening heavily to Drastus' La Croix de Sang and Abyssal's Antikatastaseis pretty close to when I began writing my parts for this album. So, aspects of those albums likely seeped into my parts. But, if I had to pick one bassist that has influenced my approach the most, it would be Jeff Caxide of ISIS. And if I had to pick one ISIS album, I guess it would be Wavering Radiant.
Caxide does what I like to call foreshadowing, where the bass plays a guitar riff before or after the guitar riff happens. He also plays in a very motif-focused style. Whether the motif is wholly unique to the bass or some guitar riff or drum rhythm, he'll keep repeating it under different sections, which gives the songs a subtle complete feeling. He explores different octaves with his lines. I view bass as a connecting piece between guitar and drums, and Caxide will choose to play more with one or the other depending. He also does a conscious mix of legato and staccato, slides, and chords. Any alternative playing styles (like chords) are never intrusive. Maybe equally as important as how he plays is how he doesn't play. He often takes rests to allow other parts to shine through. This contrast allows the bass to cut through more on adjacent sides of the silence. His tone is unmatched, and he is why I play the bass guitar that I do. In general, he's very tactful in choosing when the bass should sit in the background or be in the forefront. I like to think I incorporate some of all of the above.
As an honorable mention, Brendan "Cygnus" Brown's parts on Ne Obliviscaris' The Aurora Veil helped show me that you can play tapping basslines, harmonics, and use 3-finger technique without being flashy about it. He is also a very motif driven bassist and shares other similarities with Caxide and is clearly heavily influenced by Cynic. On Atmospheres of Desolation, I remember wanting my bass to sit where the bass is on Vermin Womb' Decline and Deathspell Omega's Synarchy of Molten Bones.

You can hear for yourself how these influences come together by streaming the band's latest single "Depletion" via the Bandcamp player below. Noctambulist's The Barren Form drops July 2nd via Willowtip Records. Pre-orders are available through Bandcamp and Willowtip.