Earlier this year, I raved about the eccentric death metal on God Kaiser Hell, the debut album from Peripheral Cortex. I praised the German quartet for their eclectic approach to songwriting, which recalls the lean-and-mean, OG deathcore of Animosity, general weirdness of The Dillinger Escape Plan, and tech death wizardry of bands like Necrophagist. Well, apparently I was spot on with that last comparison, because the band recently recorded a cover version of "Dawn and Demise," the newest material we've heard from Muhammed Suiçmez and Co. I'm stoked to share an exclusive premiere of PCX's cover today, alongside a quick interview with Pat (vocals), Rob (6-string fretless bass, saxophone), and Chris (drums). Enjoy!
I name-dropped a ton of different bands I heard influences from while describing God Kaiser Hell in my review, but I'd love to hear directly from you. What are some of your key inspirations, musically and otherwise?
Our musical interests are very broad. We listen to a lot to death metal and black metal, but also modern jazz as well. AKA Moon is a main influence to Rob, as well as The Brecker Brothers, Chick Corea (Return to Forever), and Ligeti. Pat listens to a ton of rock, electro, ambient and experimental music. Chris enjoys drum 'n' bass, '90s hip-hop and '70s progressive rock. It's always good to look for other music in different genres.
We've discussed and debated the term "avant-garde metal" in several pieces on the blog, since it's arguably the least specific genre tag in metal. What do you think about being labeled avant-garde metal? How do you approach adding experimental elements to your music?
With God Kaiser Hell, we just started out. The next record hopefully sounds different and even more experimental or avant-garde. We want to bring more shades and variations to the tech death genre. We are actually not sure whether we qualify as a proper tech death band because we don't tick many boxes, particularly with our looks and lyrics. We think "experimental (technical) metal" may be a good tag for us. But I suppose avant-garde metal does not seem far removed from that.
For me, album art is an important part of how a band presents their music. Obviously the songs themselves matter most, but I feel like the thought put into how a listener perceives your music from first impression onward is also crucial. With that said, Niark1 did a fantastic job with the cover art for God Kaiser Hell. What was the process behind creating it? Did you give them prompts to work from?
Yes, we thought the art of Niark1 made a great fit with our music; chaotic, wild, experimental, organic. A crazy beast coming at you. We just browsed a lot of designers work and with Niark1 found something that we felt could really well illustrate the sound of the album and also us as a band. We felt it suited our style pretty well: quirky, all over the place, not always serious, also interesting. Niark1 had already done some of those "walking guys" and we discussed with him what we wanted to see on our cover. And after a few iterations we had him, the visual walking incarnation of God Kaiser Hell's music. When you spend some time with the cover, you keep finding new aspects, and we hope that the listener has the same experience with the album.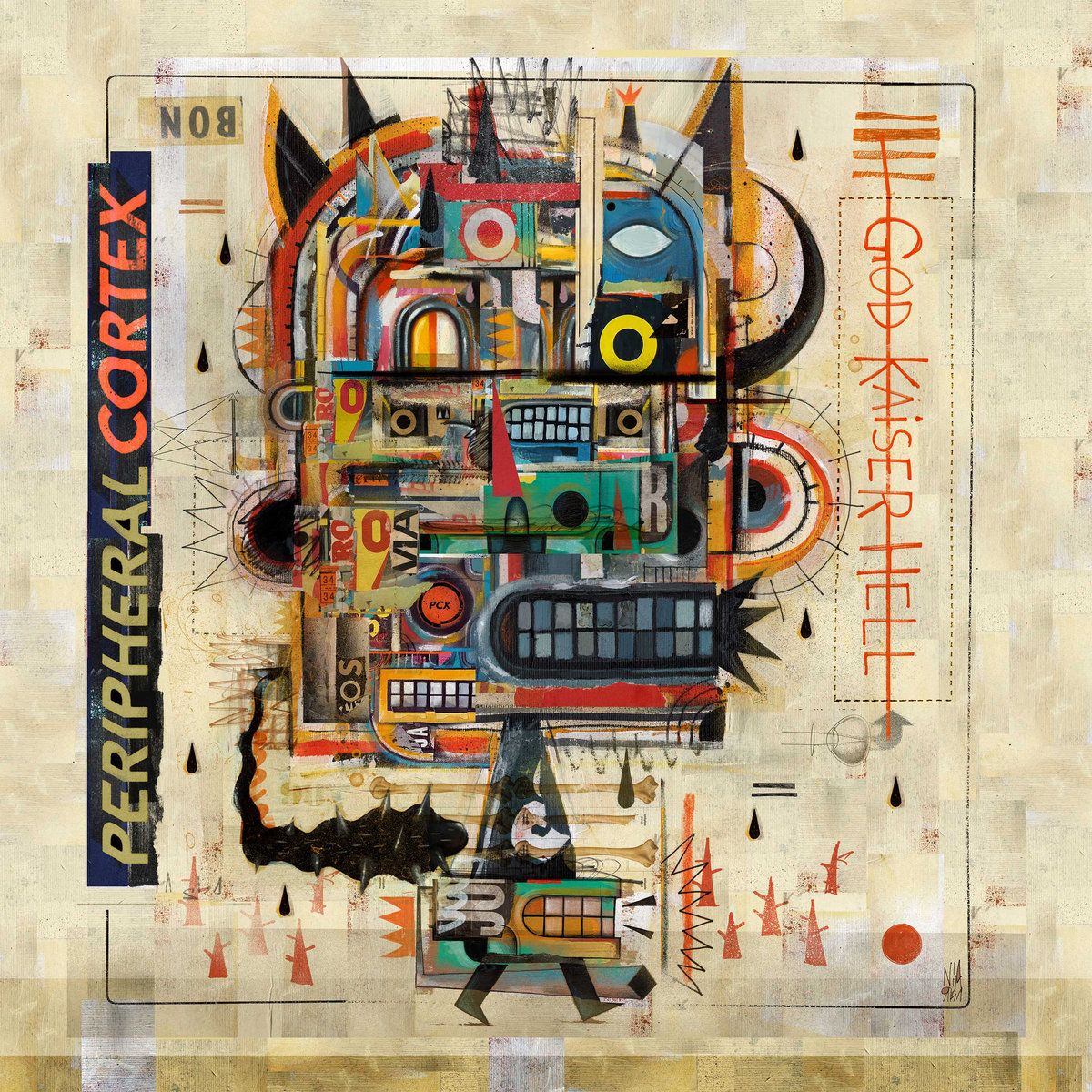 Usually this is where I ask a question about your local scene and playing shows, but obviously that's on hold right now because of COVID-19. So instead, I'll ask you about that. How have you been handling life as a band and in general amid the pandemic?
Pretty well, actually. Since the start of the pandemic we have written about 70% of material for our next album! We hope to record it this year and release it next year. All in all, God Kaiser Hell has been almost 10 years in the making. It would be fantastic if we can do the next one in one year ;) Apart from that we miss going to gigs and of course playing them. Maybe next year we can introduce God Kaiser Hell live, along with a bunch of new songs!
Rapidfire Round: What's your favorite album of…
2019?
Pat: The Chemical Brothers – No Geography (Lots of genres and bangers!)
2020 (so far)?
Rob: Le Grand Sbam – Vaisseau Monde (A recommendation to everyone!)
Pat: tētēma – necroscape (Shit's crazy man!)
The decade (2010s)?
Rob: Sei2ure – Organ Grinder
Chris: Why not Kendrick Lamar's Good Kid – M.A.A.D City
Pat: The '00s had greater albums, but I'll go with Steven Wilson's masterpiece, Grace For Drowning.
All-time (if not listed above)?
Rob: The Pat Metheny Group – The Way Up
Chris: You know fully well no one can answer this question. Many great records come to mind, but I'll go with Tarkus by Emerson, Lake & Palmer. Never gets old.
Pat: Wow that's really hard, but I think I go with Gorillaz' self-titled. My portable cd player got hot from its rotation when I was a kid, and this album is still a banger. Nine Inch Nails' The Fragile is also an all time favorite!