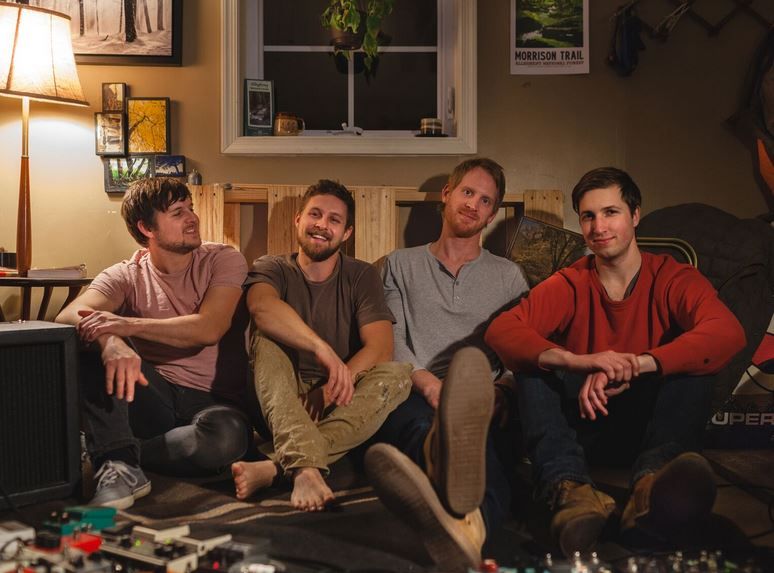 In early 2017 the Warren, Pennsylvania post-rock quartet Heron came right out of the gate with a stunning debut that had genre fans the world over buzzing with excitement. You Are Here Now would go on to rank as one of the best releases of the year, with a rich, full sound achieved through recording as a full band in a rural church before sending the tracks off to Matt Bayles for final touches. Last year they made a much-anticipated appearance at the inaugural Post. Festival, and created more intrigue after debuting a brand new track, "Gravity Shift."
Their sophomore album Sun Release makes it appearance on July 19th, and it presents a much different approach to a familiar sound. Once again recorded as a full band, it retains the airy, expansive sonics of their debut, but where You Are Here Now features a collection of striking individual tracks, Sun Release is more about interlocking pieces, with each composition informing the next. Each song can be isolated without losing impact, but it is a record meant to be absorbed in full, featuring a focus on tighter song structures and exacting attention to patiently building melodies. We discussed the record and more with three of the four band members. You can read what they had to say below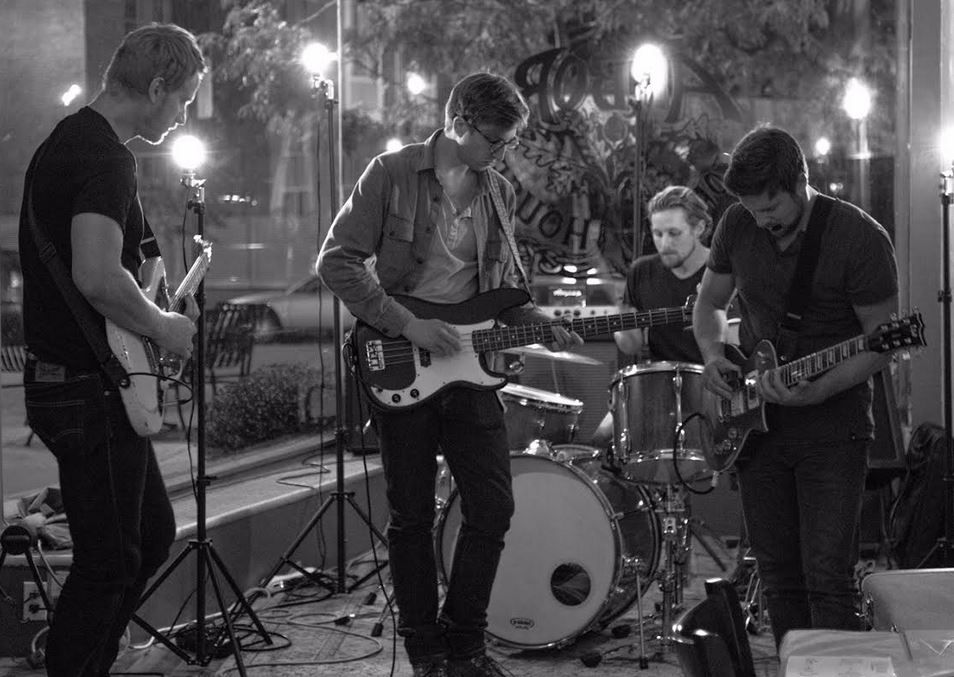 Heavy Blog Is Heavy: You guys burst onto the scene feeling fully-realized right from the start. Can you tell us a little about the genesis and early evolution of Heron?
Nate Blick (Drums): The early evolution of Heron was one which started with a very different sound. My brother Ben and I grew up playing music together since I was about 7 years old. We finally formed a band with some friends several years later and fell into the hardcore scene. Slowly evolving from there we became a bit more melodic in our sound as time went on and band members changed. We began to find ourselves playing a couple instrumental songs in our sets. After yet another change in band members and band names, we took on the name Heron where we played only instrumental songs or what I now know as "post-rock". Fast forward several years without really playing music, Boyd and I started to jam for the first time. Shortly after Ben jumped back in the mix on the guitar and following that Eric slid in on the bass. We had all new songs but were playing post rock again, so we decided to settle on the name Heron. And that's a bit of how Heron came to be.
Boyd Lewis (Guitar): I'm glad to hear that we felt that way from the listener's perspective. We are still incredibly appreciative of the reception that we received with You Are Here Now. But it was not the case in our own minds at the time we made that record! I feel like we still have a long way to go on that front. I think Ben is best to fill the "Early Days" gap, as we all have a bit of a different story on that. From my end: Nate and I started getting together once a week at his place to play music in 2014. Just drums and one guitar for a few weeks. We got his brother Ben to join us, and became a weekly thing. I had never played with Ben – but we actually wrote what ended up being "Shores" and "Archives" on the first day we played together. I still have those recordings! Pretty rough sketches – but the basic structures were there. Eric was the final piece to the puzzle in the Fall of 2015. Things just fell into place musically in a way I hadn't ever felt with a group before at that point. Eric is a very well-rounded musician – the recording skill set that he brought to the table was the thing that made it possible for us to record "You Are Here Now" in the Summer of 2016.
Ben Blick (Guitar): My brother Nate and I have been playing music together for about 20 years. In the early days we played in several punk/hardcore/screamo bands together, but I guess the earliest genesis of Heron started around 2004 when I wrote a purely instrumental song that our hardcore band would play live during our set; our vocalist would step off the stage and the band would play the instrumental song titled "Ending the White Nights". It was song I had written during my college years awaiting the end of a long Pennsylvania winter. Our hardcore band eventually dismantled and we went our separate ways, but the instrumental song stuck and Nate and I ended up recording the song upstairs in our parent's house using our dad's small Pro Tools home studio.
At the same time my friend was attending art school and had animated a short film. He asked me to write an instrumental song as the soundtrack of his film; I wrote a song titled "Obadiah" which was also the name of his film. Again Nate and I recorded the track and it was used in the film. Around 2009 Nate and I joined up with our long time friend and musician Andrew and started to write instrumental music. Bassist, Nathan, joined, and the band wrote and performed around six instrumental tracks including "Ending the White Nights" and "Obadiah". We played together for about two years under the name Heron. Around 2011 Andrew moved to Texas and Nathan moved to South Carolina, so Nate and I took a substantial break from our musical endeavors.
Enter Boyd in the fall of 2014. Nate and Boyd started to get together just to "jam" and they invited me along. We played at Nate's tiny house in the woods once a week; his living room full of guitars, amps, and drums. Boyd would hit record and we would jam for hours. Every week after our jams he would post our "demos" to Soundcloud under the title "Little House Jams". This continued on for about 6 months. These spontaneous demos eventually ended up piecing together most of You Are Here Now. In the Spring of 2015 we were approached about playing at a local summer music festival, but at that time hadn't even given thought to forming an actual band. Our friend Nathan had just moved home from South Carolina for a short season, so we asked him if he would be willing to jump on board to play bass with us again. He did and we threw together a short set that included an early version of "Drop", "Before The War", and "Archives". We resurrected the band name Heron and we played the festival.
Enter Eric Morelli (Bass); Eric was present at the festival. He heard us live and was captivated by the large wall of sound that we projected; immediately following the set he approached us and asked if he could record us. Fast forward to the fall of 2015; Nathan moved away again and Eric joined Heron as bassist to help us prepare for recording. Over the next six months we tirelessly poured all our efforts into writing. In June of 2016 we recorded You Are Here Now live at the Kane Memorial Chapel in Kane, PA. Eric, as an official member of the band, served as our recording engineer. We officially released You Are Here Now January of 2017. And now we're chatting with you.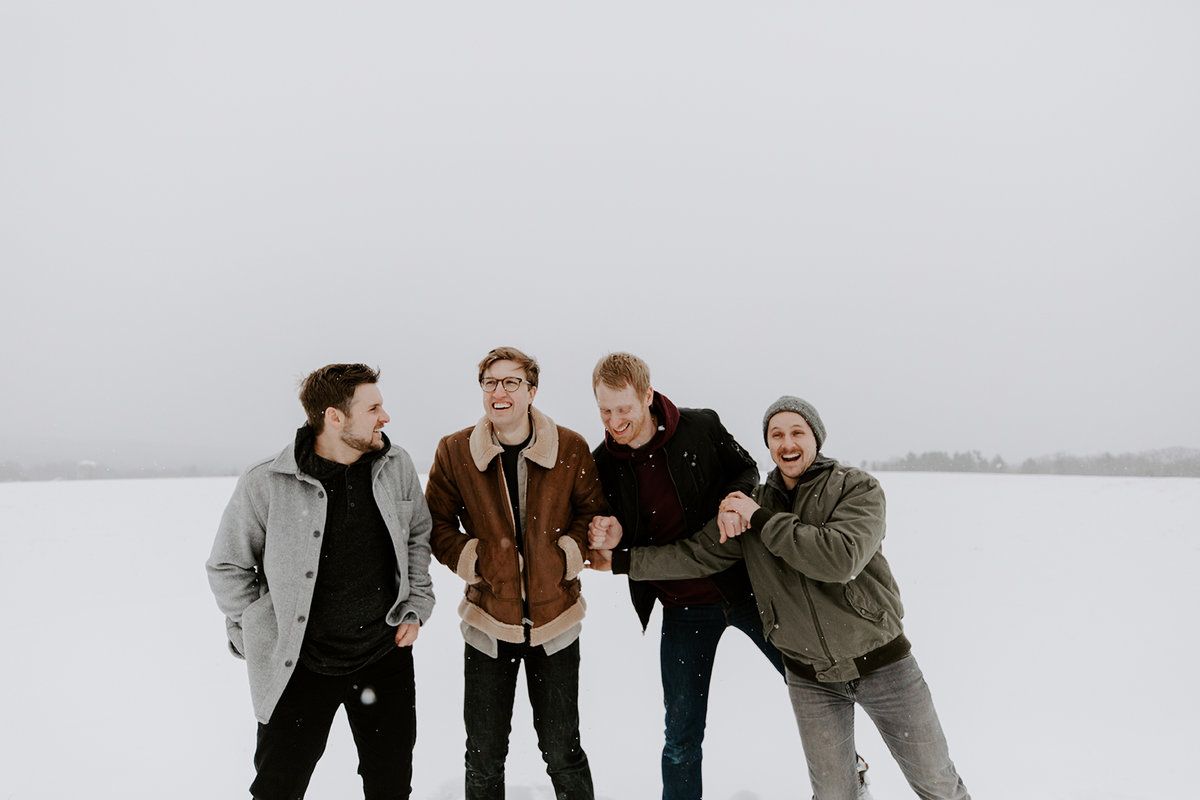 HBIH: You Are Here Now was recorded live as a full band rather than being tracked separately. What was it that drew you to that approach and why would you recommend it to other artists? Now that you had that experience, would you ever consider recording differently?
BB: I think what originally drew us to the idea of recording live was time and simplicity. We set aside two weekends in June of 2016, and we wanted to capture the entire album in those two weekends. Another reason we went with the live approach was because of the space itself; the Kane Memorial Chapel is a beautiful space with amazing acoustics. The old sanctuary is perfect with solid wood floors, stained glass windows, and a high wooden cathedral ceiling; it just worked with the vibey, reverberated sound we were going for.  We actually were able to dial back our effects during the recording process because the room had its own reverb.
The third reason we went with this approach was energy; our energy is just so much more organic when we play live. If you ever get a chance to listen to Heron live, it's going to sound like our album. I would definitely recommend recording live to other artists, if they are willing to put countless hours into rehearsing before recording. We were as tight as we'll ever be leading up to our live recording sessions. As far as Heron considering recording in a different fashion, we actually are planning on recording our next project in a more spread out fashion where each member of the band contributes to the recording process in phases. We have loved our live recording sessions, so the change would primarily be to attempt a different creative style and see what the final outcome would look like.
BL: Recording live really just fit what we needed to do at that time. The feeling stuck for us. That first record was very much for ourselves, initially. We had these songs written that we had played together so many times, and didn't feel like we were able to move forward as a group until we captured that thing, as it was. There's a certain energy in the room when we're all playing together, that we'd like to think comes through in the recordings.
NB: We wanted to track the album live together because that's really the way we had been writing our music and it's also the best way to represent the organically driven dynamic sound we were going for.
HBIH: Tell us a bit about the recording process for Sun Release
BB: We recorded Sun Release in two separate sessions at GCR Audio Recording Studios in Buffalo, NY. The first session was a one-day session in June of 2017; and the second was a three-day session in June of 2018. We wanted to record live in one room, but with the ability to isolate our amps. We also really wanted the recording sessions to be a different experience for Eric than it was for You Are Here Now. Giving him the ability to focus only on the bass, and not having the pressure of being our audio engineer. Shout out to the beautiful GCR Audio, and Mr. Justin Rose who is a superb engineer! And the local Buffalo, NY Thai Food he ordered for us was amazing!
BL: The space itself was obviously a bit more professional at GCR, and Justin Rose – our recording engineer for this whole record was wonderful to work with. For the Chapel though – it's always going to be a room I'd love to record in again. The level of nostalgia that I get when I look at the "Noise Floor" poster that Eric made us (available in our store) from a photo that Nate took during that session is ridiculous. Ben and I were rehearsing the end of "Before the War" – with all of the noise & chaos during that shot.
NB: For Sun Release we stepped back from the DIY approach because Eric really had his hands full tracking with us live as well as being they recording engineer for YAHN. We wanted to simplify the process and also see what kind of sound we could get from a professional studio. YAHN and SR both have their own unique sounds and I'm very happy overall with the way both of the these records turned out.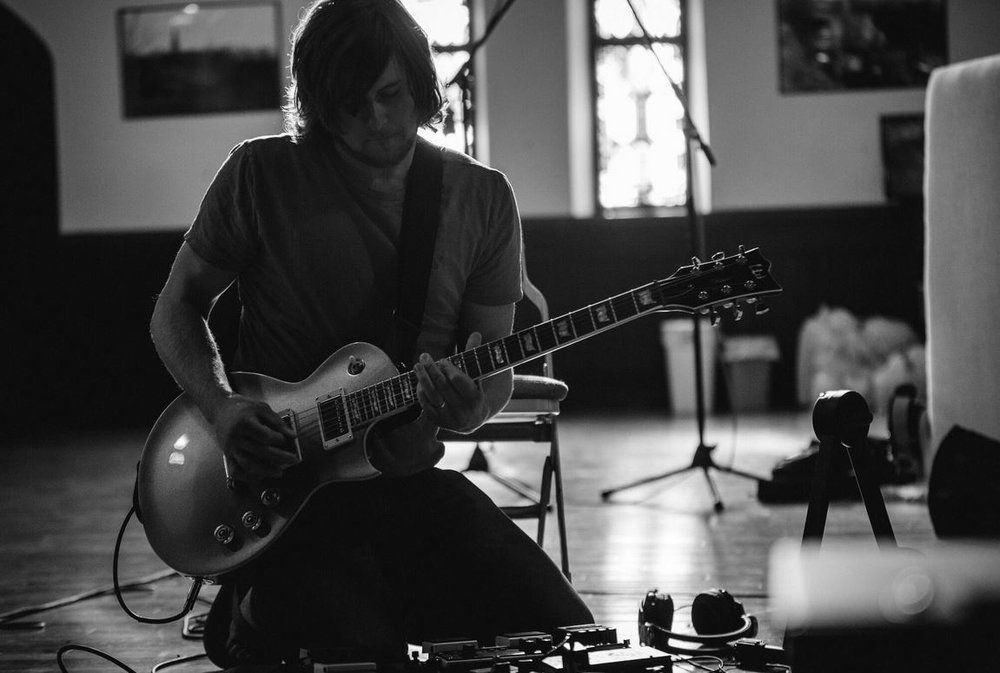 HBIH: Sun Release is more focused on the crafting of individual melodies, and on each song becoming an integral piece of a greater whole. Can you talk a bit about the ideology that went into this record?
BL: This was actually a huge undertaking – to shift our process as much as we did from the way we wrote You Are Here Now. We did go into it with that in mind as a group though. I really hope that at least translates well! A huge part of what makes music without words so incredible for me is its ability to tell a story, take you on a journey, or simply portray a feeling/mood in a way that can be understood as its own language. We had to re-focus on that several times throughout the process, and often stripped things down in certain areas to preserve the feeling of the record as a whole.
BB: We knew from the start of the writing process that we wanted the songs on this record to be part of a greater whole. Eric had a whole script in his mind that greatly influenced our writing. Each song is part of the larger story of the album. The narrative of the album eventually climaxes at the title track.
HBIH: There are a series of tonal shifts as the album progresses. You have something of an uplifting, dawning sensation with "Light" before moving into some darker, moodier tracks, then there is a shift back toward a more progressively hopeful tone. Did you write tracks specifically to fit a certain evolution that you were going for, or was this something that just came naturally out of the writing and subsequent sequencing process?
BL: Yes. The evolution and flow of the tracks on Sun Release was very planned out. We had several meetings about what and how we wanted it to be, where we never picked up our instruments. We basically tried to plot the basic production of it prior to most of the writing – which went right along with our desire to improve and grow as a group. It was a fun challenge to make the writing process very narrative driven. Down to having story-like sequences on a whiteboard that we used as a guide. We're not alone in this for our genre, I'm sure – but one of our dream goals is to get the opportunity to do some writing for film soundtracks at some point down the road. Continuing to improve on our writing and self-production process is going to be a constant focus for us.
BB: I would say with this album we definitely composed songs to fit a certain evolution. With that being said, writing comes very naturally to us when we all get in one room together. There was a large amount of material that we wrote and could have used for this record, but it just didn't fit. We definitely had a goal in mind to keep this record a bit shorter with track lengths a bit shorter, but with the tracks still communicating a certain emotion to the listener. There was a lot of sculpting and shaping and even simplifying to arrive at Sun Release.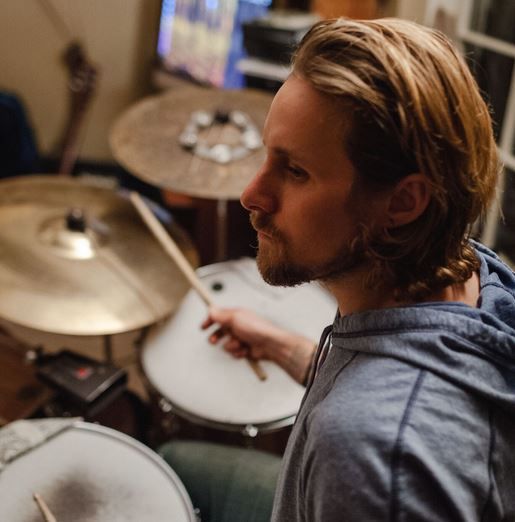 HBIH: There are plenty of references to space at play: aside from the album's title, basically every song title has something that could at least be interpreted as a celestial allusion. Can you talk a bit about this? Is Sun Release something you would consider a "concept album?"
BL: The way that we went about creating Sun Release could certainly qualify as it being a concept album. I'm ok with that. The major goals we put on paper prior to writing was that we wanted each song to stand on its own legs, and seamlessly fit with the album as a whole at the same time. The best way we could do that was to stick to a common theme. Space was a thing we have collectively been fascinated by, and there is a sequence of events in that process as well that we really dove in on. A journey, a mission, the surroundings, returning home after an experience that is literally out of this world, etc. We wanted to attempt to capture some of those moments, and put a lot of thought into not only the events – but what they might feel like along the way. Sun Release also happens to be coming out on the weekend of the 50th Anniversary of the Apollo 11 Moon Landing. I'm not sure if our music video will be released by the time this goes out either – but NASA also recently announced that they are planning to send the first woman to the moon. Keep an eye out for both things – so many awesome parallels coming together here.
BB: It is a concept album. The concept of leaving a place you feel comfortable, drifting through the space of unknowns, encountering difficulties, the thrill of finding your way home, seeing the place you left with new eyes and a larger picture of life, and reflecting on the entire journey. Yes, space references are at play for a reason.
HBIH: The track lengths here are tighter than You Are Here Now, and at just over 41 minutes, Sun Release is relatively compact for a post-rock album. Was this a conscious decision on your behalf?
BL: There is a quote that I've heard, and has been attributed to so many different people that I won't even bother with that. "If I had more time, I would have written a shorter letter." This was another focal point for us in the writing. We wanted to be more deliberate with this aspect. There are a couple of tracks on Sun Release that are longer – and those are some of my personal favorites too. But we did intentionally eliminate some repetition for the sake of forward momentum.
BB: This was a conscious decision. When we recorded You Are Here Now, we had never made a record before and didn't think through the logistics or the marketability of the songs. For example, You Are Here Now won't even fit on a 12" vinyl. I will be the first to say that I am no fan of writing music with the sole intent of being marketable, but expanding our listener base was at least one of our goals in our writing of this record. Not everyone has the stamina to listen to a 12-minute post rock song… haha! We do have two tracks on this album that exceed the 7-minute mark, but that is as long as a single track gets on this record.  We found that writing shorter tracks was an extreme challenge for us when trying to communicate feeling and emotion and the proper ebb and flow, but I feel we had great success with each individual track becoming a very moving and inspirational piece of the record. One thing I will say, for those of us that enjoy longer Post-Rock tracks, on Side A "Light" and "The Void" are meant to be listened to as one track, and on Side B "The Glow" and "Gravity Shift" are meant to be listened to in the same fashion. Enjoy.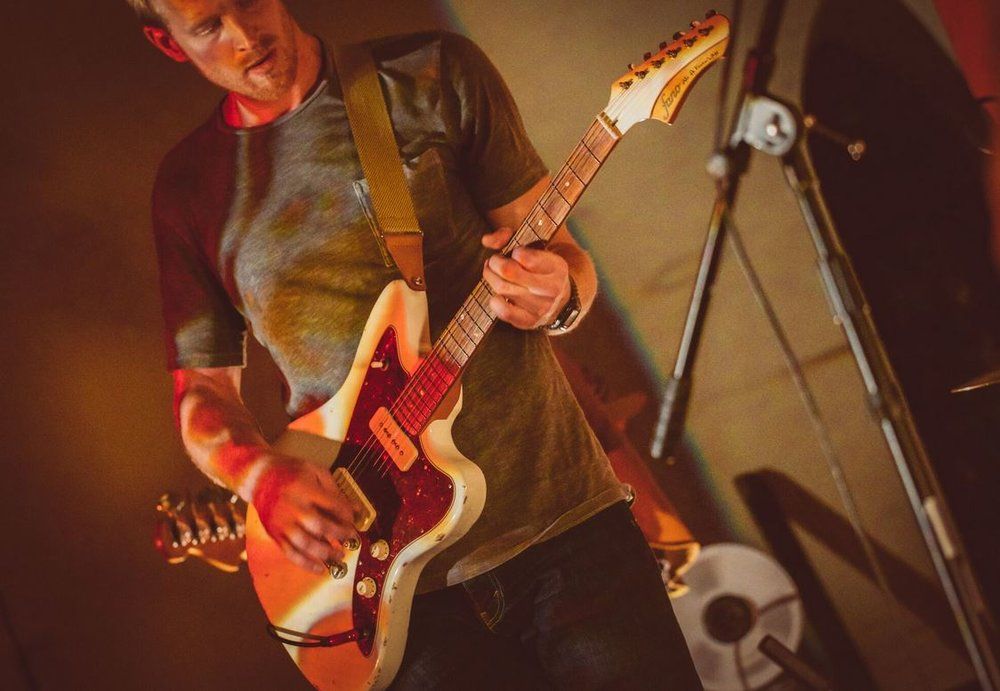 HBIH: I'd like to give you the opportunity to go song by song and provide some background info.
"Light"
NB: A hopeful journey into the unknown
BB: "Light" and "The Void" were recorded in the summer of 2017 at GCR audio. They were originally recorded as one track that was 11 minutes long called "Light and The Void." We actually had this original version of the song mixed and mastered and thought of releasing it as a single, but as the narrative of the Sun Release record started to evolve, we chopped "Light" and "The Void" into two tracks and removed an entire section of the song that just didn't fit. "The Void" is now one of my favorite songs on the record; the whole seven minutes was recorded live in one continuous take. It was an organic performance of the song in the studio that we will probably never play exactly the same again.
"The Void"
NB: The "unknown" encounter of great sustaining darkness and vast emptiness
"Moon Data"
NB: A mind provoking glimpse into the endless beauty of space
BB: The writing process for "Moon Data" started with the second half of the song, starting at the 2:25 mark. This was a part we had on an old demo from one of our early jam sessions. We loved the sound and feel, so we pulled it off the shelf and added the two-minute vibey intro and the final build at the end. I love how the bass takes center stage and gets gritty in the last minute of the track. The Meris Mercury 7 was my guide for the intro of this song. Love that pedal!
"Shadow Phase"
NB: An encounter with and escape from something dark and malevolent
BL: In the context of the record/as a standalone track – this was the one that we felt we needed to go the farthest out in every aspect. It's definitely a shift from the sound we typically end up with, but a great feeling to stretch outside of our comfort zone a bit.
BB: "Shadow Phase" is probably our most interesting track on the record, in my opinion; experimental and dark with hints of Pink Floyd influenced music without the vocals of Roger Waters. Halfway through this track the whole tone of the album shifts and becomes more hopeful; the beginning of the return home.
"The Glow"
NB: A sigh of relief, building into the excitement and terrifying beginning of the final journey back to Earth
BB: I wrote the beginning of "The Glow" late one evening sitting in my living room. I loved it and pulled up garage band and recorded the guitar part, I then used my Electro-Harmonix Nano Pog pedal to grab the low octave and recorded a part to mimic a bass guitar. The first 1:50 of the final master of the song sounds exactly like that original demo. I showed the original demo to Boyd and he insisted that we use the part on the record. The funny thing is, this song took us the longest to finish writing. We weren't really happy with the arrangement of the track even when we arrived at the studio, so we re-arranged and finished writing the song spontaneously during the recording session at GCR Audio.
"Gravity Shift"
NB: The intense and building power of breaking through the Earth's atmosphere
BB: Re-entry into earth's atmosphere; the thrill of the journey home. What more is there to say?
"Splashdown"
NB: The rest and ease of finding peace in the arms of home, earth
BB: "Splashdown" is an incredibly hopeful composition on the Sun Release record. This song was the very last song we recorded for the album. Like "The Void," the entire track was recorded live in one continuous take; a live performance in the studio. The drum tone on this song is stellar. This track has always had an inspiring "Chariots of Fire" feel to me.
"Sun Release"
NB: A swelling emotion of gratitude and peace for the journey and a hopefulness of what the future holds and will release.
BB: "Sun Release" is the title track of the album; reflective and victorious. It is meant to leave the listener knowing that all in all there is enough good in the world and in everything we know to outshine the darkness and pain.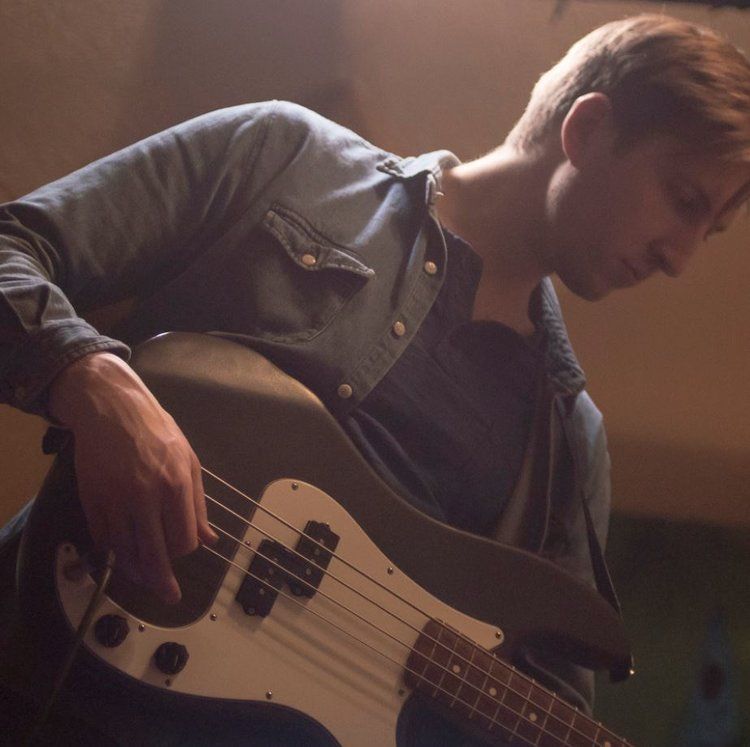 HBIH: You played the inaugural Post. Festival last year. What was that experience like?
NB: Post-fest was fantastic! Great people, great bands and a great event overall. I'm very thankful we were able to be a part of it.
BL: Playing at Post. Festival was a great experience. Having the opportunity to be a part of the Post community, and this growth in our genre is a thing that we're looking forward to down the road.
BB: We loved it. We met so many great people and got to play with so many great bands. Amazing experience.
HBIH: Aside from Post. Festival, though, it seems you haven't played much outside of your area. Do you have any plans to try touring in the future?
NB: We are right now planning a short tour at the end of July with our good friends from Man Mountain.
BL: We are committed to playing Sun Release in front of as many people as we can in the coming year – and that means more shows in more places. We will be hitting the road with Man Mountain at the end of July! A couple of our dates are still TBA, but we're keeping our website updated as they fill in.
BB: We live and write music from the rural Pennsylvania Wilds. Nature is an inspiration to our writing, but it also doesn't provide a great opportunity for many good shows…haha. With that being said, we realize our need to travel to play some good venues. We have a five-day Sun Release tour at the end of July; we are confirmed to play in Pittsburgh, Detroit, and Cleveland to name a few locations. It is our intent to set up short tours at least two times a year. Our hope and desire is to play live as much as possible; Heron's music is meant to play live and loud! Look for another tour to be announced along the East Coast this coming fall.
HBIH: Post-rock is certainly a niche genre, but there is a very communal vibe to it that stretches around the globe. What have some of your impressions been being a band that fits firmly into this scene?
NB: Post rock is a beautiful genre because it lends itself to anyone in nearly any situation. It is a musical language that needs no interpretation.
BL: It has been an incredibly encouraging and welcoming experience for us thus far. Since day one – with YAHN.
BB: Yeah, The Post-Rock genre definitely seems to be a close knit community. When we played Post. Fest last October I couldn't believe the people we met from all over the country that had purchased You Are Here Now and were our fans. Amazing! I do feel that we fit firmly in the scene, but I also feel that some of our music transcends a bit. We try to bring a brighter more hopeful tone. I mean, have you seen our album artwork?…haha!
HBIH: What do you see – or hope to see – in the future for Heron?
NB: The continuation of writing music that can speak to people on a deep level as well as change us personally.
BL: Getting Sun Release out is going to be a huge milestone for us on its own. We always seem to be writing in the background, but getting out more with this record than the last is going to be the next major objective.
BB: More writing, recording, and production our music. Better touring possibilities. Legitimate composition placements. I feel so confident about the content and quality of this record; it simply can't go unnoticed.