Around this time last year I was lamenting the paltry state of post-rock-centric or at least post-rock-heavy festivals in the US. With Europe being covered by the likes of dunk!festival, VIVID, and ArcTangent, it's difficult to not look inward and be jealous or frustrated. However, in that same post I mentioned a brand new festival entering the game. Post. Festival came out swinging in 2018 with the strength of the new North American post-rock/metal/math/whatever scenes and the people who have powered them behind it. It was modestly-sized compared to its European cousins, but it more than made up for that with a killer lineup featuring the likes of The Appleseed Cast, Outrun the Sunlight, Heron, This Patch of Sky, Pillars, Seeress, and plenty more. It radiated intimacy and positive energy and was a sound success for fans, bands, and the organizers alike.
Coming into its sophomore year though, Post. Festival has perhaps even more to prove. Could they attract an entirely new lineup filled with the same caliber and quality of acts? It's akin to a band's first shows. The first one you're all but guaranteed to bring a crowd of friends and people within your social network. But can you bring the same number of people out next time when that well has already been tapped?
For the second year, Heavy Blog is a proud sponsor of Post. Festival, and one of the many pleasures of doing so is that I get to present to you all this year's official lineup and an answer to my above question. Folks, let me tell you, this year's gonna be a good one.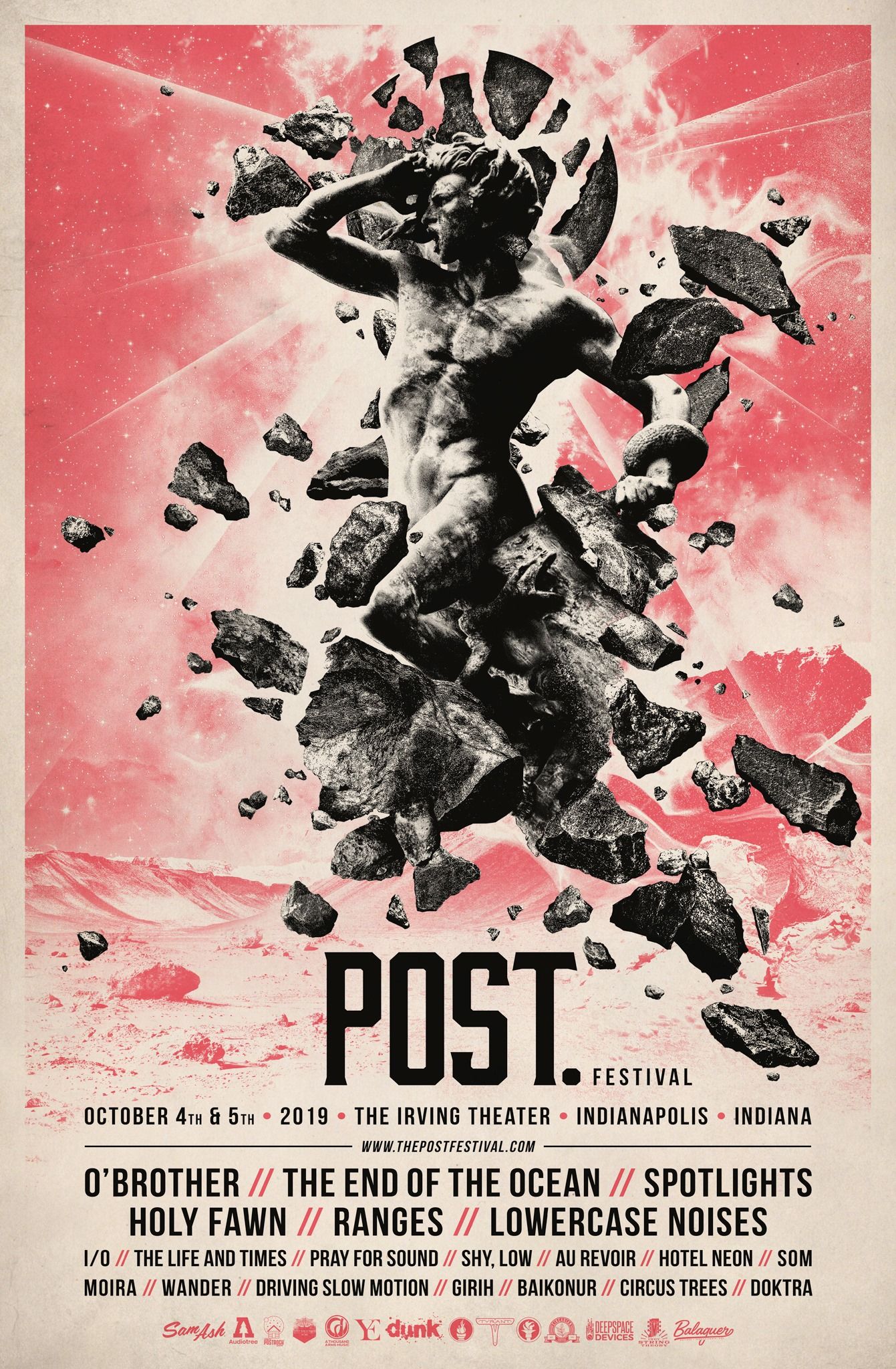 That's right. At the top of the bill we've got one of the best moody rock bands in the game right now in O'Brother. There's The End of the Ocean continuing their great comeback year, as well as recent breakouts in Spotlights and Heavy Blog darlings Holy Fawn. And, of course, there's Ranges, who is poised to have a huge second half of 2019 with a new record impending. Beyond that there are plenty of bands we've mentioned at length here like Pray For Sound, Shy, Low, Som, Driving Slow Motion, Girih, and Baikonur (coming all the way up from Chile!). Any way you cut it, this is an absolutely dreamy lineup for fans of post-rock and moody and beautiful post-adjacent music.
Of the event itself, the founders/organizers Derek Vorndran and Nason Frizzell, as well as our own David Zeidler, who seems to have his fingers in just about every important post-related matter these days and is helping out with promotion for them again this year, have this to say:
Following a successful inaugural gathering, the Post. Festival is back for year two with a grander scope and eyes set on establishing the finest assemblage of niche rock artists to take place on American soil. Following the examples set by like-minded European events, the Post. Festival is as much about community and respect and support as it is about music and culture. It is a celebration both for fans and artists, an opportunity to come together and revel in a scene that has built itself from within to the point of global presence, without the aid of commercial status. Some of the most exceptional and creative musicians work within the realms of "post"-adjacent genres, and it is this festival's goal to bring as many of them as possible together for one weekend to give them the opportunity to show out and share their work with a wildly dedicated fan base. 2019's event shines a bright light on some of America's greatest "post" artists and includes the first of hopefully many more appearances by international acts, with one band making the journey all the way from Chile.
In addition to all of that, the festival is moving to a larger and more musically-appropriate venue this year at the Irving Theater, and it will once again be taking place in the middle of the American heartland of Indianapolis. As for tickets, early bird passes are $40, regular weekend passes are $45, and early bird passes with a special edition t-shirt are $60. Single-day tickets are not available at this time. You can read up on all of that and plenty more at Post. Festival's website, and you can be sure that we'll be posting occasional updates about it here as well.
And though plans aren't solidified yet, the goal is for myself and at least a couple of other Heavy Blog folks to be there in person this year to bring you all that P R E M I U M content as well as just enjoy ourselves. I look forward to celebrating with you all, and let us know if you're planning on being there!