Having had a direct involvement with America's first post-rock dedicated festival, dunk!usa, I know first hand how hard it is to mount a successful event featuring largely fringe artists. When you live in my bubble and you book Russian Circles and Pelican to headline a two-day event with 20 more high-quality artists in a town neither of them has ever played before, you can become lulled into the mindset that all you have to do is hang out and watch the tickets sell themselves. When you discover how wrong you are, that location is massively important, that timing is a key factor, that even though a band like Russian Circles seems huge to a nerd like you, the reality is that probably one out of every forty people has even heard of them, it can be kind of a bummer. dunk!usa was an amazing event that not a ton of people had the privilege of enjoying. So when Nason Frizzell of the band PILLARS approached me with the idea of doing Post. Festival – essentially a dunk!usa without the post-rock name value, the first two things I felt were (a) excitement, because obviously I was 100% ready to get back at trying to grow this scene and (b) cynicism, because I knew how my expectations of fan dedication had been flattened somewhat by my previous experiences. As it turns out, I'm feeling a bit better about the state of "post" music in America as of this moment.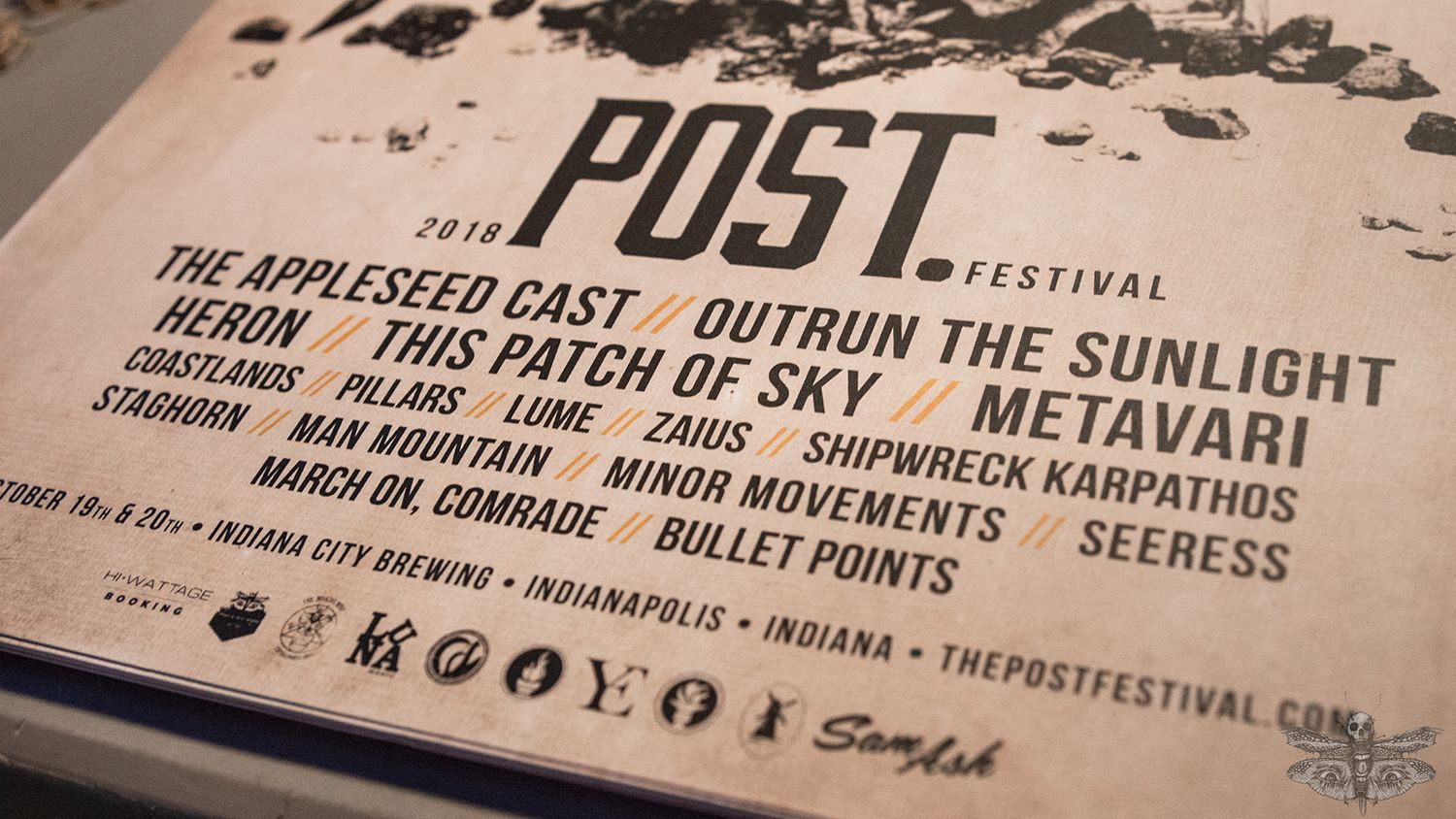 One lesson learned from dunk!usa that didn't need to be impressed upon Frizzell and his partner Derek Vorndran (head of In-Store Recordings, which released PILLARS' Of Salt and Sea) was the importance of tempering expectations. Rather than going for the nearly dunk!-scale, two room, 1,000-cap type venue that had housed dunk!usa, Frizzell and Vorndran instead focused their attention on Indiana City Brewing, which features a 250-cap venue performance space. Of equal importance, ICB has its own beer, which provided an enjoyable addition to the great music on display. The brewery even designed a beer especially for the festival, the first in a collection of high-quality merch items which gave the festival a very strong added sheen. The low-alcohol kettle sour was a perfect compliment to the long days of music. Add to this the Post. Festival coffee produced by Circadian, as well as the extensive collection of shirts, posters, hats and hoodies created by festival partners A Thousand Arms, and one major part of the battle was well taken care of – those who were in attendance had more than their share of memorable, branded products to take home with them.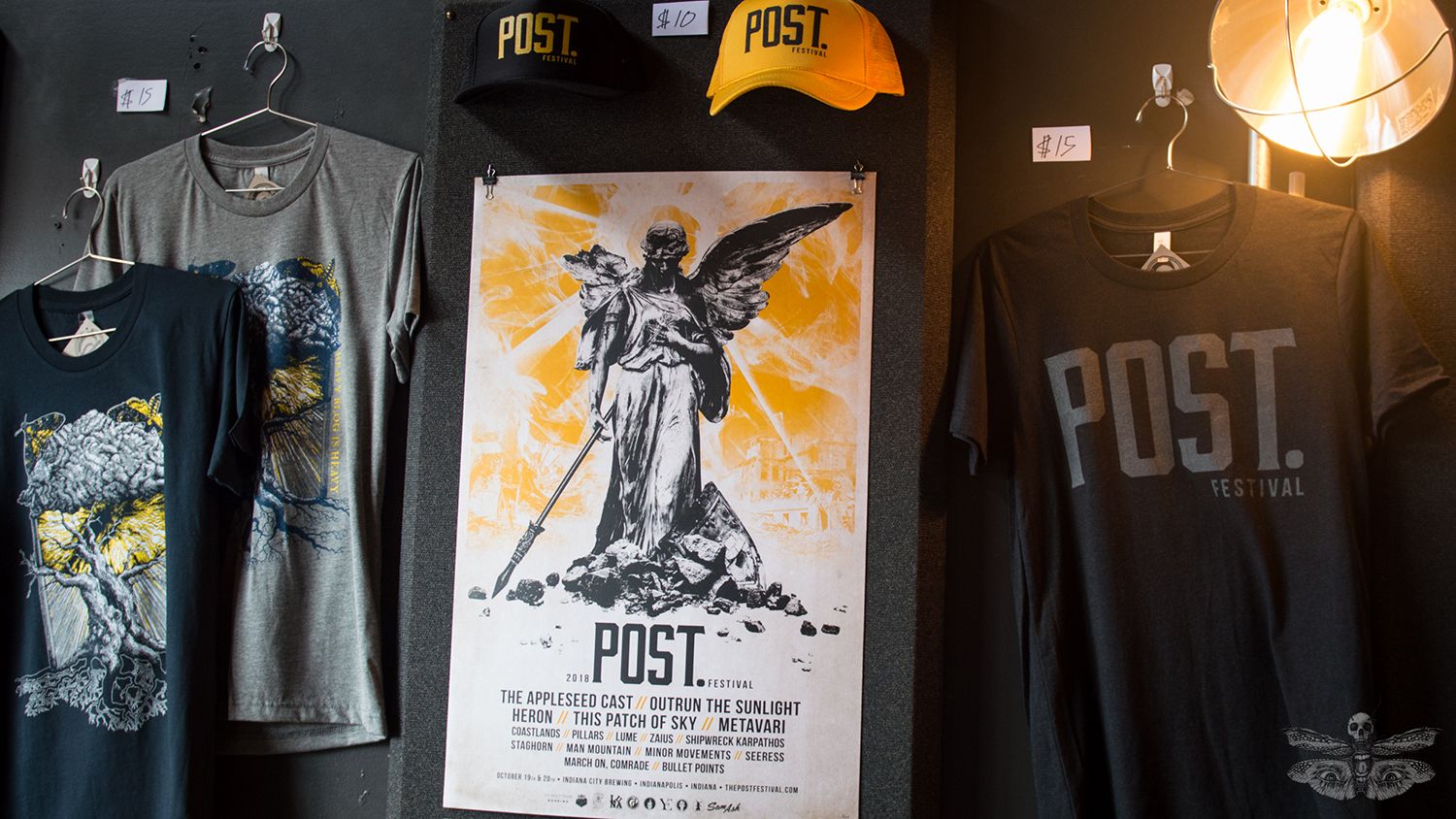 After a long and frustrating delay on the runway in Burlington, and a shockingly good gyro at O'Hare International airport, I landed in Indianapolis shortly after 3 PM on Thursday, October 18th. I was greeted warmly at pickup by Nason, who ushered me immediately to ICB to check out the premises and test the beer, then to West Fork Whiskey Co. for a couple of bourbon-forward cocktails as well as a taster or two. We proceeded on to Nesso Coastal Italia, a swank Italian restaurant in the atrium of a hotel, whose chef is an old friend of Nason's. We drank some lusciously spicy Barbera, had one or two Moretti La Rossa's, and had plate after plate of delicious food delivered to us. We enjoyed thinly sliced octopus with housemade focaccia, olives and peppadews, eggplant puree and charred cipollini onions. We tore into a plate of beef carpaccio featuring a silky basil puree and an airy parmesan foam, charred fennel, crisped polenta, pine nuts, and lemon. We devoured figs wrapped in prosciutto and stuffed with almonds and chevre, surrounded by an addictive romesco sauce and accents of honeycomb. That was only the first half of the meal. The stunning courses at Nesso made the trip worthwhile in and of themselves, but also probably saved me from being completely trashed by the end of the night, as we continued after dinner to The Sinking Ship for pickleback shots and a few more beers. The Sinking Ship is a thoroughly enjoyable joint that combines pinball machines, Blackhawks on the TVs (in the middle of baseball's postseason nonetheless), and a big screen featuring old-school WWE clips – it somehow felt like a very strong cross-section of Midwestern interests, though I'm shocked I can remember that much of it.
After a much-needed night's sleep, I awoke mildly refreshed but in need of large quantities of coffee, eggs and cheese to get my head in the right place. I ventured out to downtown Indianapolis with housemates CJ Blessum and Wilson Raska of A Thousand Arms to Café Patachou, located directly across from the capital building. Ever the basic asshole, I lovingly warmed my insides with banana bread coffee while I waited for my Overachiever omelet. It featured a can't-miss combination of white cheddar, bacon, sour cream and horseradish, so obviously I was all-in. That being said, as bougie as I may be about food, I will never condone the inclusion of a lightly-dressed arugula salad in the place of home fries on a breakfast plate. I will gladly embrace arugula at lunch, and maybe even dinner, but a breakfast food it is not, and I will not stand for any suggestion otherwise. My inner tantrum was calmed by another steaming hot serving of banana bread coffee, however, so we were able to move on with our lives and head to the venue.
It was a pretty solid day for some good old-fashioned post-rock, as the winds had not yet moved upon the fair city of Indianapolis. After a lengthy stretch spent setting up the merch booth and sound checking (which you can translate as me drinking more than my share of coffee, then beer, while everyone else got their stuff together – believe me, I had plenty of hectic moments running dunk!usa, so I was ready to take it easy a bit at Post. Festival), Day One started with Lincoln, Nebraska (relative) newcomers Minor Movements showing off their newly aggressive take on classic American post-rock, followed by a very strong set by Indianapolis post-punk/dream pop outfit Bullet Points, a band I had never listened to previously and was immediately taken by. Things really got moving during a compelling performance by the spoken word-infused post-everything act Staghorn, whose stage presence is enhanced by masked visages, self-made instruments and equipment, a triggered light show, well-rounded, thoughtful compositions and a dedicated DIY aesthetic. There ended up being a longer-than-expected break after Staghorn as a result of van trouble during Coastlands' trip to the venue, which forced them to reschedule their performance to Saturday evening.
Things picked back up splendidly as the home team, PILLARS, took the stage to a rowdy response from the locals and travelers in the crowd alike. They played a rousing collection of tracks from their debut LP, including "Subtract/Submerge," the beautifully building title track and the memorable album and set closer "Equinox." This performance was a strong showing of proof that PILLARS are more than deserving of bigger things as time wears on. 2017 post-rock darlings Heron made their first festival appearance, and the Warren, PA band reminded the crowd why there was such an uprising of love for You Are Here Now. Having recorded that record live as a full band, it was no surprise that Heron's show was both precise and natural. The way the members play off of each other inspired a swell of emotion from the crowd, which was returned with even more impassioned performance, including a tantalizing cut from the band's upcoming sophomore record.
There was no question that many members of Friday's crowd came primarily to witness the return of Lawrence, Kansas post-emo darlings The Appleseed Cast. I myself have a strange relationship with Appleseed, in that I own most of their albums, but I've never actively identified as a dyed-in-the-wool fan. They've always been a band that I respected and enjoyed to a degree but never devoted myself to in any way. I may be committing heresy here, but I actually find their Low Level Owl records to be my least favorite of their works, despite the fact that they are in part responsible for bridging the gaps between two of my favorite genres, post-rock and emo. I came to Appleseed with the Low Level Owls, but it took me a while to follow up because I found the records to be brimming with tracks that feel like connective filler and short on truly memorable songs. It wasn't until I re-examined the band's earlier records Mare Vitalis and End of the Ring Wars that I began to understand what all the fuss was about. I was still very intrigued by the opportunity to see them though, because they appeared to be the kind of band whose sound pointed at a compelling live show.
I definitely wasn't left wanting, and it was clear that this performance was a highlight for festival-goers as well. The band played through some later-career highlights along with some Low Level Owl material, and worked in some new songs as well. I found the new songs to be a pleasing combination of stylistic elements from each phase of their career. It sounded a lot like what they were seemingly trying to go for on Low Level Owl, except with seventeen years' worth of extra experience guiding their songwriting. If these tunes were any indication of what's on the horizon for the band, it should spell a full conceptual realization of ideas that I don't believe they had quite perfected yet back in 2001. The night's finale was reserved for the foundations of the band and their fans, as tunes from Ring Wars and Mare Vitalis sent the crowd delirious off into the night.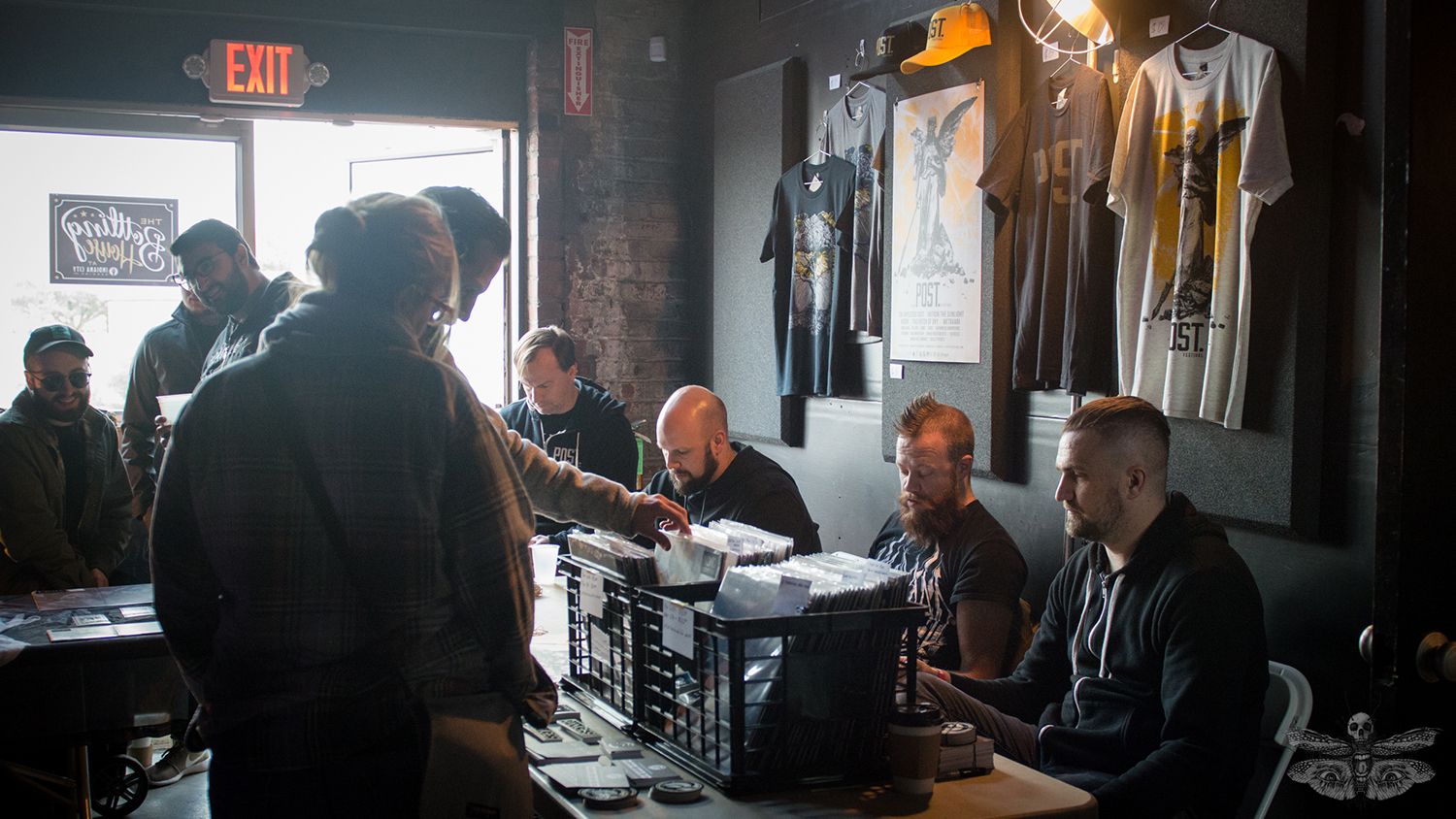 Day 2 provided a much quicker turnaround, as festivities were set to begin at the crack of 3 PM. We needed to get the day started right and thus left our AirB'nB in search of brunch, which we discovered gloriously at Good Morning Mama's. We joined with the crews of Coastlands, Man Mountain and Minor Movements (as well as dunk!festival regular Sean Oliver and Black Flak and the Nightmare Fighters member Dan Ibarra) for what was truly a momentous gathering of post-rock homies. I went straight for the jugular with country-fried chicken and home fries smothered in sausage gravy and accompanied by two over-easy eggs and an extra thick slab of toast. I thought I was tough going into this meal, but it turns out I didn't stand a chance against the rib-sticking heartiness of Midwestern breakfast fare. The coffee again felt amazing going down, and despite the ill-advised decision to also order a Bloody Mary – a drink I literally have never ordered anywhere in my life – the meal was considerable and mighty tasty. It was the perfect charge-up for what would be another long day of music.
Fort Wayne's March On, Comrade kicked things off with their brand of orchestral post-rock pop, then things got considerably heavier quickly. Seeress followed up with a set strictly comprised of tracks from their new album, which was mixed and mastered by a duo of highly-regarded musicians whose names I'm not sure I can reveal yet. I have had a history with this virtually unknown and vastly underrated Cleveland post-metal band, and in fact revealed them to Heavy Blog over a year ago via the Open Language, Vol. 2 comp I was working on in tandem with A Thousand Arms, which resulted in very positive coverage. I'm here to tell everyone reading that this is a name you all need to remember. Seeress' material has a huge, thundering sound that manages to work inspiring melodies into the mix, and their new stuff is just massive. Make a mental note, check out their previous recordings, and get ready to have your doors blown off when the new album drops in 2019.
Chicago's proggy post-metal juggernauts Zaius took the stage next and proved to be one of the most eye-opening surprises of the weekend. Their set is stacked to the ceiling with raw power and killer riffs, a deft combination of skillful performance and passionate outpouring. Metavari offered a needed break from the assault of the previous two bands with his combination of DJ set and organic instrumentation, occupying a role not unlike the one Arms and Sleepers have inhabited during their many appearances at dunk!festival. He added in his cover of Shipwreck Karpathos' "Bring Down The Sky" as well, highlighting the true sense of community and friendship that characterizes so many of the artists within the "post" spectrum. Coastlands finally assumed the stage at around 7 PM, and it was well worth the wait. Those listeners only familiar with their more placid earlier studio work would be well-served to seek them out in concert now or check out their most recent record The Further Still. Their live show is a totally different animal – brash and heavy and highly emotional, it is essentially 35 consecutive minutes of highlights. If you haven't been indoctrinated into this new direction for the band, you need to see the light.
Starting a bit later than initially planned, Man Mountain showed why their Infinity Mirror record has been one of 2018's most highly touted post-rock offerings. They are a precise and measured band, hyper-professional sounding for a group who wasn't widely known going into this year. Their live show is something to behold, with the twinkling guitars of Mike Reaume and Bryan Cowles swirling around the chunky rhythm section provided by bassist David Reaume and drummer Jacob Goins, building pretty passages that explode into muscular, soaring climaxes. Festival attendees were also again made privy to new material – Man Mountain joining Heron and Seeress as the third band of the weekend to debut new music (four if you count Appleseed, though they had surely played those songs in a live setting before Post.).
Hometown boys Shipwreck Karpathos took the stage next to reunite for a single performance. Primary songwriter David Chastain moved to Portland, Oregon a couple of years ago, leaving the band separated by thousands of miles, but he returned to Indy for the festival, and revealed to me that not every member had been able to practice during the week and that the moment they got in front of the crowd was actually the first time the entire band had been together since his move. Regardless, they picked up like they had never left off, putting together a great performance for an enthusiastic home crowd that included plenty of friends and family members. Their rendition of the title track from 2016's Bring Down the Sky was one of the more rousing moments of the weekend and was one of at least 49 times that Chastain cried on stage this night. The guy's got heart, and I've always had a lot of respect for him in that regard – Shipwreck is his lifeblood and he passionately reps it at all times.
One of the real treats of the weekend for me was the opportunity to see Chicago's masters of slowcore, Lume, for a second time this year. These guys are genre stars in the making, and their record Wrung Out is in strong contention for my album of the year. They are densely rhythmic and hyper-focused on groove, but at the same time their melodies are so memorable and their live show is both stark and absolutely invigorating, as they are engulfed by considerable stage fog and illuminated only by triggered lightboxes. Their setup was so intense in fact that their performance's finale caused smoke alarms to repeatedly go off inside the venue, not that anyone seemed to mind – it was an entirely captivating show.
Fans got one more considerable dose of full-on post-rock with This Patch of Sky's sub-headlining nod. I have to admit that TPOS' dunk!usa set fell a little flat for me and as a result I wasn't expecting much, but they really stepped up in this smaller venue and provided a top-level show, rife with emotional peaks and inspiring melodies, a mixture of old favorites and new songs, performances which highlighted the strengths of their self-titled record and gave the newer material a much-needed liveliness that cranks it up a notch from the studio versions.
If there was one regret from the entire weekend it was that the need to shift the schedule around put festival closer Outrun the Sunlight in an unenviable position. Had they been able to begin at 11 as planned it likely would have been fine, but I so often tend to forget that us post-rock fans are getting long in the tooth and many of us begin to turn into proverbial pumpkins once the clock tolls midnight. I for one have retained my ability to tough it out, but a lot of the over-30 oldsters in the crowd started filing out during Outrun's set, as if they themselves were trying to… outrun the sunlight, so to speak, and get as much sleep as they could before the dawn of the new day. Regardless, Outrun put their best foot forward and tore it up like a headliner should, filling IBC with crushing riffs and soaring solos, featuring plenty of material from their 2017 record Red Bird, which saw them stepping more into post-rock territory while retaining the heaviness they had previously built their name upon.
The night ended with the final remnants of the bands and crew enjoying a final hurrah together – Man Mountain, Coastlands, Lume, Outrun the Sunlight, A Thousand Arms, Nason and Derek, all basking in what was unquestionably a successful weekend. Some of us had to get back to tour, others had to get back home to our day jobs, but we were all equally excited about the promise this festival holds for future years. Considering the stellar lineup put forth in Year One, it can only be assumed that the Post. Festival will be making exponential leaps in editions to come. There's talk of a blog page, and exciting names are being thrown around for next year's headliners. Speaking of next year, the venue is already booked, so set aside some time in October 2019 because you definitely don't want to miss what's in store.
…
Photos from Kyle Gaddo of Day 2 are below.
[Modula id='5′]
For more from this photographer, visit Kyle Gaddo on Flickr.
Photos may not be reproduced or used in any manner outside of the above posting without the express permission of the photographer and/or Heavy Blog is Heavy.