Hello, I have returned! All the thanks to my brother from across the world, Eden, for taking ownership of this place for the past couple of months while I experienced multiple large life events (honeymoon, moving to a new state/metro area, getting a new job). I am back though to deliver you all the best in all things post-rock and metal. And I am doing so at an excellent time because I come bearing an awesome announcement!
With the glut of music festivals across the US for every strain of music imaginable, it's frankly baffling that there hasn't been a post-rock/metal festival that has been able to successfully plant roots and turn itself into a perennial fixture. Europe gets to have the majesty that is dunk!festival, and though they experimented with similarly large scale fest stateside last year in Burlington, VT last year, it does not appear they will be repeating the experience anytime soon (though I have been told that there are plans for dunk!USA to continue in some altered form in the future). Eden and I have spent a lot of time worming our way into, following, and writing about new and existing post-rock scenes and communities that are trying to build something greater in the US in the wake of the genre being pushed further and further into its own niche. From our perspective at least it certainly feels like there is a strong, wide, and deep enough community here to support these kinds of events, but it seems that there is still some amount of growing pains and tinkering needed before finding the right formula for long-term success.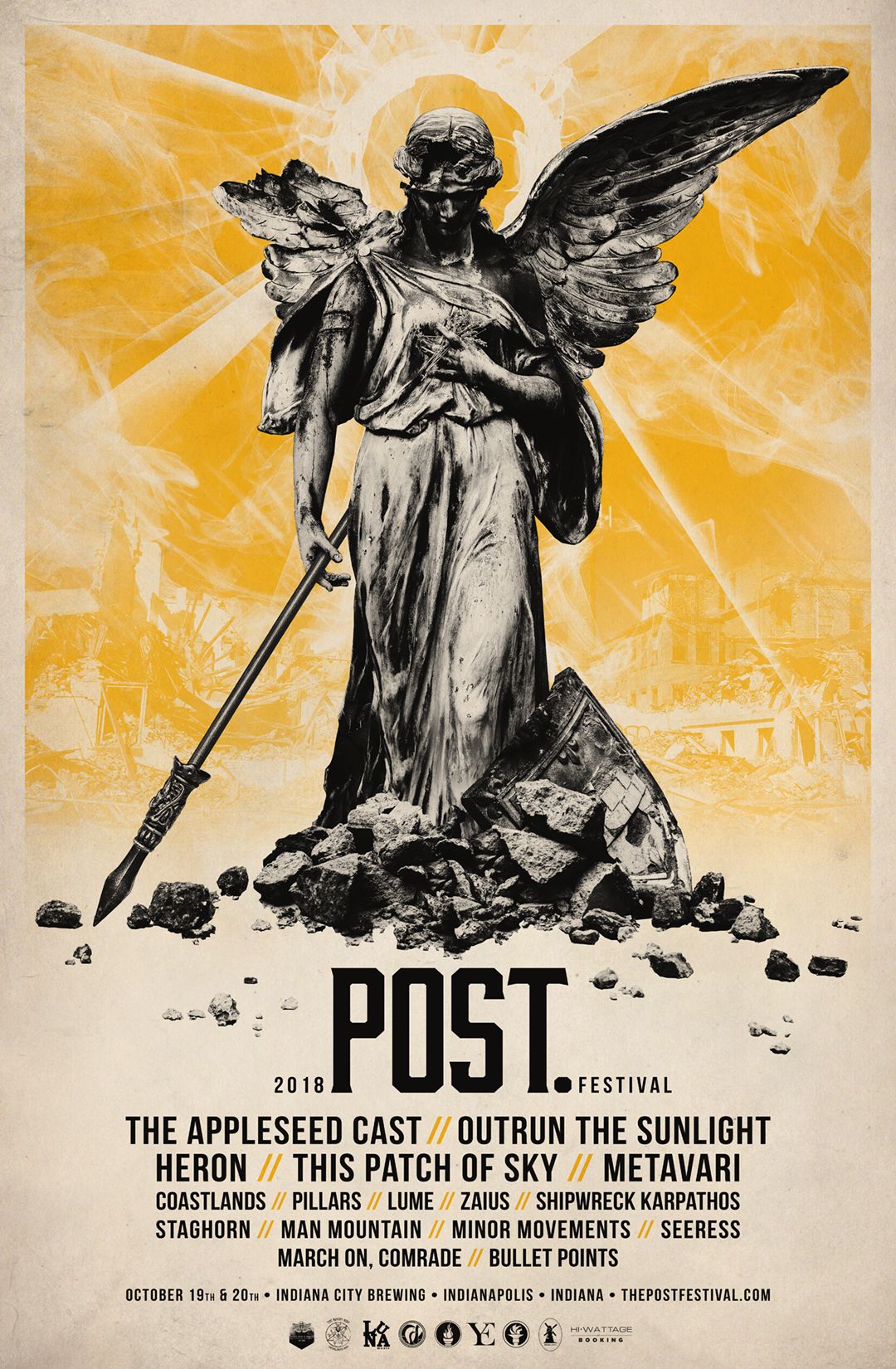 The good news though is that someone else is stepping into the ring to give this festival thing another go! On October 19th and 20th in Indianapolis, IN, Post. Festival will be taking over Indiana City Brewing Co. for two days of jam-packed post-y goodness. And when I say jam-packed, I mean it. You've got legends The Appleseed Cast and Heavy Blog heartthrobs Outrun the Sunlight headlining. You've got other column favorites like Heron, This Patch of Sky, and Man Mountain, as well as other prominent acts in the scene like Coastlands, Lume, Staghorn, and plenty more. You've even got some excellent retrowave in the form of Metavari! And on top of all of that it's being sponsored and organized in part by other friends of the blog like our merch partners and bffs at A Thousand Arms and post-rock promoters Young Epoch (both of whom also had their hands heavily involved in dunk!USA).
Given all of this wonderful Heavy Blog-approved stuff going on then, it's only natural that we would want to get in on the fun as well. So we are rather ecstatic to announce that we will be sponsoring Post. Festival! This means you can expect some great coverage of the event from us in the coming months. We will have an interview with the festival organizers down the road, and we have plans to send someone from the team there to get the kind of excellent photo and interview content you've come to expect from us. So look out for all of that, and in the meantime you should follow the event on Facebook and buy tickets here!
And just a little bit of housekeeping before we move onto the meat of this month's post. We will have our usual roundup of our favorite albums from the previous month below, but given that we have now reached the midway point of 2018 and the fact that we just released our whopping Top 25 of 2018 (So Far) post, I thought it'd be useful if Eden and I listed off some of the post-y albums from the first half of the year that have had the greatest impact on the each of us. You will be find that at the bottom of this post. Enjoy!
-Nick Cusworth
Post-Topper: Night Verses – From the Gallery of Sleep
We knew something special was afoot when we received the promo for a teaser EP from previously lauded post-hardcore group Night Verses. Their work as a largely vocals-driven band was enough to intrigue us in their foray into fully instrumental work after the departure of said vocalist. That EP, Copper Wasp, featured three tracks from an upcoming LP, and boy did we enjoy it. It was an almost shocking turn for the group, one that saw them more than simply take the somewhat progressive leanings of their previous work and build out the same kind of songs just without vocals. It was instead an incredibly bold statement of progressive technicality and composition fitted into the framework of meaty and dark instrumental post-metal along the lines of Sannhet and Telepathy. It absolutely achieved whetting our appetite for more, and the full LP has been high on our anticipated albums list since. So now that the full album, From the Gallery of Sleep, is here, does the full package live up to the promise of the EP? You bet your ass it does, and then some.
From the Gallery of Sleep is a positively frenetic aural assault, a maelstrom of creative technical prowess that features some of the best instrumental songwriting any of us have had the privilege to hear in a while. Three of the first four tracks feature the Copper Wasp songs, with the impressive and seemingly effortless riff-heavy "Trading Shadows" breaking them up. Those three tracks – "Copper Wasp," "Vice Wave," and "Vantablonde" – hold up just as well as they did before, but the amazing thing while listening to the full album is that it's very clear that the band managed to actually achieve the purpose of a teaser by holding back some of their most impressive work from the album itself. Tracks like "No.0," "Earthless," and "Phoenix IV: Levitation" are a showcase for guitarist Nick DiPirro and bassist Reilly Herrera in a way that comes off as far more purposeful and less indulgent than the vast majority of instrumental prog out there, calling to mind the time when such things could be said of the likes of Animals as Leaders. The madcap ferocity of drummer Aric Improta is equally mammoth and technical without doing anything other than what is appropriate without being overly showy any given moment.
Even in its more subdued moments the band know how to let atmosphere and emotion carry momentum through, particularly on the exercise in beautiful contrasts that is "Glitch in the You I Thought I Knew," "Balboa," and "Harmonic Sleep Engine." What I love in particular about those moments is the band's awareness and comfort in their abilities to know when they can most effectively lay off the gas for a few minutes and rely instead on building compelling themes and environments before flashing the technical heroics. They're necessary bridges to guide the listener from one peak to the next, something that so many other technically-focused bands forget to do. It's these more post-y moments and influences that really what elevate the entire thing as a whole, as the songs here focus on building up to a greater image and story than simply existing moment to moment to deliver the slickest riffs. It's also the only reason why its imposing 62-minute runtime doesn't feel like a burden to get through. An entire hour of intense moments and songs like "Vice Wave" and "Earthless" would have simply been too much to process, but the pace throughout is set just right. I would argue perhaps that From the Gallery of Sleep's only weakness is that even with its pacing and contrasts the album is perhaps still just a bit overstuffed with great ideas. It is abundantly clear that this trio felt an enormous amount of creative energy and excitement once able to let loose in this direction, and it absolutely achieves in making a grand statement. With From the Gallery of Sleep, Night Verses have staked a rightful claim as one of the top bands to watch in the instrumental metal space. Hopefully they will continue to explore what made them such a success here while continuing to heed the restraint and avoid the pitfalls that have hung around so many of their peers.
-NC
The Endless Shimmering (AKA Best of the Rest)
Cavern – Eater
Unlike a lot of the albums within post-rock, what makes Cavern's Eater work so well is how short it is. There was definitely room here for excess; each segment, lead and idea could have easily lended themselves to long buildups and a slow unfolding. But instead, Cavern chose to focus on strength of delivery and making sure each and every single note of their EP was necessary and it really shows. Straddling the borders between post-rock, post-metal, Americana and grunge with its meaty riffs and overall sensation of smokey sloth, Eater is all muscle and no fat. The best track to single out as an example would probably the second one, "Casey". Sure, "Casey" takes its time around the middle, reiterating the main riffs a few times but that's all buoyed on the energies of its opening moments. Before that momentum can putter out into vapor, something in the track's energy shifts, a faster pulse beating beneath the surface. This is mainly conveyed in the drums and it's no accident that they're the ones who also usher in the final passage of the track. From that quickening pulse they turn to faint blast-beats and to a faster exploration of cymbals. This is what reignites the track in time for its "crescendo-lite" ending. When it's done, you feel excited and refreshed rather than defeated and overwrought. This is a perfect setup for what's to come next, as the album continues to dive into more melancholic ideas only to return with full force, triumphant and full of riffs. In short, if you're looking for an album that's clever about its structure and also knows how to kick some ass, look no farther. Fans of set and setting, Tempel and the such (and yes, I know those two have little to do with each other; that's the point) should pay close attention to this band and this EP.
-Eden Kupermintz
A Film In Color – They March in Endless Circles
I'm going to be blunt about this one and get right to the point. Do you enjoy This Will Destroy You's Tunnel Blanket? Then you will also very much enjoy A Film In Color's They March in Endless Circles. From the opening ambient long tones of "Blood Horizon," you know you're in for a slow ride of subtle textures and fuzz punctuated by highly emotional bouts of energy. Normally something that stuck so close to the sonic blueprint of another band within the genre that is so easily identifiable would irk me and ultimately turn me off. In this case, however, A Film In Color have such a clear grasp of what made Tunnel Blanket (and, at times, Another Language) function as something truly special among their crescendo-core peers that it's difficult not to be captivated by it all the same. Ultimately it all comes down to the build and explosion. This music only works if there is an adequate payoff for the smoky ambience that fills most of the musical space. Thankfully the band succeeds here in spades. The climaxes of "For You Are Not in Death," "Sightless Gods," and "Procession" just utterly annihilate and will render you a pile of emotional goop by the end. They are crushing both in scope and weight, turning the dreamy layers of guitars and sparse drumming into blunt weapons of brutal carnage. The extended climatic run of "Sightless Gods" in particular is utterly primal as what sounds like a wounded animal but I think might just be a string instrument cuts through the reverb with these almost haunting moans. By the time the dirge of "At the Foot of the Eternal Throne" slowly fades out, it truly feels like A Film In Color have told a real story through their music, one that is more than simple mimicry and post-rock pastiche. It's not revolutionary, but They March in Endless Circles is certain to scratch the itch anyone who is a fan of TWDY's more ambient and drone-influenced side has and then some.
-NC
Sunset Wrecks – False Patterns
Jarek Leskiewicz is one damn prolific dude. If that name doesn't sound familiar, I will direct you back to an earlier PRP from this year in which I highlighted the album Volker from another Leskiewicz collaboration project Blurred City Lights. Though this project, Sunset Wrecks, absolutely shares a similarly slick thumbprint blending shoegaze and ambient production with driving grooves and biting guitars, it has a distinctly darker edge to it. Where BCL is ethereal, dreamy, and poppy (aided in large part by its vocals), Sunset Wrecks is more introspective, more indebted to drone and industrial, and rougher around the edges. Much of that is likely due to the other half of this project in Martin Anderson of Dopedrone, who also specializes in dark and trippy soundscapes. Their latest album False Patterns is yet another highly enjoyable voyage through hazy shoegaze and dirtier moods and textures. The crunchy guitar tones and layers of synth and guitar on top of tracks like "The Antagonist," "Adorn," and "Psyche Lodge" have a world-building soundtrack feel to them not at all dissimilar to some of Grails' recent work. Brighter moments like "Till Tomorrow" expertly veer into Mogwai territory. There's even the occasional touch of retrowave-y synths on tracks like "Surrender," which are contrasted pleasantly by deep and rough bass tones. All-in-all, much like what I said about Volker, False Patterns isn't here to completely bowl you over with its presence, but the terrific sonic world-building it does creates a rich and rewarding environment for you to get lost in.
-NC
Talons – We All Know
Will we ever stop singing the praises of Holy Roar Records? Not if I have anything to do with it and not if the label continues to publish such amazing releases. I still remember the first time I heard Talons; it was just the kind of jolt my ears needed, strings, abrasiveness and post-rock all tumbling along in a meadow of demanding and rewarding music. Well, now the Hereford based fanatics are back with We All Know and oh boy is it par the course for Talons. That means you can expect plenty of introversion, repetition and inward gazing but also a harsh edge that's impossible to deny. Just take opening track "The Drowning" for example. It starts off like you'd expect, a dreamy and melancholic guitar line slowly turning towards itself, luring you deeper with each repetition. But near the middle of the track everything goes dark and deep, deep drums take over, slowly building up to the return of everything that came before. When it does return, the guitar line is joined by plenty of tracks containing static, feedback, tremolo picking and, in general, sounds that belong on Mono's Rays of Darkness. When the main riff finally does return, the kind of urban darkness that's always fueled Talons is well and truly manifested. The fuzzy falling apart of the drums at the very end sets up the next track and its deep dolmen-like chords and from there, the rest of the album. We All Know works from there, as Talons' releases have done before, swimming in the darker shades of post-rock and the energetic promise of their noise.
-EK
Whale Fall – Sondersongs
Whale Fall can and should be cataloged into the emerging new wave of post-rock from the United States, even if their geographical location of California is a bit more West than we'd usually see from this genre. Nonetheless, their post-rock is colored in the bright melancholy which is so characteristic of this new movement. Their soft drumming, prominent bass, bittersweet piano and use of string instruments will be intimately familiar to fans of This Patch of Sky, Man Mountain and more. Sondersongs sees the band move even more closely to this sound while injecting with a kind of lilting ease that's wholly their own. As this movement continues to gather steam, releases like these will become essential; the work of making a scene stick involves working with their core sound and doing something new with it. This is exactly what Sondersongs does as it injects a simpler, more cohesive and straightforward song structure into the mix. This amplifies the myriad different instruments on it (check out the brass segments on the opening track, "True Places") as it puts them at the forefront instead of hiding them behind crescendos and layers and layers of guitars. This approach, a lighter, more elegant type of post-rock, is exactly why the New England scene (and its periphery) is so damn good; it's bringing simplicity and emotions over excess back to post-rock. With Sondersongs, Whale Fall show us exactly what that means and the power of impact it can garner. All hail the bright future and all hail Whale Fall's role in it; it's set to be a substantial one
-EK
Nick's Top 10 Post-y Albums of 2018 (Through June)
Night Verses – From the Gallery of Sleep
Whale Fall – Sondersongs
Eden's Top 10 Post-y Albums of 2018 (Through June)
Night Verses – From the Gallery of Sleep
Whale Fall – Sondersongs
Talons – We All Know