The Load In
The gig drought continues. Admittedly, I was out of the country (again) for a good chunk of the month and, typically, almost everything I wanted to see in October happened whilst I was away. I was particularly annoyed to miss Sleep Token's first headline show, taking place at St Pancras Old Church, which has to be just about the perfect venue for them, as well as Black Peaks and Bossk playing at the Camden Underworld. It probably wouldn't have happened anyway, but the timing of my trip also completely ruled out any possibility of a madcap adventure to Los Angeles for the Caleb Scofield Memorial Show, featuring a (supposedly) one-off appearance by 'Celestial'. If you know, you know. I've had to console myself with a ticket to the Memorial show booked to take place in London next year, featuring Cave In, Old Man Gloom and Bossk (yes, those guys again), who opened for Old Man Gloom last time they came to the UK. I suppose there's very little chance that the word 'Celestial' is going to be added to the line-up for this show between now and April, but a girl can dream.
But all is not lost, as I watched a grand total of twenty-nine bands at Euroblast at the start of the month, so I still have plenty to say. And I took Hannah Cole with me to take some pictures of the bands, because she's much better at it than I am, as you'll see as you scroll down the page.
As I mentioned last month, I have a quite ludicrously stacked November ahead of me, so normal service will be resumed next month, as well as a look back over the year as a whole, which will be fun.
Euroblast – Essigfabrik, Cologne
Although Euroblast is billed as a three day festival, proceedings actually begin on the Thursday night, at what is known this year as the 'Ignite Night'. The changing, and gentrifying, landscape of Cologne has forced this night to become something of a moving feast over the last few years, and venue closures have meant that this night has been shunted around the city for three years in a row. This year, we are heading for Club Volta, a venue new enough for not many people to actually know where it is, including many of the locals, as it is tucked away in the middle of a commercial estate. Fortunately for my party of intrepid revellers, we were scooped up by a knowledgeable local/festival volunteer as we got off the tram, and he guided us in. What a champ.
Now, although there are bands playing, it is at least as much a social occasion, serving as rendezvous point for a close-knit community that spends the majority of the year spread out across Europe and beyond. This new venue is blessed with a large and comfortable outside space, and the only band who coaxes me back inside for any considerable period are headliners Invivo. I had last seen the Italian trio on my last Euroblast adventure in 2016, and since then the band have released their second album, Ignite (hey, I wonder if that's some kind of coincidence). Their atmospheric, melodic prog with a few more techincal flourishes brings to mind a combination of Sumer and Alaya. They dedicate their set to 'all the living creatures on earth', which must be the broadest dedication possible.
Friday
The next day, I arrive outside the main festival venue before doors open, and join a queue of at least a couple of hundred punctual revellers (German Efficiency really is a thing). The Ignite Night also serves as a wristband exchange, so when we are allowed inside the queue moves swiftly. This cunning bit of forethought means that as Unprocessed open up the main stage bang on time, the room is healthily full. Playing tracks from their recent Long Branch Records album Covenant, their bouncy, Monuments-inspired prog-metal neatly sets the tone for the festival. The band's triple-guitar line-up allows for some ridiculously heavy moments, and the quieter ones don't sound too cluttered. Having missed their Tech Fest set earlier in the year, I was pleased to have caught them this time around.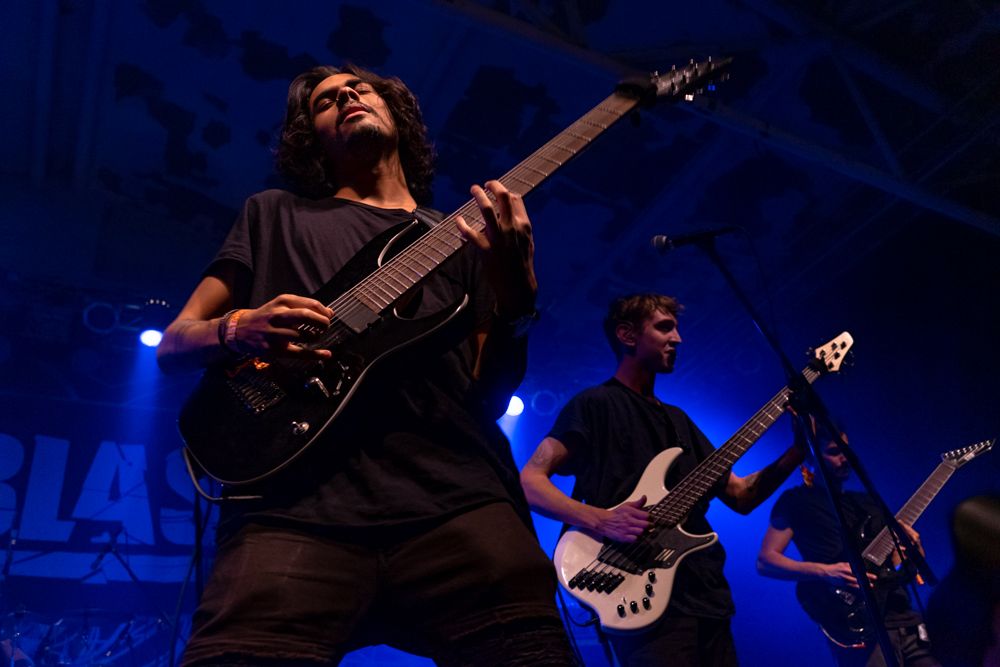 Although I have now lost count of the number of times I've seen Temples On Mars play on stages close to home, it is still gratifying to see them kick off the downstairs second stage out here. However, as a foretaste of many of the sets played in this small, subterranean second space, the usually excellent transition from their intro tape to opening track "God's & Kings" exposes something of a mismatch in sound quality. Temples On Mars are more of a neo-grunge band than the standard Euroblast prog-metal, and the rumbly, bass heavy sound works in Temple On Mars' favour for the weightier tracks in their set, but the early inclusion of some quieter numbers rather knocks the momentum out of their set.
French tech-djenters The Dali Thundering Concept are firm favourites with the Euroblast regulars, and the size of the crowd that greets them also gives us an early confirmation that ticket sales have been particularly healthy this year, with noticeably more people on site than the last time I made the trip in 2016. The band's heavy reliance on their backing tracks draw more attention to the technical issues they experience, and I do find myself wondering how they would sound with two live guitarists in the line-up. The set is peppered with beefy breakdowns that are rewarded with the first significant moshpits of the weekend, but the songs from latest album Savages don't feel as dynamic as their older material, and the absence of old favourite "Mesmer Eyes" from the set is a genuine disappointment. Dali Thundering Concept have a potent sound, but sometimes they seem to fall victim of trying to be a bit too clever for their own good, which can let the wind out of their sails.
I stop in to catch a bit of The Five Hundred throwing themselves around the second stage, generating a surprising amount of movement in a tiny space I hear compared to playing in a fireplace. Things are definitely coming together for the British quintet, and their passionate performance and beefy, metalcore flavoured riffs are increasingly bringing to mind Carcer City. However, problems with the sound render the guitars almost completely inaudible, and as I know I will have plenty of opportunities to see them in more favourable circumstances back in the motherland, I opt for spending a few moments out in the unseasonably warm weather before Conjurer arrive to rip our heads off once again.
There's no denying that Conjurer are one of my most favourite bands on the underground circuit right now. The fact that this is the fifth time I'm watching them play this year alone, coupled with how frequently I'm still spinning debut album Mire, doesn't dampen my enthusiasm for the set underscores it emphatically. In contrast to the muddy and indistinct mixes that have been plaguing the second stage sets so far, if anything Conjurer have been mixed a bit too cleanly. Not that it really detracts from the potency of their doomy, sludgy riffs, of course. It's obvious both from the crowd response and the amount of Conjurer merch being sported throughout the remainder of the weekend that they won a whole raft of new fans with this set. Good.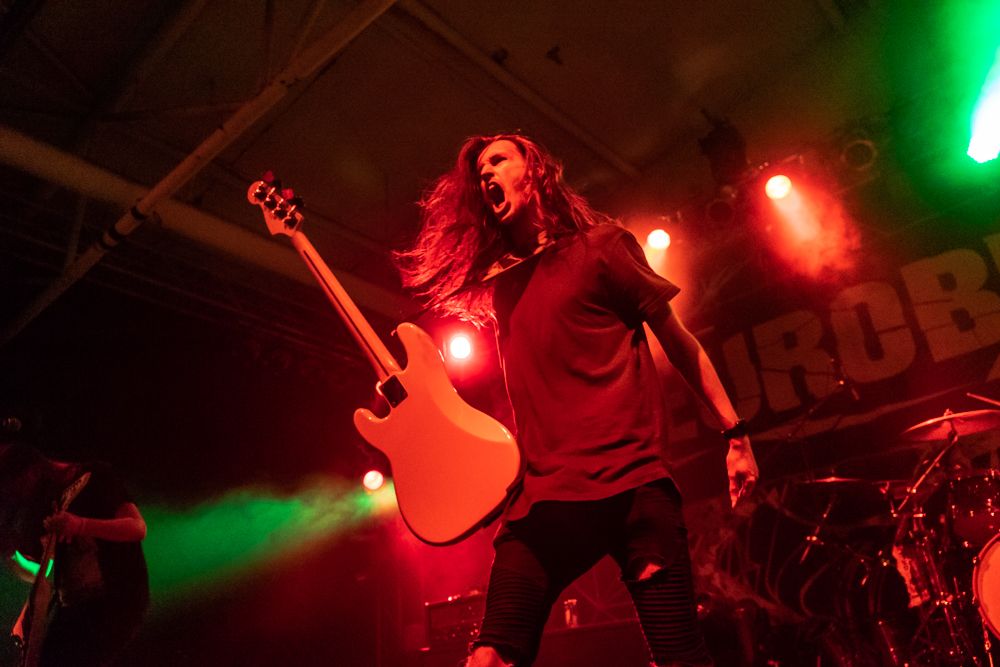 As was the case with their Tech Fest appearance over the summer, giving Conjurer a bigger stage to play on means giving bassist Connor more space to practice his seriously impressive windmill headbanging skills. He whips his head around with such ferocity that it makes my neck ache by proxy, and chucks his guitar around like a man with absolute and total faith in his straplocks. A re-arrangement of their setlist leaves me worried that they will not be playing "Scorn", the stand-out track from their debut EP, but it has just been shunted to the end of the set. Phew.
Kadinja are yet another long-standing festival favourite making a triumphant return to the festival, and are rewarded with a near-permanent sized crowd. It is apparent from their sleek, professional modern metal that they possess some quite serious talents, particularly when it comes to shreddy solos. But despite these obvious chops, and some interesting, syncopated chuggy moments, I just don't find the set especially exciting or engaging. Maybe it is the slightly muddy mix, or that vocalist Phillipe seems to be struggling a bit, but I just don't connect with the music. Fortunately for the band, though, I am clearly in the minority and the band are given a rapturous response by the majority in the room.
If Conjurer are one of my favourite bands on the UK scene right now, Sumer are the other. So I was tremendously pleased that both of them were announced for the festival, and only slightly annoyed that they were playing so close together on the running order, making Friday by far my busiest day for must-see sets. Sumer's triple guitar configuration unfortunately causes some considerable issues with the sound, and after the opening songs of the set are almost completely swamped with a rumbling swell of bassy feedback, the problem is finally sourced to the bass drum mic and largely resolved. Fortunately, the crowd is patient enough to persevere, and the set is well received. The band had previously announced that they would be playing a raft of new material, but the difficulties with the sound led them to retreat to the safe harbour of their older tunes. Again, I'm sure there will be plenty of opportunities to hear these new songs next year. The rather boomy sound plays into their hands as the set reaches its conclusion, as it makes the outro to standard set-closer "End of Sense" sound absolutely colossal.
Although I had been looking forward to seeing Vola again, I quickly find myself feeling restless and distracted. No doubt that this is in part due to a degree of band fatigue, as it has been a pretty relentless day so far, but that's not quite the whole picture. There's something almost freakish in how closely Vola's live sound matched their recordings, and the more I see them, the more this hyper-processed sound feels overly clinical, and it knocks the potency out of their beefier riffs. Even with the new material – and today's show coincides with the release of their second album Applause From A Distant Crowd – Vola feel a little caught between two schools, not quite managing to give a proper gut punch to the heavier sections nor making the quieter passages really delicate or vulnerable. Instead, it all feels a bit sterile. Or perhaps I'm just hungry, so I duck out to demolish a delicious plate of jerk chicken. I know I will at least have another chance to see them, after having familiarised myself with the new album, when they come through London with Monuments in November.
I return to the main stage for Caligula's Horse, one of three Australian bands kicking off a long European tour together at the festival (I Built The Sky having played whilst I was eating my chicken). Having already seen them on their last two trips over to Europe, my expectations were high, but Caligula's Horse comfortably surpassed them. The main stage is by far the biggest I've seen them play on, and they fill it with ease. The set is unsurprising weighted towards fourth album, In Contact, released last year, but the band still reach back into their discography for some choice cuts from older albums, like "Dark Hair Down" and "Rust".
Jim Grey shows that he is both a gifted vocalist, especially with some extended excursions into his falsetto register, and a particularly engaging frontman with a well-honed line in amusing between-song banter. He invites the crowd to sing the opening notes of a truly epic rendition of "Song For No One" with the phrase "… because we're all metal cunts, let's have a sing-song". It is an inspired choice, and the crowd lends it their full voice, making it an early contender for the best song of the festival and, ultimately, Caligula's Horse my favourite band of the whole festival. If I have any complaint at all about Caligula's Horse, it is that the guitar solos are just a bit over-shreddy for my tastes, but in the context of their noticeably more weighty performance on stage to on record, they add to the overall theatrics and bombast of the set. Outstanding, engaging stuff.
Tour buddies Circles follow hot on their heels down on the second stage, making their first European appearance since making changes to their line-up and releasing second album The Last One over the summer. The second stage is full to bursting as they begin, and it is only through ducking out of Caligula's Horse during their final song that I've been able to secure a reasonable vantage point. Presumably in order to ram home their new configuration, the set begins with the three strongest, most uptempo songs from The Last One. There are echoes of previous vocalist Perry in new vocalist/guitarist Ben's voice, which means that he is comfortably able to replicate the older tracks when they appear. "Another Me" is the first track from Infinitas to be aired, and it finally kicks the moshpit into life. The pit remains active for the remainder of the set, making it a bit of a shame they left it quite as long as they did before throwing in an older tune, but the band deliver a solid set featuring the very best of their material, new and old. I leave pleased by the knowledge that this European tour will be rolling through London in early November, and I will get the chance to see both Circles and Caligula's Horse again before they trek back Down Under.
It is left to Monuments to close out this first, fantastically busy, day of the festival, and I am confident they will do so in style. Like Vola, Monuments have chosen today to release their third album, Phronesis. As you might now have seen, I was slightly underwhelmed by the album, but nevertheless I was confident that Monuments would still put on a show worth seeing. An all-new orchestral intro tape segues neatly into Phronesis opener "A.W.O.L", which has 'instant classic' stamped all over it. The band have been away from the stage for a couple of years, and with only a single warm-up show in the UK the previous night, they are clearly a little rusty, but it doesn't take more than a couple of tunes for the band, and frontman Chris Baretto especially, to loosen up and remind us how Monuments have earned such a powerful reputation as a live band.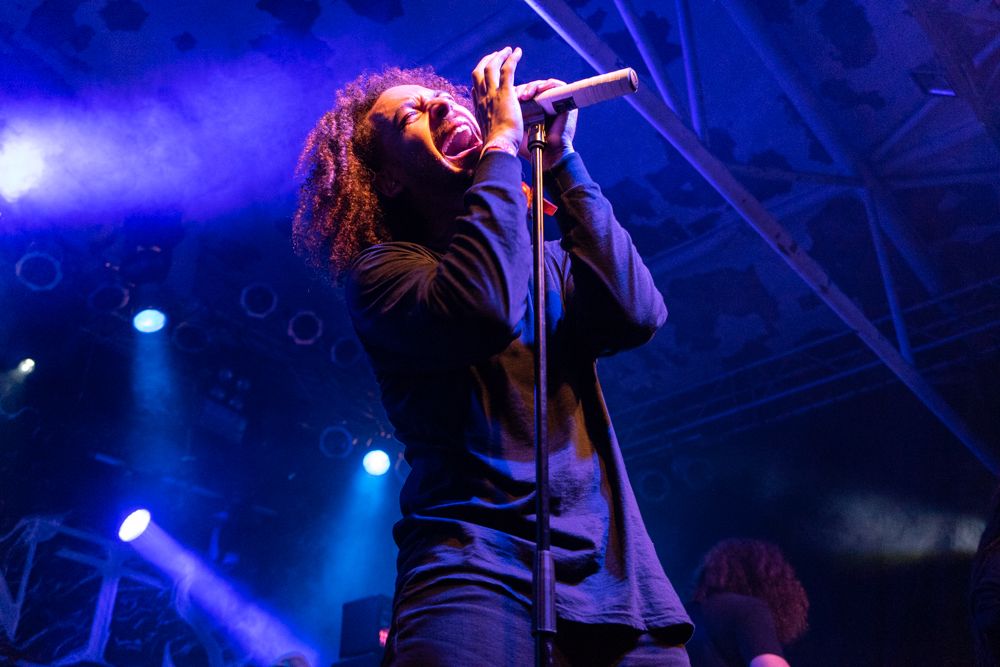 The Phronesis tracks hit mostly in the first half of the set, and the band are joined onstage by Renny Carroll, who provided the vocals on Browne's solo Flux Conduct album Yetzer Hara, for the poppy "Mirror Image". These new songs sit comfortably alongside the older material, like "Doxa", with the elements that made Phronesis a bit of a disappointment for me taking a back seat. The crowd laps it all up with a vigorous pit and a fairly steady stream of crowdsurfers. A long-standing set piece of getting the crowd to crouch down during the introduction to "Regenerate" before bouncing back up as the main riff drops barely needs any introduction at all, and Chris does a full forward flip onto the crowd before being carried right out past the sound desk on their upstretched arms. In a neat touch, the band's old intro tape is used to fill the hole between the main set and the encore, which opens with possibly their best song, "Origin of Escape". When all is said and done, Monuments really are the best live band this whole scene has produced, and they deliver a set fit to close out the strongest day of the weekend, and I'm sure that by the time the tour the band are kicking off today, with Vola and Kadinja in tow, comes to an end in November, any cobwebs we might have seen this evening will be a dim and distant memory.
Saturday
Locals Kill Wolfhead open up the second day down on the second stage. They are a relatively new band playing one of their very first shows this afternoon, but kick out a polished, professional sound, featuring some anthemic choruses and nice falsettos, slotting neatly into the same atmospheric/melodic prog-metal space as Soen and Sumer. A fairly healthy turnout for this early slot will also have put the band on more people's radars, including my own and whilst it is clearly early days for them, I'll definitely be keeping an eye on what they do next.
Late additions to the bill Ayahuasca are a daunting proposition, especially for the sound guy. As I recently said in my review of their debut album Beneath the Mind, they feature three guitarists and a pair of percussionists in their eight member line-up. Despite not having an enormous profile, they are clearly popular with the locals and regulars, and a small but spirited bunch are dancing at the front for the full duration. Of course, any mention of extra percussionists makes a Slipknot reference inevitable, and numerous South American reference points make a Sepultura comparison equally likely. And Iowa-meets-Roots is about as succinct a description of Ayahuasca's sound as you are likely to find. Throw in the labyrinthine prog-metal song arrangements of Deliverance-era Opeth, and you're even closer. When all eight members are in full-flight on some monolithic tribal-metal barrage, it is one hell of a spectacle to witness, especially this close to lunchtime. Ayahuasca's music is as ambitious as it is visceral, and whilst they sometimes lose their way a little in the songwriting, onstage this matters an awful lot less, and it's impossible not to be swept along by the relentless yet constantly shifting torrent of riffs and rhythms. I certainly hope that they can overcome the obvious logistical nightmares involved, and play more shows further afield once their album drops in early November.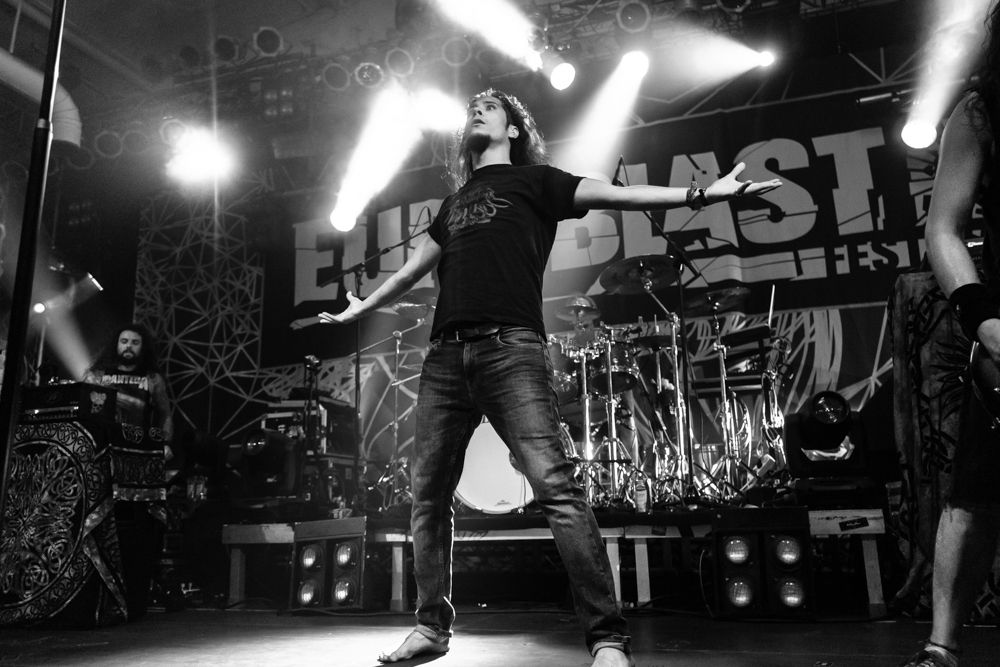 I do my best to watch Cabal, but I arrive far too late to get anywhere near the stage. So all I can see is the occasional headstock, the top of an actual head and the peculiar wooden constructs the band place at the front of the stage. It sounds, however, like the world is ending. Relentlessly desolate and uncompromisingly heavy, like a more Meshuggah-influenced Black Tongue, mixing blackened blast beats with neolithic breakdowns, they push out a level of unbridled filth that is only really surpassed this weekend by Humanity's Last Breath. With the conditions not really being ideal, I resolve to catch them again next time they're in London so that I can properly wallow in their dark and foreboding tunes, and pick up a copy of latest album, Mark of Rot, to familiarise myself with them in preparation.
Rolo Tomassi's appearance at the festival feels a bit more surprising than it should. Perhaps because they have more of an art/math-rock heritage, and are built upon a post-hardcore chassis rather than a tech/prog metal one, they feel like they are the stylistic outliers of the weekend. However, with their last couple of albums, including this year's excellent Time Will Die And Love Will Bury It, they have smoothed out some of their more dissonant, spiky edges and become rather easier to swallow for the uninitiated in the process. Today's set is drawn exclusively from Time Will Die… and it's predecessor, Grievances, so the set is balanced between surprisingly caustic venom and more delicate and wistful, almost cinematic passages.
Their performances are always somewhat enigmatic, with the majority of the band maintaining a largely impassive, static presence onstage, and frontwoman Eva whirling around between them with her distinctive and elegant interpretive dance moves. Interestingly, Eva uses separate microphones for her clean and harsh vocals, presumably to give her impassioned screams an even more cutting tone. Occasionally, James will step out from behind his keyboards, pick up a mic and join Eva bouncing around the stage. There is a small but fierce pit in front of the stage, but in the main the large crowd appear to be there more out of curiosity, and that they remain engaged throughout suggests that although Rolo Tomassi may have taken an entirely different route to the majority of the bands on the bill, they have arrived in a place where they share enough qualities to feel at home in this company, and be appreciated by this fanbase.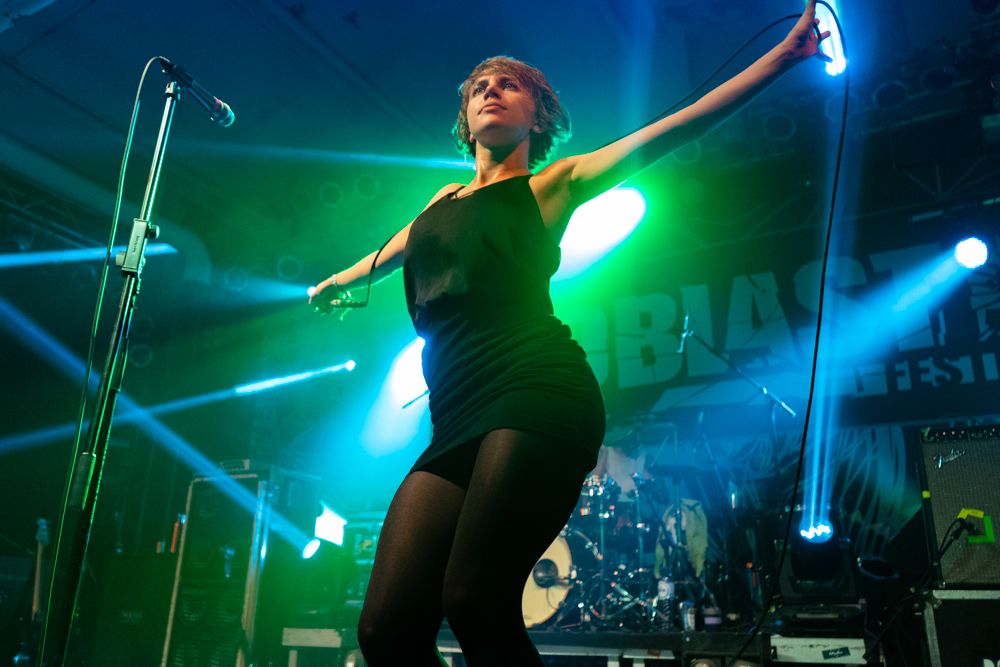 Valis Ablaze are probably the second stage band that I had most hoped would get a main stage slot, as it would have been more favourable to their atmospheric, melodic prog-metal, but they are treated to another downstairs full house that leaves me struggling to find a decent vantage point. Since I first saw them open Tech Fest back in 2014, I've seen the band go through a steady stream of line-up changes and tonight the band are playing with Leon from Unprocessed standing in, following the recent departure of long-term drummer Rich New. I probably don't have much more I can say without repeating myself from what I said about their Tech Fest set, but in this subterranean space, the heavier songs in the set work particularly well, and the warmth of the crowd response suggests that Valis Ablaze's star is very much in the ascendancy. With a new permanent drummer waiting in the wings and new material in the pipeline, I hope that we will be seeing a lot more from Valis in 2019.
With this evening's show being the third time I've seen Heart Of A Coward since long-term vocalist Jamie Graham handed his microphone over to No Consequence's Kaan Tasan, the novelty factor of this change has now faded into the background. I don't fully know whether I have become more used to hearing the different timbre of Kaan's voice on these tracks, or if he is becoming more comfortable in the lower registers through practice, but as the band plough through the set it doesn't feel like Kaan only played his first show in this role at the start of the summer. Opener "Hollow" is a little on the quiet side, which robs it of some of its raw power, but the crowd is clearly in the mood for a mosh at whatever volume. They're also comfortable taking directions from Kaan, kicking a circle pit off before "Turmoil I: Wolves" kicks in, and elsewhere the first ten or so rows all link arms for a gigantic display of synchronized headbanging. New song "Collapse" hints at what is to come from the band's next album, and it is interesting to note that it is the only song in the set that requires a guitar change. They close out the set with "Deadweight", and whilst getting the whole crowd to join in with the "I don't give a fuck" refrain may be just a little bit cheesy, it's still undeniably cathartic.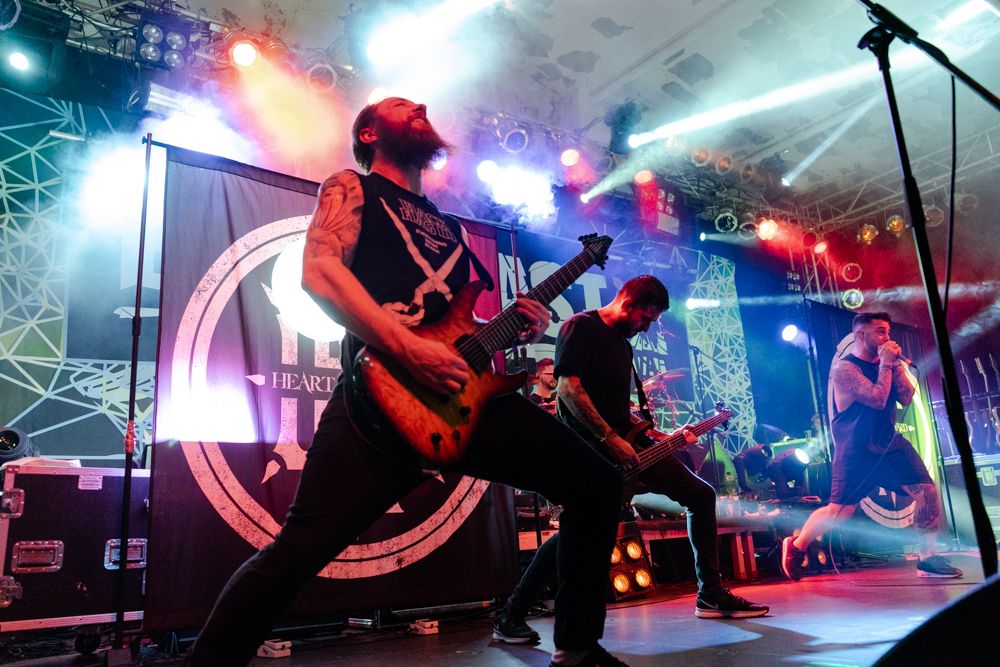 It is safe to say that you can practically taste the anticipation in the room as Vildhjarta's stage time approaches. The band are possibly more closely associated with Euroblast than any other, with the one exception of Monuments, and they have been largely silent for a number of years. But their return has left many, including the pair of chaps stood directly in front of me as we wait for the start of the set, literally vibrating with excitement like a kid who knows they're getting a PlayStation for Christmas. It is safe to say that there is a greater sense of occasion in the room during those final moments before Vildjharta play than I have ever felt before. It does make me feel like a bit of an imposter. I've made my way relatively close to the stage, but as I admitted last month, I've never really considered myself a fan of the band. However, I figure that if I'm going to try and connect with them, then being completely surrounded by people overcome with excitement to be seeing them is just about ideal conditions.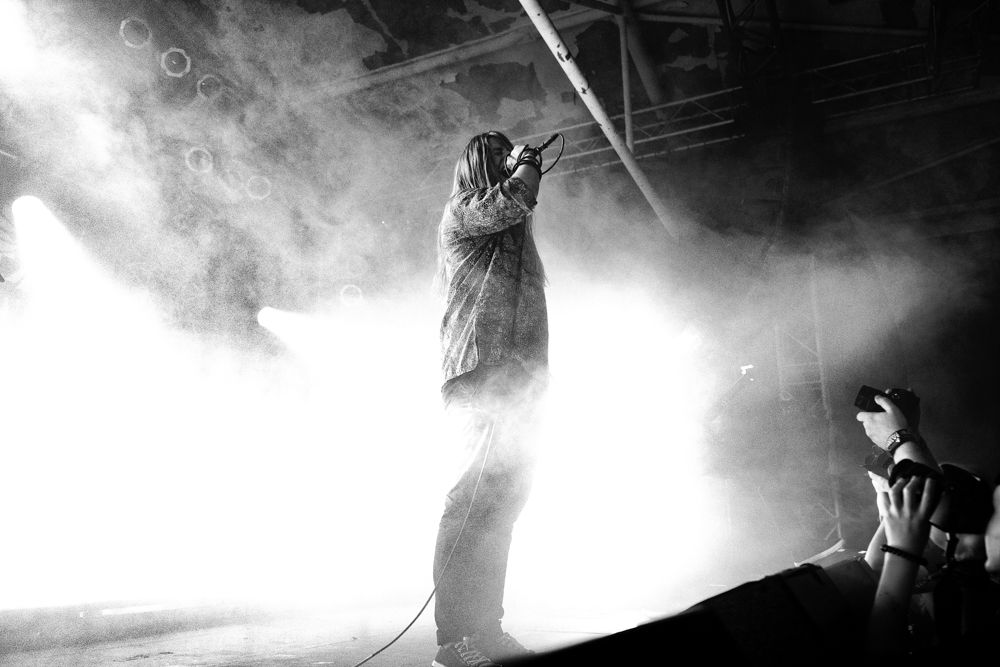 An ominous, rumbling intro tape starts the set, and as I am standing in line with the speaker stack, I can feel it as much as I can hear it. It segues into what is apparently a new, almost post-metal introductory track before the band drop into "Dagger". It is absolutely, completely monstrous. The crowd around me goes at least seventeen shades of batshit and it's impossible not to be swept along with it. The band has been through many and various line-ups, and tonight they appear as a quartet. With backing tracks picking up all of the slack, they are thoroughly bleak and utterly brutal. The set lurches unstoppably from one hulking great riff to the next and it completely holds my attention until "Shadow" ends the main set. After having tried to watch them and finding myself feeling compelled to walk away on three previous occasions, this is something of a triumph. Whilst I will probably never develop the feverish devotion to the band that many who congregated here this weekend so obviously hold, the set definitely gave me a much deeper appreciation for the band and what they do. Hell, as I'm writing these words, I've even dug my copy of Maastaden out from the dusty corner of my mp3 archives where it was hiding for its first spin in a very long time, and it probably won't be the last. If that's not a mission accomplished, then I don't know what is.
Sunday
It takes me a little longer than normal to get myself together on the Sunday, so my first band of the last day is Letters From The Colony. As a Swedish progressive metal band signed to Nuclear Blast, it's probably unsurprising that a Meshuggah influence looms large, and after a choral intro they rip into some punishingly weighty mid-tempo chugs. As they plough headlong through their set, elements of Textures and early Gojira can also be heard. I notice early on that one of the guitarists is live-looping his parts, which is not for the faint of heart. In the main, these loops are executed successfully, but an unfortunate electric crackle works it's way into one of the loops, and although it was saved from complete disaster by being rhythmically in time, it does illustrate the dangers of flying without a safety net. Coupling experimentation with their gear – both in terms of these loops and the range of effects employed – and a greater degree of interplay between the two guitar parts make them a much more interesting proposition than a lot of bands operating in this space, and I pick up a CD for further investigation. Their stage presence is slightly let down by vocalist Alexander not really knowing what to do with himself when not actually singing, but this is a relatively minor concern – certainly one that would not have been an issue at all had they played on the second stage.
Lake Cisco were added to the line-up in the very final batch of last minute cancellations and replacements, so I come to their set almost completely blind. And what I find is thoroughly pleasing. With shades of Agent Fresco, Oceansize and even early Muse, their gently angular melodic prog-rock is easily digestible on this final afternoon. They use a broad palette of effects across both their instruments and occasionally the vocals, and the songs are mature, dynamic and interesting. Digging around, I am surprised to find that their sole available album is now seven years old, but a follow-up is (slowly) nearing completion, so hopefully we'll hear that at some point next year. On a final day characterised by pleasing discoveries, Lake Cisco are the most pleasurable.
Organized Chaos neatly live up to their name by being manifestly unready as their stage time approaches. But with line-checks hurriedly completed as the expectant crowd gathers, they get underway with a minimal delay. We can also give them a little more leeway than most to get their shit together, as Organized Chaos shows are very few and far between. This scarcity is obvious, when one considers the fact that the members of the live band are divided between Serbia and Chile. They are something of a supergroup, too – the project is masterminded by frontman Vladimir Lalic, who will be known to the Euroblast faithful through his contributions to David Maxim Micic's solo material, and David himself plays keyboards for the band, albeit on what appears to be a cobbled together setup with a stand that is clearly several inches too short. Benjamin LeChuga provides guitars, and played here at the festival in his own right in 2016, and he has brought his rhythm section along for ride from South America.
Organized Chaos bring together muscular, prog-metal riffs and grand theatrics in a similar fashion to the Devin Townsend Project, and do so without the slightly goofy twist everyone's favourite Canadian puts on the bombast. The songs are truly epic in scope, dynamic and interesting, and Vladimir is both an incredibly expressive and astonishingly gifted vocalist. The performance of "Cinnamon" is a real festival highlight for me, and the unspeakably gorgeous vocal melodies, with Vladimir wandering freely across his considerable range, genuinely make my head go numb. Wow. The set absolutely flies by, and I am left slightly reeling by what I had witnessed. Certainly, anyone that is sad that Devin has put DTP to bed should consider investigating Organized Chaos a priority.
Whatever you want to call them, Sordid Pink/Destiny Potato have never had the best luck. With tours and festival appearances having to be cancelled at the eleventh hour by visa issues, and interminable delays in the release of their debut album Lun, their path has been far from straightforward. Tonight's show, their first under the new Sordid Pink moniker, came perilously close to not happening at all, as vocalist Alexsandra was involved in a car accident just days before the festival, and performed tonight with broken ribs. Not that it was really obvious – I only found out about these circumstances after the show, and got no indication of these injuries from her performance whatsoever. Well played.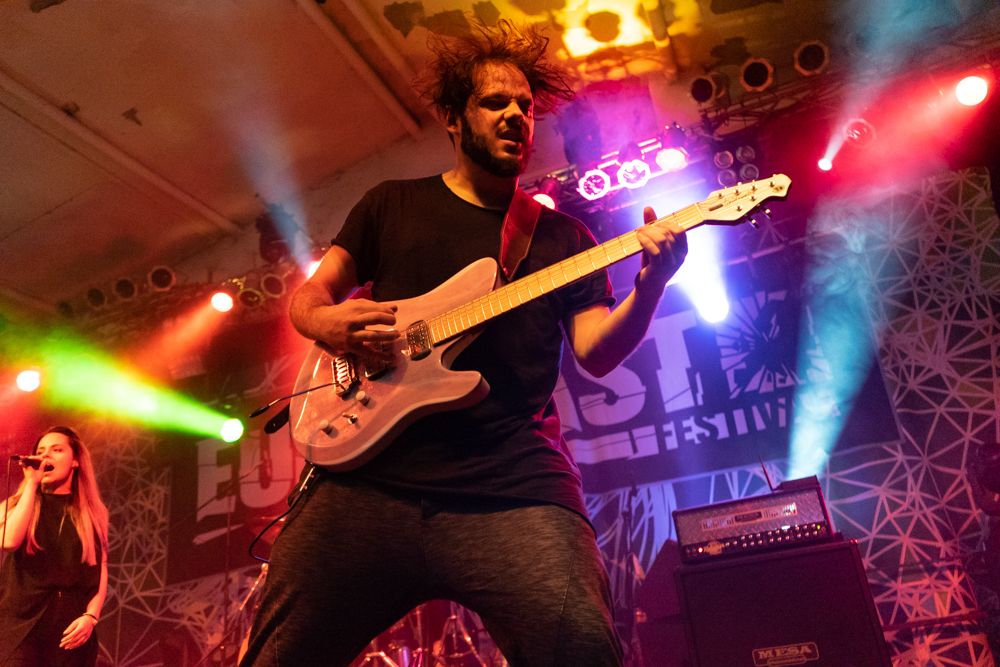 What we get, effectively, is a set of two halves. Taking the opposite approach to Circles earlier in the weekend, Sordid Pink open with three choice cuts from Lun – "Love Song", "Walls of Thoughts" and the irrepressibly bouncy "Take A Picture". There are a few fluffed notes here and there through these songs, but the band – bassist Siebe in particular – are clearly loving being back on stage again. With the crowd warmed up, the band take a sharp turn into the uncharted waters of four new songs. It is clear from this first airing that the transition between Lun and the Sordid Pink material is more evolution than revolution, with the most obvious changes seeming to rest in the guitar tones. The tracks are uptempo and catchy, sometimes even crunchy, but there seems to be a shift away from the more nu-metal/djenty tropes of Lun. All four tracks are engaging, and varied but it is the last, apparently titled "Killer A" that really grabs me with its slinky groove. Sordid Pink seems to want to project – maybe whisper it – a more mature approach, and early indications are that it's working. I can't wait to get stuck into the new songs properly.
As I said last month, in my preview to the festival, Long Distance Calling seemed like an unusual choice to headline a festival like Euroblast. I think we can be confident that pretty much the only people who would have considered them to be in the running prior to the announcement are the few who remember their previous appearance back in 2012. But, after a heavy (in every sense of the word) weekend watching bands of varying degrees of glitchy awkwardness, closing out the weekend with a set of straightforward, atmospheric yet riffy post-metal proves to be an inspired choice, and an excellent way to start preparing to rejoin the real world again.
Before the band take to the stage, I notice that the band elect to place their guitar cabs at either side of the stage, facing each other, rather than behind the band. I'm sure this does wonders for the quality of the onstage sound, and I am slightly surprised that this simple yet elegant solution isn't used more often. Racking my somewhat addled brain, it is only Intronaut that I can recall seeing use this arrangement in the past. Additionally, when they do emerge, Long Distance Calling are one of just a handful of bands who only address the crowd in German. It shouldn't really be that surprising that a German band playing in Germany speak in their mother tongue, but it does ram home just how spoiled us native English speakers are, and just how rarely we've had to deploy our faltering and wildly inadequate high school language skills over the course of the whole weekend. The British educational system, it seems, is content with leaving it's students prepared to ask where the railway station is, but wholly unprepared to understand the directions that inevitably follow.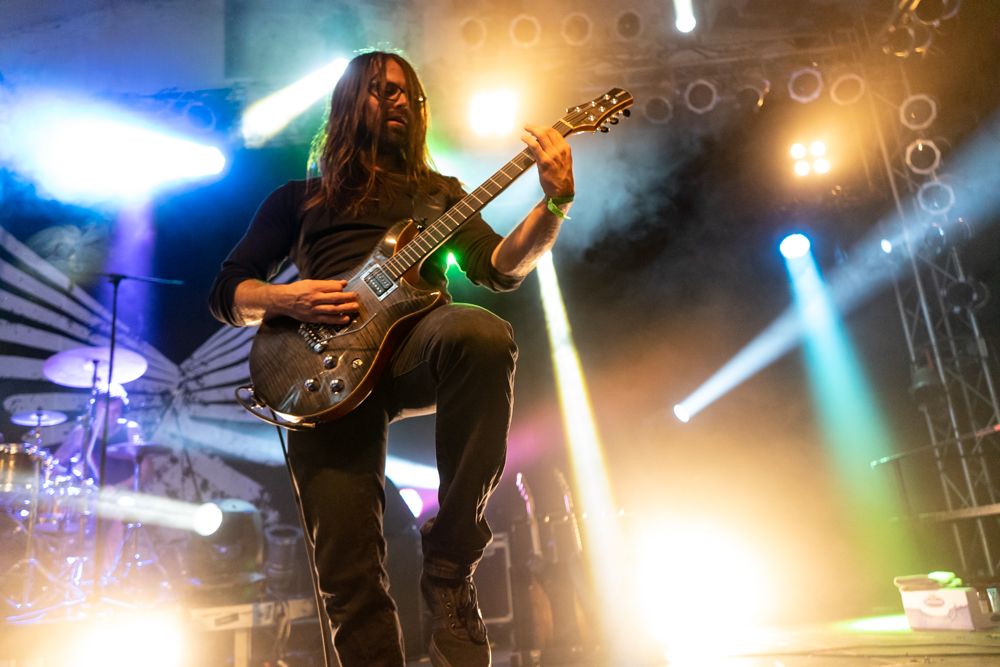 The band's crunchy post-metal washes over the swaying, nodding crowd like a wave, with straightforward and satisfying riffs melting breaking down into ambient spaciousness and building back up again. The real key to the success of their sound lies in the finely honed simplicity of the riffs, which take on a hypnotic quality as they gradually shift through variations on their themes. This approach requires considerable discipline, and they carry it off as successfully with post-metal as Karma to Burn do with desert rock. There's not a tremendous amount to say about it, other than I am utterly transfixed, spending a considerable portion of the set with my eyes closed. It is probably the most engaging, engrossing, transcendental post-metal set I've seen since Isis left the stage, and I really can't think of any higher praise than that. I may have arrived at the set in exactly the right frame of mind for what Long Distance Calling have to offer, but I get the impression it wouldn't take them long to get me in the right frame of mind irrespective of their mood. I just wish that they would come to the UK once in a while.
So Long Distance Calling provide an exceptional grand finale to a particularly successful weekend. Whilst I did see a few bands where I didn't really feel like I had very much that was meaningful to say about them, it was more because they were simply not to my tastes than because of poor execution. I am not, for example, really sure what I could say about Humanity's Last Breath than it was like being punched in the face repeatedly for half an hour. I think that's a good thing. Euroblast is home to a wide and varied basket of tastes, and you really can't win them all. What's more, time spent not watching bands is time spent socialising inside a close-knit community of like-minded progressive music nerds, so it's not exactly wasted time.
With the festival having lived in the same venue for a number of years now, much like Tech Fest, the regulars and the staff all know the drill, and the weekend at least gives off the impression of running smoothly. The venue is almost an ideal shape and size, but in trying to function as a regular concert venue for an entire weekend, it does cause some logistical irritations. Not being able to bring in any food or even soft drinks makes for a more expensive festival experience, and not being able to buy drinks in resealable containers – or even carry in a refillable water bottle -is a headache for someone trying to write in a notebook in the dark and juggle a glass of Fritz Cola. But any irritations are minor ones, and the overall experience is overwhelmingly positive. Yes, it might also be nice if the second stage was a little bit bigger, and didn't present such a challenge to sound engineers, but I also find it hard to believe that there is another venue, pretty much anywhere, that is more suited to Euroblast's needs than Essigfabrik, and the occasional minor headache or inconvenience is, on balance, a price worth paying for the overall experience – and it's an experience I think everyone who has even a passing interest in the types of bands I've talked about here should have at least once.
Coming Soon
As I put the finishing touches on these words, I am embarking upon a much anticipated string of shows in November that will put some of my absolute favourite bands in front of my face, and will take me out of the capital on two separate occasions – up to Nottingham for a trip down memory lane to the turn of the millennium with Pitchshifter, earthtone9 and The Blueprint, and down to Brighton to watch the final, homecoming show in Toska's tour supporting the release of their excellent debut full-length, Fire By The Silos (I'll have more to say on that elsewhere in the not too distant future), with ludicrously talented younglings Hypophora in tow. I also get to see Sumer (again) and the truly wonderful The Hirsch Effekt at a Tech Fest-sponsored all-dayer, riff monsters Armed For Apocalypse lay waste to a tiny pub and finally get the chance to see Boss Keloid playing their expansive and distinctive stoner-prog.
The chances are that by the time you actually read this, I will have seen my 200th set of the year (if my calculations are correct, it will be Rosetta, supporting The Ocean), so as well as looking back on a busy November next month, I'll also be trying to drag together some kind of collected appraisal of my year in live music as a whole. That will be fun.