One thing we try to emphasize here at Heavy Blog on a regular basis is just how much we rely on and appreciate you, our readers, for our continued existence and whatever modicums of success we achieve. This isn't just us trying to artificially flatter you all for cynical purposes. It comes from a truly genuine place. Though all of us here have our very distinct perspectives and viewpoints that guide the general direction and tone of the website, we are always keeping an ear to the ground and eyes on what's going on around us to make sure we're doing the best we can to keep giving you all reasons to stick around with us. And in a time when the fates of news and media sites large and small continue to be as precarious as they've ever been, it's incredibly important that we continue to adapt to the new realities of media consumption. While it's true that we don't have the same financial pressures of many of our peers by virtue of the fact that we remain a completely independent, volunteer-run, not-for-profit institution, it also means that the margin separating us from continuing to exist and even grow what we're doing and being unable to operate without losing a lot of money is incredibly thin.
Thankfully we've been far more on the former end of things than latter over the past few years. Those of you who have been with us for a while may recall that we made a few significant changes to our overall strategy and output in 2015. We did a major site redesign and overhaul, we stopped focusing our energy on covering news items, and we doubled down our focus on offering the best in music curation and recommendations, as well as new focuses on in-depth analysis and commentary of said music and the environments in which they exist. This also coincided neatly (and purposely) with our first ever reader survey. Though we haven't made any other seismic changes to Heavy Blog recently, we are consistently tinkering with how we present content, where we place our resources, and more to give everyone the best experience we can manage. We're already looking to 2019 as a year to try some exciting things, as well as generally celebrate (if you look at our logo you may notice some significance in the year 2019) and think big in general.
So in the spirit of that, we are launching our second-ever reader survey! This one is a bit more compact and lighter than the previous one and should only take a few minutes to complete. We are mostly only looking to learn a bit more about you all, what you're most interested in, and what you might be most interested in looking ahead. It would mean a heck of a lot to us to hear from you, and it will go a long way to helping us plan the coming year and beyond.
Just to show a token of additional appreciation to everyone who contributes and helps us, we will be offering a 25% discount on all Heavy Blog-branded t-shirts available in our merch store hosted by our good friends at A Thousand Arms. You will need to enter a discount code in order to receive the discount, which you can find on the survey upon completion. Just hit submit and look for the message that pops up. Like the survey itself, the discount code will be active from October 29 through midnight of November 12 (as in 12am Monday, the 12th). If you run into any technical issues with either the survey or using the discount, please message us either at our Facebook page or through e-mail at [email protected]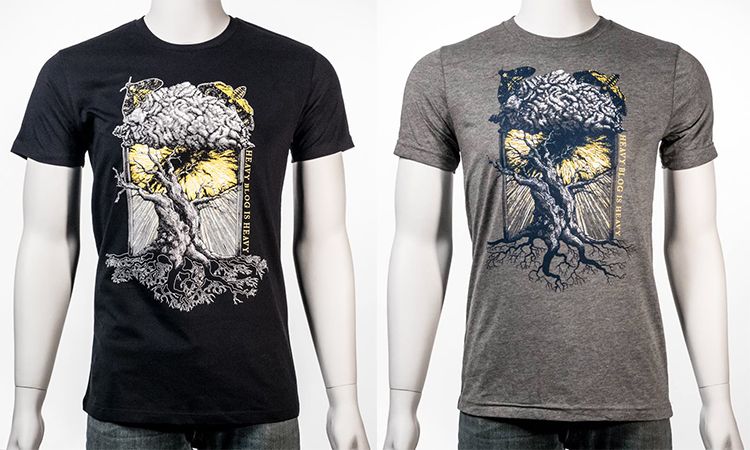 Once again, from the bottom of our hearts, thank you for reading and following us. Your continued support means literally everything to us, and we can't wait to see what you have to say and turn it into exciting things for the future of Heavy Blog!