Even a cursory glance of our biweekly playlist updates will reveal that there is a great deal of variety among our staff's musical tastes. Due to this, we brainstormed the idea of Playlist Swap, where two of our contributors pick their favorite track from each of the nine albums in their grid and then send the list over to the other person to listen to and comment on. Within these commentaries occurs praise, criticism and discovery, and we hope that you experience a few instances of this last point as well. This week's post brought Pete Williams and Jonathan Adams together to peruse each other's tastes:
Pete's Grid and Jonathan's Comments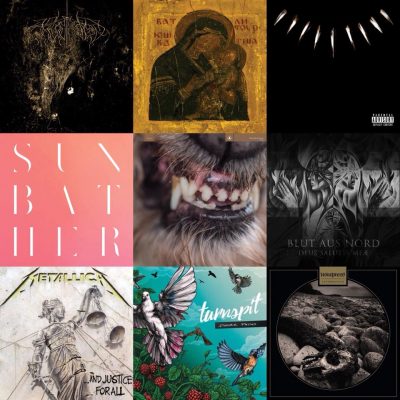 Wolves In the Throne Room – "Vastness and Sorrow" (Two Hunters)
Well, waddya know. My favorite track from one of my favorite bands' best album. Well done, Pete. There's a reason we're buds. Wolves In the Throne Room is an exceptional band with few (thought this point is hotly contested among fans of the band) missteps in a storied and fantastic career. I could fill an entire post with thoughts regarding Two Hunters, but "Vastness and Sorrow" is an excellent encapsulation of what makes this album work so well. The track's emphasis on melody, coupled with the sheer ferocity of the rhythm guitar and drums, plays out through the entire record. There are moments of grandeur (like that guitar solo-turned-duet at the 7:15 mark), abject audio violence (pretty much everything following that moment), and melodic earworms (consider the delightful intro as an example of the type of black metal that gets stuck in your head and won't leave). All of these elements combine to create not only one of the best tracks on the record, but of the band's entire career. Mad props on this pick. Couldn't love this thing more.
Batushka – "Yekteniya I: Ochishcheniye" (Litourgiya)
No one else sounds like Batushka. Their brilliant and ethereal mix of Eastern Orthodox soundscapes and textures coupled with the roiling undercurrent of black metal makes for some absolutely riveting music. This track opens the album with a bang, and I dig it so hard. While I don't think it is my favorite track on the record (that honor would belong to the absolutely stunning and haunting "Yekteniya VI: Upovanie"), you would be hard pressed to find a song more representative of the band's sound and vision in Litourgiya. The chiming of bells, stunning guitar play, and liturgical singing that opens the track sets the foundation for the absolute wonders the rest of the record contains. But these elements serve not just as a gimmick, but as the backbone of the album's melodic leanings. Even as the black metal songwriting comes crashing through the door, that melodic and sacrosanct element weaves its way through every single track, creating a sonic uniformity that is as diverse and rich as black metal albums get. This is a premium track from a premium album and if you haven't heard it you are doing yourself a grave disservice. Utterly mesmerizing stuff.
Kendrick Lamar and SZA – "All the Stars" (Black Panther)
While I enjoyed Marvel's latest film Black Panther quite a bit (though it is most certainly not a perfect film, and not the best in the MCU in my objectively correct opinion), the score by Ludwig Goransson is simply phenomenal. In addition, Kendrick Lamar's curated album of music inspired by and included in the film is equally fantastic. Featuring the fantastic vocal work of SZA, who dropped one of my favorite records of 2017, the track is an emotion-filled anthem that is worthy of the film it is contained in. While I do feel like Kendrick sort of phoned in his performance here, which honestly still makes it better than 95% of all modern music at this juncture of his career, SZA delivers a magical vocal performance that feels organic, sincere, and utterly fantastic. It's immensely refreshing to hear a song written for a film that is written and performed with skill and originality, and SZA knocks it out of the park on this track. Definitely worth a listen for fans of either artist, the film, or music that riffs on a singular theme with creativity and verve.
Deafheaven – "Sunbather" (Sunbather)
Good lord. The hits keep coming. Pete and I have very similar black metal itches to scratch, and Deafheaven may be my favorite post-black pleasure of all. I first heard this band when this album dropped. After my first listen I knew that there were parts of it that I liked, but on the whole it didn't impress me all that much. Fast forward to a month later, and the album was still on my mind. I decided to give it another spin, and that was the end of that. Have been one of my favorite metal acts since. This track is a really good example of their triumphant, slightly melancholic, emotionally resonant songwriting, with Kerry McCoy's guitars drenching the track with as much gorgeous atmosphere as one could want. George Clark's vocals, as always, are throat-shredding and passionate, creating an all-consuming environment of musical transcendence. I love this band and track so much.
Blanck Mass – "The Rat" (World Eater)
I tried to get into this Blanck Mass album a few months back. For some reason I just wasn't feeling it, and didn't finish it. Perhaps it was just the musical mood I was in, because this track is pretty neat. After doing a little research on Blanck Mass, I also learned that it's the side-project of Benjamin John Power, who comprises half of Fuck Buttons (whom I love). So color me intrigued. This track is a bright, synth-infused trip through some fairly pleasant electronic waters. The foundational beat is chunky and propulsive, creating a nice juxtaposition between heavy and airy elements. While not as fundamentally aggressive as Power's other band, "The Rat" is not at all unpleasant to listen to. Excited to dive more deeply into this record.
Blut Aus Nord – "Imperius" (Deus Salutis Meae)
Blut Aus Nord has made some utterly fantastic music. From their Memoria Vetusta trilogy of records to their early masterpiece The Work Which Transforms God, the band has never been afraid to push the black metal envelope into avant-garde and progressive territory. This record, however, is a whole lot darker and more sinister than their standard fare. "Imperius" is a punishing, somewhat ethereal track that is honestly one of the creepier and hellish numbers the band has written. While this album didn't stick with me as deeply as other records in their discography, I can appreciate their desire to explore darker realms within the black metal cosmos. This track buzzes and crackles like a demonic beehive, festering, rotting, yet always moving. This darkly propulsive nature lends the track to pull shades from bands like Deathspell Omega, who thrive on this breed of existential audio nightmare. Will be returning to this track and record soon.
Metallica – "…And Justice for All" (…And Justice for All)
Confession: I don't really have a favorite Metallica album. The reason behind this is that my affiliation to Metallica's sound shifts on a regular basis. I've been through my Kill 'Em All phases, while at other times I'll tell you with absolute conviction that Master of Puppets is vastly superior to Ride the Lightning, then vise versa. But the album that has probably spent the most time atop my Metallica best-of list is …And Justice for All. It isn't a perfect album, but it sure as hell comes close. This track may be the best of the bunch as well. Political, abrasive, and an absolutely essential example of how thrash has that uncanny ability to cause me to bang my head like my life depended on it. My only reservation about Metallica's stature in the thrash movement of the 80s is Lars, which is probably the most clichéd opinion one can have about Metallica. But here I find Lars' drumming to be fitting to the track (and actually not half bad throughout most of the record). The solos here are highlighted by Ulrich's more basic drumming patterns, but this album was never meant to be about the drums anyway, so such an emphasis serves this track incredibly well. There are so few things that I dislike about this track and album on the whole that now I'm ready to call it Metallica's best album again. But talk to me next week. We'll see where I'm at.
Turnspit – "Walk Away" (Desire Paths)
Hm. Okay, not a huge fan of this track. I've heard a lot of good things about Turnspit, and their take on pop-punk feels super 90s, which typically gives me the nostalgia-induced feels. Which is not at all a bad thing. But this track just doesn't really do it for me. The riffs here are pretty derivative of better bands, and the vocals are fairly uninspired. It's pleasant enough to listen to, but on the whole I feel pretty lukewarm on this. There is a mini-solo that I find to be quite nice, but overall this is pretty white bread to my ears. If 90s pop-punk nostalgia is 100% your bag, I can see you enjoying this track to some degree. Just not for me.
Usurpress – "In Books Without Pages" (Interregnum)
Yes. Ooooooh yes. Usurpress is something else. In his review of their new record, Pete himself described them as the result of Tom Waits and Hubert Selby Jr. deciding to write a death metal record. He's not far off. The vocal stylings here perfectly balance the syrupy, slightly sinister vibes found in an early Waits record, while encasing these cleans with some fantastic harsh vocals and melodic death metal music stylings. This entire album is fantastic, but this track in particular sticks out from the pack by exemplifying the juxtaposition of heavy/light/experimental/dark sounds contained in the album really well. This track just rules. If you're looking for a healthy dose of melodic death metal, pulling influences from lots of places, give this thing a spin.
Jonathan's Grid and Pete's Comments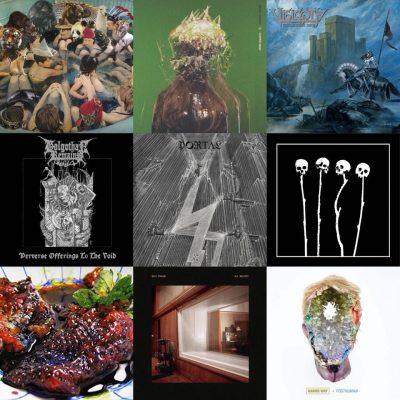 Panda Bear – "Bros" (Person Pitch)
As I was listening to this, I remembered how into Animal Collective I was for a time in college. "Oh great," I thought. "Just a little nostalgia for me!" Of course I forgot how weird Panda Bear can get. There's a unique Syd Barrett quality to the song. It's experimental and trippy and weird in a uniquely delightful way. There's also a heavy reverb over the whole track, giving the song a great dream pop quality. After the 4th minute, it just becomes a test of endurance to me. While it's definitely interesting to hear how a musician can use the studio as an instrument, at a certain point the attempt becomes tiresome. The whole song is basically the same chord progression and rhythm, too. I was also walking through a snowstorm while listening to this so I'm a little biased against it.
Night Verses – "Vice Wave" (Copper Wasp)
Normally this isn't the kind of thing I'd put into a playlist for myself. Bands like Night Verses that have really tight production quality with the distinct qualities of every instrument standing out just doesn't jive with me. However, I was listening to "Vice Wave" when I made an astounding realization: this is the soundtrack to a dystopian Mega Man game. There's a rigid technicality to it that makes me think of the bitchip Mega Man soundtrack. Combine that with the line, "A man is like a computer/to the extent that he is created/But he is more than a computer", and you've got some serious robot commentary going on.
Visigoth – "Warrior Queen" (Conqueror's Oath)
This song drips with cheese, which is normally a massive turn off for me. What is doubly weird is that I very recently got into a bar argument over Judas Priest vs. Iron Maiden (Priest forever!). But something about Visigoth just seems different to me. It's not like Iron Maiden trying to relate some esoteric long forgotten battle in Europe which always seemed so pedantic to me. Visigoth fully embraces the cheese and is completely committed to the tropes of traditional heavy metal in that same vein. As much as I want to deny it, I do love a good dual guitar fill.
Golgothan Remains – "Vehemence (Through Pain Divine)" (Perverse Offerings to the Void)
Jonathan and I are good friends I'd say. We talk daily about all kinds of topics. Music, politics, movies, games, people who we find reprehensible, friend stuff. Jonathan has more or less figured out what my musical tastes are. This ain't it.
Not to say this is bad or anything! I could see why some people like it. To me, this is incredibly dense death metal. To death aficionados like Jonathan, this is probably just the greatest. I'm more of a thrash guy myself, so I have to power through it and find something here. The…grunting was nice? Blast beats blew my ear drums, so that's cool? Dude, I don't know. Gimme something to work with.
Portal – "Crone" (Ion)
Oh god, it's Portal. Exact first thought when I saw them on Jonathan's list. Not that I have something against Portal at all. I really appreciate their aesthetic and talent. These musicians are clearly crazy talented. But there's something about the dissonance on this one that just doesn't agree with me. What I do love about Portal is how they make everything they do completely menacing. There is something very unsettling about that riff.
Alright, fine, I like Portal now. But I will never admit Jonathan won.
Gnaw Their Tongues – "The Doctrine of Paranoid Seraphims" (Genocidal Majesty)
This honestly sounds like what Jigsaw hears when he closes his eyes. It might be the sound of pure evil. There's no way Jonathan was looking forward to listening to this. But as I had that thought while listening to this, another one came to me: what would the average person do while listening to this? I don't think you're listening to this while playing ping pong or building a ship in a bottle. I don't think you could listen to this while doing the dishes. You have to be doing something creepy, like making doll eyes or stuffing a dead animal.
Animal Collective – "Fireworks" (Strawberry Jam)
Finally something I can immediately gravitate to! As I said earlier, I was really into Animal Collective for a little while in college. The experimental take on pop music was refreshing at the time. I grew up mainly with contemporary country radio, so I would listen to anything but that. When Animal Collective came out, I was completely stunned. I still don't know what they're doing when they play these songs. The idea that they wrote this song is completely mind-boggling.
Nils Frahm – "All Melody" (All Melody)
I had coincidentally heard a Nils Frahm song about a week ago and thought it was an interesting thing to add to the playlist. Applying his classical music education with electronics, Frahm weaves such unique musical tapestries. Many of these tracks combine both acoustic and electronic instruments, but this is one of the more digital songs on the album. Despite the unconventional approach, you can still hear the baroque style. I find myself in the mood for something like this occasionally, so I'm stashing the rest of this one away for later.
Harm's Way – "Call My Name" (Posthuman)
There's something about this song that I can't quite put my finger on. I'm not usually one for the shout vocals but that's not my problem with it. I like the riffs but I don't love the track. I don't even think it's a bad song. I found myself getting into it a bit. But there's just something about their sound that just isn't for me. I can see why some people might like this, and I probably know a few of them. But just not for me. Considering what I have had to endure for this playlist, it could have ended on a much worse note.