As a fan of forward-thinking music, it's been thrilling to watch Travis Laplante grow into an essential experimental artist over the past several years. As both a saxophonist and composer, Laplante has created and contributed to some of the most exceptional releases in modern classical and avant-garde jazz. In between his incredible work with avant-garde jazz-rock ensemble Little Women and leading the boundary-pushing tenor sax quartet Battle Trance, Laplante's found time to collaborate with other artists of the same experimental ilk, such as trumpeter Peter Evans, percussionist Ches Smith, and indie pop duo Buke and Gase. Throughout his career, Laplante has revealed himself as a sort of "selective workhorse," in that his consistent output is comprised of albums that each feel meaningful and unique instead of just music recorded for the sake of releasing new material. A Dance That Empties continues this narrative in spectacular fashion; just under a year and a half after dropping Battle Trance's phenomenal Blade of Love, Laplante returns with percussionist Gerald Cleaver to debut as Subtle Degrees. The duo's music leverages the most transcendent elements of avant-garde jazz, modern classical and experimental folk music, drawing on each player's individual strengths and musical cohesion to further elevate the celestial, spiritual qualities of Laplante's composition.
As a New Hampshire native, I feel compelled to explore the New England origins of A Dance That Empties. The album was recorded late last year at Guilford Sound in Guilford, Vermont, less than 15 miles west and north of the NH and Massachusetts borders, respectively. Though Laplante's composition feels sweeping and universal, the backdrop of rural New England is fitting, as the duo's performances take on the added context of being surrounded by nature and within tight-knit, small-town environments. Similar but distinct from Laplante's approach with Battle Trance, his three-part suite sees Subtle Degrees exploring themes deeply rooted in the naturalistic world while attuned to the historic and sacred themes flowing throughout interpersonal interactions and the worlds in which they occur. Subtle but poignant and minimal but all-encompassing, Laplante and Cleaver extrapolate profound musical statements from their respective instruments, making for a sax and percussion collaboration on par with classic albums like John Coltrane's Interstellar Space.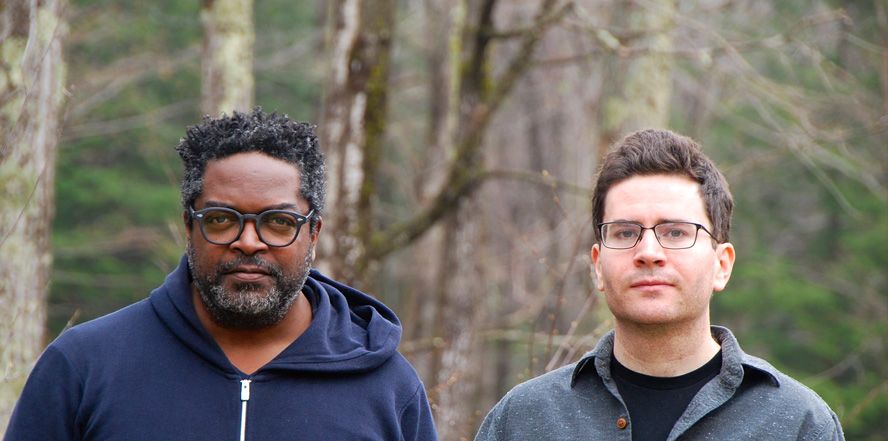 From Left: Gerald Cleaver (percussion) and Travis Laplante (tenor sax)
From the first moments of "A Dance That Empties I," the balance present between Cleaver and Laplante is abundantly clear and impactful. As Laplante cycles through extended techniques to unleash rhythmic, Colin Stetson-esque patterns, Cleaver confidently thunders underneath, providing just enough percussive accentuation to flesh out the composition and create a more triumphant grandiose musical whole. Laplante's reed work is truly incredible throughout the track, as he demonstrates pure mastery of circular breathing through increasingly frenetic patterns of notes that gallop alongside Cleaver's pounding drums and carefully placed cymbal crashes. By the end of the track, Laplante has developed a complex, heavily rhythmic melody, which proves his awing ability at commanding his instrument.
On "A Dance That Empties II," Laplante channels the organic traits present in Battle Trance's compositions, with a crooning drone reminiscent of a loon call providing a graceful introduction to the duo's jazzy interplay. The segment is perhaps the most "traditional" part of A Dance Tham Empties, with Laplante's passionate riffs representing the ardent tones of pristine tenor sax playing and occasionally incorporating multiphonics, drones and the like. Towards the end, Laplante throws in some cascading classical scales before forfeiting the floor to Cleaver, whose consistent rumbling is as enthralling as an accompaniment to Laplante as it is as its own focal point.
At nearly 20 minutes, "A Dance That Empties III" is the epic closer that the two preceding movements hinted toward. Everything Laplante and Cleaver have to offer is on full display, as the duo trade flurries of notes and restless patterns that weave dancing melodies over rolling percussion. With everything coming to fruition, Laplante unshackles what's left of his performative self for a truly climactic finish. He channels Peter Brötzmann for a powerful rendition of the onomatopoeic stylings of Machine Gun, joining Cleaver's assault of his cymbals with a pulsating blast of sax. Laplante then maxes out his rapid playing for an abrasive, high-pitched drone, which builds and fades to draw the album to a close. Inner peace is at the root of spirituality, and with this final extended note, Laplante caps of an embattled, passionate journey of sound with the musical equivalent of humming "om" and clearing one's mind entirely to achieve a calm, content existence.
While A Dance That Empties should inspire great anticipation for the next Laplante/Cleaver collaboration, what's made Laplante's career so exciting is his ability to return with a different roster and new, invigorating sound with nearly every release. Whether he's improvising intense bursts of free jazz or directing complex spiritual compositions, Laplante demonstrates mastery of his craft and a limitless ability to collaborate with anyone, regardless of their background or instrument of choice. We're not witnessing an artist who could grow into a versatile composer like John Zorn or Colin Stetson; Laplante's body of work proves he's already arrived as a preeminent force in modern experimental music that will continue to shape the musical landscape's present and future. A Dance That Empties is yet another phenomenal reminder of why fans of Laplante follow his music, and for newcomers, the album should provide ample evidence that it's time to get caught up on a modern visionary's discography.
…
A Dance That Empties is available now. The album can be purchased digitally and on CD via New Amsterdam Records and on vinyl via NNA Tapes.