It's the beginning of June in Brooklyn, and it's the kind of gorgeous, warm but not humid late spring evening we are only granted a handful of around here before the entire area turns into a broiling swamp for several months. I enter Rough Trade in the heart of Williamsburg, which was already long-regarded a mecca for musicphiles who still actively seek new music on vinyl and other physical media and has more recently been incorporated into the Bowery Presents conglomerate as a low-key, but solid live venue for up-and-coming artists. Somewhat embarrassingly, this is my first time visiting the place – I generally avoid spending time in North Brooklyn except for the occasional show and have long prevented myself from developing an appetite for vinyl for the sake of my bank account – but I can immediately see its reputation is well-founded. The store is large but comfortable and well-laid out, and for a weeknight at 8pm it's surprisingly bustling.
I am there for the Boston-based art-rock band Bent Knee, both to interview them and to see them play live for my first time. I would love to say that I had been following the band for years and have already seen them a handful of times, but somehow their head-spinning mixture of heavy-hitting Faith No More energy, proggy theatrics, and off-kilter pop/rock experimentations somewhere between Björk and St. Vincent had escaped me until only just this year when a fellow Heavy Blogger introduced me to them through their 2014 sophomore LP Shiny Eyed Babies. Upon hearing tracks like "Way Too Long" and "Being Human" I was instantly hooked. The blend of jazz influences with the bite of heavy rock and metal, extensive incorporation of violin, and the powerful siren sounds of vocalist Courtney Swain were more than enough to grab my attention, and I quickly did all I could to catch myself up on their (at the time) 3 albums.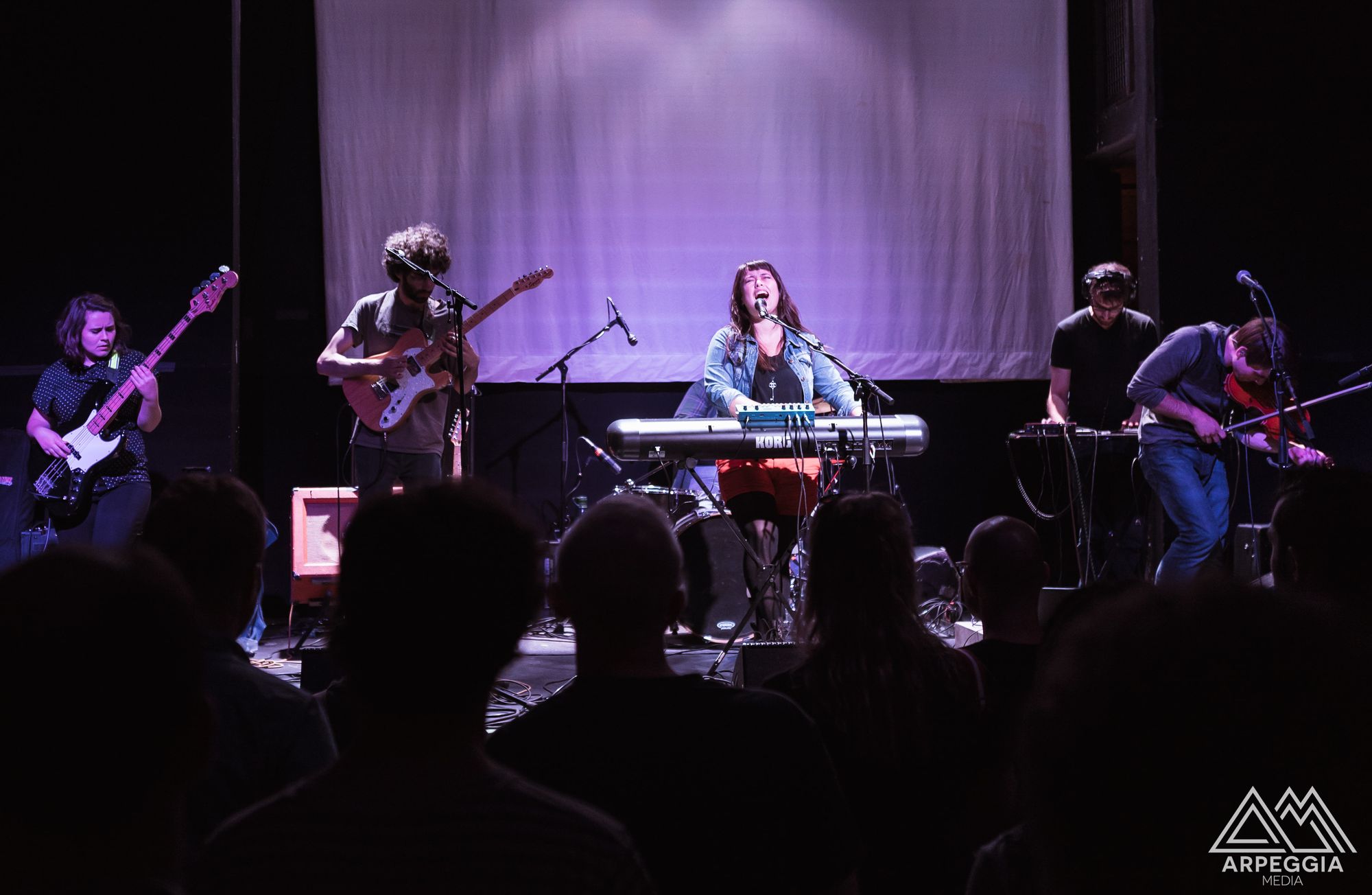 I find my site contact, get credentialed up, and head into Rough Trade's concert area in the back, which is also surprisingly large given their location and the number of music venues in the neighborhood that have shuttered up and/or moved as ever-increasing property values and rents squeeze out more and more businesses and people. I quickly find that I am far from alone in interviewing the band this night or even this time slot as I wait with a couple of other people for the band to wrap-up their current interviews. We're told that the band is being split into two groups – one of us will talk to Swain and the other will talk to the rest of the band, including guitarist Ben Levin, violinist Chris Baum, bassist Jessica Kion, drummer Gavin Wallace-Ailsworth, and producer/live sound designer Vince Welch. I mentally scramble a bit as I realize most of my prepared questions are tailored to Swain specifically. This interview actually came about originally from Swain personally reaching out to me with an e-mail thanking me for including a couple of their tracks, including the title track off of their newest album Land Animal, in one of our recent Playlist Swaps. It was only after a few rounds of e-mails that she finally referred me to the band's new PR after being chastised by them for still handling these sorts of things personally.
After a few minutes of waiting, Swain, Levin, and Baum emerge from backstage with the wide-eyed excitement of a band clearly not accustomed to this level of attention and possibly a little overwhelmed by it but energized by the novelty of it all. Swain and I make eye contact, and her eyes light up in recognition despite her admittedly not being sure what I looked like. My last-minute anxieties are assuaged as it quickly becomes clear that she intends to speak with me for this round of interviews, and we bounce around the venue for a few minutes looking for a place to situate ourselves (the rest of the band staked claim of the green room backstage). Swain makes for an incredibly personable and warm presence as we make small talk during our search, which eventually leads us to a somewhat sheltered listening/reading station on Rough Trade's second floor. She confirms that this is the first time they've done this sort of press junket before a show, and it's clear from the outset that she and the rest of the band are surprised to be where they are despite the sweat and many miles the band have logged over the past few years.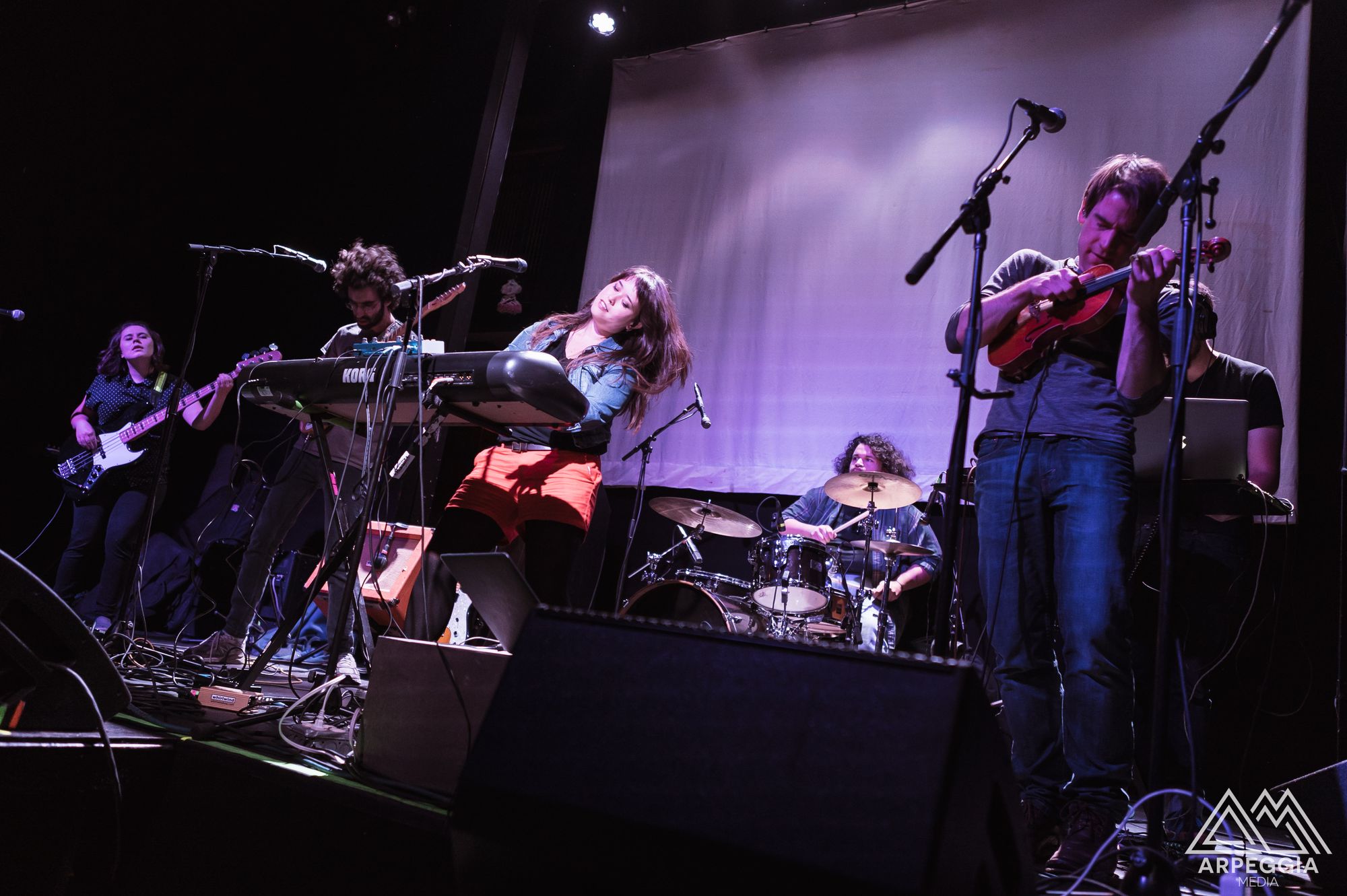 Land Animal, Bent Knee's fourth album and first with progressive heavy hitter InsideOut Music, certainly seems like it could change that though. After releasing the band's previous record, Say So, only one year ago and touring extensively behind it, it doesn't seem possible that they could carry that momentum and quality of work into an entire new album, but Land Animal is as much a triumph and consistently great as anything else they've put out. When I ask how they even managed to pull all of that off in such a short span of time, Swain largely credits a "meticulously planned" pre-production schedule influenced by their overloaded tour schedule in 2015:
"Honestly, we were finished with the album [Say So], we had the masters in January of last year, so at that point we really had our break I guess of a couple of weeks – sorry, couple of months; felt like a couple of weeks – so by the time we started touring in June we took a step back. The year before we did Say So we did like ten weeks at once where we didn't go home, and we just hated each other by the end of it. So last year we were a lot smarter and did smaller chunks, so we would go out and come back in, and we would have these breaks in between, in which we actually did writing camps."
If the writing process was more focused and planned out than before though, the actual act of producing Land Animal was far tighter and hectic due to their heavy touring schedule last fall on the now-legendary final live dates with The Dillinger Escape Plan. Swain gives all the credit for pulling that off on time to the Herculean efforts of Vince Welch, who has held the keys to Bent Knee's studio and live sound production since their inception:
"[Our tour schedule] made recording this crazy Frankenstein thing, so we had two days of basics first week of November, and then another base day, you know, just trying to get it done by the end of the year. And then our producer just worked his ass off to get it done by late March, and he was like "Never again." [Swain laughs] Too extreme of a production schedule. I mean, the results are amazing, but he really shaved himself thin to do that."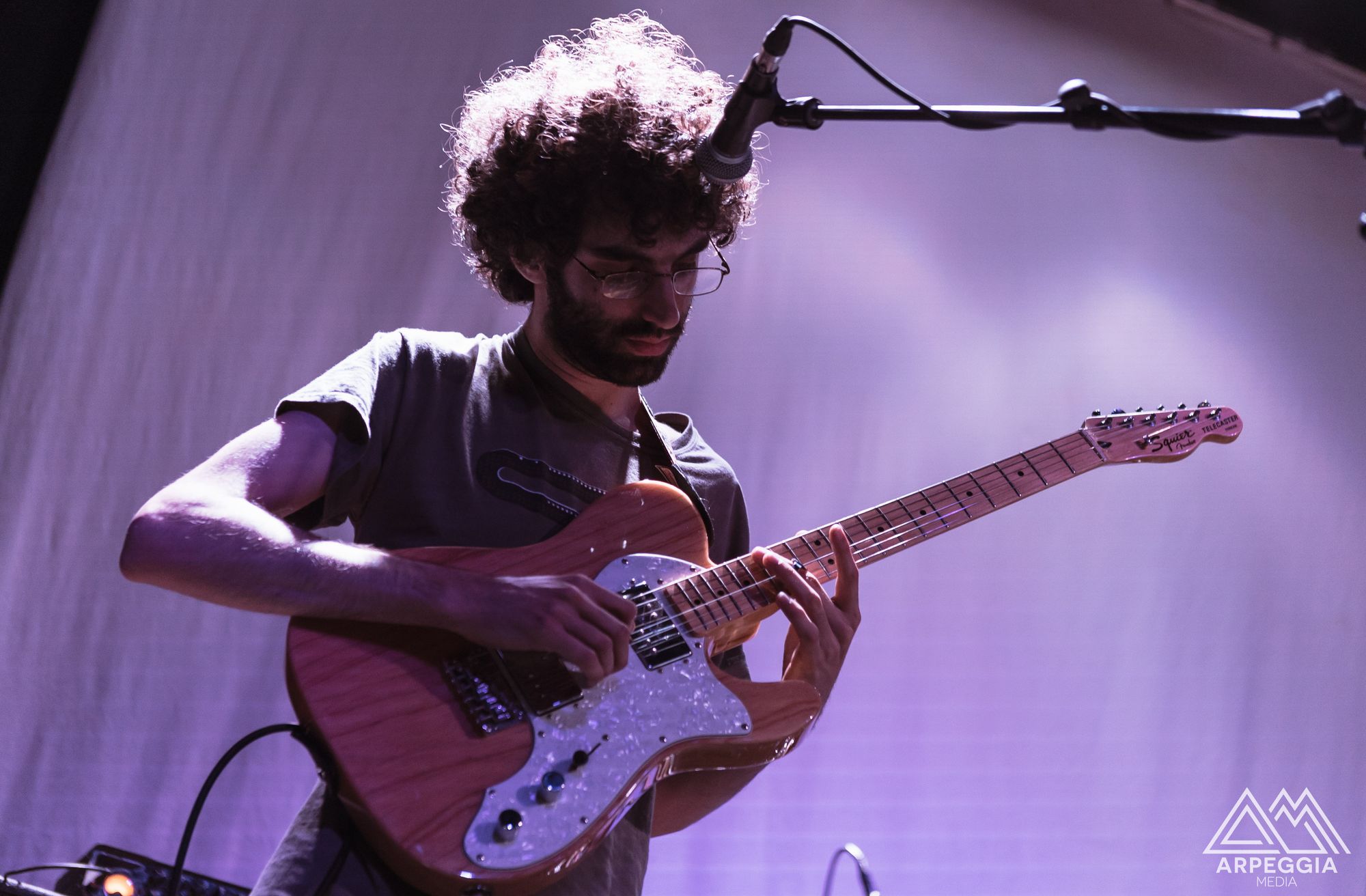 Certainly nothing sounds rushed or haphazardly done on Land Animal, which is just as meticulously crafted and sonically difficult to pin down as the rest of their discography. For Swain and the rest of the band though, there's a palpable sense of restlessness and feeling that they could always be doing more, that they could always work harder and push themselves further as musicians. On multiple occasions in the interview she alludes to somehow feeling inadequate or missing something to really break through, both in terms of their sound and how they're received by the public. When it comes to Land Animal, even though she says the whole band are really proud of where the album wound up, there's still this tension and pressure to really do something different and push boundaries, specifically citing Radiohead's musical arc in the 90s as a major inspiration:
"It's funny because Vince was saying he was surprised the album didn't sound more different, and most of us are really big Radiohead fans, so when you look at how they went from The Bends to OK Computer, we were almost having this kind of crisis where we're like "Shouldn't we be changing more?", you know? This album is the best we've done, but at the same time it's still kind of in the same vein, and I think we're kind of looking to see what's next."
When I bring up their musical eclecticism as a defining characteristic of their music and ask how the band balances this sonic high-wire act with consistently delivering music that fans new and old will recognize and embrace as Bent Knee, she states, "We've never really, at least so far, struggled to brand anything as Bent Knee or worried about what people think of the eclecticism. I think it's because we like to think of it as our strength." She then brings up their tour with The Dillinger Escape Plan. Dillinger comes up multiple times in our discussion, and it's clear that the experience of touring with them and bands like Cult Leader and O'Brother had a huge and lasting effect on her personally. She speaks of Dillinger reverently as veterans of the scene who had many things to teach them, including learning to embrace what makes them special. One anecdote mentions a discussion about TDEP early on trying to figure out how to position themselves in the heavy and extreme music scenes, where Swain claims "they said how great it was that they never quite fit in with anything, but they also worked with everything. And that's how we feel where we can't really claim to fit into any one genre, but we can work with a lot of things."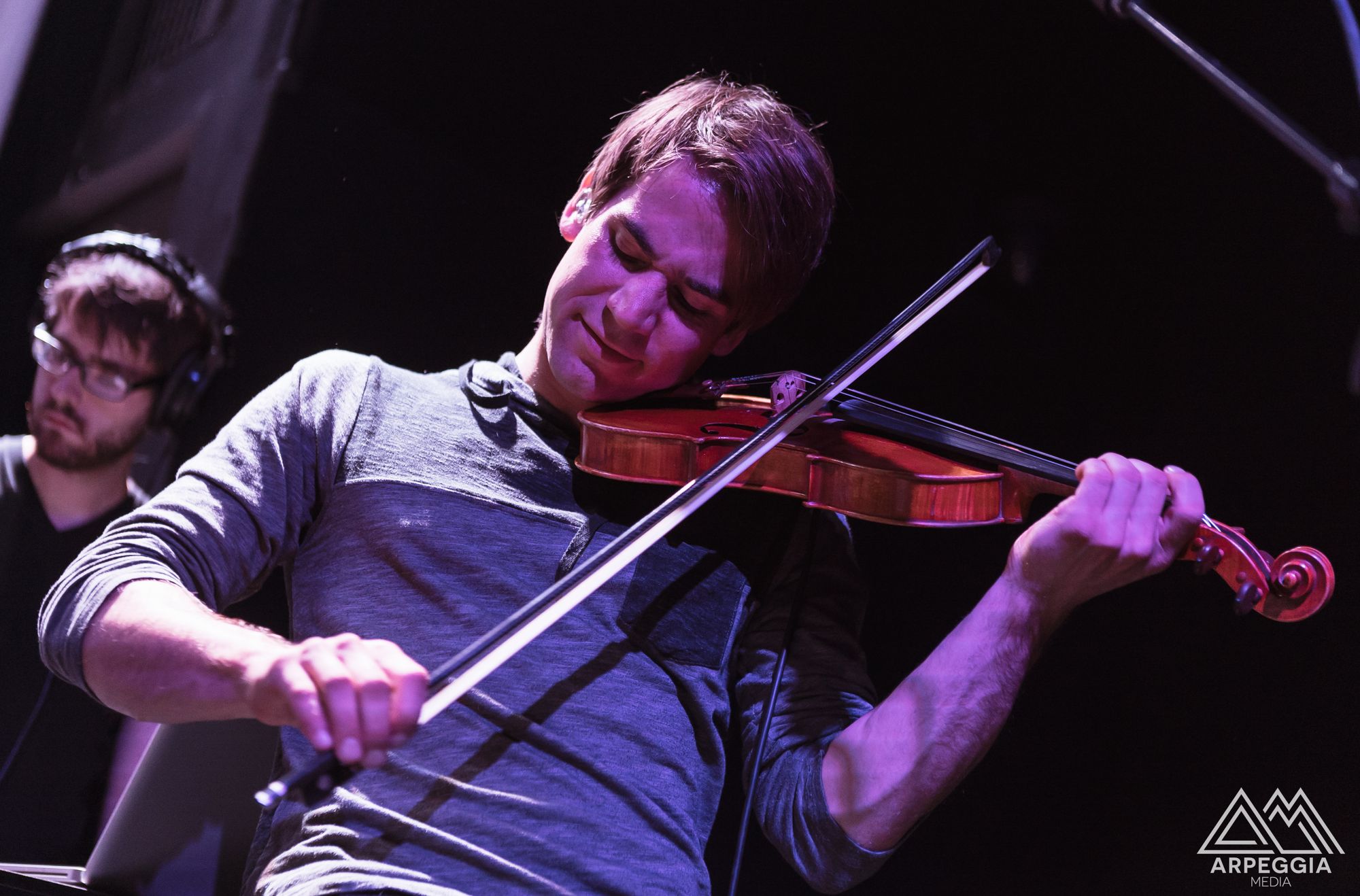 Dillinger's impact appears to have gone far beyond the occasional nugget of wisdom though. Swain speaks of their experience on that tour as a true turning point for the band, one that validated everything they had done up to that point and renewed their belief in themselves as musicians. Bent Knee have been nothing if not hardworking to the point of nearly breaking themselves over the past few years, but as is the case for so many indie and underground bands, the constant drudgery of small venue touring can be wearing emotionally and psychologically. "We've been bashing our heads up against the ceiling of indie touring in a way, you know. We were going from city to city, and we were always the most experienced band or always the most put-together band, and no one was putting their heart and soul and life and money on the line like we were wherever we went." But for Swain, seeing Dillinger and the other bands on the tour put everything they had into their shows night after night in front of huge crowds and completely packed venues was a pure revelation:
"I always felt like maybe I wasn't good enough, or I felt ashamed admitting I was a musician, you know, because when you don't know other people who just say that, they don't have any chips on their shoulders. I just didn't know anyone like that. I met this group of people. I got to know them, and they're proud and honest and true to what they do, and it really changed my life and how seriously I take myself as an artist. I'm proud to be a musician because of that experience. I learned that there are a lot of kind people, there's plenty of room for people who work hard on a higher level, and it just made me want to commit more."
I ask Swain if she thinks this idea of not fitting neatly into any genre but working well in many is actually a help or a hindrance for when they play live to certain audiences. Though Dillinger is certainly not a band one can pin down to a specific sound, it can be easy to see how a band like Bent Knee that is far more on the progressive rock/pop side of things over the more extreme metal and mathcore that TDEP trade in might not mesh well with their audience. She mostly shrugs off the question though and claims that connecting to audiences live, regardless of who they're there to see, has never really been a problem for the band. "I think it's a pretty polarizing music. People either like it or they don't, and most people, especially those who see us live, I think walk away with a really good impression."
Based on my own experience seeing them perform just after our discussion, that assessment is wholly warranted. When you see Bent Knee play live, you are not getting a neutered or compromised version of the sprawling and huge production present in their studio albums. What you hear on record is pretty much exactly what you get live, and I mean that in the best possible way. For what is essentially a 5-piece band (more on that momentarily), the group are able to replicate the larger than life sounds that permeate through their music with incredible precision. Levin and Kion tag-team brilliantly on guitar and bass to both keep their songs in lockstep and elevate it with near virtuosic technicality and a freewheeling, infectiously fun energy. Listening to and watching Baum's violin fill up so much of the dramatic space of their music live is just as impressive as he accomplishes with one instrument what sounds like must take at least several strings to do in terms of the size of the sound. Wallace-Ailsworth's cool and casual demeanor behind the kit completely belies the rhythmic gymnastics he has to pull consistently to make the ever-shifting time signatures and polyrhythms of the band's music sound effortless and wholly natural.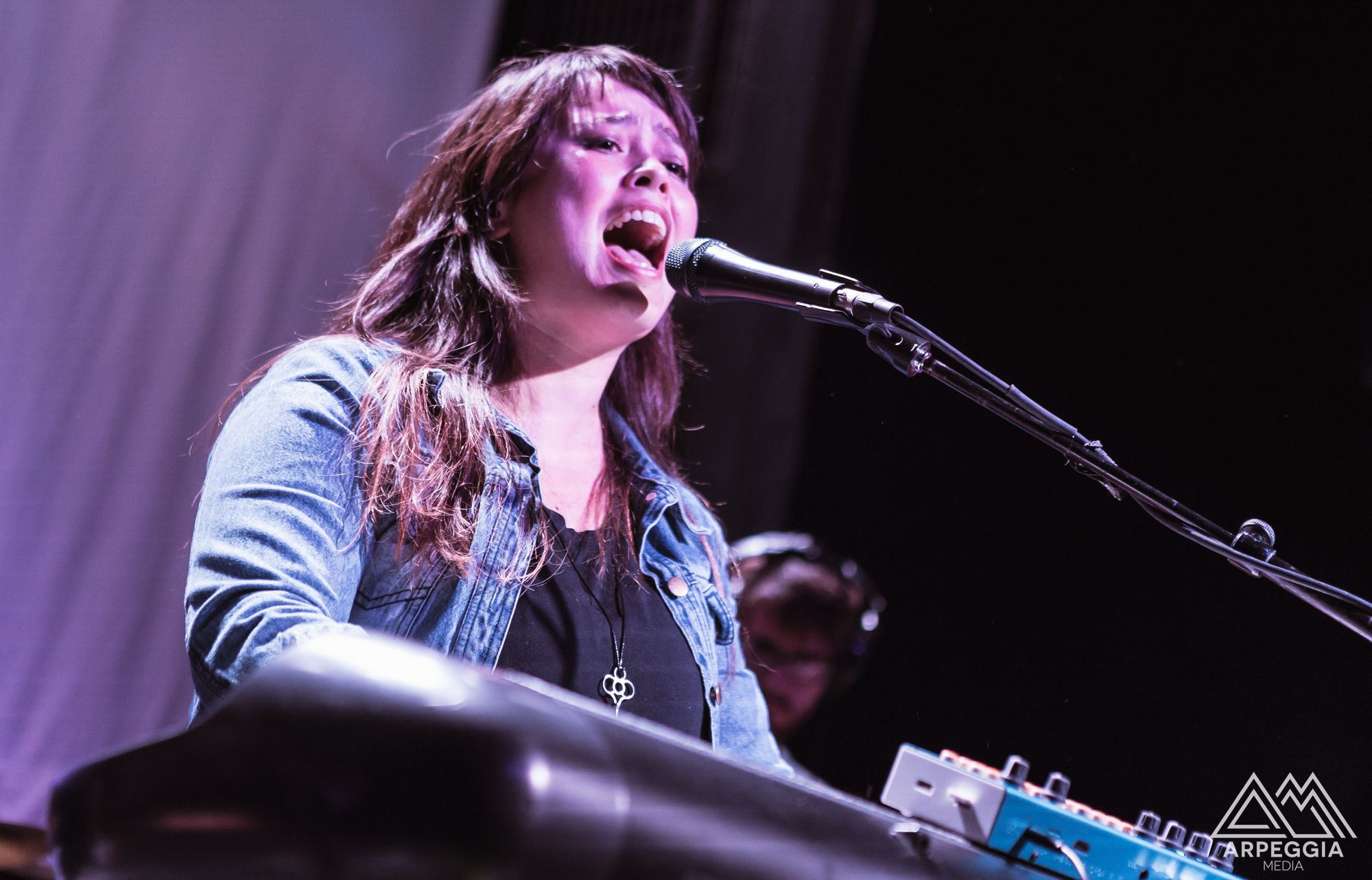 And then there's Swain herself. The cognitive dissonance of hearing so much power, emotion, and range come from the mouth of the same warm, bubbly, and, to put it delicately, vertically-challenged person I had just spoken to is a bit jarring to say the least. There are so many instances of impressive studio vocalists not being able to match the level of raw power and beauty (not to mention accuracy and pitch) live that to see someone be able to knock them out of the park song after song is simply enthralling. What perhaps pushes the band over the edge in the live department though is their 6th, less visible member, Vince Welch. Going far beyond a normal producer or "sound guy" role for the band, he is entwined in the very sonic makeup of the group when they're on stage. Tucked away in the corner you can see him with a menagerie of equipment as he manipulates and amplifies the band's sound, adding vocal effects, loops, and other elements in at will. He blends in seamlessly and subtly with the rest of the group, but the depth he brings to their overall live sound is huge. It honestly would be difficult to articulate just how good and tight the entire group are if there weren't an abundance of pro-shot and recorded live videos of the band already available to prove it.
Despite Swain's outwardly rosy exterior and the often upbeat sounds of the band itself, there is plenty of darkness hidden in plain sight throughout their songs, both musically and lyrically. Many of the tracks' lyrics, most of which are penned by Swain but also feature plenty of contributions from the rest of the band, deal with honest and frank explorations of depression, anxiety, vulnerability, and much more. If the band has a "breakout" hit from their catalog, it would likely be "Being Human," which brought the band to some prominence after one of their aforementioned live videos began making waves. The song deals with suicidal thoughts and offers up a kind of sympathetic logic to it rarely heard in a popular culture that often appears to prefer to simply wave away the deepest and most complicated personal pains with platitudes like "It gets better." When Swain sings "You never liked the thought of being human anyway. Death is one more option to explore," there's a certain bluntness to it that could be interpreted as callous encouragement – the kind that only recently saw a woman convicted of manslaughter – but the song and feelings behind it are far more nuanced than that.
When I ask Swain about the song and how the band tackles these sorts of issues in a way that feels sincere without necessarily glorifying it, she recounts the personal story of her friend that she went through this situation with. "I had this one friend who was having a really hard time, and at one point he was saying that he was trying a lot of things but he might kill himself, basically," she says. Rather than simply try to talk him out of it though, she instead claims that she felt this sort of deep empathy for his pain, and that, while she didn't want to see him go and wanted him to be happy, she also would understand if he did decide to go through with the act. And though the friend is still alive and reportedly doing well, the experience clearly had a lasting impact on her. Given that our interview also comes shortly on the heels of the tragic passing of Chris Cornell, whose struggles with depression and more finally came to an unfortunate end earlier this year, it feels all the more relevant to ask about how artists can or should channel their own struggles in life through music and how they relate to fans. On Cornell and her own experiences and struggles she has this to say:
"I was reading about how grunge was sort of the first genre where it was okay to be depressed. It was okay to talk about depression, and that's one of the reasons it hit so hard when [Cornell] died because it seemed like he got over it, you know, he was still alive. He didn't die like all of the other people who died during the big wave, and then it still took him, and I think that's what hit so hard. And in my writing I guess I try to be really honest about it…It's the only way you keep going is just to have these cathartic shows and the experience."
She specifically cites the Car Bomb documentary Why You Do This as a window into how music and living as a musician can create so much constant struggle but also seemingly the only answers on how to live as a person, even if they don't realize or understand it. "I think a lot of people are trying really hard to just stay in it, you know, without any sort of clarity as to why. And for me, playing music and some of the stuff I write is a way for me to stay in it and just kinda keep going."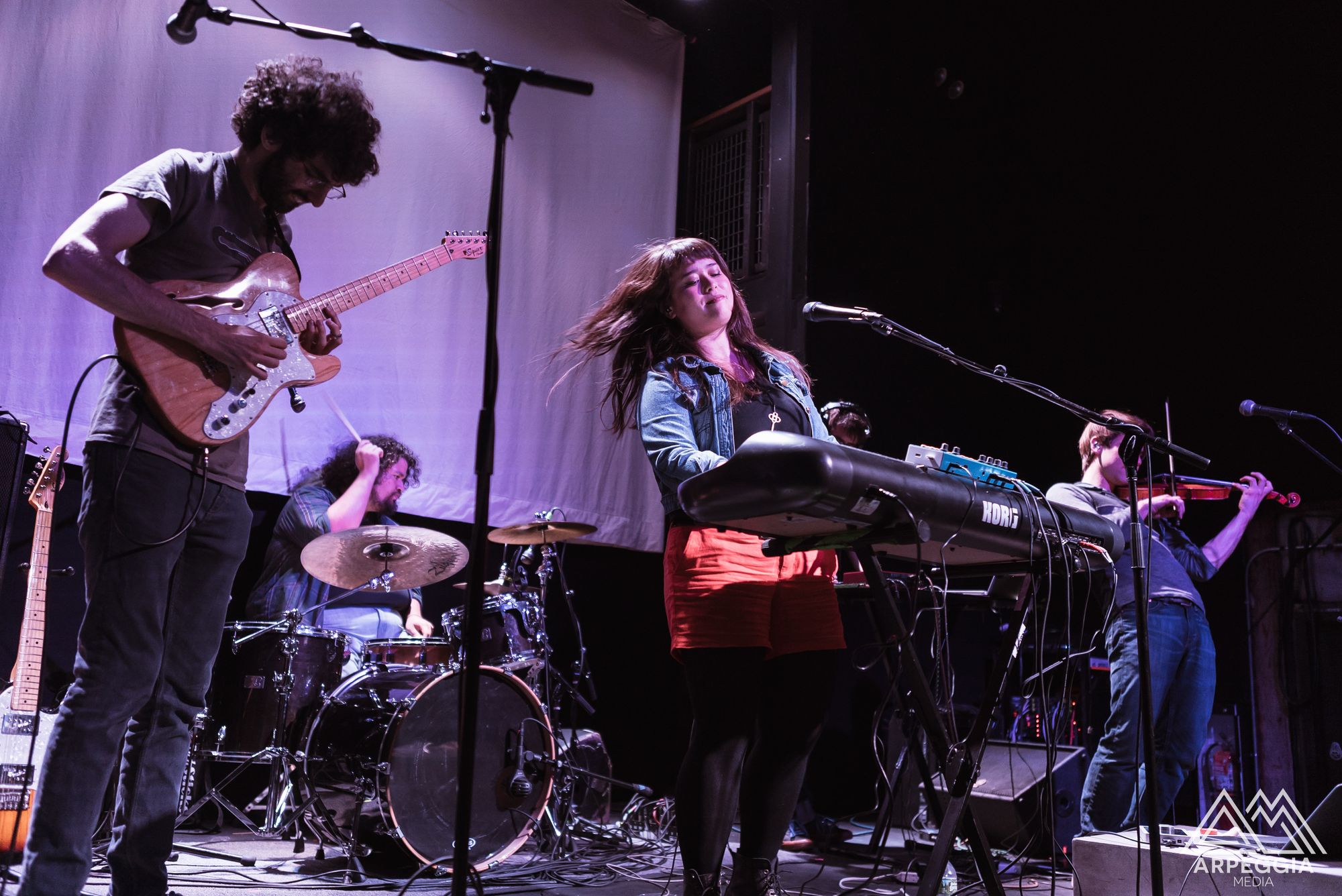 It's only a few minutes before Bent Knee are scheduled to go on, though Swain seems like she would be happy to continue talking about any and all of this for quite a bit longer. We wrap up the conversation with Heavy Blog's go-to interview closer – Swain likes her eggs either over-easy or scrambled – and we head back down into the concert room. She and the rest of the band are about to put on a hell of a show and appear as gleeful to be playing in front of a friendly crowd as can be. Bent Knee will keep on keeping on, and if the results after 4 albums and the better part of a decade fighting for every new fan and opportunity are any indication, they will do it all with a smile on their face and even more people in awe of what this group of 6 from Boston can achieve.
…
Bent Knee's latest album, Land Animal, is out now through InsideOut. You can purchase it through the band's Bandcamp. Upcoming tour dates are listed below.
Jul 14 – Iron Horse – Northampton, MA
Jul 15 – Riverwalk – Nashua, NH
Jul 17 – Studio at Waiting Room – Buffalo, NY
Jul 18 – The Loving Touch – Ferndale, MI
Jul 19 – Radio Radio – Indianapolis, IN
Jul 20 – The Frequency – Madison, WI
Jul 23 – House Cafe – Dekalb, IL
Jul 24 – 7th St Entry – Minneapolis, MN
Jul 25 – The Bottleneck – Lawrence, KS
Jul 27 – Larimer Lounge – Denver, CO
Jul 31 – barboza – Seattle, WA
Aug 01 – Analog Cafe – Portland, OR
Aug 02 – Volcanic Theatre Pub – Bend, OR
Aug 04 – Cafe Du Nord – San Francisco, CA
Aug 05 – Bootleg Theater – Los Angeles, CA
Aug 07 – Soda Bar – San Diego, CA
All photographs taken by Nick Cusworth. You can view more of his work here.
Photos may not be reproduced or used in any manner outside of the above posting without express permission of the photographer and/or Heavy Blog is Heavy.