Even a cursory glance of our biweekly "What Heavy Blog Is Really Listening To" posts (last week's update here) will reveal that there is a great deal of variety among our staff's musical tastes. Due to this, we brainstormed the idea of "Playlist Swap," another biweekly segment that takes place between playlist updates. We randomly select two of the participants from each update, have them pick their favorite track from each of the nine albums in their grid and then send the list over to the other person to listen to and comment on. Within these commentaries occurs praise, criticism and discovery, and we hope that you experience a few instances of this last point as well. This week's post has Scott and Jimmy 2 duking it out again, in what will surely be a battle for the ages:
Scott's Grid & Jimmy's Comments: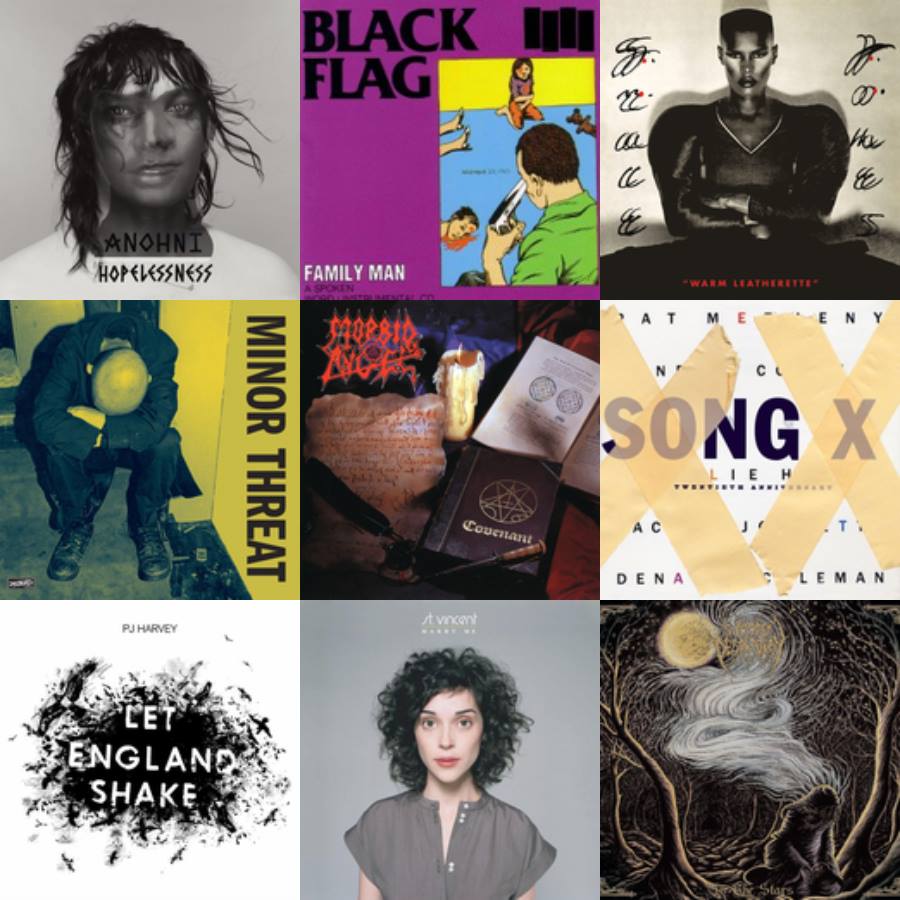 Anohni—Hopelessness—"Drone Bomb Me"
Scott: This album completely blindsided me this year, and it's quickly become one of my favorite albums of 2016. Anohni – formerly Antony Hegarty of Antony and the Johnsons – has an incredible voice which she uses to tackle current issues with poignant but accessible lyrics. But this album wouldn't be nearly as successful without the phenomenal production of Hudson Mohawke and Oneohtrix Point Never, both of whom balance detail and background to allow Anohni to seal the deal. I was immediately hooked by "Drone Bomb Me" and have been addicted ever since.
Jimmy: I remember being really psyched about this album when it came out (since it was sort of touted to be a little like Grimes), but was incredibly disappointed by the first track. Coincidentally, "Drone Bomb Me" is that opening track.
It isn't that this song doesn't have spirit—in fact, there are parts of it that are interesting, such as that sweet buildup of electronic elements around 1:25—but as a whole it just doesn't work for me. It's more like Anohni had interesting fragments of ideas, but didn't possess the songwriting skills to get those fragments to gel better.
Black Flag—Family Man—"Armageddon Man"
Scott: I bought Family Man at the same time I purchased My War and Slip It In, all off of a keen obsession over Damaged which I spun countless times in high school. Not only were these three albums immeasurably different from Damaged, they were far-removed from any of the music I was listening to at the time. Family Man's spoken word and punk jazz fusion was the worst offender for me at the time, but I've grown to appreciate the album as the unique piece of art it is and for its striking place within Black Flag's discography.
Jimmy: Black Flag's debut album Damaged is up there as one of my favorite hardcore punk albums ever (as it should be). Their later work, however? Eh…not so much. My War was pretty inaccessible when I first listened to it, and haven't really tried since, and while I thought Family Man would be no different, I was wrong. (And, to be fair, it's been many years since I've listened to My War; I'm sure I'd love it if I gave it a try today.) There's a nugget of something I highly enjoy here, and I plan on listening to this album more to see where that nugget takes me. Henry Rollins spoken word vocals—while pretentious-sounding when you read about it—actually works really well with Greg Ginn's atonal guitar playing and the overall chaos of this track.
Grace Jones—Warm Leatherette—"Private Life"
Scott: As a former ardent detractor of reggae, I can vouch for Grace Jones as an effective transitional artist for appreciating what the genre has to offer. Her blend of new wave and reggae is more pronounced on her album Nightclubbing, but Warm Leatherette laid the framework and remains a solid album in its own right. While a bit repetitive, the album's ideas themselves are incredible and touch upon some intriguing territory.
Jimmy: Scott picked this album to discuss in our podcast last week; we were both interested in Grace Jones's work and wanted to sink our teeth into it. However, the results were mixed at best, and "Private Life" probably sums up Warm Leatherette as a whole the best: it has some pretty cool production, and Jones's attempt at spoken word (and some light singing) are well-done, but it's very, very repetitive. It's as if Jones (or whoever wrote the song) ran out of ideas after about a minute, and decided to repeat that minute five times in a row. Again, there's some substance there, but it's not enough to make this a very positive review of this song.
Minor Threat—First Two Seven Inches—"Seeing Red"
Scott: This record was nothing short of transformative for my taste. After seeing my friend sporting a Minor Threat shirt in high school, I went to our town library and checked out a copy of their Complete Discography compilation and spun it nonstop for days on end. Other than some hard rock and nu-metal here and there, I'd never really dove into anything I'd classify as "extreme" music, and though my regular playlist is exponentially more challenging, it all started with Minor Threat's groundbreaking hardcore punk.
Jimmy: I probably would've picked the track "Minor Threat" if I was Scott, but, hey, it's Scott's pick. Nonetheless, Minor Threat kicks some serious ass; like Black Flag, their work has a place in my personal hardcore punk hall of fame, and I'm almost 100% sure that their Complete Discography was the first punk album I ever bought. So, what else is there to say about "Seeing Red"? It's a kickass song by a legend of a band that is as close to perfect as music can get.
Morbid Angel—Covenant—"The Lion's Den"
Scott: I constantly debate with myself over which Morbid Angel album is their best: Altars of Madness or Covenant. While Altars is arguably the most important album in death metal history, just one listen to Covenant demonstrates just how impeccable their songwriting is and how to successfully write varied, impactful DM. I've probably listened to Covenant more than any other death metal album, and it only gets better during every revisit.
Jimmy: I probably enjoy the likes of Nile and Behemoth more when it comes to death metal, but you've gotta give Morbid Angel some serious props; they've managed to not only pioneer death metal, but also have gone through a career with (arguably) only one "shitty" album.
Anyway: I like this. The solo is fucking great (as if Morbid Angel would bring anything less to the table when it comes to guitar work), and the riffs just guarantee that you'll get brain and/or neck trauma while head banging to it.
Pat Metheny/Ornette Coleman—Song X—"Song X"
Scott: I honestly can't say I love this album, mainly because jazz guitar is very hit or miss for me. As interesting as the album may be, I can;t help but feel as though Pat Metheny's guitar work and Ornette Coleman's sax wizardry just don't mesh as a free jazz duo, but might work in a more traditional jazz fusion setting. It's still worth a listen, if not for Ornette's "brilliant as always" playing.
Jimmy: If I'm correct, I actually found this for Scott while we were CD shopping a few weeks back. If it wasn't already obvious, Scott's obsessed with Ornette Coleman, and I really don't blame him, because the man was a genius at what he did, and prolific as hell. Song X shows us a slightly different facet of Ornette's playing, as he's paired up with famed fusion guitarist Pat Metheny. This is still free jazz at its best, but Metheny's contributions to the album provide a dreamy, almost druggy feel to the entire proceedings.
All in all, I liked this, though perhaps not as much as other Ornette works, especially his collaboration with Howard Shore for the Naked Lunch soundtrack.
PJ Harvey—Let England Shake—"England"
Scott: I've been diving into PJ Harvey's discography for a while now, and just purchased all of her main studio albums on CD to try and unpack her extraordinary career and artistic voice. I'd eventually like to turn that into a post for the blog, so for right now I'll say that Let England Shake is a logical progression in her career that deserves all of the acclaim it's received.
Jimmy: I'll be honest: I'm not big on PJ Harvey, which makes the fact that Scott is all but in love with the woman all the funnier when we discuss her. I don't think she's a horrible artist by any means (though I don't particularly understand her general appeal)—rather, her style of music just doesn't appeal to me very much; I can think of dozens of artists I'd rather listen to instead.
As one would expect, "England" didn't blow me away. I just didn't care what was going on. Her voice was just annoying to listen to in the first half of the track, and everything else was bland and tasteless. This just isn't for me, honestly.
St. Vincent—Marry Me—"The Apocalypse Song"
Scott: You can expect to see a lot more St. Vincent on my grids in the coming weeks, given that I just completed my vinyl collection of her brief – but poignant – discography. Annie Clark debuted as St. Vincent back in 2007 with Marry Me and immediately cemented her place among the forefront of modern art rock/pop giants. While her sound has grown progressively more experimental over the years, her guitar virtuosity and viciously catchy songwriting has never wavered and shows up in abundance on Marry Me. Still, her softer side is most evident on this record and especially on tracks like 'The Apocalypse Song." But this isn't a criticism – far from it, in fact. Whether she's being artfully abrasive or angelic, Annie always delivers. Always.
Jimmy: St. Vincent is sort of like the American PJ Harvey for Scott; he's pretty much in love with everything she's done as well. But unlike Ms. Harvey, I find Vincent to be pretty good. I don't think I would ever shell out money for her music, but as far as well-written indie rock/ baroque pop goes, this is an enjoyable listen.
Woods of Desolation—As The Stars—"Ad Infinitum"
Scott: I distinctly remember when As the Stars became one of my all-time favorite blackgaze albums. Though I loved the album when it dropped back in 2014, an early train ride to NYC with my girlfriend Lauren took my enjoyment to whole new level. Woods of Desolation's take on the genre is triumphant and keenly attuned to the genre's post-rock ties, something that the closing track "Ad Infinitum" demonstrates perfectly. As we rode into the city, Lauren asleep on my lap as I stared out the window, the cascading rays of light emanating from the sunrise bathed the city in the oncoming day, all while the numerous crescendos in "Ad Infinitum" thundered through my headphones. It was weird to think a black metal band made my favorite post-rock song from 2014, but that moment removed any oddity from that fact and solidified the album as a blackgaze classic in my mind.
https://www.youtube.com/watch?v=05X4D0UY9Ug
Jimmy: When I hear the phrase "post-black metal" I tend not to think of post rock and black metal mixed together. I guess I've never really listened to a good PBM release that's made me think that. Instead, I just tend to lump the genre into all the other strange stuff black metal has been doing lately with bands like Liturgy and Deafheaven. (Not an entirely fair thing to do, I know, but that's just the way I've taken it thus far.)
However, this actually sounds like what you'd expect  post-black metal to sound like. It's actually quite beautiful, as if Barn Owl had decided to speed things up a little bit and add a lot of tremolo picking. I'll have to look into this more.
Jimmy's Grid & Scott's Comments: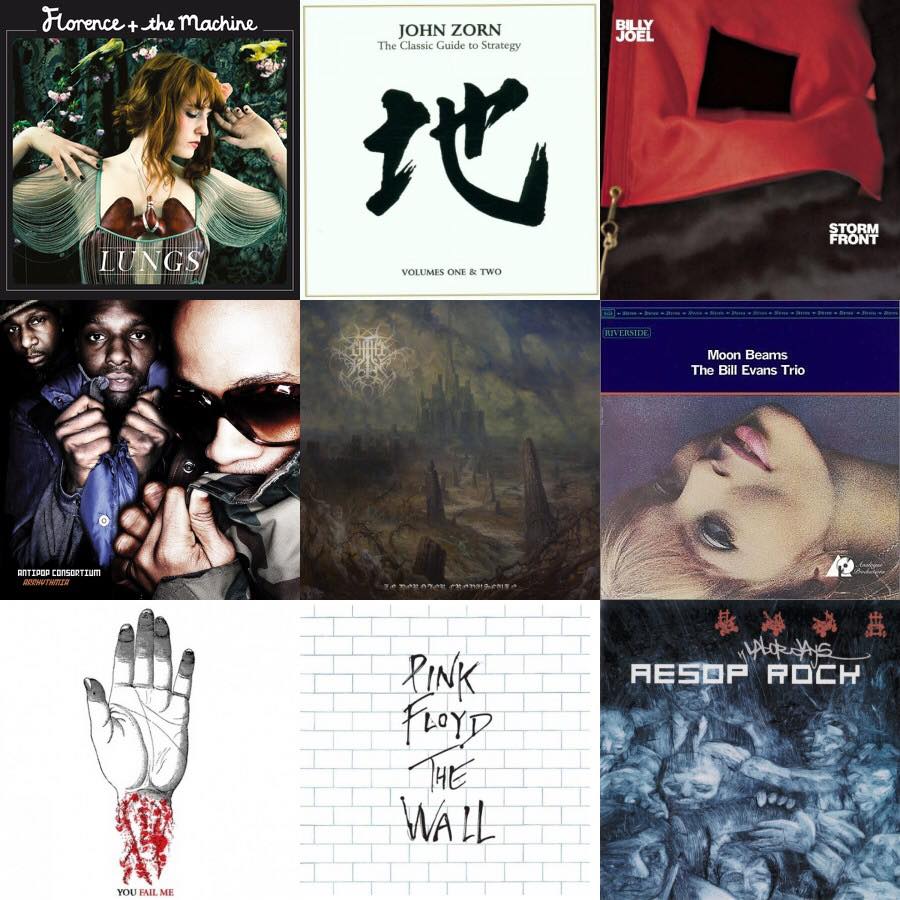 Florence + the Machine—Lungs—"Cosmic Love"
Jimmy: Yeah, I love Florence + the Machine. Sue me. Lungs without a doubt has a place in my top ten albums ever, and I'm glad to have it around when I'm in need of something happy.
"Cosmic Love" has so much of what I love about Florence—the catchy chorus, the powerful vocals, lyrics that manage to combine poeticism and meaning in a way that only Florence Welch can—it's just great. I'm not entirely sure what Scott thinks about it, though, so it'll be fun to read his thoughts on it.
Scott: My only experience with Florence Welch is her feature on the Calvin Harris track "Sweet Nothing," which is a great song thanks in large part to her unique, powerful voice. "Cosmic Love" made me want to change this fact immediately and finally follow Jimmy's recommendations to give her discography a chance. Something about her voice feels intimately performative; it's as if she's filling a stadium with her voice, but you're the only person in the bleachers. Add on the gorgeous instrumentation straight out of a midsummer night's dream, and you have the perfect track to convert skeptics of Florence's music.
John Zorn—The Classic Guide To Strategy—"Togawa Jun"
Jimmy: As much as I admire John Zorn and his music, I have to admit that this is probably the most difficult music I've ever listened to. The Classic Guide to Strategy consists solely of Zorn improvising different sounds using a variety of woodwind instruments, including alto and soprano saxophones, and even duck calls (sometimes played while submerged in water). "Togawa Jun"—named after the avant-garde Japanese singer—is, in my opinion, the most accessible track on this entire album; Zorn plays some weird stuff, but there's also a lot of beautiful playing involved, making for some nice contrast as the song progresses.
Scott: This album is absolutely fucking nuts, and I mean that in the best way possible. No one other than John Zorn could play sax, clarinet and duck calls underwater and make it work. I will admit that some moments venture more towards an "interesting" listen than anything truly enjoyable, but most of the album has to offer is avant-garde at its core and truly challenging. Personally, I love when an album shits on what I perceive music to be, so listening to The Classic Guide to Strategy was a completely worthwhile experience.
Billy Joel—Storm Front—"The Downeaster 'Alexa'"
Jimmy: I've basically been listening to this song since I was born, and still it manages to (1) not get old, and (2) keep the idea of the sea alive in my head. "Downeaster" is so unlike the rest of the tracks in Storm Front (and Joel's entire catalog, really), as you can really feel the waves crashing and see the fog rolling in and hear the cries of desperate Long Island fisherman as their way of life dies. It's haunting and beautiful all at once, in only a way that Billy Joel could pull off.
Scott: Jimmy is definitely a bigger fan of Billy Joel than I am – or anyone else I know, for that matter. Still, I love his music and find myself constantly discovering how many great songs from my childhood are of his creation. This is not one of those songs…at all. To be fair, the fact this song failed from the start is due largely to my own aversion to these kinds of folksy, sea-faring ditties, especially when they include the mother-fucking accordion. I hope Jimmy doesn't hate me as much as I hated this song, but really though, this is a rare miss from Billy, in my opinion.
Antipop Consortium—Arryhthmia—"We Kill Soap Scum"
Jimmy: I discovered these guys a while back and pretty much instantly fell in love with this album upon first listen for its awesome production and the abstract, often goofy lyrics the members employ throughout its runtime. "We Kill Soap Scum" has this weird-as-hell synthesizer (or something) that runs through it, with really only finger-snaps keeping the beat while the MCs rap with a skill that almost rivals Aesop Rock. And the little cry of "We need to kill the soap scum!" makes me laugh every time.
Scott: If clipping. don't list these guys as an influence, they're fucking lying (no disrespect meant; I love clipping.). Seriously, if someone told me this was a clipping. posse track with Daveed Diggs batting clean-up, I would've buckled up and waited for his verse to come in. I will say that despite this track impressing me sonically, the rapping was very much a mixed bag for me. Off-kilter flows can be fantastic, as demonstrated by dope emcees like Billy Woods and Del the Funky Homosapien. I honestly didn't feel like any of the emcees on this track made their flows work with the beat and ended up sounding a bit too "off" for my liking. Their focus on a poetry-heavy delivery was admirable though, and I'd love to see these guys throw down at a poetry slam sometime.
Chthe'ilist—Le Dernier Crepuscule—"Into the Vaults of Ingurgitating Obscurity"
Jimmy: This is (as this writing) my hands-down favorite death metal album of 2016; I remember just putting it on because it sounded interesting in both our review and Metal Injection's coverage of it when it came out, and not expecting much, and was instead blown away by the awesome songwriting taking place in this album. The band writes really interesting riffs that keep you wanting more and more, while only repeating themselves when necessary.
If you haven't heard this album and are looking for some death metal with serious writing chops, I highly recommend it, as you will be hard-pressed to find better from a relatively up-and-coming band.
Scott: Oddly enough, Jimmy had this album on his grid when we did our first playlist swap back in February. So out of pure exhaustion from my wage-slave existence and simply because I can, here is my blurb from that post reprinted for your reading pleasure: Totally agree with Jimmy on this one; such a solid death metal album. I do think there's merit to the Demilich-worship tag, but there's so much more going on that I don't think you can pigeonhole Cthe'ilist into one specific lane or down to one sole influence. They're playing death metal the way it was founded: fast, grimy and full of evil.
Bill Evans Trio—Moon Beams—"Re: Person I Knew"
Jimmy: I enjoy a variety of jazz pianists, wether its Monk for his wacky phrasings, or Horace Silver for his frank simplicity, but Bill Evans triumphs over all of them for me, and pretty much because of this album and this track. He manages to make his piano sing with his playing, and there's a little flit over the keys he does about forty seconds into "Re: Person I Knew" that makes my heart flutter every time. Jazz tracks can have many different faces, even when their within the same genre but I probably like this one the most: it's quiet and introspective, but absolutely gorgeous.
Scott: Goddamn, Bill Evans can play piano. Kind of Blue is one of my favorite jazz albums of all time, and Bill was arguably the main reason why I first gravitated towards the record so strongly. This track encapsulates exactly why: from his immaculate piano tone to his enthralling, gorgeous playing, everything about Bill's style makes me want to sit back in a recliner with a cigar and glass of wine. There isn't much more to say; Bill is a jazz piano legend.
Converge—You Fail Me Redux—"You Fail Me"
Jimmy: I was a little annoyed when I heard that Converge was releasing a remixed copy of You Fail Me (as opposed to putting out new material), but after listening to an interview with Jacob Bannon and Kurt Ballou, it actually made sense, given the issues rampant during this album's initial recording. "You Fail Me" is probably my favorite track off of this album because of its repetitiveness. This may seem strange, as I have previously alluded to frustrations revolving around excessive repetition, but Converge does it right, in my opinion. I love how this song grows wildly into a noisy Armageddon, all while that groovy riff still plays.
Scott: I've heard this album several times over the years, but I was interested to listen to the reissue to see how much the sound quality of the record had been "fixed." I use quotes here because there really wasn't much of a difference in terms of sound quality between the original and reissue. Don't get me wrong – the album is fantastic, and I was moshing in my driver's seat when I spun my battered CD copy to and from work. But when I listened to the reissue on Spotify, it sounded more "different" than "better." Of course, the title track is still a phenomenal dirge, and regardless of how they produce it, that opening guitar riff will always be nasty and brilliant .
Pink Floyd—The Wall—"Young Lust"
Jimmy: While not my favorite Floyd album (that goes to Wish You Were Here), The Wall is still a solid release. I could've picked a handful of tracks for this list because, after all, there are so many great ones ("Comfortably Numb", "Hey You", all three parts of "Another Brick in the Wall"), but "Young Lust" is probably the most out of place. While the rest of the album is soft, and slowly-growing, "Young Lust" attacks you head-on with Gilmour's great guitar playing and rough, bluesy vocals taking center stage.
Scott: The Wall has been sitting on my CD shelf for years now, as I "borrowed" it from my dad's collection to round off my collection of Floyd's big four albums (along with Dark Side of the Moon, Wish You Were Here and Animals). Frankly, I've spent much more time with these three records than I have with The Wall because it's not my favorite of the four, though I still enjoy the concept and the quasi multi-part title track. "Young Lust" is a bit too hard rock leaning for my taste but is still a solid track from an album I should spend more time with.
Aesop Rock—Labor Days—"Labor"
Jimmy: I'm not as familiar with Aesop's earlier catalog (which is a mortal sin, quite frankly) as I am with his more recent releases. I had heard that Labor Days was one of his best (usually tied with Bazooka Tooth), and I can definitely see why. "Labor" showcases an angry Aesop with some fucking great production that just adds to this song's catchiness. Very glad I decided to try this out.
Scott: Listening to this song will always make me want to play Tony Hawk Pro Skater 4. Beyond it being a fantastic song from an even greater emcee, there's just so much nostalgia wrapped up in this beat – after school with my friends pulling of impossible tricks on my Gamecube. Kudos to Jimmy for making me feel all nostalgic, and for reminding me why Labor Days is probably my favorite Aesop album.