For those who missed our last installment, We post biweekly updates covering what the staff at Heavy Blog have been spinning. Given the amount of time we spend on the site telling you about music that does not fall neatly into the confines of conventional "metal," it should come as no surprise that many of us on staff have pretty eclectic tastes that range far outside of metal and heavy things. We can't post about all of them at length here, but we can at least let you know what we're actually listening to.
As is typical of these updates, there are numerous inclusions that have received the Heavy Blog seal of approval via a positive review. August Burns Red's Found In Far Away Places (review here), Between the Buried and Me's Coma Ecliptic (review here), Drewsif Stalin's Musical Endeavors's …Comes To An End (review here),  Ecstatic Vision's Sonic Praise (review here), Eidola's Degeneraterra (review here),  Hope Drone's Cloak of Ash (review here), Lamb of God's VII: Sturm Und Drang (review here), Rosetta's Quintessential Ephemera (review here) and Thy Art Is Murder's Holy War (review here) are all excellent albums worthy of your time. Additionally, several other albums listed reflect our staff's input into various recent Heavy Blog features. Entries into our "For Fans Of – Pig Destroyer" post (Insect Warfare; feature here) and "Starter Kit – OG Progressive Deathcore" (Veil of Maya; feature here) appear here, and while Nuclear Assault just missed our "Best Of – Old School Thrash" list, the thrash legends who did make the list may be explored here. Finally, it was with a heavy heart that we covered the passing of After the Burial guitarist Justin Lowe; check out our tribute here.
For those that would like to participate as well (and please do) can drop a 3X3 in the comments, which can be made with tapmusic.net through your last.fm account, or create it manually with topsters.net. Also, consider these posts open threads to talk about pretty much anything music-related. We love hearing all of your thoughts on this stuff and love being able to nerd out along with all of you.
Head past the jump to see which receiving regular rotation on our headphones, stereos and turntables:
Scott Murphy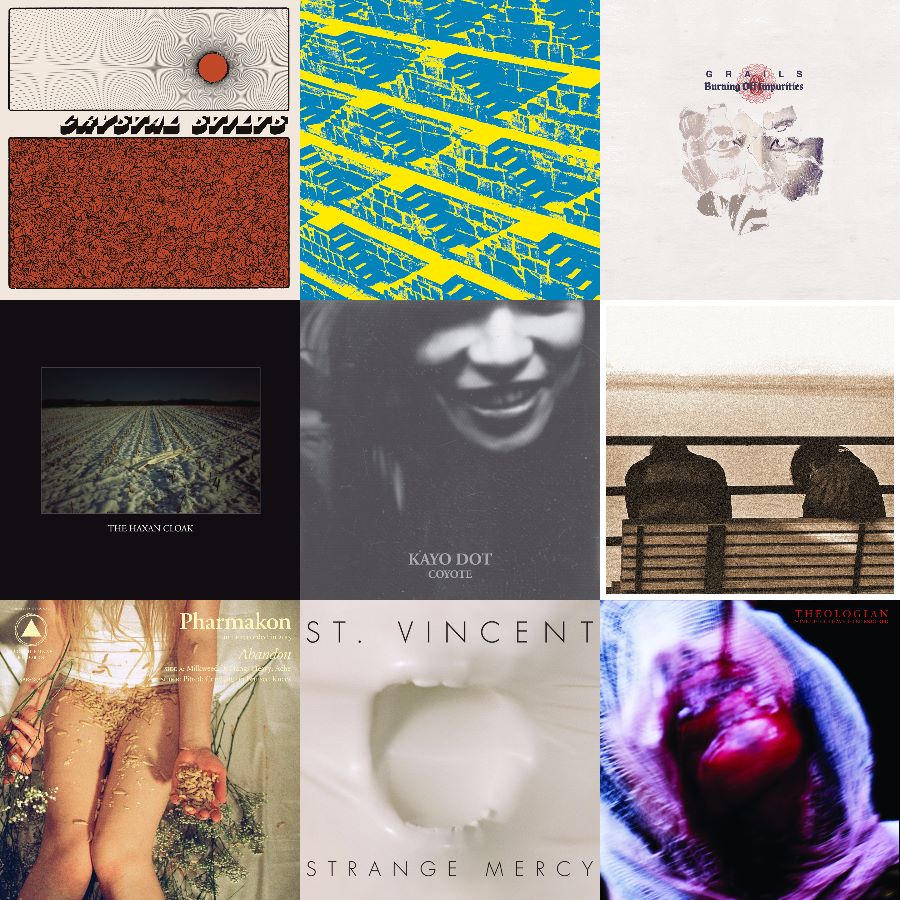 Crystal Stilts – Nature Noir
Four Tet – Morning/Evening
Grails – Burning Off Impurities
The Haxan Cloak – The Haxan Cloak
Kayo Dot – Coyote
Metz – Metz II
Pharmakon – Abandon
St. Vincent – Strange Mercy
Theologian – Some Things Have To Be Endured
Eden Kupermintz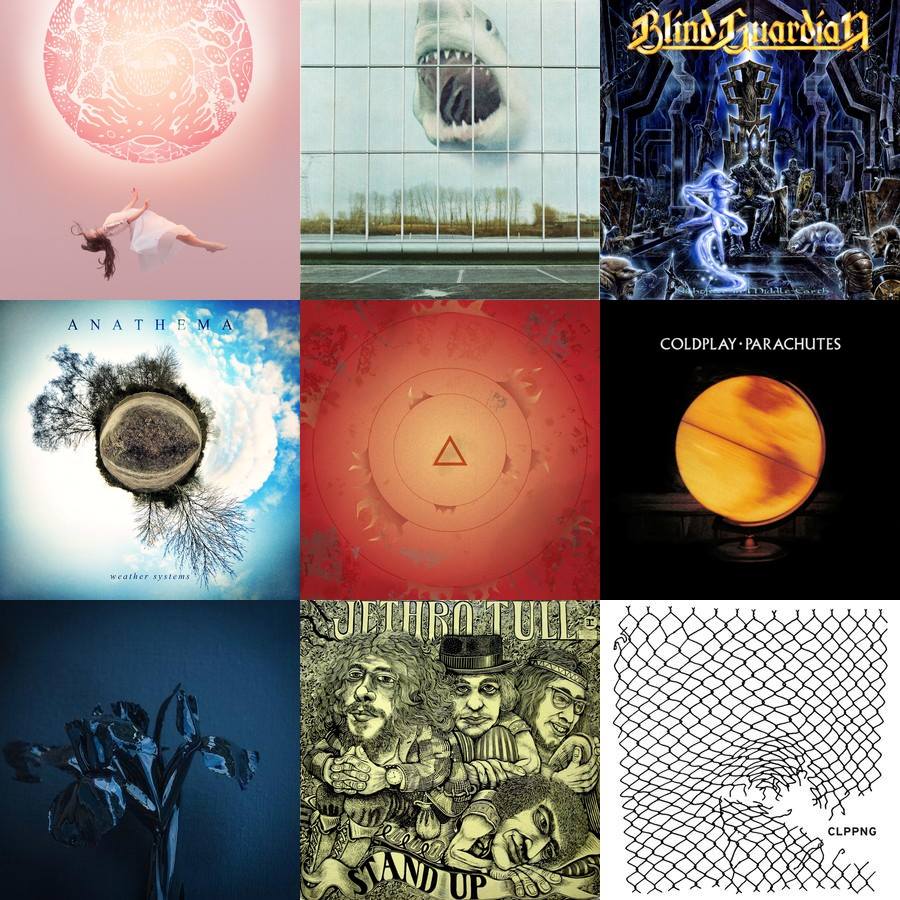 Purity Ring – Another Eternity
Black Mountain – Wilderness Heart
Blind Guardian – Nightfall In Middle Earth
Anathema – Weather Systems
Kubbi – Ember
Coldplay – Parachutes
A Swarm of the Sun – The Rifts
Jethro Tull – Stand Up
Clipping – CLPPNG
Mark Valentino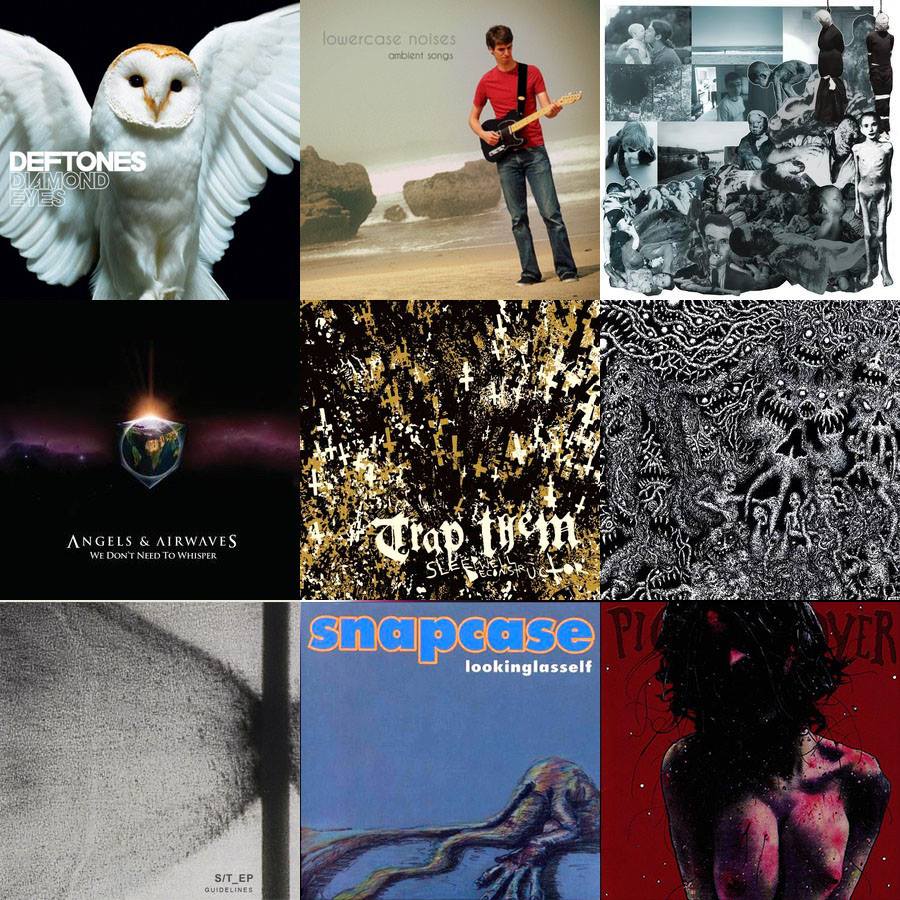 Deftones – Diamond Eyes
Lowercase Noises – Ambient Songs
Full Of Hell – Rudiments of Mutilation
Angels And Airwaves – We Don't Need To Whisper
Trap Them – Sleepwell Deconstructor
Gatecreeper – Gatecreeper
Guidelines – S/T_EP
Snapcase – Lookinglasself
Pig Destroyer – Terrifyer
Ahmed Hasan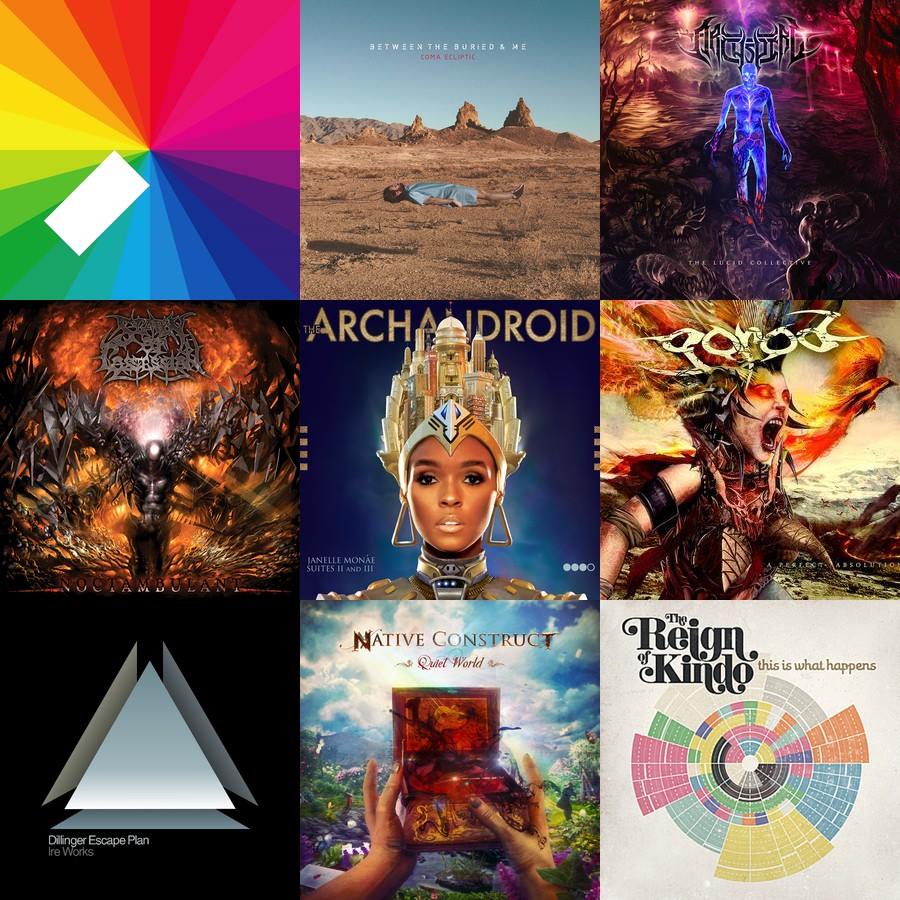 Jamie xx – In Colour
Between the Buried and Me – Coma Ecliptic
Archspire – The Lucid Collective
Spawn of Possession – Noctambulant
Janelle Monae – The ArchAndroid
Gorod – A Perfect Absolution
The Dillinger Escape Plan – Ire Works
Native Construct – Quiet World
The Reign of Kindo – This is What Happens
Spencer Snitil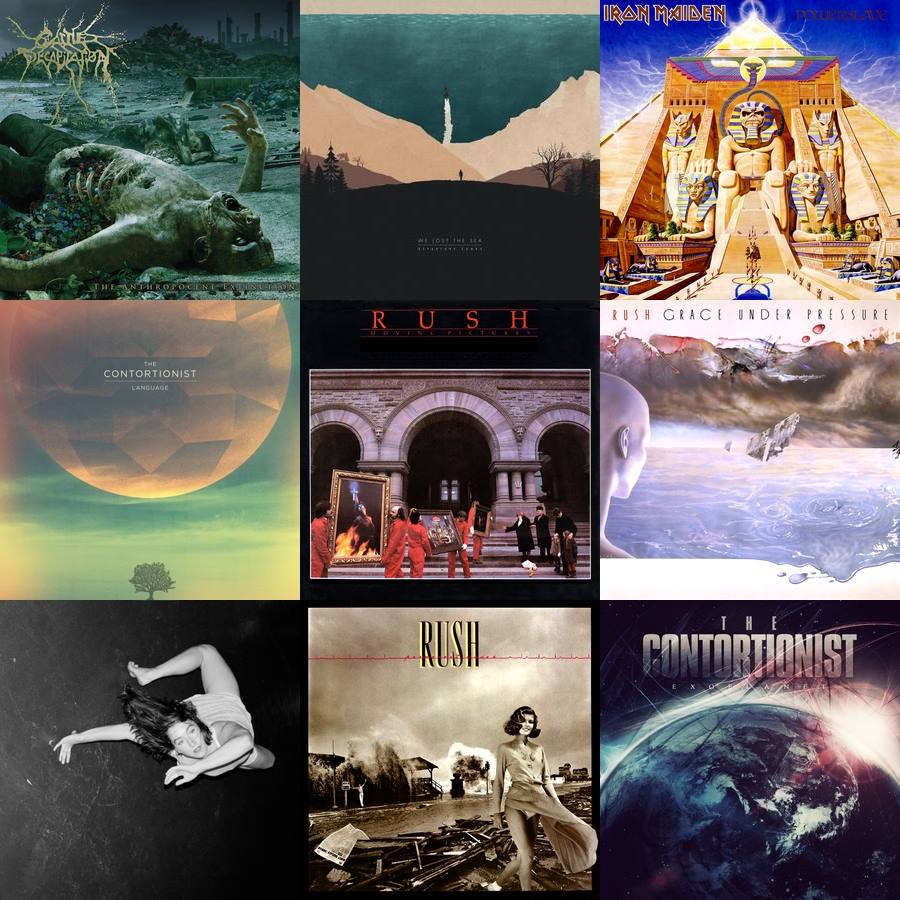 Cattle Decapitation – The Anthropocene Extinction
We Lost The Sea – Departure Songs
Iron Maiden – Powerslave
The Contortionist – Language
Rush – Moving Pictures
Rush – Grace Under Pressure
Raime – Quarter Turns Over A Living Line
Rush – Permanent Waves
The Contortionist – Exoplanet
Simon Handmaker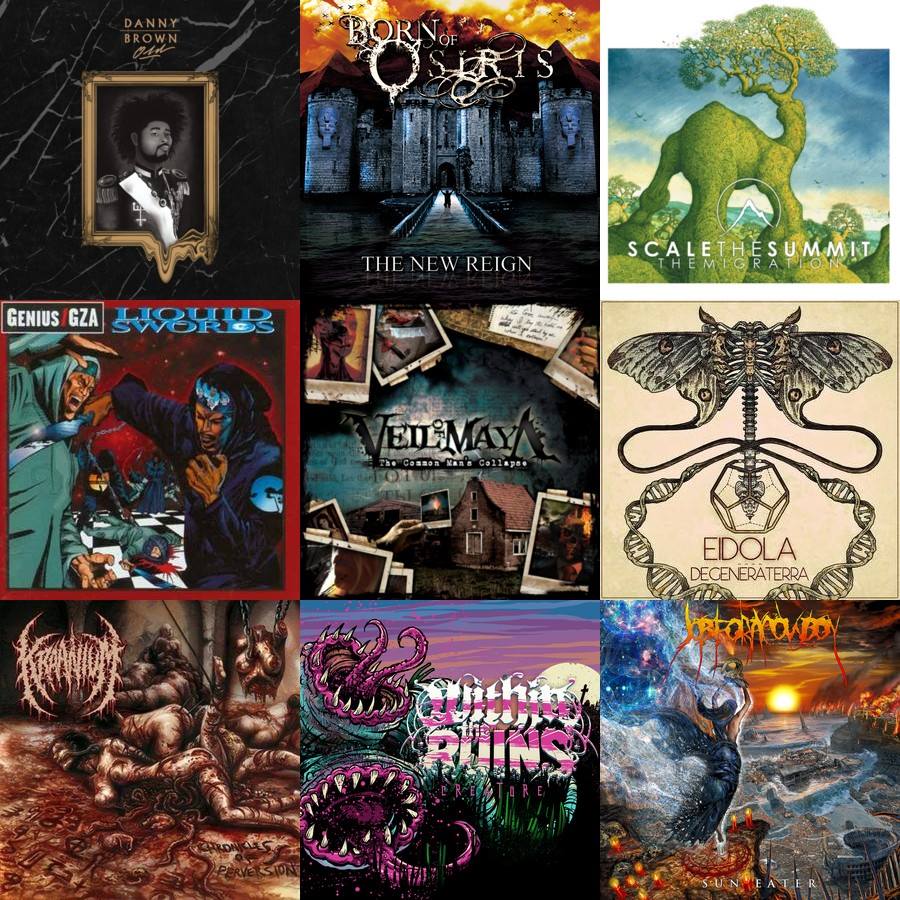 Danny Brown – Old
Born Of Osiris – The New Reign
Scale The Summit – The Migration
Genius/GZA – Liquid Swords
Veil of Maya – The Common Man's Collapse
Eidola – Degeneraterra
Kraanium – Chronicles of Perversion
Within The Ruins – Creature
Job For A Cowboy – Sun Eater
Kellan Ketchum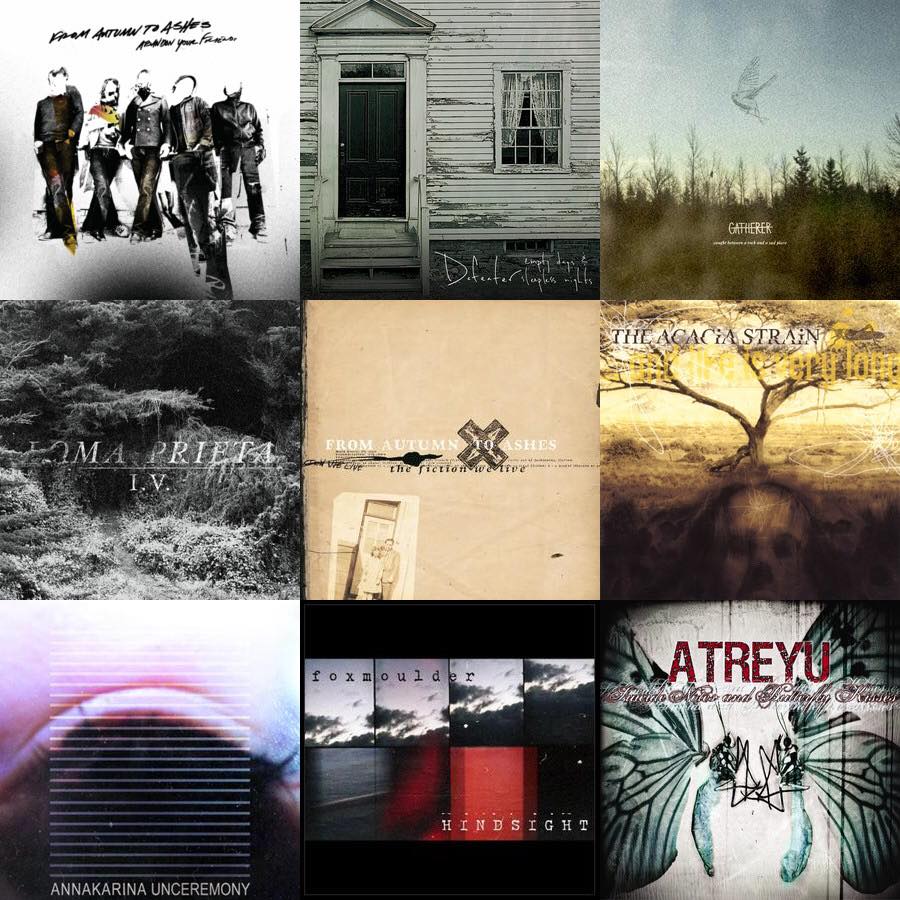 From Autumn To Ashes – Abandon Your Friends
Defeater – Empty Days & Sleepless Nights
Gatherers – Caught Between A Rock And A Sad Place
Loma Prieta – I.V.
From Autumn To Ashes – The Fiction We Live
The Acacia Strain – …And Life Is Very Long
Annakarina – Unceremony
Foxmoulder – Hindsight
Atreyu – Suicide Notes And Butterfly Kisses
John Skibeat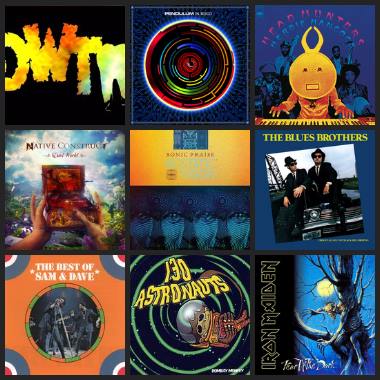 Yellowtooth – Crushed By The Wheels Of Progress
Pendulum – In Silico
Herbie Hancock – Head Hunters
Native Construct – Quiet World
Ecstatic Vision – Sonic Praise
The Blues Brothers – The Blues Brothers
Sam & Dave – The Best Of Sam & Dave
Bombay Monkey – 130 Astronauts
Iron Maiden – Fear Of The Dark
Kit Brown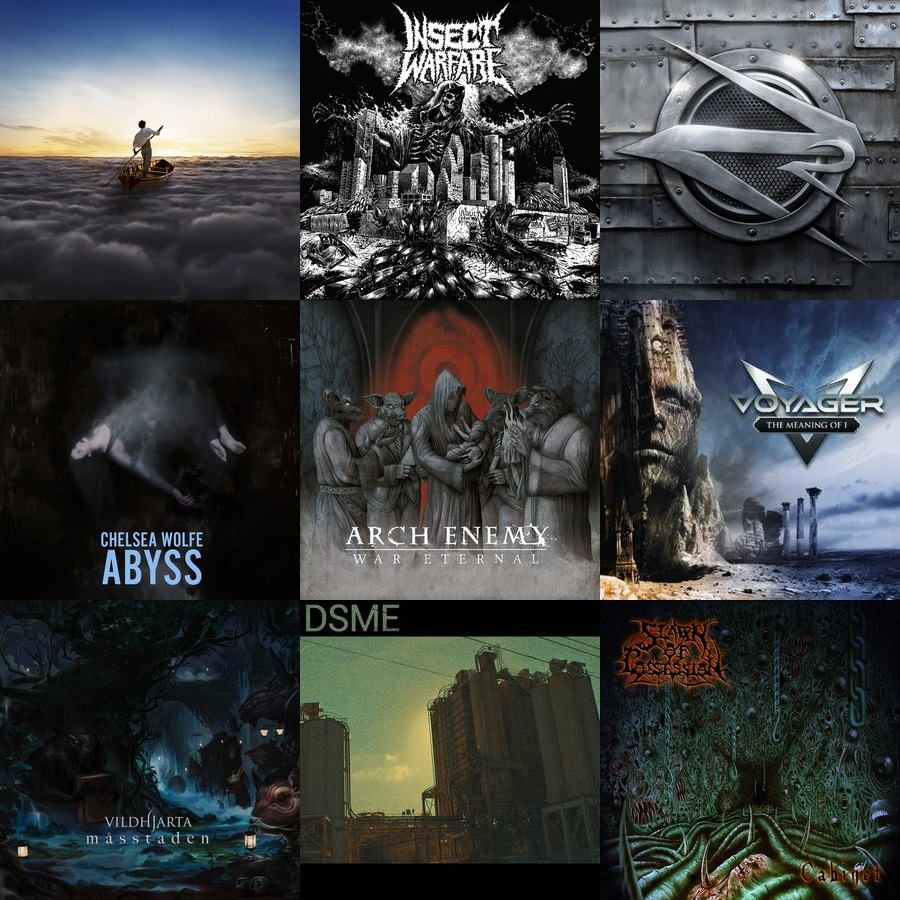 Pink Floyd – The Endless River
Insect Warfare – World Extermination
Devin Townsend Project – Z2
Chelsea Wolfe – Abyss
Arch Enemy – War Eternal
Voyager – The Meaning of I
Vildhjarta – Masstaden
Drewsif Stalin's Musical Endeavors – …Comes to an End
Spawn of Possession – Cabinet
David Aleksov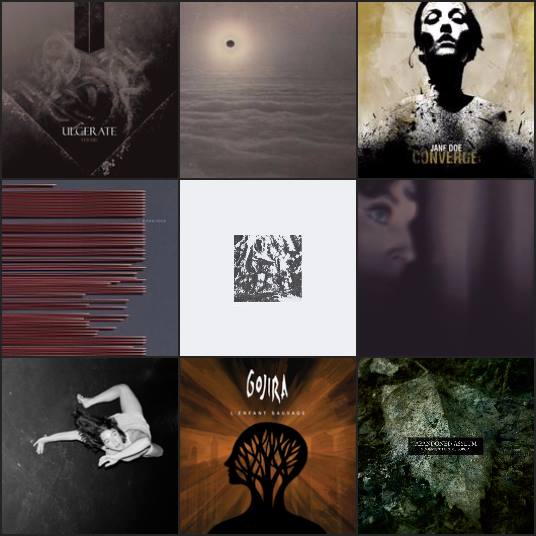 Ulcerate – Vermis
Porter Ricks – Biokinetics
Converge – Jane Doe
Samuel Kerridge – Always Offended Never Ashamed
Acronym – June
Violetshaped – Violetshaped
Raime – Quarter Turns Over A Living Line
Gojira – L'Enfant Sauvage
Abandoned Asylum – Moments That Time Forgot
William France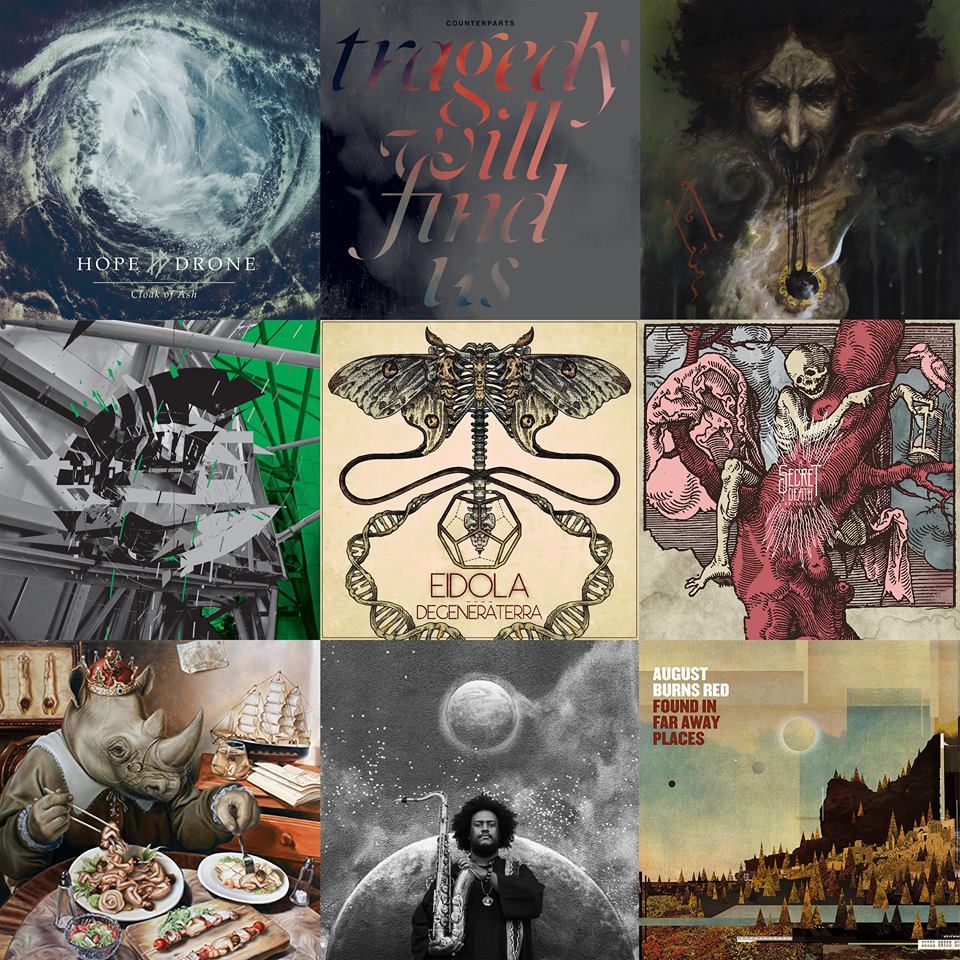 Hope Drone – Cloak of Ash
Counterparts – Tragedy Will Find Us
Ahkyls – The Dreaming I
Rosetta – Quintessential Ephemera
Eidola – Degeneraterra
A Secret Death – Epilogue
Soen – Tellurian
Kamasi – The Epic
August Burns Red – Found in Far Away Places
Matt MacLennan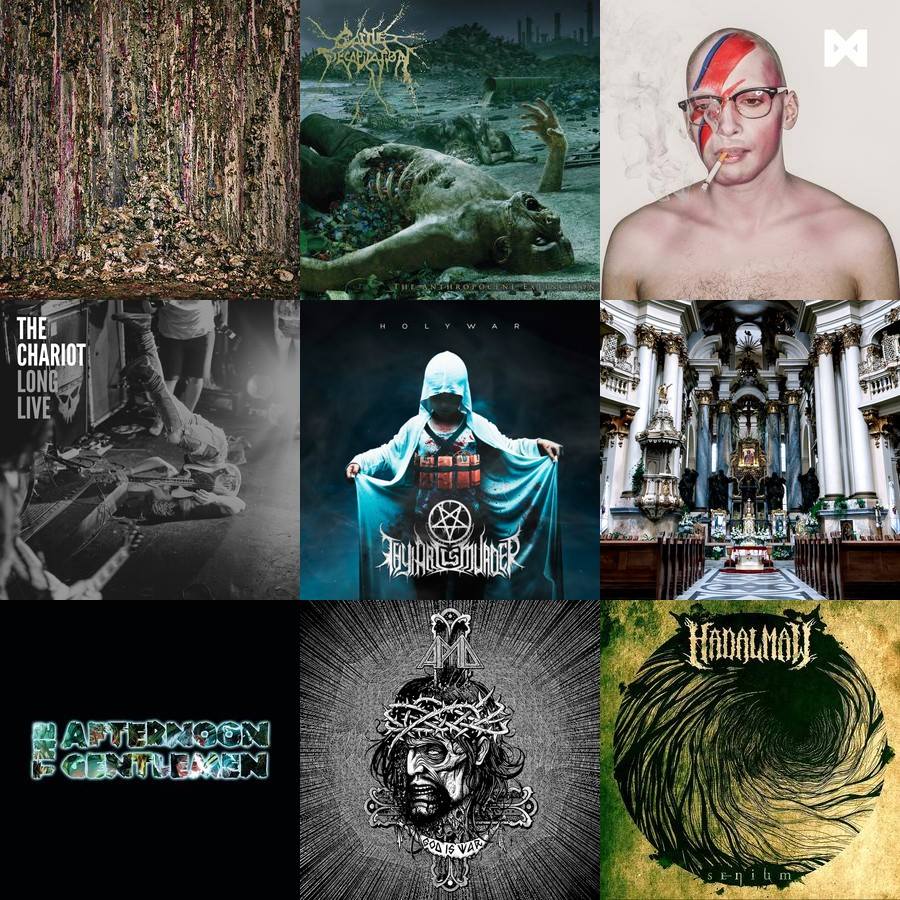 Piss Vortex – S/T
Cattle Decapitation – The Anthropocene Extinction
The Armed – untitled
The Chariot – Long Live
Thy Art Is Murder – Holy War
Colossvs – Unholy
The Afternoon Gentlemen – S/T
All Pigs Must Die – God Is War
Hadal Maw – Senium
Ryan Castrati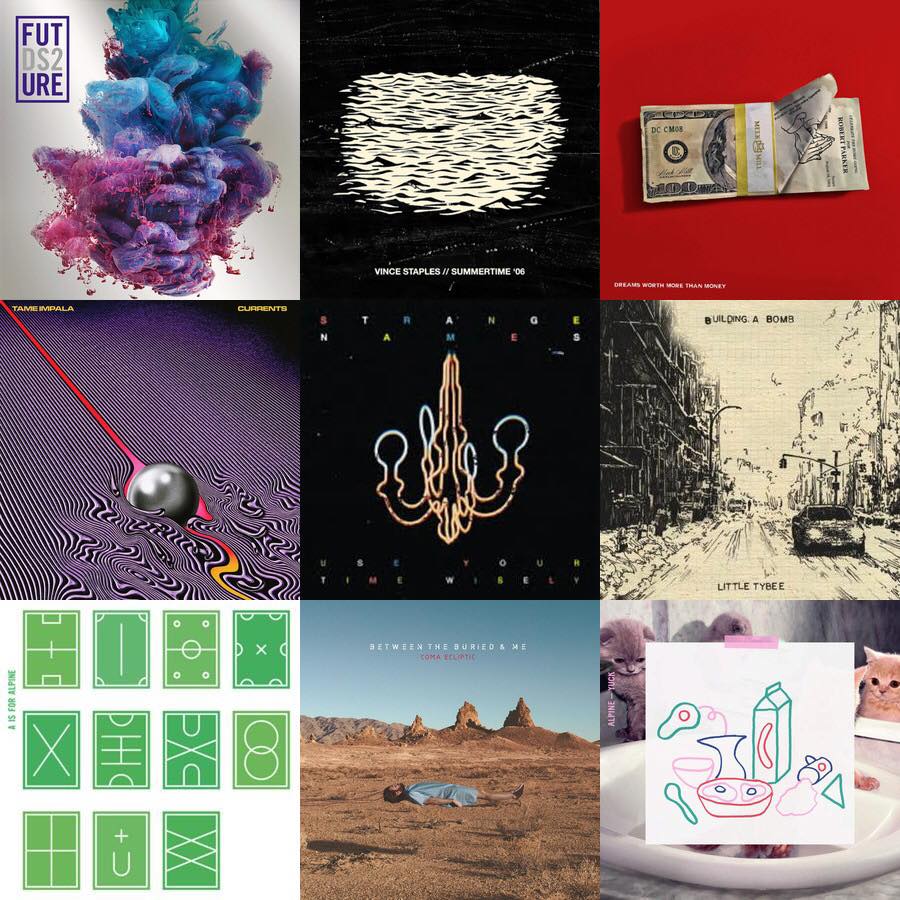 Future – DS2 (Deluxe Edition)
Vince Staples – Summertime '06
Meek Mill – Dreams Worth More Than Money
Tame Impala – Currents
Strange Names – Use Your Time Wisely
Little Tybee – Building a Bomb
Alpine – A Is for Alpine
Between the Buried and Me – Coma Ecliptic
Alpine – Yuck
Dan Wieten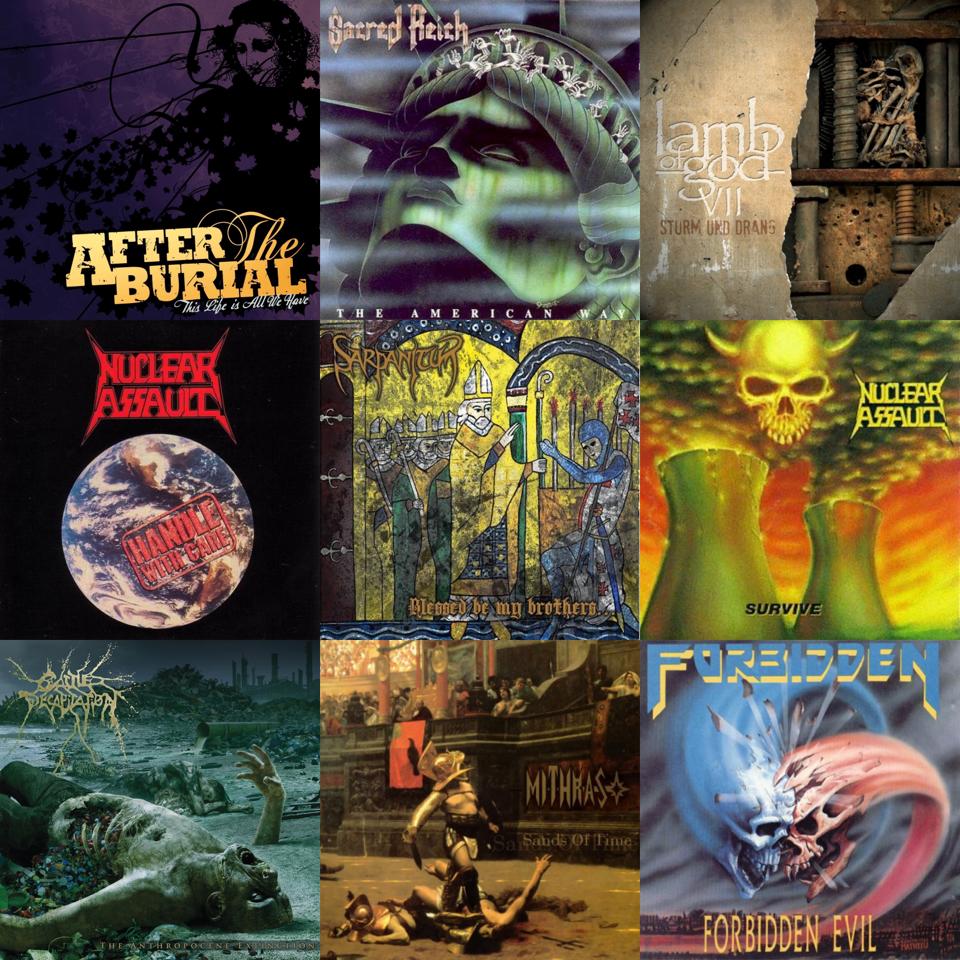 After the Burial- This Life is All We Have
Sacred Reich- The American Way
Lamb of God- VII: Sturm Und Drang
Nuclear Assault- Handle With Care
Sarpanitum- Blessed Be My Brothers
Nuclear Assault- Survive
Cattle Decapitation- The Anthropocene Extinction
Mithras- Sands of Time
Forbidden- Forbidden Evil
Jake Tiernan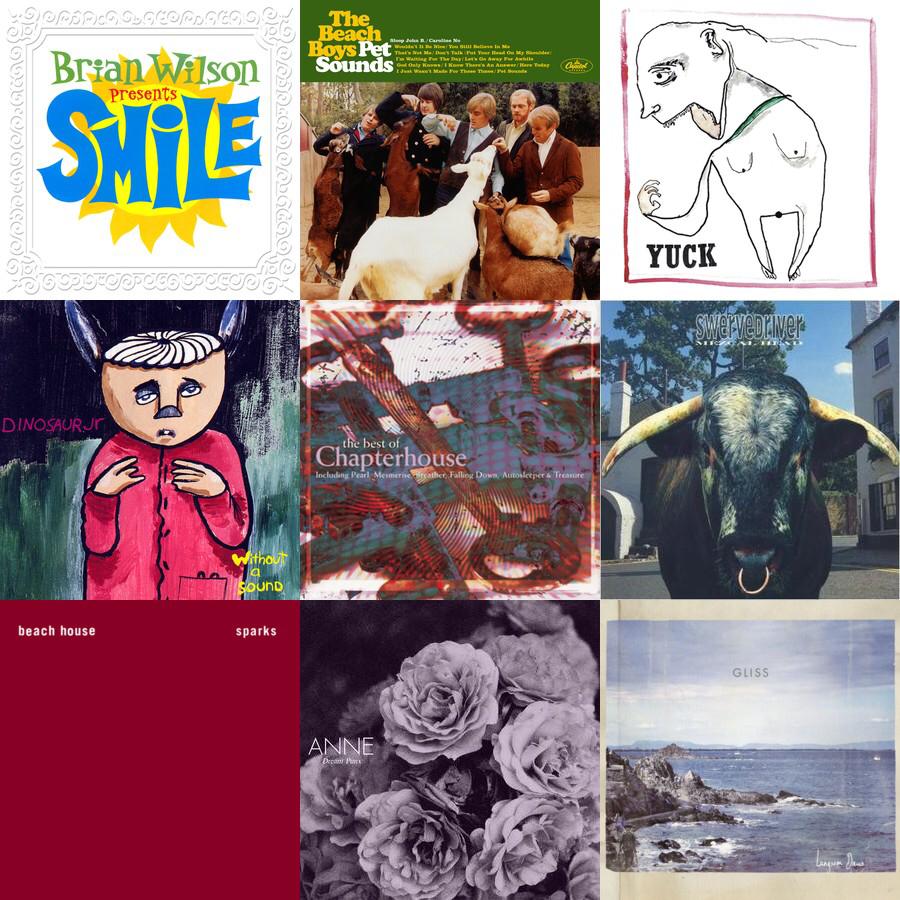 Brian Wilson- SMiLE
Beach Boys- Pet Sounds
Yuck- S/T
Dinosaur Jr- Without a Sound
Chapterhouse- Best Of
Swervediver- Mezcal Head
Beach House- Sparks
Anne- Dream Punx
Gliss- Langsom Dans
Aaron Lambert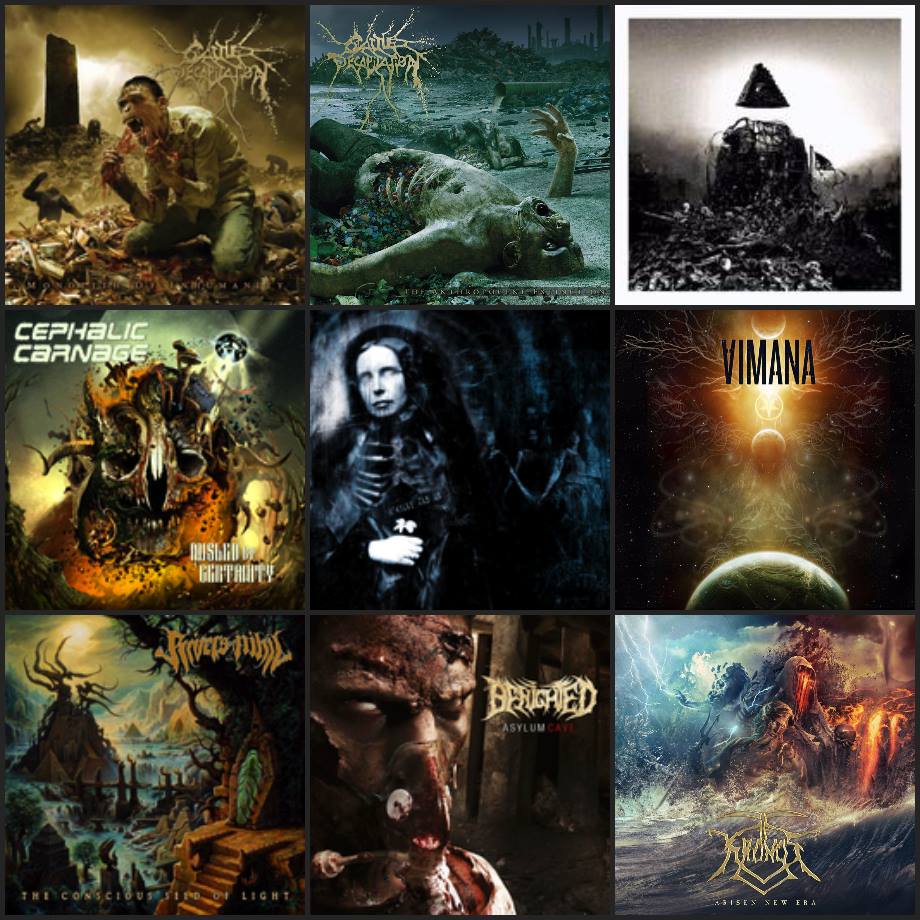 Cattle Decapitation – Monolith of Inhumanity
Cattle Decapitation – The Anthropocene Extinction
Murder Construct – Results
Cephalic Carnage – Misled By Certainty
Cephalic Carnage – Anomalies
Vimana – The Collapse EP
Rivers of Nihil – The Conscious Seed of Light
Benighted – Asylum Cave
Kronos – Arisen New Era
-SM