Even a cursory glance of our biweekly "What Heavy Blog Is Really Listening To" posts (last weeks update here) will reveal that there is a great deal of variety among our staff's musical tastes. Due to this, we brainstormed the idea of "Playlist Swap," another biweekly segment that takes place between playlist updates. We randomly select two of the participants from each update, have them pick their favorite track from each of the nine albums in their grid and then send the list over to the other person to listen to and comment on. Within these commentaries occurs praise, criticism and discovery, and we hope that you experience a few instances of this last point as well. This week's post brought staff members Scott Murphy and Ryan Castrati together to peruse each other's tastes:
Scott's Grid: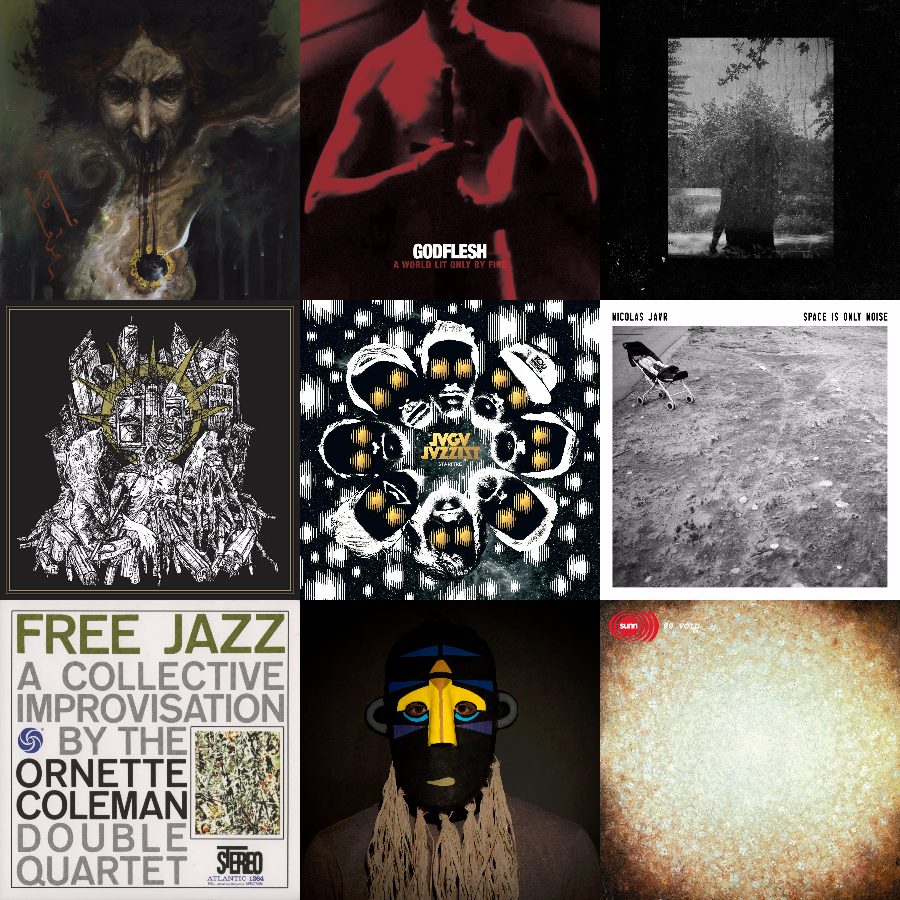 Ryan: I've just finished a string of victorious matches in Splatoon and I received my new headphones in the mail today (which are Sennheiser HD598s in case you were wondering) so I'm fairly excited to start my dig into some music from Scott's recent listening history. I was hoping I would match with Scott for one of these because I always find that his collage is full of a combination of albums I've heard, not heard and been meaning to listen to.
Akhlys – The Dreaming I – "Consummation"
Black metal has always been sinister, but if this if the new Akhlys' record is the kind of music he dreams of, then I do not want to ever see his nightmares. This track will shift and fidget just to keep you on the edge of your seat with no warning as to when you'll be dumped out of the chair. It pushed forward through jarring ambient noise, a constant barrage of tremolo picked guitar and blistering drums just to dump you back into ambience again, though this time it feels welcome as opposed to anxiety inducing. It makes the track feel complete, as if going through the peril was worth it. It truly is worth it and songs like this are what makes the album that it comes from a must listen.
Godflesh – A World Lit Only By Fire – "New Dark Ages"
Godflesh is a band that I meant to listen to when they released their new album last year, but never got around to checking them out. Since my hand has been forced, I figure now is as good a time as any to do it. It's an interesting song to open with, as it's not a very welcoming tune in any sense. It chugs on almost out of despair. You can hear the despair in the riff that drones throughout most of the song and when the vocals come through the riff gets louder and more pronounced, as it needs to be acknowledged for the behemoth that it is. At first the track didn't seem incredibly interesting to me, but I don't think interesting was the point here. The point was to feel the agony of a step rather than the exhaustion of a mile.
Grouper – Ruins – "Lighthouse"
One that I haven't heard of, but I'm incredibly glad I'm listening to it now. "Lighthouse" is a moving piano track tinged with the cries of frogs and fraught with emotion, especially when it comes to the vocals. The whispered, sometimes lagging lines add to the fragile nature of the song and somehow make a track that is already incredibly vulnerable into something that shakes the moment you even think about turning your gaze towards it. Heart wrenching, but its beauty is something you just can't deny yourself. I will definitely be going through Grouper's discography after hearing this song.
Imperial Triumphant – Abyssal Gods – "Dead Heaven"
Imperial Triumphant are a band that I'm familiar with and have listened to, but have usually done so passively. I like chaotic and off-kilter music but usually in the background. "Dead Heaven" sees the band going full speed and letting everything rip, no matter how sloppy. The sloppiness seems intentional here, like it adds to the cacophony of the song. What it accomplishes without effort is giving character to the song that is composed of blurred lines and an ever changing overall shape. Though I appreciate mostly everything done on this song, it would be something I would only put on if I was in a very specific mood and I'm not even exactly sure what that mood would be. It is excellent background noise for me, but to bring it to the forefront when I'm unprepared doesn't make for great results.
Jaga Jazzist – Starfire – "Starfire"
Much like Simon before me, I have heard so many positive thing about this band from fellow heavy bloggers Ahmed and Nick. This song goes a lot of places and I enjoy all of them. The electronic elements intertwined with the horns and woodwinds really threw me for quite the loop, actually. It's a loop I'd like to be thrown for more, honestly. The keyboard sounds here are diverse but never out of place, keeping consistent whether it shimmers or snarls over a part. It's also a plus anytime I can here a vibraphone in a song because there are truly not enough vibraphones in music. The opening track of the album has made me realize that I was foolish for not listening to Ahmed and Nick sooner. I've been missing out on something I should have been on from the start.
Nicolas Jaar – Space Is Only Noise – "Space Is Only Noise If You Can See"
I'm not quite sure what to think of this song. It saunters along to it's own minimal beat, never wavering in confidence. Layered, down-tempo vocals hover above a bassline that just won't quit. Most of the electronic music I listen to doesn't feel like this, but that doesn't mean I dislike it. It took me a while to warm up the vocals, but I think they add a unique quality to the song. Might have to listen to more songs from this album in order to really get a feel for it.
Ornette Coleman – Free Jazz – "Free Jazz, Pts. 1 & 2″
Jazz is a beast that cannot be tamed and if anything proves that, it is Ornette Coleman's album Free Jazz. The album title that coined the name of a genre and the music within that gave multitudes of other jazz artists a foundation to build upon. It's an album filled with dissonance, improvisation and solos galore. Though many would seek to dismiss this as noise, it simply isn't possible to do such a thing. Music doesn't have a definite sound to it, as what sounds acceptable varies from listener to listener. If you were to call it noise, you would have to call it structured and composed noise, as all the players that are taking part in making it have to be incredibly skilled at their instruments to know when to create certain dissonance or put out a nice melody. Though this is not music I listen to often, it is music I appreciate from an artistic standpoint and can really get behind.
https://www.youtube.com/watch?v=xbZIiom9rDA
SBTRKT – SBTRKT – "Hold On (feat. Sampha)"
A playful electronic beat under soulful R&B vocals is the way to my heart, it seems. This track opens with this plucked, metallic melody that pleases immediately. Place a pulsating kick drum underneath and add in british vocalist Sampha in order to complete the layout for the rest of the song. It doesn't take any left turns, but it's not supposed to. How straightforward and driving adds to its charm. It's short, sweet and to the point, just the way that I like it.
Sunn O))) – ØØ Void – "Richard"
Sunn O))) is a group that I'm well aware of and have listened to, but only through their collaborations with Ulver and Scott Walker. I haven't bothered to listen to anything else, so, what better place to start at than the opening track of their debut studio album? Apparently this track is about someone named Richard who took their life and this track captures that atmosphere perfectly. This damning, crushing pulse interspersed with small intrusions that only seek to make you writhe sets the stage. There are people who would say that drone music is just noise, but if they do, I suggest you play them this song. This is pure art, stripped of the many frills that make things feel alright. It leaves you with a haunting feeling that you just can't shake.
Ryan's Grid:
Scott: Sitting down on my first obligation free day in several weeks, I am very curious to see what I will draw from Ryan's playlist. Similar to Ryan's sentiments, I was also hoping that our names would come up together so that I could explore his taste. His selections typically include band/artists that I have not heard of, would not choose to listen to on my own and artists that I used to listen to and love. Additionally, both Surf and Ego Death were albums that I had planning on checking out but had not had the chance to, so this was a welcome opportunity to do so.
The Internet – Ego Death – "Penthouse Cloud"
Odd Future projects have always been extremely hit or miss for me, and typically the latter. I love Frank Ocean, enjoy some songs on Goblin and think Earl, Domo Genesis and Casey Veggies are great rappers, but the group's typical production style sounds cheap and sloppy and the majority of the collective's other emcees – yes, including Tyler – are far too technically deficient. Approaching this track with that mindset, I was floored; this is easily one of the best OF affiliated projects that I have ever heard. I love the recent revival of soul and R&B, and The Internet's subdued interpretation of this style is smooth, sultry and packed with a great deal more detail than I am accustomed to hearing on an Odd Future project. Syd the Kid's vulnerable falsetto feels genuine and in control, perfectly riding over the music and somewhat stealing the spotlight. This has prompted me to place Ego Death higher up on my list of albums to stream.
https://www.youtube.com/watch?v=ZQLFV53Hc0o
In Hearts Wake – Skydancer – "Intrepid"
Being a former massive fan of For the Fallen Dreams, I was pleasantly surprised to hear what I thought were Chad Ruhlig's vocals on this track. This was a false assumption, though, as 1.) Their actual vocalist's name is Jake Taylor and 2.) Australia is quite a ways away from Michigan. There is not much else for me to say about this track beyond this initial commentary. As can be interpreted from my opening sentence, this style of music used to dominate my iTunes library, and I can absolutely imagining myself listening to this regularly at one point. This is undeniably good for what it is though; the riffs and backing ambiance are massive and the breakdowns well-written. I have no real technical complaints other than the underutilization of a well-known vocalist (Marcus Bridge of Northlane) on his feature. But personally, this is currently something that I would listen to on a regular basis.
Donnie Trumpet & The Social Experiment – Surf – "Warm Enough"
There is a very specific reason that I have not spun Surf in its entirety yet: "Sunday Candy." Arguably my favorite track of the year thus far, every element is pure perfection, and each time I listen to it my mood instantly enhances tenfold. This may seem like a strange reason to avoid listening to the remainder of the album, but from what I have heard from some of my friends, "Sunday Candy" is by far the best song on the album, so I was worried that it would eclipse each other song. Unfortunately, this is what happened with "Warm Enough." I can say objectively that I love this song; the actual "surf" atmosphere gorgeously cushions lush instrumentation which Chance, J. Cole and Noname Gypsy ride over smoothly. I particularly enjoyed Noname Gypsy's verse; there needs to me more confident and competent female emcees liker her in the game. Yet, while I enjoy this track a great deal, it still pales in comparison to how much I love "Sunday Candy," which is not really a fair opinion of me to have. However, given the strength of "Warm Enough," I feel like I owe it to myself to sit down and listen to Surf in its entirety in the near future.
https://www.youtube.com/watch?v=4jZt21590Ok
August Burns Red – Found in Far Away Places – "Identity"
Despite not listening to much "-core" music anymore, I have always thought that August Burns Red are one of the best bands playing melodic metalcore, primarily due to their songwriting abilities and guitarwork. In our private HBIH staff group, numerous contributors commented that their newest album included more experimentation, some even likening it to flirtation with Between the Buried and Me's genre gumbo. I am one of the few members of HBIH who is not a fan of BTBAM, so this assessment turned me off entirely from checking out Found in Far Away Places. Yet, if "Identity" is any indication of this experimentation, then ABR executes this with subtlety. ABR's usual crushing chugs and soaring melodies make up the bulk of this track, but the tasteful and well-executed rockabilly passage that flows seamlessly within the track. I will probably spin some more tracks from the new album, as this song intrigued and impressed me quite a bit.
Konami Kukeiha Club – SCC Memorial Series: Snatcher Joint Disk – "Theme of Izabel (Part 1)"
While short, this track brought on an enormous wave of nostalgia. Most of my other friends had the latest gaming systems when I was younger, and while they were nice, I preferred to peruse through my dad and cousins' collections of SNES and original Gameboy games while playing my aunt's old records that I found when we cleaned out my grandparent's house. I was essentially a stoner without the weed, spending hours scarfing junk food, spinning Boston, Yes & AC/DC records and playing Donkey Kong Country, Super Mario World and The Legend of Zelda: A Link to the Past. While I am not familiar with this particular game or soundtrack, I appreciate Ryan including it so that I could revisit these memories and feel the urge to repeat them, albeit with records from my own vinyl collection.
Dead River Runs Dry – Hierophants of the Storm – "Stormreaper"
I saw that Ryan reviewed this for an Australian rapidfire reviews segment, and the album artwork looked like the cover to something that would interest me. "Stormreaper" proves that assessment to be correct; the four-minute romp provides an impressive array of sounds revovlving around a black metal core. I hear some slight sludge and psychedelic influences on the track, and I now want to check out the remainder of the album to see what else the band has to offer.
Gucci Mane – King Gucci – "I'm Too Much (Feat. Riff Raff)"
In all honesty, this was the one track on the playlist that Ryan sent me that I was dreading having to listen to. While I love hip-hop, my preferences have led most of my friends to label me as a backpacker, which is hard for me to deny. As much as I enjoy trunk-knocking beats, it is hard for me to sit through an entire project if the emcee has nothing of interest to say. This track is pretty much the epitome of this sentiment, but I cannot deny that the beat is an absolute banger. It reminds me of "Paradise" by Big Sean, which is literally the only song by him that I can tolerate. As far as the rapping on this track…it could have been better. I was obviously not expecting either Gucci or Riff Raff to be spitting on this track, but Gucci sounded half-asleep during the entire track and was boring on both a lyrical and sonic level. Honestly, I would have preferred to hear Riff Raff on the entirety of this track; he is a poor lyricist, but he has a lot of personality and is often pretty hilarious. Still, this beat is killer, and I am going to add it to my "Hip-Hop Banger" playlist for that reason.
https://www.youtube.com/watch?v=BBAUA4spy7w
Breaking Orbit – Trancension – "Namaskar"
Other than the odd vocal effects during the introduction of this track, I found it to be enjoyable and well-written. I am trying to figure out which specific band that Breaking Orbit remind me of…the only comparison that comes to mind is a more technically proficient Sky Eats Airplane without any screaming, but I am not sure that such a comparison does Breaking Orbit justice. The guitar melodies on this are stunning and the riffs achieve a healthy balance between mindless chugging and purposefulness. I am neither well-versed in this style nor an enormous fan of it, but this track was solid and I enjoyed listening to it quite a bit.
https://www.youtube.com/watch?v=ZLQzl_ISROs
Gang Gang Dance – Saint Dymphna – "Vacuum"
I had never heard of Gang Gang Dance prior to this playlist swap, but they are easily my favorite discovery from Ryan's selections. A plethora of emotions are emitted through the band's synth melodies, with the main preening melody as well as the underlying ambient chords conjuring up a dichotomous marriage of heartbreak and freshly blooming love. Additionally, I love how the band utilizes live percussion; the marriage of synthetic and organic instruments makes for a pairing that further personifies the language that the synths are speaking. I plan on spinning their back catalogue immediately after finishing my thoughts here; this is utterly fantastic.
-SM & RC