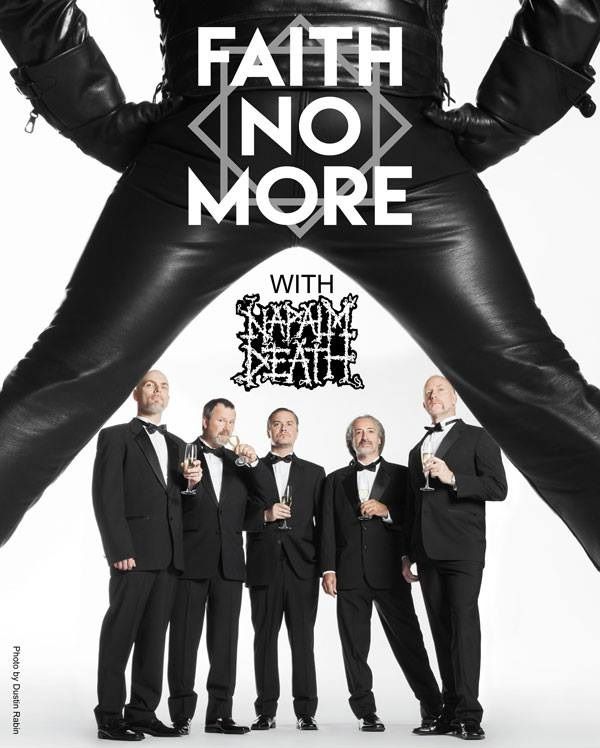 Legendary grindcore progenitors Napalm Death have a massive running list of achievements throughout their hugely influential thirty year long career, but it appears that, of all possible things, they've decided to add three shows opening for the one and only Faith No More to that list. Dates and more after the jump!
First things first — what? It completely escapes me how a Faith No More fan with little exposure to grindcore and the like could possibly find an awful lot to enjoy in Napalm Death's set, and I really wonder how this ended up coming into being. Then again, shoegaze slash black metal act Deafheaven opened for progressive metal act Between the Buried and Me of all bands when I first saw them, so it seems anything's possible these days in the way of tours.
That being said, I regrettably won't be able to make these shows and nor will the vast majority of either band's fans, considering all three of them are in Texas. Yes, Texas. Apparently the place to live in if you expect a fix of both grindcore and Mike Patton in one night.
If you're in the area, make sure to get both you and your cowboy hat down to one of these dates when the time comes!
26/7 – Austin, TX @ Austin Music Hall
27/7 – Dallas, TX @ South Side Ballroom
28/7 – Houston, TX @ Bayou Music Center
-AH