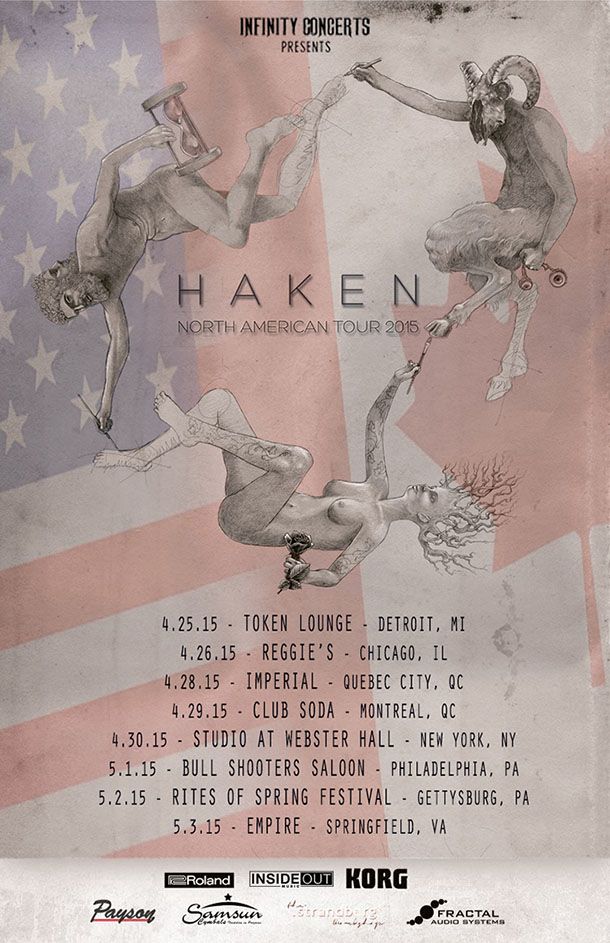 More and more European progressive bands are making their way overseas to North America and we couldn't be happier. Last year, Heavy Blog is Heavy had the privilege of sponsoring the first ever US tour for Norwegian progressive giants Leprous [photos, video]. This time, we were proud to welcome the UK's Haken on their very own run in a good handful of cities. Alongside, the New York youths in Next to None were there to delight crowds with their carefree and boyish charms. Not only are they extremely talented for being 16 to 17 years old, former Dream Theater drummer Mike Portnoy can proudly say his son, Max Portnoy, drums for the band.
Grab a recap of both shows below, as well as two sets of lovely photos from photographers Kyle Gaddo and Nick Budosh.
We managed to catch two shows of this tour—one in Chicago, IL and another in Springfield, VA. The Chicago show was opened by local progressive heroes Outrun the Sunlight [review of Terrapin] who are always a stellar live act. Following them was astoundingly impressive hometown heroes Marbin—a jazz fusion rock band not to be taken lightly. Working at touring 250-300 days a year, the tireless four-piece is a sight to behold on stage.
Next to None and Haken offered a stellar show in Chicago, but the true highlight of the tour was the final show at Empire in Springfield, VA. The May 3rd stop of ResTOURation was a monumental night for the Northern Virginia music scene. It was both the first time Haken would ever perform there and the last time that anybody would ever perform at the legendary music venue, Empire.
Haken's set was nothing short of spectacular. After playing their own music for nearly 2 hours, Haken broke into an epic finale set honoring both the end of the North American and the end of the life of Empire. Right after Haken finished played "Visions," guitarist, Charlie Griffiths, broke into the intro riff for "Fade to Black" by Metallica. When the second half of the song kicked in, Haken welcomed Max Portnoy behind the drums to finish off the song. After the song was finished, they brought Mike Portnoy on stage and let him take over drum duties. Haken and Mike Portnoy began to play "The Mirror" from Dream Theater's Awake and the crowd went wild. This was probably the first time anybody had seen Portnoy play this song since his departure from Dream Theater. Haken even let Next to None vocalist Thomas Cucé come on stage to sing a verse. To finish off the night, Haken covered Queensrÿche's "Empire" with Mike Portnoy on bass. About halfway through the song, Next to None came on staged dressed in costumes and silly-stringed everybody on stage. Haken's finale was a proper send-off to Empire and will surely be a fond memory for all the bands that performed that night and everybody in attendance.
April 26th, 2015 @ Reggie's Rock Club, Chicago, IL
Outrun the Sunlight
Marbin
Next to None
Haken
For more from this photographer, visit Kyle Gaddo on Flickr.
May 3rd, 2015 @ Empire, Springfield, VA
Next to None
Haken
For more from the photographer, visit Nick Budosh Photography on Flickr.