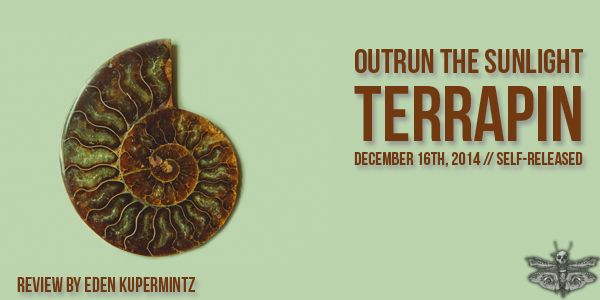 It's easier to base one of these reviews around a common theme or a line that screams out at you and really encapsulates the overall point of the review. Sometimes, a struggle must precede the formulation of such an essential focal point where one tries to distill the essence of an album into a single phrase. With Outrun the Sunlight's Terrapin this was an easy task: a labor of love. What we have before us is what happens when an artist falls deeply in love with his own creation. Not to be mistaken with falling in lust, whereupon music quickly degrades into mindless masturbation, this unique state comes from having poured hours and hours into not only each track but also each note, turn and phrase. The result is a cohesive whole that flows from part to part in an organic fashion, exploring diverse themes while maintaining a distinct sense of self.
To accomplish this with an instrumental album is an even more impressive feat. We've seen several masterful instrumental albums during this fantastic year but few of them flow as well as Terrapin does. Perhaps this has a lot to do with the three opening tracks, operating as one suite. 'Laughing With Such Abandon' is the heaviest of the trio, splicing the post rock influences of the entire suite with heavier, faster riffs and drums. 'Where Every Word Spoken, Speaks' is easily comparable to sleemakeswaves, invoking the same heady and dynamic approach to the ambient post rock sound as those Australian magicians. Finally, 'And Every Glance Has Only One Meaning' opens with a bass line so natural, so right for where it's placed, that it brings in an instant smile to one's face. The sleepmakeswaves sound is retained, with the guitar chiming in the background, accentuating the entire track as it works its away to its slower, emotional closing.
The rest of the album weaves back and forth and through these elements, slowly exploring their different facets. The wonderful 'Spirit', which was released ahead of the album, delves more into the Mono influences on the album, slowly building a classic post-rock structure before exploding into an infectiously groovy middle part. The guitars still echo Mono but are faster paced and accompanied by delightfully varied drums. All of a sudden, a djent like riff will introduce itself, working above the present structure, to send the track off. Later tracks, like 'Diminishment' and 'Permanence' will explore this theme further before the album is done, bringing the heavier elements in the guitar to the front.
However, we've saved the best for last. The absolute crowning jewel of this album is the track 'The Pace of Glaciers'. This is where that idiom, 'a labor of love', really comes into play. This track is ten minutes long but doesn't get boring for a single second. From the extremely moving intro, again citing sleepmakeswaves and Mono in clever little places among its sound, to the inevitable crescendo and then its release, this track is what Terrapin is, a microcosm of this album. The crescendo at its top is so surprisingly heavy that you check again to see if it's the same band. Perfectly produced instrumentals fuse jazz, post rock, metalcore and djent into one extremely cohesive unit, fully assuring you that indeed, this is Outrun the Sunlight. Contained within its twists and turns, album and track alike, is one undeniable fact: this is the best instrumental album of the year. It's intelligent, emotional and immaculately produced. There's only one way to produce something as astonishing as this and that's love.
Outrun The Sunlight's Terrapin gets…
4.5/5
-EK