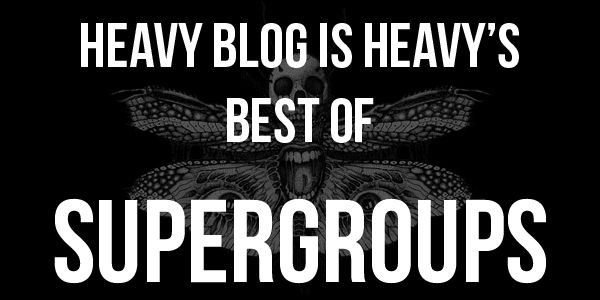 And we're back! It's time for another installment of our Best Of lists! In case you're new here (hey!), our staff pick a genre, style, group, theme, whatever we feel like, and create a list around it. Despite the name, these lists are not meant to be exhaustive but merely reflect who the specific band member thought of at the moment of writing or who he truly believes to be the best example of.
This time, we chose a double edged sword: super-groups. This is a charged topic since the jury is still out on whether these groups ever actually live up the hype created around them. Bringing to the table the collaboration of big names, perhaps even "dreams teams" of musicians, understandably creates a big buzz among fans. Perhaps due to ego, time constraints or other variables, these groups however often fail to deliver on their promise. That being said, some of them don't and the result if fantastic music, often blending the different "original" bands into a greater whole. Read on below for some of those!
And remember: it's OK to not like thing. Let's get to it!


It's really hard to imagine a world where Murder Construct does not exist. Comprised of members (current and former) of Intronaut, Cattle Decapitation, Bad Acid Trip, and Dreaming Dead, this excellent grindcore/death metal group gave us one of the best albums in recent memory in Results, 11 tracks of unrelenting grindcore with death metal worked in to create one of the most brutal listens of 2013. If that weren't enough, the fact that many of the members are in their mid 30s speaks volumes about their true talent. Few bands could play music this vicious and this abrasive with such speed and accuracy at their age, or at least play it well, but the band has proven that they can keep up with just about anyone. They have a new album due out in 2015, and I know I'm excited, because I can guarantee it will make my year end list. The band has only had one full length and one EP and they've already proven they can make better grindcore than roughly 90% of the scene. Job well done, gentlemen.
Recommended Track: The Next Life
– Spencer Snitil


Was anyone not excited when a supergroup was announced featuring Troy Sanders of famed sludge-metal-turned-prog-rock outfit Mastodon, accompanied by none other than Greg Puciato, the vocalist of The Dillinger Escape Plan, who is one of the (if not the single) most ferocious and commanding vocalist of the modern metal scene? It seemed like a promising and enticing, albeit odd, combination, especially once you factored in the two other musicians to round out the group: Max Cavalera of Sepultura and Soulfly and ex-Mars Volta drummer Dave Elitch. What kind of music was to come of this group was up in the air for quite some time- none of the members of the band confirmed or denied anything, and it was only when we got the first track, 'Wings Of Feather And Wax', that we got a taste of the sound. And good lord, what a sound it is. Their single album so far, which is a self-titled, is 11 songs of straight-up, no-frills, untamed aggression. Combining the incredibly heavy grooves of Mastodon, the unbridled hatred of Dillinger, and Cavalera's fantastic riff-writing, this album is stupidly heavy and equal parts off-the-walls energetic and crawling deliberate buildup. If you ever need a lesson in dynamics, this is required listening.
Recommended Track: Wings Of Feather And Wax
– Simon Handmaker


Supergroups are an interesting thing. When a group of established, respected musicians come together to make an album, there are certain expectations that are inevitably placed upon them. Sometimes these expectations are met, or rarer still, surpassed. The latter is, thankfully, true of For Aeons Past, the debut album by Solution .45. Formed by Miseration and Divinefire guitarist Jani Stefanovic, former Scar Symmetry vocalist Christian Älvestam was tapped for vocal duties, and lyrics were written by Dark Tranquility vocalist Mikeal Stanne. The end result is an album that rises above its peers to become one of the very best melodic death metal albums ever recorded. Every song on For Aeons Past is as good as the last, with Älvestam delivering one of his best vocal performances ever, his distinctive harsh vocals contrasting perfectly with the instantly catchy choruses. Complimenting Älvestam's performance are Stefanovic's simple yet effective and memorable riffs, with just the right contrast of groove and straight-ahead aggression. The amount of care and polish poured into these songs really shows, and the end result is an album that's as casually enjoyable as it is deep. For Aeons Past is one of my most listened to albums ever, and I think it stands head and shoulders above anything else ever released by a supergroup.
Recommended Track: Wirethrone
– Colin Kauffman


What do you get one you take one of the best guitar players of all time and pair him up with one of the best vocalists of all time? That's right, you get Rainbow, one of the greatest supergroups to ever grace the surface of our dear planet. It's near impossible to deny the magic that happened when Ritchie Blackmore teamed up with Ronnie James Dio and recorded the first three Rainbow albums, and specifically their second album Rainbow Rising. This album is and always will be a flat-out masterpiece, and remains timeless to this day. Blackmore's unmatched and Baroque-influenced guitar heroics, Cozy Powell's organic drum performance and of course, Dio's powerful and inimitable voice all make Rainbow Rising an incredibly special album, and their individual performances are perhaps best collectively showcased on the classic "Stargazer." Featuring one of the best guitar solos ever laid to tape, "Stargazer" combined classical music and hard rock in a way that had never been done before, and in the process became what I believe to be one of the greatest songs ever written. Unfortunately, Dio left the band in 1978, effectively stripping Rainbow of its supergroup status, but praise be to the gods of rock, we'll always have their first three albums to remind us of a time when giants walked the earth.
Recommended Track: Stargazer
– Aaron Lambert


When it was announced that current and former members of Eagle Twin (Gentry Densley) and Earth & Sunn O))) (Steve Moore) would be contributing to a project entitled Fontanelle through Southern Lord, it was assumed that the resulting music would resemble other drone/doom supergroups such as Khanate and Teeth of Lions Rule the Divine. Yet, further details revealed that this could not be further from the case, as Densley and Moore would instead be collaborating with musical minds behind the space rock of Jessamine (Rex Ritter & Andy Brown), avant-garde jazz of Skerik (Eric Walton) and psychedelic folk of Jackie-O Motherfucker (Jef Brown). This conglomeration of influences resulted in Vitamin F (2012), a revivalist manifesto of the Seventies' trippiest tunes. Dubbed genre-wise as "White Magus," Vitamin F – Fontanelle's fourth album and first in a decade – synthesizes the jazz fusion of Miles Davis' Bitches Brew and Herbie Hancock's Head Hunters with Funkadelic's experimental funk for an immersive and mind-bending experience. Though jazz has fallen from the cultural status that it once held, it is records like Vitamin F that prove that a lack of publicity in no way inhibits musical genius. It is inconclusive whether or not Fontanelle will release another instance of brilliance, but even if Vitamin F is a singular event, it is superb enough to remain a timeless statement in jazz's grooviest subgenre.
Recommended Track: Traumaturge
– Scott Murphy


Discovering Temple Of The Dog's one-off album for the first time, one that actually pre-dated Pearl Jam's multi-platinum debut Ten and Soundgarden's similarly career-changing Badmotorfinger, was like digging through mud to uncover the perfect jewel. Unencumbered by the necessity for the twin extremes of discord and volume, this lovingly-crafted tribute to their friend, the late Mother Love Bone singer Andrew Wood, almost got lost amidst the hullabaloo of the early-Nineties grunge explosion. Featuring members of Pearl Jam and Soundgarden, their work is naturally blessed with the dual vocal talents of Chris Cornell and Eddie Vedder, as soloists and in harmony – a combination that works in spite of their own very unique styles.
Very much driven by Cornell's songwriting, their album is graced with a bitter-sweet melancholy and more hooks than a pirate convention. As such, it is evocative of his emotion-soaked solo work – driven, poppy, colourful. From the elegant, crystalline choruses of "Say Hello 2 Heaven" and "Four Walled World", through the funky jams "Reach Down", "Your Saviour" and "Pushin' Forward Back", to that Vedder sucker punch, "Hunger Strike", their songs are imbued with passion, vivacity and precision. As a unique coming together of musical amigos all approaching their creative zenith, Temple Of The Dog may only qualify as a supergroup retrospectively, but it doesn't make their inclusion in this list any less valid.
Recommended Track: Hunger Strike
– John Skibeat


It's frequently occurred to me that I'd die a happy girl if ever my ears were blessed by a song featuring both Rody Walker and Dan Tompkins, who are two of my favourite vocalists of all time. While the pair have yet to collaborate on a single track, their combined vocal talents have, in fact, graced a common record, alongside a slew of other noteworthy musicians. That record is Volume I, Star Monarchy's sole release to this date, and it is absolutely worth checking out.
Multifaceted and veteran bassist Ray Riendeau, who orchestrated the project, certainly picked the cream of the crop when selecting musicians to appear on this album. In addition to Walker and Tompkins, Riendeau solicits the vocal talents of Bjorn Strid and Mike Semesky, the drumming capabilities of both Travis Orbin and Alex Rudinger, and the guitar work of Francesco Artusato, to list a few of the many guest appearances. The result is an album that draws from a variety of styles and influences, creating something diverse and, simply put, remarkable. "Monarchy" is to this day my go-to when I'm craving groove, and "Biosfear" is, in my opinion, the greatest showcase of Walker's vocal versatility to date. "Suicide by Star", with its tasty guitar licks, is another stand-out. But don't take my word for it. Check out Star Monarchy's Volume I for yourself, and pray that Riendeau sees fit to release a sophomore album from this beast of a super group sometime in the near future.
Recommended Track: Biosfear
– Elizabeth Wood


I have to say that I have a love/hate relationship with supergroups. Few of them actually deliver and the hype surrounding them is usually insufferable. Perhaps that's why I went with an older band, in the form of OSI. While the band did release a more "contemporary" album, it is without a doubt their earlier releases that stamped their mark on the dark progressive scene. Preluding bands like Katatonia or Long Distance Calling, OSI blend the undeniable core talents of Kevin Moore, one of the best modern keyboard players in my eyes, and Jim Matheos of Fates Warning with a who's who list of players. Among them can be counted Gavin Harrison, Steven Wilson, Mikael Akerfeldt and Sean Malone.
Their style is heavily influenced by Kevin Moore's darker tendencies but also owes a lot of its vibe to Mike Portnoy, behind their self titled, seminal album. All in all, these different influences and guest spots create a super-group that's kept fresh by constant rotation but that's also focused along a core, dark sound. The end result is something that most groups are unable to create; an actual musical theme that runs through the entire thing, regardless of the current roster on each track or album. Jam OSI for a dark ride into progressive rock and metal, replete with voices and touches you'll undoubtedly recognize, as through a mirror, darkly.
Recommended Track: shutDOWN
– Eden Kupermintz
-HBIH