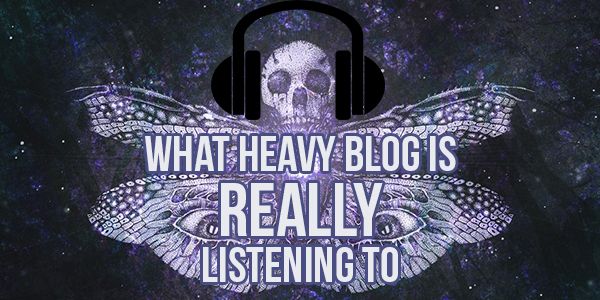 For those who missed our last installment, we will now be regularly posting what the staff at Heavy Blog have been spinning. Given the amount of time we spend on the site telling you about music that doesn't fall neatly into the confines of conventional "metal," it should come as no surprise that many of us on staff have pretty eclectic tastes that range far outside of metal and heavy things. We can't post about all of them at length here, but we can at least let you know what we're actually listening to.
Anyone who doesn't live under a proverbial rock knows that the biggest release in all music this week goes to the early release of Kendrick Lamar's hugely-anticipated follow-up to Good Kid, M.A.A.D City, and unsurprisingly, K Dot found his way onto many of our lists this week. Also of note (and in an entirely different quadrant of the musical spectrum) this week was the release of Alkaloid's debut album The Malkuth Grimoire (read our review here if you haven't already), which also landed in several of our staff's lists.
For those that would like to participate as well (and please do) can drop a 3X3 in the comments, which can be made with tapmusic.net through your last.fm account, or create it manually with topsters.net. Also, consider these posts open threads to talk about pretty much anything music-related. We love hearing all of your thoughts on this stuff and love being able to nerd out along with all of you!
Head past the jump to see which records have been receiving regular rotation on our headphones, stereos and turntables:
Noyan Tokgozoglu
Benighted – Brutalive the Sick
The Agonist – Eye of Providence
Winds of Plague – The Great Stone War
Through the Eyes of the Dead – Malice
Alkaloid – The Malkuth Grimoire
Native Construct – Quiet World
Keep of Kalessin – Epistemology
Entheos – Primal EP
Enslaved – RIITIIR
Eden Kupermintz
Crowns – Disk of Dust
Chaos Divine – Colliding Skies
VOLA – Inmazes
Alkaloid – The Malkuth Grimoire
Perturbator – Dangerous Days
clipping – CLPPNG
Rishloo – Living As Ghost With Buildings As Teeth
Caligula's Horse – The Tide, The Thief and The River's End
Culprate – Deliverance
Colin Kauffman
Death Grips – The Money Store
Purity Ring – Another Eternity
The Haunted – One Kill Wonder
Vektor – Outer Isolation
The Dillinger Escape Plan – One of Us Is the Killer
Allegaeon – Elements of Infinite
Nasum – Shift
Arsis – Unwelcome
Slipknot – All Hope Is Gone
Kit Brown
Kendrick Lamar – To Pimp A Butterfly
Bill Burr – Let It Go
Devin Townsend Project – Ki
The Acacia Strain – Wormwood
Ingested – The Mother Of Extinction
Tesseract – One
Decapitated – Blood Mantra
Soreption – Engineering the Void
Death Grips – Exmilitary
Spencer Snitil
Tigran Hamasyan – Mockrool
Entheos – Primal EP
Death Grips – Government Plates
Sithu Aye – Cassini
Sithu Aye – Isles EP
Mastery – Valis
Behemoth – The Apostasy
Nok Novum – Nok Novum
Shining – Blackjazz
Simon Handmaker
Kendrick Lamar – To Pimp A Butterfly
The Dillinger Escape Plan – Ire Works
Arsonists Get All The Girls – Hits From The Bow
War From A Harlot's Mouth – Transmetropolitan
Sigh – In Somniphobia
Vale of Pnath – The Prodigal Empire
Uneven Structure – Februus
NYN – Eventuality
Inanimate Existence – A Never-Ending Cycle of Atonement
Nick Cusworth
Kendrick Lamar – To Pimp A Butterflly
Colin Stetson – New History Warfare Vol. 2: Judges
Owen Pallett – In Conflict
Alkaloid – The Malkuth Grimoire
Mission of Burma – Unsound
Elder – Lore
The Dear Hunter – Live
Culprate – Deliverance
A Swarm of the Sun – The Rifts
William France
Run the Jewels – Run the Jewels 2
Clipping – Clppng
Thomas Giles – Modern Noise
If These Trees Could Talk – Red Forest
Lizzard Wizzard – Dankrupt
Death Grips – The Money Store
Oceano – Depths
Sleepmakeswaves – The Love of Cartography
Death Grips – Government Plates
Scott Murphy
Dragged Into Sunlight – Hatred for Mankind
Earth – Angels of Darkness, Demons of Light I
Father John Misty – I Love You, Honeybear
Fucked Up – David Comes to Life
J Dilla – Donuts
John Carpenter – Lost Themes
Kendrick Lamar – To Pimp a Butterfly
The Knife – Shaking the Habitual
Liturgy – The Ark Work
-SM