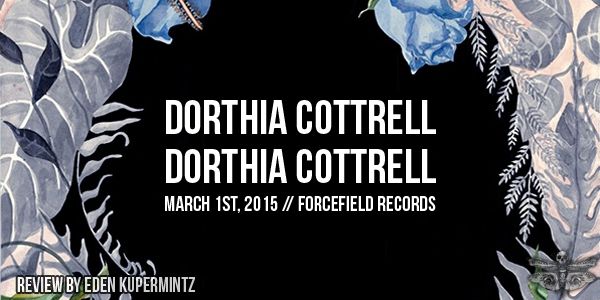 What is the strata that connects the wide network of genres we handle here on the blog? It's obviously not "heavyness", since a lot of our favorite bands wouldn't be considered heavy at all. We do have a tendency to lean towards the progressive and the doom but we also cover plenty of bands who are more modern or primal. At the end of the day, it probably varies between staff members and their tastes. For this writer, it's emotions. As such, Dorthia Cottrell's first solo album has been holding a prominent place in the musical horizon. Once it had arrived, it dug deep and connected to that core of cores: emotions.
That being said, one needs to know where he's going with this album: there will be no sweeping epic moments, no displays of excellent musicianship. No, this album does away with the technical in favor of the penetrating, the innovative in favor of truth. The main musical influences here are blues and through it, country. Most tracks are accompanied by an acoustic guitar that focuses on strumming harmonies and gentle chord progression. The lap guitar also plays a prominent part, taking over the lead guitar parts.
But all of this is not the core of this album. Rather, it's the decoration and stage on which play the true heroes of this creation: Cottrell's voice and her words. It should come as no surprise that Cottrell is a marvellous singer; Windhand owe a lot of their power to her brilliant performances. Here, her voice is much deeper and contains entrenched pain and heartbreak. It's varied as well. Pain is not the only emotion on display, as Cottrell's voice can chide as well; 'Rake' is a condemnation of those who have left her, while 'Song For You' is one of the sweetest love songs to life that's been recorded.
Giving articulation to this singular vocal talent, are the immensely rich and enchanting lyricism replete throughout the album. 'Moth' is a painfully capable meditation on the briefness of life and the gentle power of death. 'Vessel' contains more ars-poetic intimations, describing the artist at the moment of writing or performing and touching on the hope for a better time. Finally, without doubt the most powerful track on the album, 'Maybe It's True' encapsulates perfectly the insecurity of being alone and the failure of relationships.
Constructing on and backing the "simple" singing are a host of choir effects and harmonies. In general, the production on this album is perfectly matched: it's quite apparent that all hands involved in the process knew what this album was meant to be. Nothing major, not a painting for a museum or a grand display of artistry. No, this album is small, modest and heartbreaking. It benefits from the panoply of instruments utilized by the honest; buoyed along by the sheer intention of Cottrell's voice, it will silently sing itself into your heart, squeeze and caress the right places, and finally leave you in tears. Until you listen to it next. Which you will.


Dorthia Cottrell's Dorthia Cottrell gets…

4/5
-EK