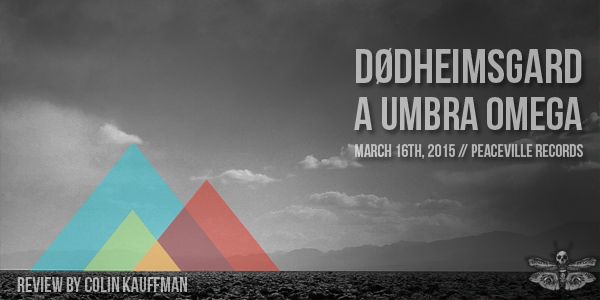 Dødheimsgard are not a name you may know, but nevertheless, this Norwegian avant-garde black metal five piece are poised to become the next big name in a genre that has a niche appeal but a very devoted and vocal following. The band's first three albums were more along the lines of straightforward black metal, very much in the traditional Norwegian style. However, on their fourth album, 666 International, the band adopted a far more progressive and industrial sound. Fifth album Supervillian Outcast expanded on this tonal shift, introducing more prominent avant-garde elements and setting the stage for the band's sixth album.
With A Umbra Omega, Dødheimsgard have taken up the banner of truly outré and forward thinking black metal, previously flown by the visionary English group Akercocke. Featuring semi-clean, operatic vocals, manic guitars playing everything of chopped and screwed black metal riffs to flamenco, and a positively industrial sounding rhythm section, Dødheimsgard sound like seasoned veterans of the avant-garde metal scene, taking the experimentation and genre exploration they dabbled in previously to new, incredible heights. And what heights they are.
Not since Akercocke's Antichrist has a black metal album dared to be this experimental and forward thinking, exploring musical ideas and going places most bands would consider ridiculous. And they would sound ridiculous if handled by a lesser group of musicians, but Dødheimsgard prove themselves to be among the very best composers and players in metal today. There are a great many sections on the record that are so dense and complicated, it's difficult to wrap your mind around what's going on. Twisting guitar lines spiral in and out of the background, anchored by the thrumming, dry, industrial bass and drums, with the sometimes manic, sometimes intense, sometimes beautiful vocals sitting atop everything.
Tracks like the standout 'Aphelion Void' and album closer 'Blue Moon Duel' cycle through several thematic variations, from the intensity of full on black metal to quieter, more introspective and often strikingly beautiful moments where the harsh layers pull back to let the music breathe, before you're plunged back into sonic hell. At over an hour running time, A Umbra Omega is certainly on the long side, but the variety on display ensures each of the six tracks is sonically and aesthetically unique, while still being tied together by a common sound. Having no tracks under ten minutes with the exception of the intro is an interesting choice, but one that works. Splitting these songs up into smaller pieces wouldn't suit the flow of the album. All five full songs feel cohesive and interesting, without dragging on too long, one of the biggest pitfalls of this genre.
A Umbra Omega is an album that demands quite a lot of the prospective listener. This is not an album for the casual metal fan or those weaned on the simple and straightforward. After the electronic intro track, everything kicks into high gear. The band pull no punches, and the result is absolutely glorious. Dødheimsgard have delivered an album that contains an emotional, authentic core, even as it dares you to turn it off and go back to listening to Metallica. This is an album that feels like it was written by a band free of any reservations about mass appeal or sales, and it's refreshing to hear a band so shamelessly throw off their creative shackles to write music that's weird and new. And this record does indeed feel new, inspired and fresh, even as it treads ground paved by such legendary bands as Akercocke, Anaal Nathrakh and Altar of Plagues. There are moments of beauty and moments of intensity that stand with the best of any genre on this album. Just when the listener thinks they've got the band figured out, they throw another curveball, and the surprises continue all the way to the end. If you can weather the storm Dødheimsgard conjure, you're in for an incredible experience you can't get anywhere else.


Dødheimsgard's A Umbra Omega gets…

5/5
-CK