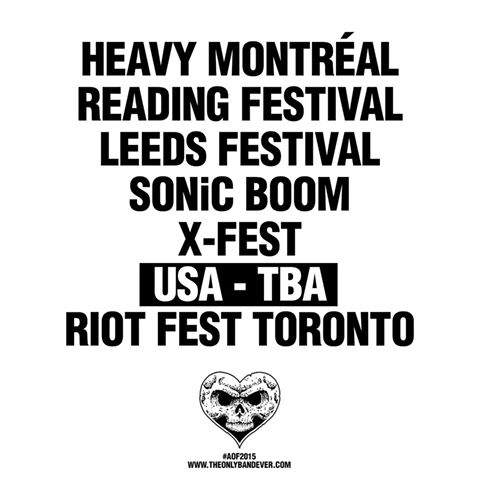 If you're still kickin' yourself for passing up the nearest stop on the string of shows that was St. Catharines hardcore band Alexisonfire's farewell tour back in 2012, we've got some pretty great news for you. If you're among those who justified dishing out a little extra cash for a prized ticket to one of these dates, 'cause hey, "it's the last tour they'll ever play!", we've got some less than great news for you. Yesterday, not three years after calling 'er quits, the band announced a reunion tour set to take place at a string of festivals over the course of summer 2015. Head on over the jump for the full details!
Fans of the band were sittin' antsy over the weekend as rumours of an upcoming official announcement from the retired five piece began circulating the internet late last week. Speculation into a reunion tour was allegedly born out of a post made by the Heavy MTL Instagram account and by a tour poster that was preemptively set live on the band's website (www.theonlybandever.com). With the Heavy MTL line-up set to be released Monday, it was with high hopes that fans waited out the weekend.
Sure enough, yesterday saw the inclusion of Alexisonfire in not only the Heavy MTL lineup, but in the lineup of the following festivals:
-Reading Festival
-Leeds Festival
-Sonic Boom
-X-Fest
-Riot Fest Toronto,
with an additional U.S. date to be announced.
Though they certainly didn't wait long for a reunion, I'm personally glad for the opportunity to catch these dudes on the road this summer, if only to relive my earliest of hardcore days.
Can't get down with AOF? You're definitely still gonna wanna catch Heavy MTL. Featuring everything from Meshuggah to Mastodon to Andrew W.K. to Deafheaven, this year's line-up is unbelievable. For a full list of bands, and to secure your tickets, check out heavymontreal.com!
-EW