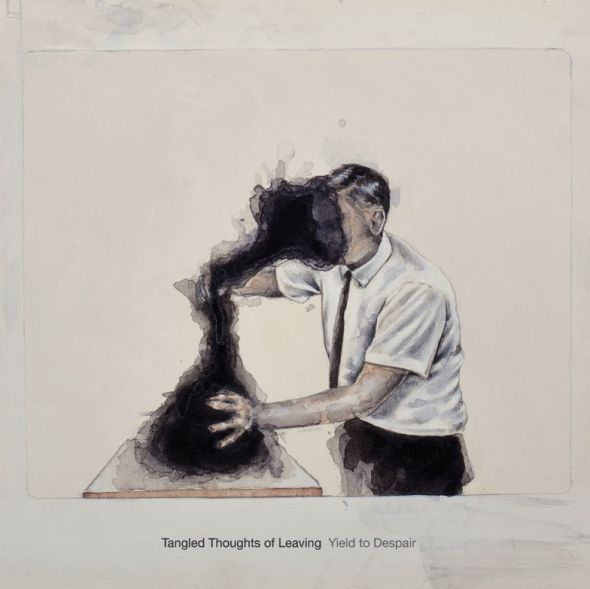 We've been closely following raucous noisemakers Tangled Thoughts of Leaving's progress on their sophomore album. Having released the first single in the form of the impressive Downbeat EP last November, it was only a matter of time until they released details about the full album. That day has finally come. TToL will release Yield To Despair this April (awesome cover art above). It will feature 5 tracks clocking in at 70 minutes, which means the marathon length of "Downbeat" (18 1/2 minutes) will likely not be an anomaly. The band is also fundraising production of physical copies of the album and released a video with some new music teasing (and what appears to be Ron Pollard performing some sort of ritual of the occult involving the album itself).
You can find the fundraiser via Pozible, where the band is offering a variety of merch and other goodies. Of the album itself, the band has this to say:
The new album is called, Yield to Despair, and it's finished – recorded, mixed and mastered. And we couldn't be more proud of it. It's a dark, grim, destructive record – our heaviest yet, although it's not all that way. As with all TToL records, there is always room for dynamics, variation and experimentation. Yield to Despair features 70 minutes of new music spread across 5 epic tracks.
We often get asked why Deaden the Fields wasn't released on vinyl – and the answer is simple: it's really expensive to do as an independent band! We love being as self-sufficient as possible, but the reality is that we all still work day-jobs outside the band. Our money goes into recording and touring (which is a crazy exercise from the isolation of Perth), leaving only a small amount to put into the physical production of the records.
This time, though, we want to do it right. We're going to present the album in beautiful, physical formats that both do the music justice, and make it worth spending your money on. Yield to Despair will be presented as a double LP in a gatefold case, with the option of black or 'bone' coloured vinyl. The CD will also be presented in a cardboard gatefold case, like a mini version of the vinyl! The artwork is done by the amazing Sydney artist, Teo Treloar.
As will be to no surprise to anyone who follows the blog and has seen my recent posts about the band, I am simply beyond stoked for this release. Everything the band has produced thus far has been amazing, and based on what I've heard so far I have no doubt this will too be nothing but stellar. We'll be sure to post any other tracks the band throws out between now and its release, but be sure to support them and buy a copy, even if it's just the digital download!
-NC