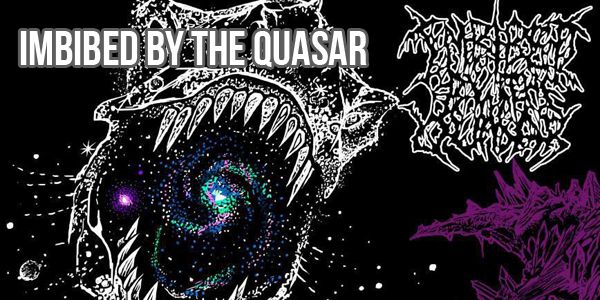 A couple of weeks ago we brought you the great news that Bispora is back and planning a "Phase II".  Find out much of the band has been imbibing in the meantime after the jump.
While Bispora has been on hiatus mostly because vocalist/guitarist Josh Paniagua was planning to say "Aloha" to Hawaii, most of the other members have been involved with a project called Imbibed by the Quasar.
"Well Imbibed by the Quasar is Bispora minus Josh plus Jeff (Clifford) and Andrew (Courtright)," drummer Greg Chastain explains.  "Imbibed is new blood, there is no pressure to have a certain sound which is why we are a 60/40 split between death metal songs and rockin space jams. some songs will be mixed but we kinda have a left brain vs. right brain theme with how we write songs currently."
From song to song, the listener has a lopsided coin's tosses chance of hearing one of two very different kinds of music.
"While Bispora puts everything together in a stew, Imbibed specifically separates its heavy side from its smooth rock side. A side that you see in Rearranging The Stars By Hand. By 60/40 split I mean if the album ends up having 10 tracks you can expect 6 brutal and aggressive tracks and 4 ethereal tracks that focus more on melody, synth, and guitar soloing."
Chastain says worrying too much about who would listen to a mix that divers will just drive you crazy.
"We could open for Vital Remains and just play brutal tunes or open for Scale the Summit with the lighter side of things. We will just let the music speak for itself, if someone is a fan of only our heavy shit or our soft shit they are still a fan."
Check out the three song EP from Imbibed by the Quasar below.
[bandcamp width=350 height=470 album=1190637694 size=large bgcol=ffffff linkcol=0687f5 tracklist=false]
-BS