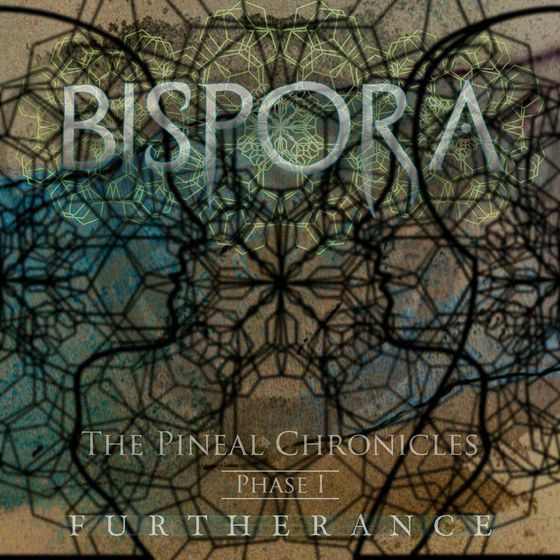 One of the great disappointments of the last year was the news that immediately after releasing the brilliant The Pineal Chronicles Phase I: Furtherance, Sacramento's Bispora had split up and the world might never experience Phase II. Happier news after the jump.
In case you missed this record which was hidden on my Top 20 List for 2013, Phase I and Bispora took the idea of genre mixing to a whole new blend. The album takes you from Extreme Death Metal to Fusion to what I can only describe as Grunge. There is literally nowhere this record didn't explore and thus the disappointment about no Phase II.
Well there's good news afoot in the land. Bispora is back and even recently played a show opening for Flub and Cyborg Octopus.
"Absolutely there will be a Phase II," guitarist and vocalist Josh Paniagua says. "Phase I only paints half of a picture and is meant to end feeling incomplete specifically so Phase II can pick up the pieces. There's no way that we as artists could leave it half finished."
What a relief. The original break-up happened because Josh was offered a job in Hawaii and almost moved there. Since he didn't, it was time to re-form Bispora with guitarist Michael Tallman, bassist John Castberg and Drummer Greg Chastain.
"We are excited to get into the writing process again and have just started putting together ideas for The Pineal Chronicles: Phase II musically, the story is completely finished, and we have started to develop a vision for our new sound/approach for this record," Greg adds.
Of course Phase II will be a concept record.
"For this new album we have the story already so we just need to match the feeling and emotion of the story with our music, we know its a bit crazier, a bit darker, and then things kinda work them selves out," Greg notes.
Some people have even called Bispora a Prog Metal Jam Band.
"Live we add Jam section, sometimes new riffs, or will revisit an older riff ect. stuff like that to never have the same show twice. Personally I improvise a good 20% of my drums every time i play in certain parts that dont call for the most straight forward of beats."
Josh likes the Jam Band label.
"With the new direction we've decided to take, that's exactly what we are. We had done a jam or two at one other show but it was coordinated to some degree and the show wasn't based around the jamming. But at our last show, we played 2 songs that lasted 40 minutes total (about 30 of those minutes being improvised), causing George (Lallian) of Cyborg Octopus to call us "a prog metal Phish." Which, for me personally, is a HUGE compliment."
Most of the members of Bispora are also involved in a fascinating new project called Imbibed by the Quasar. More on that next weekend.
[bandcamp width=350 height=470 album=1190019443 size=large bgcol=ffffff linkcol=0687f5 tracklist=false]
-BS