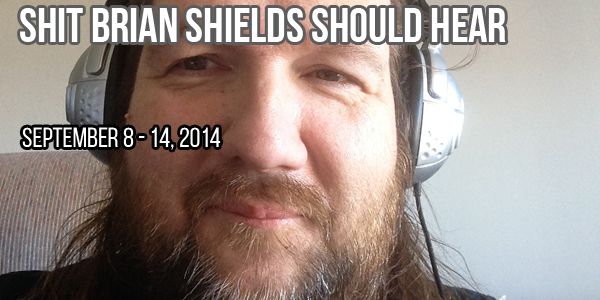 I'm a very fortunate man. I am privileged to have many successful, talented, and creative friends, many of who have terrific if very different tastes in metal.  Some samples of that after the jump.
That means on an average day I get two or three people who will want to share their music with me which I am then honored to reshare to my Facebook audience. Now as your relatively new Heavy Blog is Heavy Weekend Editor, I would like to create a weekly platform here to show off some of these artists.
The music that I will post here will be all over the map, everything from the most extreme Slam and Brutal Death Metal to Prog to Tech Death to Instrumental Metal or even Jazz. The artists included will be everything from polished ensembles to two dudes doing bong rips in the garage.
To submit music for consideration here, please post them on the Shit Brian Shields Should Hear Facebook Page.
So here we go with SBSSH for the week of September 8-14:
Let's get started with some tech death out of Corona, California where guitarist A.C. Riddle shared with me new music from Ashes of Resurrection.
[bandcamp width=350 height=442 track=2669887174 size=large bgcol=ffffff linkcol=0687f5 tracklist=false]
---
My new friend Brandon J. Iacovella (more about him later in this post) offers the suggestion on some very interesting bass pornography with Run of the Angels by Grant Stinnett.
---
This band is something of a put-on but as Asher Dunitz points out there's still some delicious moments in Slugdge. This is Gastronomicon (w/ Dark Side of the Shroom)
---
Another new Subliminal Groove Records release, check out the low sounds of Nemertines.
---
Staying down low, William Richards reached out with the new solo bass record from his friend Ryan Goodlett.
---
Joshus Romero with the share on the new music from South Texas One-Man-Band Deathcore project The Devil Himself (not the Santa Cruz band)
---
Drummer Eugene Plastino reaches out with the stream of the new EP Hands of Mercy from his (not-Christian) band I the Reverend out of Richmond VA.
---
Finally I mentioned my friend Brandon J. Iacovella. Saturday night he and drummer Brody Smith brought some sick Death Metal to Peachtree City, Georgia's McIntosh High School's annual talent show. I hope you'll join me in showing support for Proliferation.
And Proliferation has just released an EP
See you next week with more Shit Brian Shields Should Hear.
-BS