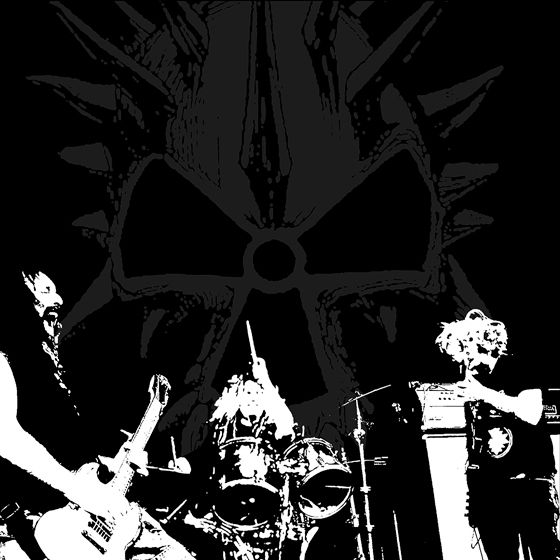 Despite my advanced age, I'm not generally a fan of "geriatric" metal since I believe there are hundreds of amazing bands making great music today for every one "back in the day."  Still there are a couple of acts from that era that I keep close to my heart and one of them includes my old, and I mean OLD, friends in Corrosion of Conformity.  They are now touring as a three-piece featuring guitarist Woody Weatherman, bassist/vocalist Mike Dean, and drummer Reed Mullin.  Reed, or "Mule" as we call him, sat down with me on a friend's couch in San Francisco this weekend to talk about the band's past and more importantly it's future.  More couch talk after the break.
First some news for COC fans who have been awaiting the return of Pepper Keenan who sang and played guitars on most of the band's 90's and 00's releases.
"Yeah, we're getting together next year." the Mule confirms.  "We're going to do an album and do some touring.  We've done this three piece enough to where we want to do something different.  That's going to happen probably somewhere close to the beginning of the year.  He has that band Down that does okay."
For now COC is touring as a three-piece to support the July release of "IX" on Candlelight Records.  Reed seems surprised when I tell him the record has received mostly favorable reviews.
"This particular line-up isn't as popular as the Pepper line-up or even the "Blind" line-up so we're kind of vanning it around doing it more old school like it was in the 80's.  But it's still fun.  It's the same thing. A lot of the same clubs but we get to see a lot of folks we haven't seen like yourself, Mr. Shields."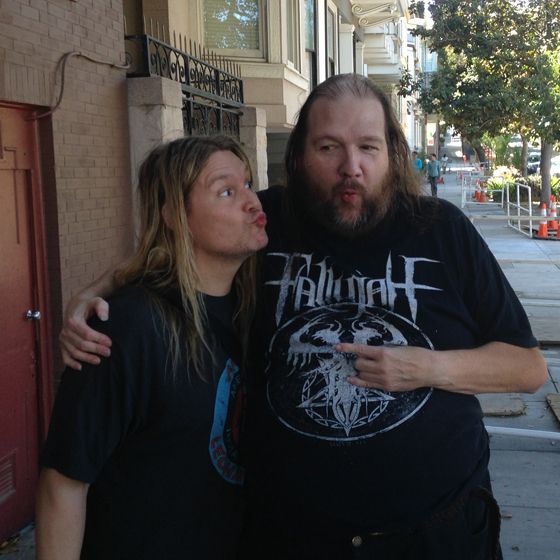 The Mule and the Shields acting perfectly normal Saturday on a San Francisco City Street.
I've known Reed since the 1991 "Blind" tour and although COC's sound remains very raw, there's a lot of thought that goes into this music.  Mule can't wait to tell me about the two songs he sings on IX.
"One is called "Tarquinius Superbus", he was the last Roman King. I was reading about him in a history book and his name was so fucking badass I had to learn more about him.  He wasn't like Caligula but he was pretty fucked up.  Anyway me and Pepper wrote a song 20 years ago when he first joined COC, I remembered the song we had written and I put words to it and it became "Tarquinius Superbus."
His other song is called "Kill Denmark Vessey"
"He was this freed slave that was living in Charleston in the Early 1800's and he tried to organize all the slaves to kill all the white people in Charleston, grab a boat and head back to Africa.  The night before he was going to do all that shit, someone squealed and they all got hung."
History lesson done for now, Reed says there's something for fans of all stages of COC's evolution on IX.
"'Tarquinius Superbus' is probably more mid-80's thrashy kind of stuff and Denmark Vessey is more of a straight up punk song.  A lot of the other stuff that Woody and Mike Dean wrote is more along the lines of the mid-90's COC stuff, a little more groovy, head rockin', I hate to say stonery kind of stuff."
Reed admits the audiences at their shows tend to be a little long in the tooth.
"The punk kids of today haven't latched on to us. Maybe we're not pretty enough or sing pretty songs, but we're more of the Black Flag, Bad Brains, Void ilk of hardcore not so much, I love the Descendents, but not so much the Descendents or the Adolescents catchier stuff."
Truth be told Reed shouldn't be on this tour since he's due back in North Carolina in a week for rotator cuff surgery.
"I was like goddamn this is going to be fun and if I stay at home I'm just going to be sitting at home hating life might as well be out here having fun.  Fuck it.  It's going to hurt either way."
Trading pain for music.  It doesn't get much more metal than that in any generation.
[bandcamp width=350 height=470 album=3757791048 size=large bgcol=ffffff linkcol=0687f5 tracklist=false]
-BS