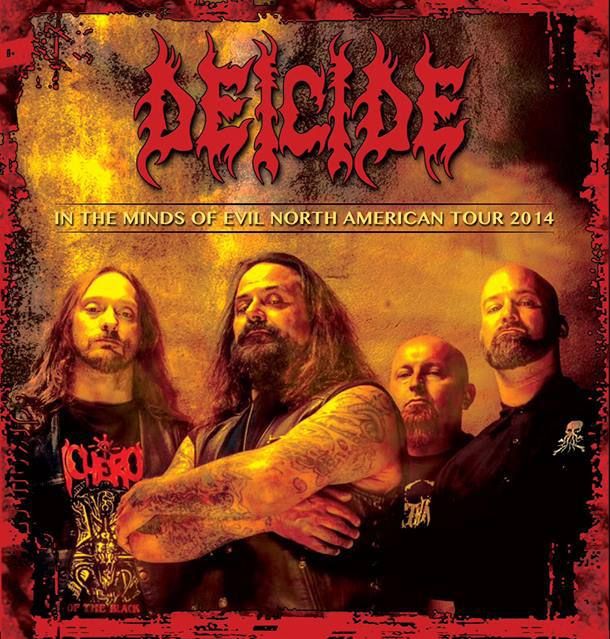 Not long ago, Deicide announced a huge tour that was previously going to feature Carach Angren, Septicflesh, and the black metal titans Marduk.  Unfortunately, Marduk released a statement saying they would not be coming along, likely to the dismay of many.
However, to replace Marduk, it seems that Inquisition and Abysmal will be tagging along.  Two for the price of one?  Heck yeah.
For the latest tour dates, hit the jump below.
10/7 Springfield, VA @ Empire
10/8 Hartford, CT @ Webster
10/9 New York, NY @ Gramercy Theatre
10/11 Rochester, NY @ Montage Music Hall
10/12 Columbus, OH @ Al Rosa Villa
10/13 Newport, KY @ Thompson House
10/14 Knoxville, TN @ The Concourse
10/15 Chicago, IL @ Reggie's
10/16 Minneapolis, MN @ Mill City Nights
10/17 Kansas City, MO @ Riot Room
10/18 Oklahoma City, OK @ Chameleon Room
10/21 Seattle, WA @ Studio Seven
10/22 Portland, OR @ Tonic Lounge
10/23 Oakland, CA @ Metro Opera House
10/25 Ramona, CA @ Ramona Mainstage
10/26 Phoenix, AZ @ Joe's Grotto
10/28 Dallas, TX @ Rail Club
10/29 Austin, TX @ Dirty Dog
-KG