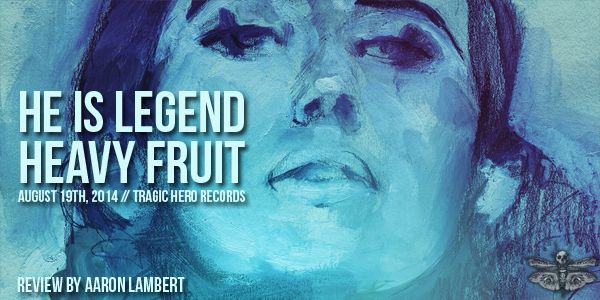 Some feared it would never happen, but it has: He Is Legend has returned. Back in September of 2009, the band went on what they called an "indefinite hiatus", a strange move considering just two months earlier, the band released the totally different, but absolutely, positively brilliant It Hates You, an album which has since become treasured by both internet metal nerds and famous metal musicians alike, including Robb Flynn of Machine Head. It Hates You was an album that was nearly impossible to categorize; it was something of a cross between Deftones and Alice In Chains with southern-tinged Meshuggah elements and psychedelic stoner-sludge metal sensibilities thrown in here and there, and even these descriptions don't even come close to doing it justice. It Hates You was a beast of an album all it's own; it was a total departure from it's southern metal predecessor, Suck Out The Poison, and complete one-eighty from He Is Legend's first full-length album I Am Hollywood, which showed their humble beginnings as something closer to a metalcore or post-hardcore band.
Now, five years later, equipped with a new drummer and a refreshed vigor, He Is Legend have stampeded back onto the scene with Heavy Fruit, an album that's every bit as different, and every bit as fantastic, as everything they've ever released.
Let's get one thing straight, here: He Is Legend are not, nor have they ever been concerned with being pigeonholed into a particular sector of the heavy music scene. Label them if you must, but their artistic output is as pure and untainted as it comes. Obviously, they have their musical influences, and their overall sound is rooted (albeit not very firmly) in a southern-flavored hard rock style, but they have always made music they way they want to, and Heavy Fruit is yet another testament to this.
The album opens with "No Visitors", a track that picks up where It Hates You left off, what with vocalist Schuylar Croom's brooding voice and slow build up into the verse of the song, before breaking into an extremely catchy chorus where Croom's voice soars. Croom's soulful voice and intelligent lyricism have always been one of the highlights of He Is Legend's music, as has Adam Tambouz's absolute genius on the guitar. Seriously, that Tambouz is so unknown is a tragedy, because the dude has more riffs and guitar passages in his storehouse than most guitarists, and he explores more musical ideas and variety over the course of a single album than some musicians do throughout their entire career.
Just listen to, for instance, "Miserable Company". This song and many others on Heavy Fruit prove how fantastic of songwriters He Is Legend are. It starts with an subdued, bluesy groove that builds into an absolute crusher of a riff, coupled with a soaring chorus, and then drops back down into a heart-wrenching guitar solo before the song meets it's mellow end. Many bands would stumble trying to cram these dynamics into a single song, but He Is Legend do so without skipping a beat. Their music is brilliantly complex, yet enticingly accessible and catchy as hell. Therein lies the genius of He Is Legend.
It didn't seem possible for He Is Legend to get anymore varied after It Hates You, but by golly, they've done it on Heavy Fruit. Tracks such as "Spot Mouth" and especially "Be Easy" are funky and groovy as all get out, the latter being very reminiscent of the funk rock stylings of Clutch. This is an approach that He Is Legend haven't experimented with in the past, but, no surprise, they pull it off with flying colors here. New drummer Sam Huff also shines in particular on these tracks, providing a solid and groovy backbone for the rest of the band to let loose on. Huff proves he is more than a formidable replacement for longtime drummer Steve Bache on Heavy Fruit. Another highlight of the album is "The Carpet" which features a funky, motown-esque guitar lick and Croom quoting Jack from The Shining's infamous line "I'm gonna bash your brains in!" in his own quirky and tongue-in-cheek manner.
Heavy Fruit ends on a high note with it's fantastic title track, and then it starts all over for you to listen to again; a task that is easily undergone. As with all of He Is Legend's albums, Heavy Fruit is an addicting listen, and only gets better with each subsequent press of the play button. Sure, there are a few duds, such as "Something, Something, Something Witchy" and the unnecessarily tedious "I Sleep Just Fine", but He Is Legends duds could just as easily be any other hard rock band's gold. Simply put, He Is Legend are true innovators in heavy music, and Heavy Fruit is a more-than-worthy addition to their already fantastic discography. It's great to have them back; now it's time to start giving credit where it's long overdue.
He Is Legend's Heavy Fruit gets…



4.5/5
-AL